5 Positions to Get You Grand Slammed This Australian Open
Turn those grunts into groans with these playful positions.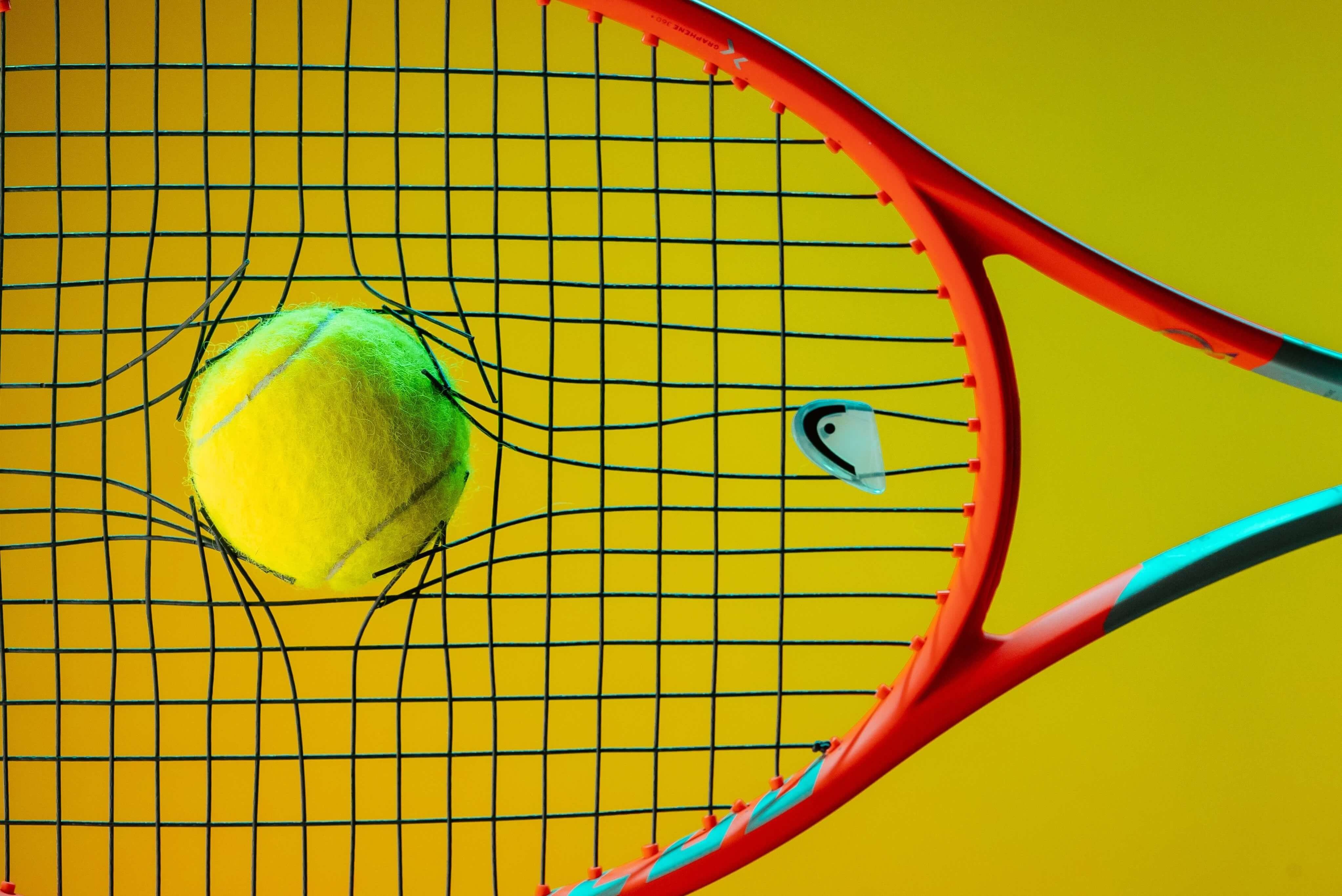 The 2023 Australian Open has officially hit our screens and what better way to celebrate than causing some racquet in the bedroom?
In the world of grand slams, where the strokes hit deep into the backcourt, dampeners soak up the vibrations and love means nothing when we're about to reach our break points, we're sure we can find a few ways to get your lower courts in a tizzy. You'll find a whole new meaning to ball boys, that's for sure.
Straight from the courts to the bed posts, we've collated a collection of tennis-inspired sex positions to keep the balls bouncing all throughout the 2-week competition. After all, with Djokovic back on the scene, we all need some extra help to get through those 3+ hour matches.
Whether you play doubles or mixed doubles, each position can be modified to suit your liking. Simply pair each position with a strap-on harness if needed and you've got a ground pass to tap that ass.
So, let's get rallying.
The Happy Slam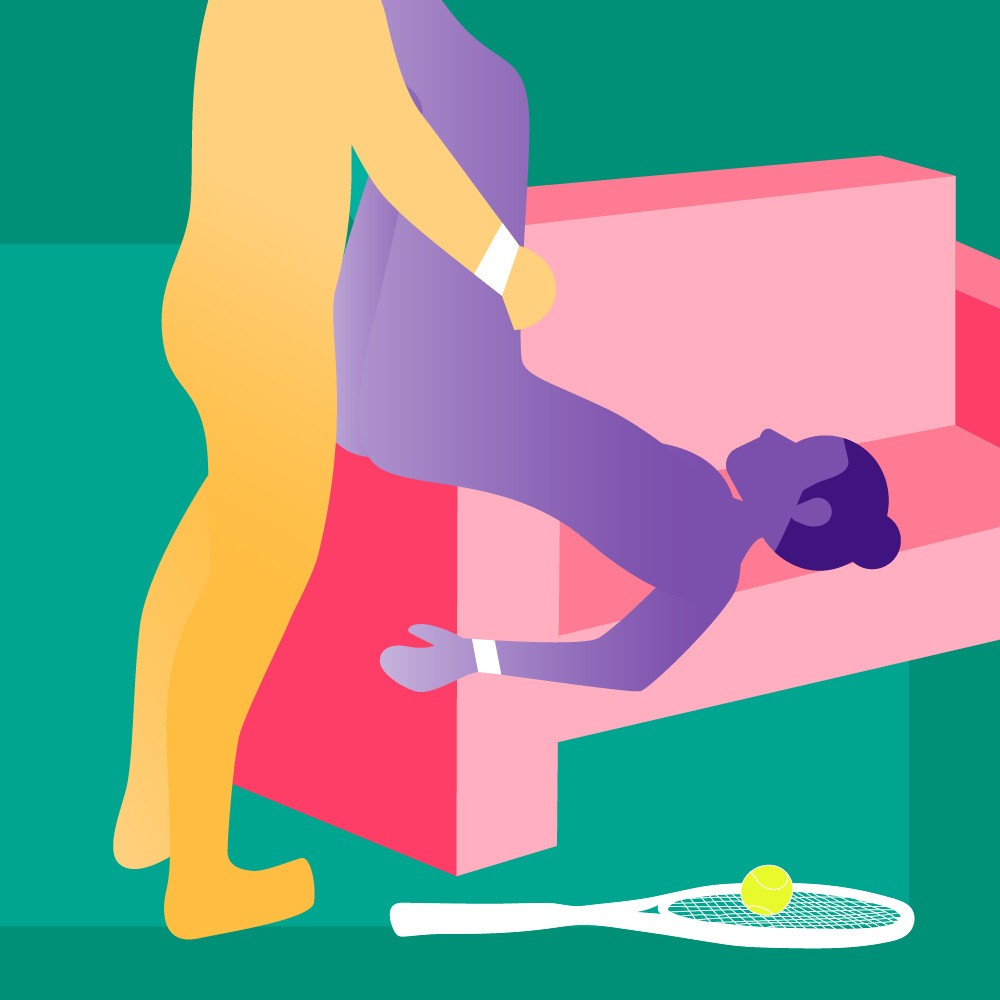 We couldn't go past Nadal's pet name for the Australian Open. I mean, who doesn't like to get (happily) slammed in the bedroom, am I right?
Much to your delight, this position requires very little effort to score that winning match point. Essentially like missionary 2.0, the bottom partner flips their legs up to allow for deep penetration and leave easy access to the clitoris for extra stimulation.
How to do it:
One partner lies down, facing upwards at the ceiling on a flat, elevated surface (like a bed or table). Shimmy down until their butt rests on the edge of the surface, then lift their legs straight into the air, making a right angle with the body. The second partner can then move to stand facing their partner at the edge, with their penis or dildo in prime position. Partner one can choose to rest their legs on the second partner's chest or shoulders, while the latter enters from behind.
How to hit an ace:
This hands-free position leaves a lot of space for clitoral stimulation, so you can team this slamming action with a peak player of its own. The sleek Womanizer X Lovehoney Pro40 Rechargeable Clitoral Stimulator will indulge your pleasure pearl in 6 levels of contactless stimulation, ranging from a soft flutter to pulsating suction. If you like to hit it on the full, you can also choose to use a butt plug like the beginner-friendly Lovehoney Ignite 20 Function Vibrating Butt Plug.
Deuce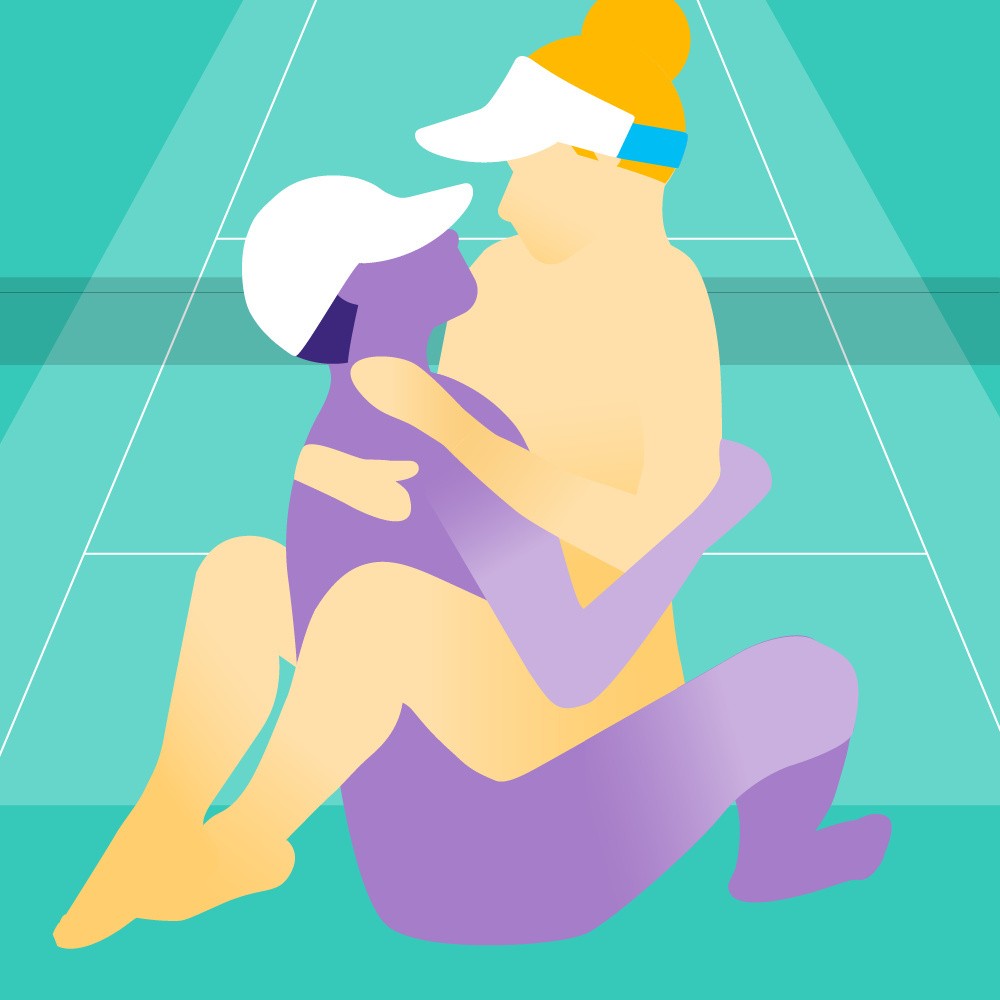 This intimate position will have you on equal level with your partner – chest to chest, eye to eye and pelvis to pelvis. With each of you sitting on 40-40, introduce some competitive fun by awarding the winning 2 points to whichever partner makes the other finish first.
It's safe to say this is a slow-and-steady lovemaking position, so don't try rocking the boat with deep thrusts. Partners with a clitoris can find deep satisfaction from grinding against their partner's pelvis, while everyone's hands are free to explore.
How to do it:
The first partner sits cross-legged on a comfortable surface, before the second partner climbs onto of their legs to straddle them. The second partner can choose to wrap their legs around the first partner's torso or stretch them out straight on either side of their partner's hips. The partner on the bottom will then typically penetrate the person on top, using rocking motions to trigger waves of pleasure.
How to hit an ace:
You've got two consecutive points to win before you take home your partner's orgasmic glory. So, you need a few cheeky tricks up your sleeve. Test out the textured Lovehoney Bionic Bullet 5 Function Vibrating Cock Ring to tease the clitoris and balls with 2 speeds and 3 patterns of rumbly sensations. A sensual massage could also be on the cards with the Lovehoney Mains Powered Classic Metallic Magic Wand, sending intense multi-speed vibrations to all the right places with every gentle stroke.
Being so close to the chest, you also can't say no to a bit of nipple play. Stick a couple of the Lovehoney Colourplay Colour-Changing Silicone Nipple Suckers onto you or your partner's nips for titillating sensations that leave them super sensitive to the touch.
Doubles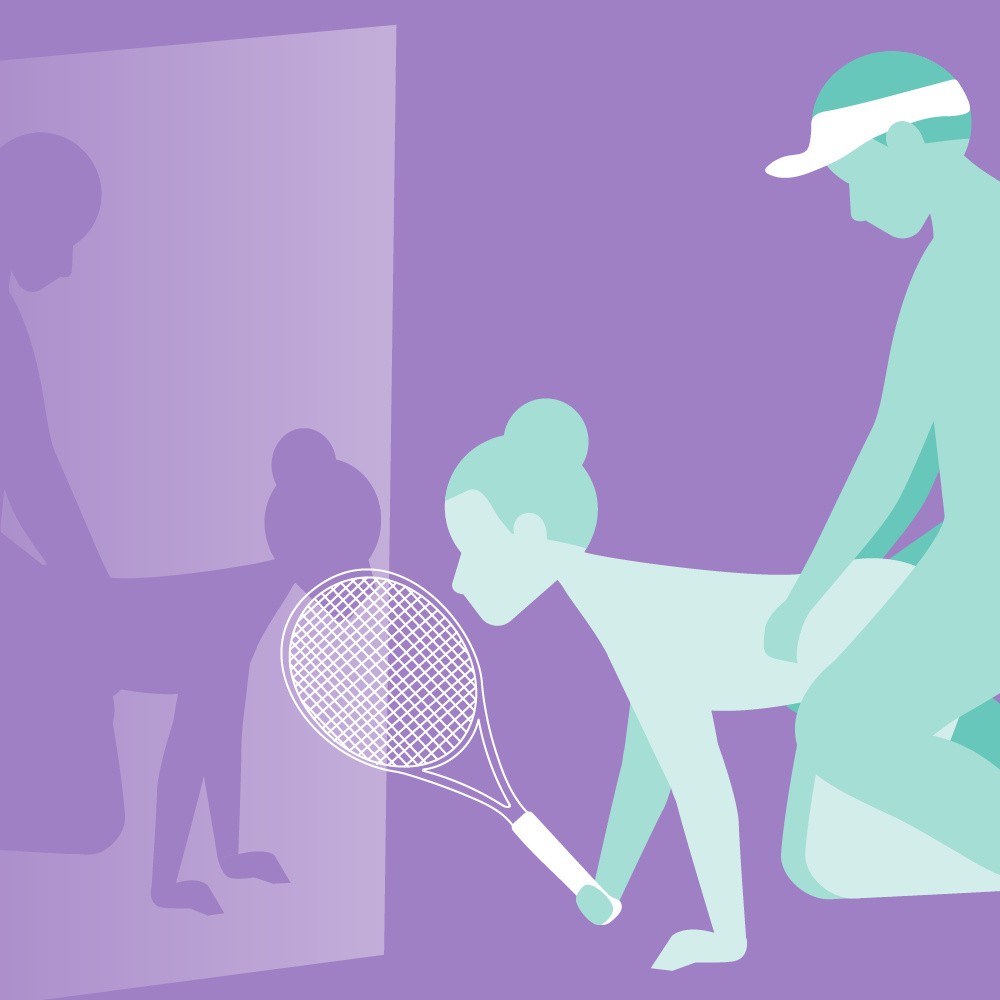 Calling all you voyeuristic lovers out there. This double-the-trouble position is calling your name.
Incorporating a mirror into your private play time will have you seeing double, making it look like there's two more people playing in the mix. Mixed doubles or not, combining deep penetration with the erotic vision of you and your partner getting off will have you calling "game, set, match" in no time.
How to do it:
First things first, find a full-length mirror and position it in front of a comfortable space, whether that's a bed or a floor littered with pillows. Once this is set up, navigate into the doggy-style position with one partner on their hands and knees, and the other kneeling behind. Make sure you're both facing the mirror before the second partner guides themselves inside.
Hit an ace:
Everybody knows that staying in tune with your partner is an essential part of doubles, and it's no different for this position. Try syncing up the sensations with a hands-free wearable couple's toy like the We-Vibe Sync Simple Remote Control and App Rechargeable Couple's Vibrator. Featuring flexible, dual stimulation arms and app-control capabilities, you can enjoy thrumming sensations all throughout your backcourt play.
If you want to toe the line a little further, why not feature a cheeky spanking paddle or flogger in your little rally, like the Lovehoney Satin and Leather Spanking Paddle or Bondage Boutique Slap 'n' Tickle 10 Inch Rubber Flogger. Either option will complement each swing with tantalizing teases and arousing stings that send shivers down your partner's spine.
Alternatively, if the thought of watching yourself in full swing feels too bold of a move, introducing a blindfold into your play can be a sexy life saver. Simply strap on the silky-smooth Lovehoney Oh! Satin Blindfold to block out your dirty deeds, while enjoying an extra comfortable fit courtesy of the faux fur inside lining.
First Serve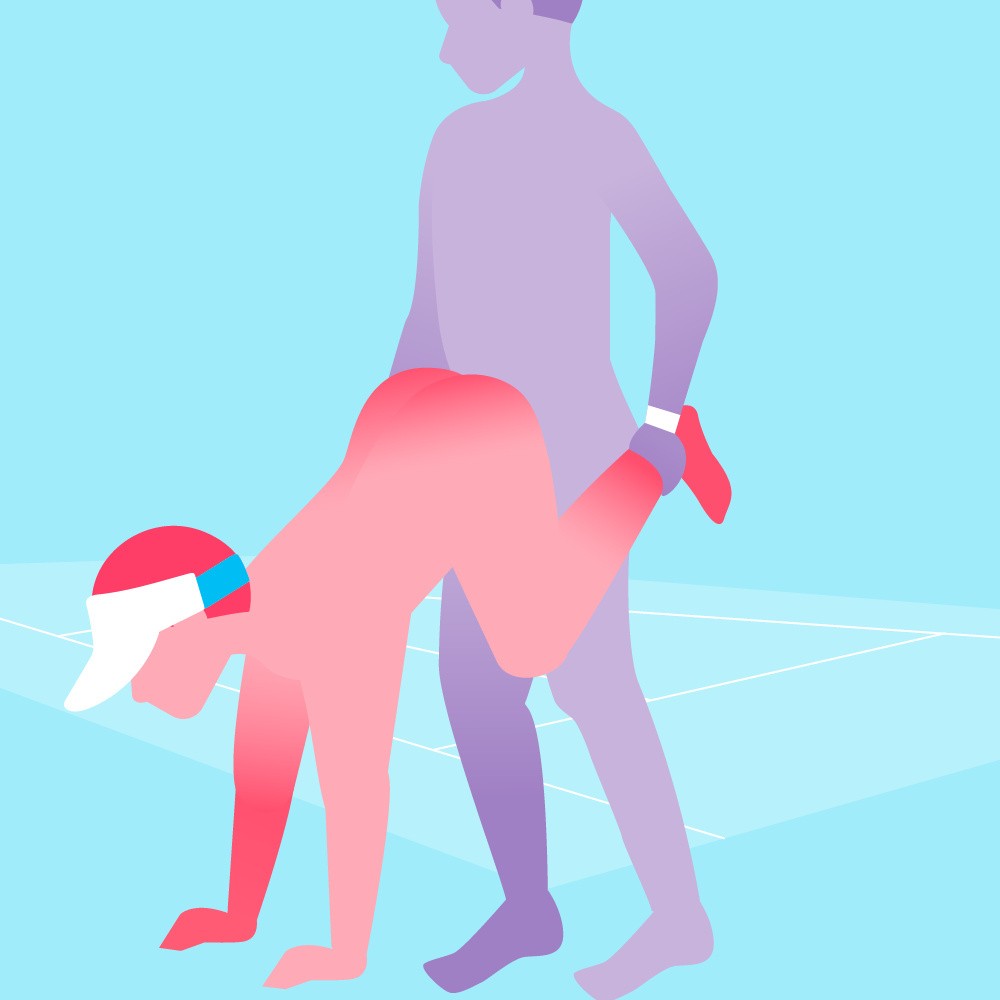 Nailing the first serve can be an absolute game changer. It's about the stance, the grip, the swing upwards, calculation of the angle and a powerful shot down to the backcourt. And yes that's right, we're talking about the position here.
This move requires a solid level of strength and stamina to achieve that delightfully-deep backcourt penetration, but your efforts will be well-compensated with delicious g-spot and a-spot stimulation. To avoid any face-planting faults, the lifted partner
just needs to remember to raise their head above their heart every so often to keep that circulation pumping. Plus, maybe place a few pillows underneath their head. Just in case.
How to do it:
The first partner rests on their hands and knees, while the second partner kneels behind them. Just like performing doggy-style, the second partner should enter from behind while kneeling in this position.
Now, this is where things get a little more advanced. While staying inside, the second partner lifts the first partner's legs up and holds them on either side of their waist. The first partner can choose to keep their legs straight or wrap them around the waist of their partner, depending on their flexibility. Once the legs are secured with a strong grip, the second partner can stand up into position. The standing partner then holds all the power in this position, controlling the speed and intensity of each thrust.
How to hit an ace:
Whether you're dangling upside down or not, it's safe to say all your hands are pretty preoccupied while thrusting first serves in this position. The Lovehoney Lust Remote Control Wearable Couple's Vibrator can take a load off, delivering extra hands-free stimulation straight to the love bud and balls (if you're that kind of ball boy). Bending to fit the unique contours of this position, the wearable vibe boasts extended arms that wrap around the shaft and thrill your erogenous areas with 7 thrumming possibilities.
If you want to make even more of a racket, add the Lovehoney Butt Tingler 10 Function Vibrating Butt Plug into play for a tingly, fuller feeling.
Lob Shot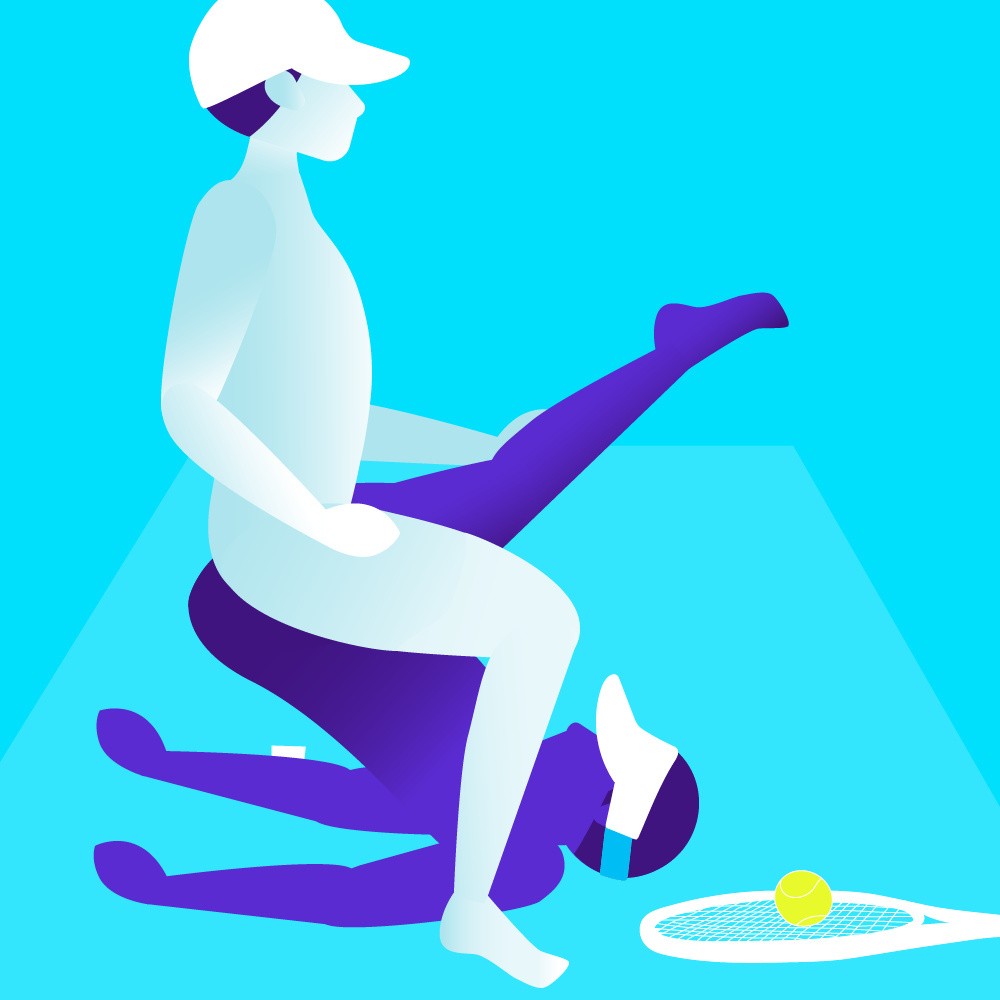 In tennis (yes, we're actually talking the game here), the perfect lob shot involves hitting high and driving deep into the backcourt. Come on, you can't deny it's got an erotic ring to it. It's as if they KNEW it would make the perfect sex position one day.
To fulfil this destined purpose laid out all those years ago, this lob shot position turns the kink-o-metre up to the max. Rest assured, it's not for the faint-hearted, requiring a high level of stamina and flexibility to sustain an open position for deep penetration.
Shoulder stands and squats also make an appearance, so be prepared to get your heart rate up quick stat.
How to do it:
The first partner lies on their back and with the help of their partner, lifts their butt and legs up into a shoulder stand. Holding the first partner's ankles, the second partner then stands facing them, with feet on either side of their body. A light squat will allow them to enter the first partner from above, gently thrusting in and out from a whole new angle.
For greater stability and support during the shoulder stand, the first partner can choose to lean their back against a cushioned headboard or couch.
How to hit an ace:
Play out the point for even longer using the Lovehoney Magic Bullet 10 Function Silver Bullet Vibrator. The ball is truly in your court with this bullet's tapered tip, allowing precise clitoral stimulation to complement the 3 intensities and 7 patterns of vibrations travelling down the 4-inch body.
If you're feeling game, try introducing a little power play by tying the lifted partner's ankles together using the BASICS ankle cuffs. Adjustable and beginner-friendly, the cuffs feature velcro fastenings for easy, tug-resistant restraint.
The ball is in your court now…
Whether you're an amateur or advanced player, we hope you found a position to try out this grand slam season. With balls in hand, backcourts in prime position and every stroke finely finessed, you'll be ready to rally the night away.