The Lovehoney Guide to Lingerie Styles
If you are baffled by basques or confused by corsets, Lovehoney's here to guide you, whether it's your first foray into the exciting world of lingerie or you're a seasoned veteran.
Much like dildos and vibes, lingerie comes in a range of different shapes and styles to flatter your figure, suit your mood, or even catch the eye of your beloved. From structured lingerie like corsets, basques, and other figure-hugging styles, to unstructured garments, like camisoles and babydolls, and everything in between, Lovehoney has you covered when it comes to your unmentionables!
Structured lingerie: stylish and seductive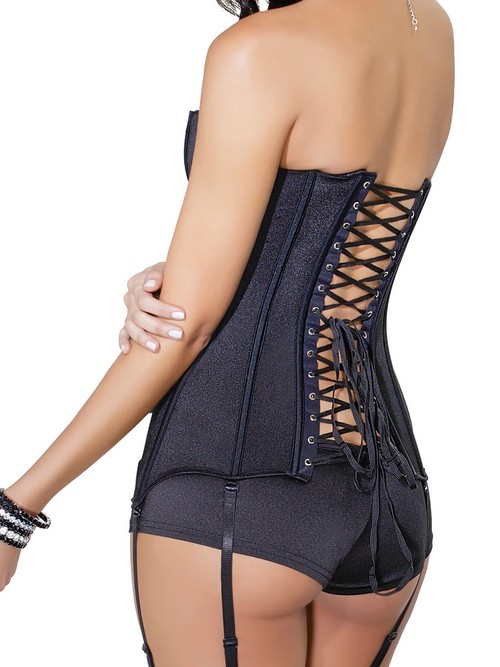 These figure-hugging, body-sculpting pieces are the perfect way to create a classically seductive silhouette that enhances your natural body shape.
Corset:
Designed to snatch your waist and boost your bresticles, corsets are a major turn-on when they're laced up nice and tight. While most corsets cover the twin peaks, others (underbust corsets) leave very little to the imagination exposing your tatas, headlights and all!
Lovehoney recommends: Coquette Zip Front Longline Corset with Suspenders
Bustier:
If a corset and a bra were to have a baby, you would have yourself a bustier! Bustiers look much the same as a long-line bra but don't sit as far down on the body as a corset. Some feature figure-sculpting boning while others are less structured, but they're ultimately designed for shaping the upper part of your torso and making you look, well, bustier…
Lovehoney recommends: Lovehoney Red Peek-A-Boo Merry Widow Bustier Set
Basque:
Similar to a corset or bustier, a basque features built-in cups, and is made from more lacey material. Although this piece may also feature some extra boning to enhance your shape, it won't reduce your waist in the same way that a corset will.
Lovehoney recommends: Lovehoney Plus Size Boudoir Belle Blush Pink Push-Up Basque Set
Merry Widow:
Carrying on from the basque theme, a merry widow is basque-like with built-in suspender straps extending from the hemline. Merry widows pair perfectly with sexy stockings and some devilish heels.
Lovehoney recommends: Exposed Liquid Onyx Cupless Merry Widow Bustier Set
Catsuit:
Playout your Catwoman fantasies by donning a sleek, sexy catsuit! Catsuits are a full-bodied, skin-tight suit that often features a zip along the front, and sometimes a crotchless secret if you're lucky!
Lovehoney recommends: Lovehoney Fierce Wet Look Zip-Around Catsuit
Mini Dress:
As the name suggests, a mini dress is simply a dress with a cheekily short hemline. Normally tight-fitting, a slinky mini dress is an ideal garb to take you from the dancefloor straight to the bedroom!
Lovehoney recommends: Lovehoney Black Halterneck Mini Dress
Unstructured lingerie: flirty and feminine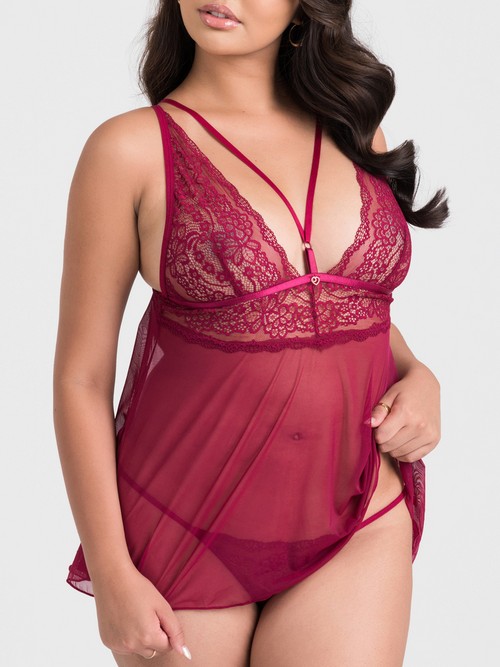 Fun, flirty, and with the ability to properly BREATHE, unstructured lingerie offers a smoking hot but less restrictive option.
Babydoll:
Looking to flaunt your coconuts and brandish your pins? With cups and a full skirt, a babydoll ticks all the boxes. The beautiful, flowy material flares out from under the bust, making it ideal for drawing attention away from the midriff area and emphasising your other prized spots. Not to mention it's comfy enough to catch a little shut eye in!
Lovehoney recommends: Lovehoney Late Night Liaison Wine Lace Babydoll Set
Flyaway:
If you love the look of a babydoll but still want to show off your tum, then opt for a flyaway. It takes all the hottest features from a babydoll and pairs it with a cheeky split front, back, or both so you can show off your abs.
Lovehoney recommends: Lovehoney Plus Size Unwrap Me Red Lack Babydoll
Chemise:
Chemises combine practicality with sex-appeal, taking you from the lounge to the bedroom. Loose-fitting with gentle tailoring at the waist and slim fit through the hips for a sexy, slinky look. Chemises are flattering on all body-types and make excellent gifts.
Lovehoney recommends: Lovehoney Parisienne Light Pink Lace Plunge Chemise
Body:
Flaunt what your Mumma gave you with a beautiful body. Shaped like a traditional one-piece swimsuit, with a vest top and bikini shaped bottoms, a body is perfect for showing off your curves in a cozy, figure-hugging, all-in-one garment.
Lovehoney recommends: Lovehoney Fierce Plunging Mesh and Leather-Look Body
Cut-Out Body:
Dare to be even barer with the slinkier, skimpier version of the one-piece body that features daring cut-outs and open sections to show off your skin in all the right places. The perfect alternative to a traditional bra and panties combo, a cut-out body also helps to create the illusion of curves if you have a more athletic body shape.
Lovehoney recommends: Lovehoney Seduce Me Red Push-Up Crotchless Cut-Out Body
Teddy:
Also known as a playsuit, a teddy is a one-piece garment that combines a vest top with cute little booty shorts on the bottom. Teddy's are flattering for all figures, creating a sensual silhouette for curvy and athletic figures alike. They come in a huge range from pieces that have more coverage to more revealing pieces that leave very little to the imagination.
Lovehoney recommends: Lovehoney Jewel Satin Black Plunging Teddy
Panties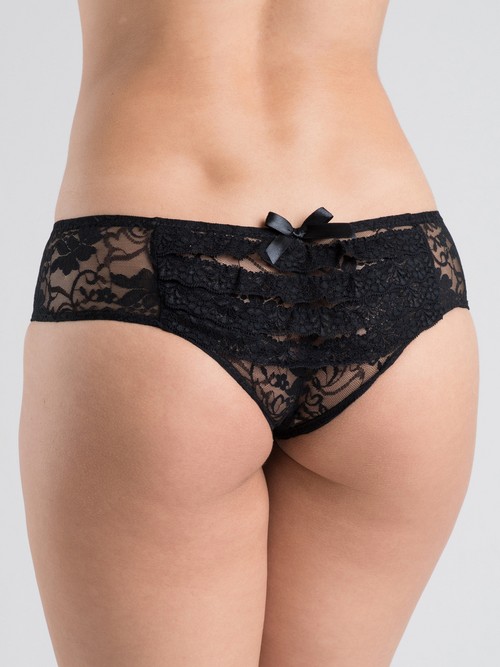 There's nothing better than a fresh pair of gorgeous, lacey panties! Perhaps the easiest and least expensive option for adding a bit of spice to your knickers drawer, choose from panties and briefs for a little more coverage or opt for something a little skimpier and show off your peach.
Briefs & Shorts:
Briefs, booty shorts, French knickers, hot pants… With so many names, it's no wonder so many people get their panties in a twist trying to navigate the world of sexy underwear! These styles of panties offer full coverage across the front and your derriere for a demurely sexy look.
Lovehoney recommends: Lovehoney Crotchless Lace Ruffle-Back Knickers
Thong:
A modern classic, the thong leaves your cutie patootie cheekily exposed! Perfect for avoiding visible panty line, or VPL as we like to call it, a thong is sure to get the bloody boiling for not just the wearer but anyone else who is lucky enough to lay their eyes on your tantalising tushy.
Lovehoney recommends: Lovehoney Red Crotchless Pearl Thong
G-string:
A G-string offers the same cheeky exposure as a thong, with the main difference being that the width of the fabric that sits between your cheeks is barely there with a G-string, giving an even more daring look.
Lovehoney recommends: Lovehoney Red Crotchless Lace G-String
Hosiery & Stockings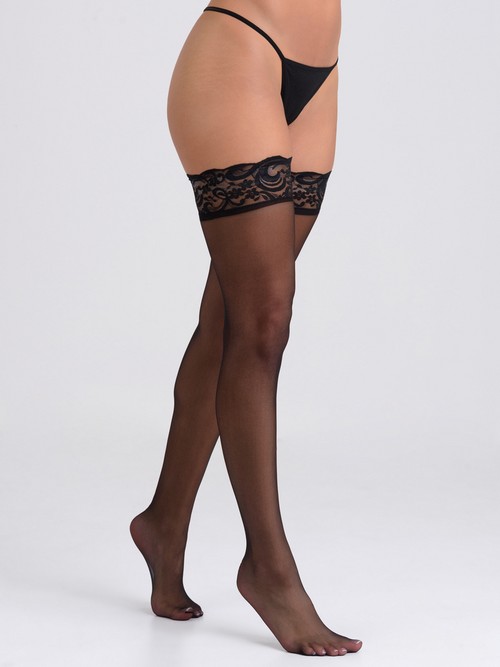 Complete your lingerie set with a spectacularly seductive pair of stockings for a top-to-toe sexy look. Whether you're after sheer, fishnet, fencenet, or back-seamed, Lovehoney has a huge range of hosiery smooth your legs and snatch your bod.
Hold-Ups:
Ditch your suspender belt with a stunning pair of hold-ups. Their fabulous tops are often trimmed with lace, ribbon, or PVC and feature elastic or gripping silicone material so they stay put.
Lovehoney recommends: Lovehoney Sheer Lace Top Hold Ups
Stockings:
Unlike hold-ups, stockings don't feature elasticated or silicone tops and require a suspender straps or belt to keep them high and tight. Matching your suspender stockings to your lingerie is an art form, but when pulled off well it creates an eye-popping vision.
Lovehoney recommends: Lovehoney Sheer Light Beige Lace Top Stockings
Garter Belt:
A garter belt, or suspender belt, is a strip of fabric that fastens around the waist with straps that attach to suspender stockings. Generally, garter belts feature four straps, but some retro-styled belts may feature more.
Lovehoney recommends: Lovehoney Love Me Lace Suspender Belt Black
Bodystocking:
Bodystockings are stretchy head-to-to garments made from the same sleek material as stockings. While these pieces offer more coverage than other lingerie options, they make an incredible base for outfits or work just as well as a sexy all-in-one solution. Not to mention the beautiful fabrics they're made with and the cheeky crotchless options on offer!
Lovehoney recommends: Lovehoney Pure Lust Fishnet and Lace Body Stocking
Tights:
With smoothing and shaping properties, tights are incredible for creating a sexy silhouette. While tights aren't strictly paired with a lingerie set and are often worn as part of an everyday outfit, there are a few designs available that feature cheeky details, like being crotch-free for a bit of extra kink.
Lovehoney recommends: Lovehoney Plus Size Patterned Fishnet Suspender Tights
Purchasing some beautiful new lingerie for yourself or as a gift for someone else needn't be a pain any longer. Thanks to Lovehoney's extensive range of one size lingerie, you can feel confident that your online purchase will fit like a glove! And because lingerie isn't just for the ladies, Lovehoney also offers an incredible collection of men's lingerie so you can be sure his meat and two veg are being looked after too.
More Sexy Lingerie advice
Lovehoney's Christmas Day Sex Toy Sale
Just like a snag at a Christmas Day BBQ, our festive products get snapped up quickly. The best way to bag an unbeatable sexy Christmas present is to stay up to date on all of our steamy holiday promotions.
Here are our hottest three tips to stay in the know.
Get in bright and early
The easiest way to secure your sexy gift is to start shoppin' before the Christmas lights are lit. As most of our Christmas Day Deals are early access, your best bet is to get in sooner rather than later.
Have us slide right into your inbox
Fanging for fresh off the press promos? Sign up to our email list and we'll let you know exactly when our Christmas shop opens up along with some sweet deals.
Keep an eye out
We announce everything on our socials, so watch out for updates on our Facebook, Instagram and Twitter.
For Her
Treat your lady to the sexy Christmas present she truly wants and deserves. Spoil her with the gift of steamy sex by finding the perfect vibrator, butt plug or piece of lingerie. Looking for a sexy stocking stuffer for a gal pal? Get them the sexy gift you know they want but are too shy to buy themselves. Nothing says "I bring you good tidings" like a mind-blowing orgasm!
If you're a woman wanting to dress up for your lover, Christmas lingerie or festive pasties will transform you into an alluringly wrapped gift. It'll truly make it the most wonderful time of the year.