How to Attach Suspenders to Stocking
Maybe you're looking to revitalise your undergarment wardrobe, throw on some surprise lingerie to entice the romance, or simply want to feel good from the inside out - whatever the reason for investing in a new pair of stockings, it's knowing how to wear them well that will leave you feeling and looking your sexiest.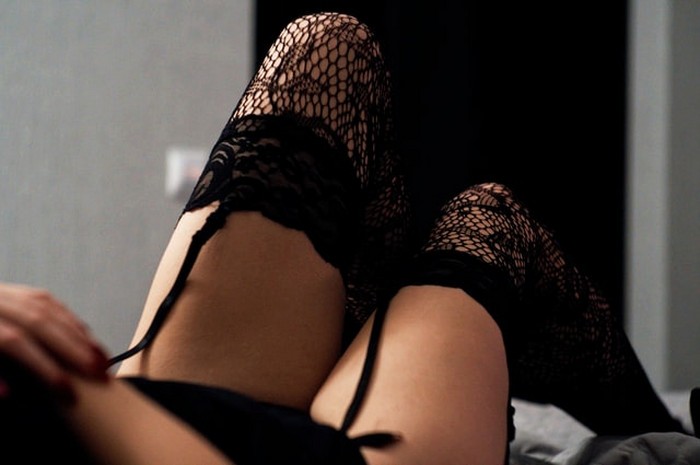 And you'll need more than just the stockings. Not only do suspender belts hold your stockings up during the friskiest of trysts and the most energetic stripteases, they also boost your lingerie's sex appeal to eye-watering levels.
However, if you aren't careful when you clip, you might find yourself with your stockings round your ankles before you've made it to first base.
We've put together a handy guide to help you master a perfectly put-together look.
How to keep stockings up
Let's start at the basics - keeping your stockings up through the day and during the most adventurous of play!
Firstly, it's worth bearing in mind that stockings do differ from holdups. If you're used to wearing your sultry sheer hosiery complete with elasticated thigh bands and inside grip, stockings are a whole new experience!
Unlike its lingerie sister, suspender stockings are designed specifically to be worn with a suspender belt for hold. With no rubber backing or elasticated band for fit, they are worn through clip attachment to a suspender belt - a thin, often sheer piece of material that sits across the stomach and fastens around the waist.
Most commonly, suspender belts, also referred to as garter belts, will come with at least four clips. By fastening your stockings to each clip, you can play assured your lingerie will stay firmly in place.
How do suspenders attach to stockings?
Quickly and easily when you follow our guide! Your garter belt should come with two to four clips - often two at the front and two at the back, each should have a rubber nub. Some suspender belts come with additional clips and suspenders for extra hold.
To attach the stocking to the suspenders, simply open the fastening by pushing the nub upwards before sliding the material of your stocking through the opening and across the top of the rubber nub.
You'll want to use the thickest part of the thigh band for attaching the stockings to your suspenders. Once in position, lock in place by pushing the nub back through the clasp. Repeat this process for each clasp and suspender attached to your belt.
There you have it, one quick easy tutorial on how to attach your stockings to your garter belt! For a step-by-step guide, scroll further down the page to watch lingerie expert, Sammi Cole, show you how it's done.
How to attach stockings to garter belt
Now that you've chosen the set, here's how to wear it best.
First thing first... Put on your stockings! (This may seem obvious, but if you're wearing structured lingerie that's not that easy to move around in, putting them on afterwards will be a lot harder.) If you've never worn stockings before, just roll them up your leg like you would a pair of socks.
Step-by-step guide to garter belt success
Put on your garter belt or lingerie with attached garter straps

Undo the garter clip at the end of the garter strap, by pushing the rubber nub that's at the back up and through the widest point of the frame at the top (watch the above video for a close-up)

Take the top of your stockings and, starting with the front strap, move it between the rubber bit at the back of the garter clip and the metal or plastic frame at the front. For garter belts with 6 straps or more, start with the straps at the sides

Push the rubber nub through the widest part of the frame at the front, with the stocking in between. Done!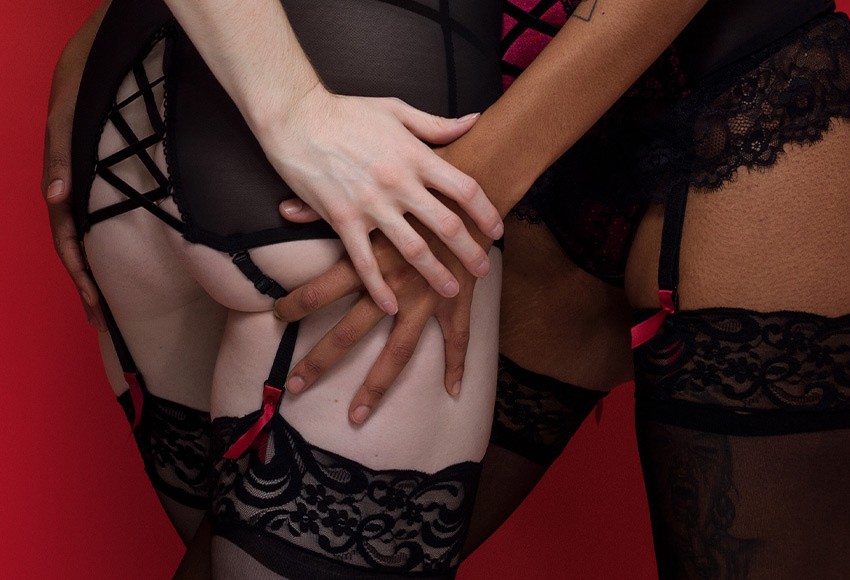 How should I wear a suspender belt?
Typically, a suspender belt is worn above your knicker line similar to a belt. Most often, it fastens using a hook and eye closure found at the back of the belt. When fitted correctly, your garter belt straps should fall nicely on your thigh.
Now, here's for the great debate - do you wear the straps under or over your knickers or briefs?
That answer is entirely down to you! Some prefer the visual aesthetic of wearing the straps on top, whilst others prefer to wear them under, meaning less to unclip and remove for those necessary bathroom trips.
Either way, stockings when paired with a suspender belt will look effortlessly enticing and are certain to make you feel good too!
Choosing the right stockings and suspender belt
If you're new to the fashion of stocking-wearing, you might find yourself wondering which set to go for - and there are plenty to choose from.
Lace sets are amongst the favourites, and a simple white design like this Dreamgirl White Stretch Lace Suspender Belt is perfect for understated glam when worn as part of your bridal lingerie.
For something that offers a little more modesty where preferred, this Coquette Plus Size Black Stretch Belt is high-waisted, offering more skin coverage with no less sex appeal!
If lace isn't quite the right look, PVC might just be! This fetish-inspired Black Level Buckled Suspender Belt has a glossy eye-catching finish and adds a sense of edge to your lingerie choice.
Video: How to Attach Stockings to Suspenders
Lovehoney sexpert Sammi Cole shows how to attach stockings to your suspender belt