How To Practise Bondage for Beginners
Check out our beginner's guide to bondage and BDSM play.
There's no doubt that BDSM has experienced a serious re-birth thanks to the Fifty Shades series, and we are absolutely here for it! With so many people dipping their toes into BDSM for the very first time, it's important to do your research so you can discover the do's and don'ts of BDSM so you and your kinky companion can have the best time possible.
If you've not progressed your sexual play by exploring a bit of kink or introducing some light bondage or BDSM, then you may be unfamiliar with the BDSM basics. Luckily, Lovehoney is here to step you through the different types of bedroom bondage and bondage techniques.
We've got all types of bondage tutorials, from how to tie someone up to how to tie bondage rope to self-bondage.
What is BDSM?
BDSM is an umbrella term for a whole range of fun, erotic play that's well worth a try if the feeling takes you! Think of BDSM as a spectrum. You may want to start out at the more vanilla end with some soft BDSM before progressing your play through to the hard BDSM. Wherever your play falls along this naughty spectrum is entirely up to you and your playmate.
The acronym 'BDSM' encompasses three meanings:
Bondage and discipline (B&D)
Dominance and submission (D&S)
Sadomasochism (S&M)
The thing that unites all BDSM disciples is their fascination with interpersonal power dynamics, so you can think of BDSM as a field of erotic power play. Who wouldn't want to frolic amongst it?!
Dom and sub
Chances are you're familiar with the terms dom and sub, but do you know what they mean? Short for dominant and submissive, these terms refer to the active, controlling role and the contrasting receptive, controlled role.
Some people are comfortable in one role or the other, whereas others may be comfortable exploring both and are known as switches. Whatever role an individual fulfils, it may or may not conform to how they act in real life.
How to introduce BDSM to your partner
We've got a whole bunch of nifty tips on how to gently introduce BDSM to your boo. Rule 101 is absolutely NO surprises. Be transparent about exactly what you'd like to try and be open to hearing your lover's requests too.
Another surefire way to up the kink in your bedroom play is to put the fun into BDSM by turning it into a game! Gamefying BDSM is an amazing way to relieve some of the pressure from what could be quite a confronting situation. Here are some of our top picks:
Informed consent
No BDSM or bondage chat is complete without gaining informed consent before you get down to business! Why not sit back with a vino, a beer or your drink of choice and have a good old chinwag about exactly what you'd like to get out of this experience together and what you'd like to try?
Given that physical restraint often features throughout BDSM and bondage, it's more than likely that one person will be sacrificing their power to react or escape. This confinement can create a real sense of fear, but when the partner leans into that fear and learns to trust, it can help to deepen your relationship and further your desire for one another.
Safeword
With restraints and bondage in play, it's a great idea to establish a safe word before indulging in a bit of afternoon delight. One suggestion is to take the traffic light approach, where green means go for it, yellow means pump the breaks a little, and red is stop immediately!
If you're playing with gags and other accessories that muffle speech, you may want to use a safe gesture instead of a safe word, but be sure to make it extremely clear.
Although 'stop' might seem like an obvious option, we recommend avoiding it as your safe word as you may want to actually incorporate it into your scene without running the risk of halting play at an inopportune moment, like if you say "don't stop".
So now that we're all caught up on BDSM and bondage basics, it's time to get freaky! What about BDSM appeals to you? Are you into the idea of spanking? Do you want to be on the receiving end or would you rather spank your kinky companion? Or are you stuck for ideas completely and need a bit of a helping hand with getting started?
Have no fear! Here are a few fun ideas to start with along with some toys that are ideal for your first foray into BDSM!
Technique #1: Tie and tease
Blindfolds & Masks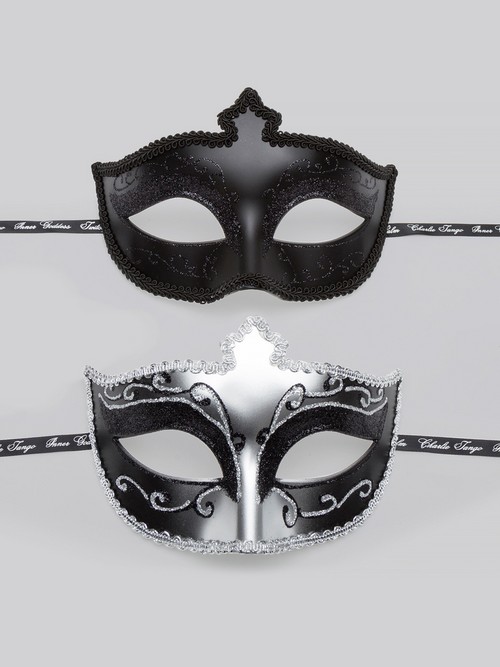 This may seem like an obvious place to start, but a classic bit of BDSM kit is the trusty blindfold! Removing the sense of sight is what's known as sensory deprivation and is a great non-threatening place to start.
Similarly, incorporating masks into your play, while they won't deprive you of your sight, is another wonderful way to get into role play. Strapping on a mask is a great way to embody another character that may be more submissive or dominant than your usual self. We love the Fifty Shades of Grey Masks On Masquerade Mask (Twin Pack), which includes a mask for both you and your lover!
Silk Ties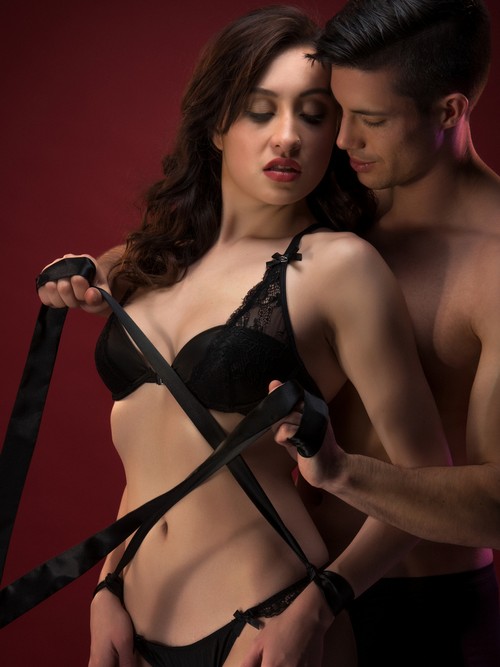 It doesn't take much to tie someone up, and chances are you have a few pieces lying around the house that you could use as BDSM restraints.
If not, the Lovehoney Silky Black Bondage Restraints (4 Pack) make for the perfect first-time restraints. Soft, smooth and silky, these luxurious restraints are a great non-threatening to bind someone for pure, erotic bliss.
Pair with a blindfold to see if these two tickle your fancy when it comes to bondage.
Technique #2: Bound by love
Handcuffs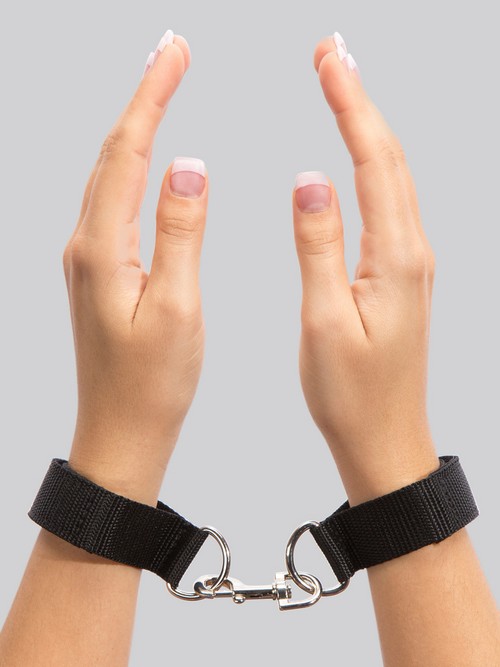 When it comes to typical BDSM and bondage aids, handcuffs have to be one of the most popular accessories there is! Plus, they're a bloody stellar way to restrain your flame. Whether you've always fantasised about being banged up by one of the boys in blue or you just love the feeling of having something around your wrists, these wrist wranglers will do the trick.
Keep in mind that our Lovehoney Australia Medical Reviewer, Dr Armin Ariana, warns against using cheap handcuffs. And, though illegal to purchase in some Australian states, it's advised not to use real handcuffs as using them during play can cause nerve damage.
If you're a cuff newbie, we suggest starting with a pair of velcros like the BASICS Wrist Cuffs that are comfortable and easy to get out of if you get a case of the first-time nerves.
One way to have a bit of naughty fun is to cuff your sidekick to a piece of furniture like a bed frame or chair so you can explore their bod or even give them a cheeky lapdance.
Tape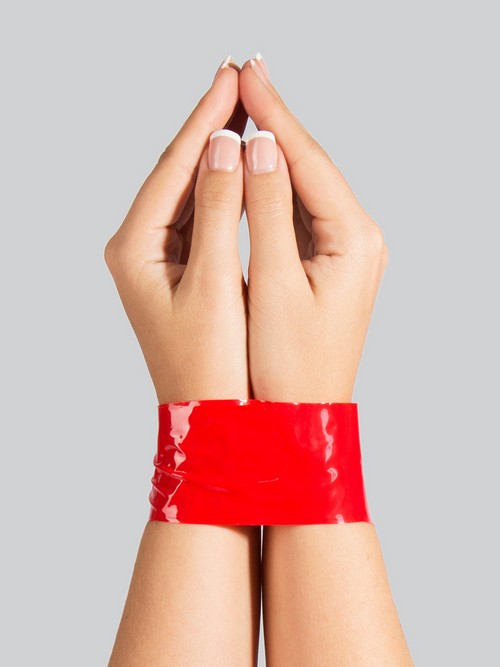 If you're after other ideas on how to tie someone up, then why not give bondage tape a red hot crack? Bind ankles, wrists, neck or all their limbs together hogtie style. The Lovehoney Bondage Tape is an absolute hoot and perfect for beginners. Sticking only to itself, it's perfect for use on skin, furniture and clothing so you don't run the risk of sticky marks and waxed limbs.
Harness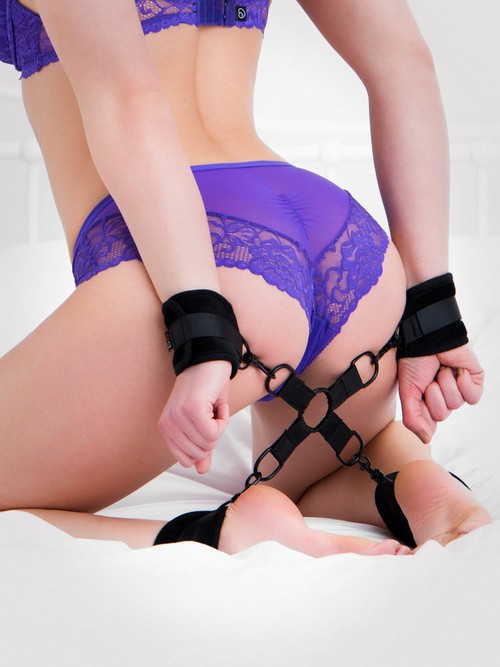 Spreaders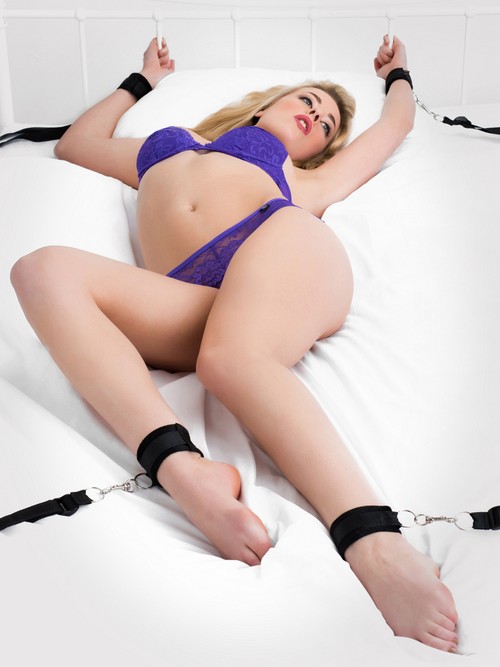 While restraints pull limbs together, whereas spreaders force them apart.
Incorporate a spreader in different positions. Up against a wall for some alley-style fun or lying down for some medical-style play that can be paired with matching BDSM lingerie like a nurse or doctor's outfit.
One of Lovehoney's best sellers is the Bondage Boutique Black Bound to Please Under Mattress Restraint. Tuck it under your mattress for safekeeping and whip it out when the feeling strikes you. Simply blind your beloved's limbs to the four corners of the bed and get to town on them.
Rope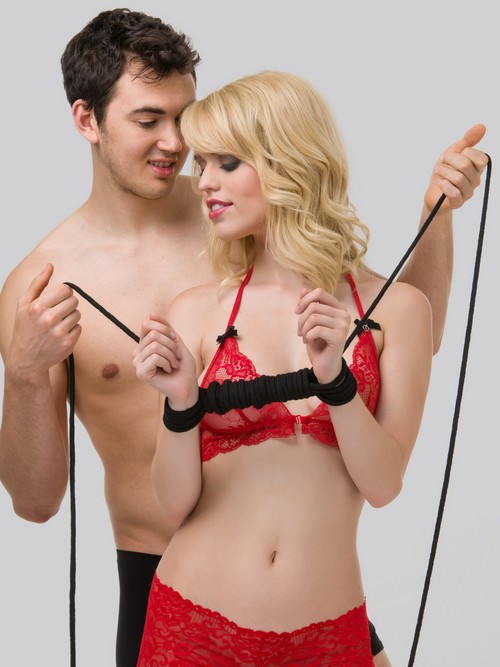 Another basic bondage technique is bondage rope tying. Full body bondage might send shivers down your spine, but it can be super erotic. Check out our bondage tutorial and get the lowdown on how to tie bondage rope, bondage knots and which bondage rope you should add to your kit.
The Bondage Boutique Soft Bondage Rope 10 Metre is a great bit of gear to have on hand for a bit of light bondage and can actually be quite stunning when tied correctly.
"I am new to bondage and rope, and this was an amazing introduction! The rope is very comfortable and very nice to work with. There is also enough rope for a full harness,which is amazing. I would highly, highly recommend this product." - Lovehoney customer
Once your sidekick's all tied up, what on earth do you do?! The opportunities are truly endless, but if you're after a bit of inspo here are a few suggestions to get you started:
1. If your lover can still see, perform a striptease to get them ready to rumble!
2. Indulge your wooer in a bit of light sensory play with the help of a feather tickler to get their nerve endings firing.
3. Speaking of sensory play, why not introduce a bit of heat with the help of a massage candle?
4. Crack the whip and have a go at spanking their peachy patootie with a flogger or crop.
5. Bring out the big guns and fit your other half with a ball gag. As they say, silence is golden and we can confirm it's also incredibly sexy at times!
It should be noted that, in the world of health and medicine, using rope can be potentially risky. While enjoyable for bondage-lovers and those looking to explore their sexual bounds, it is important to consider safety and comfort when using rope bondage. In extreme cases, rope bondage can cause nerve damage, bruising and potential asphyxiation, so ensure to utilise a safeword and check out this article for how to fix bondage problems before they happen.
How to explore BDSM when you're single
BDSM and bondage aren't just for those who are coupled up! If you're flying solo you can still enjoy some self-bondage and other BDSM practises. If you are interested in learning more about solo BDSM, Dr Armin suggests having a read of this solo BDSM resource to introduce you to the topic.
Do your research
There are plenty of resources here at Lovehoney and online, so you can research BDSM at your leisure. If you're more of a visual learner, then why not treat yourself to a little Netflix and chill with a flick or two that will get your blood boiling.
Peruse the plethora of Reddit threads, or even jump onto Fetlife, a social media networking site for people who share a love of BDSM, kink and all things fetish. Or if you have a question or two that you'd like answered, you can jump onto Lovehoney's very own forum and chat to other like-minded Lovehoney clientele.
Get sensory
Sensory play is a huge part of BDSM and is super easy to get into on your own! Have fun with an ice cube over your erogenous zones, or if you're more of a hot bunny, give a massage candle a crack instead.
Dr Armin Ariana mentions that sexual play is exploring what bodies can feel and do. When practiced for pleasure, play is an enjoyable activity that allows one to explore new physical abilities, tastes, orientations, and connections. When viewed from this perspective, "play" is not the counterpart of "seriousness", and nor is it simply another word for "fun". Try adding a blindfold to your solo play to heighten your other senses. Or make your life easy and invest in a bondage starters kit so you can experiment to see what you like.
Recommended for Beginner's Bondage
Video: How to Ask for Kinky Sex
This vid has some great ideas to help you find the best way to introduce the topic of bondage with your better half. Enjoy with a Tim Tam and your partner by your side.
More Sexual Happiness Advice
You can never know enough about sex, right? Why not join us on our sexploration journey? Stay up to date with the latest advice on our blog, the Lovehoney forum and the weekly Sexual Happiness podcast.