How to Introduce Bondage to Your Relationship
Thanks to the old Fifty Shades of Grey effect, bondage has made a huge comeback in recent times with many curious lovers looking for new ways to spice things up with their playmates.
Bondage can be soft, sensual and romantic - as well as kinky and intensely thrilling. The simple act of restraining your lover offers new physical experiences and an intensified feeling of trust and closeness.
Bondage comes in many forms, from the elaborate, artful masterpieces of Shibari through to more simple but equally effective forms of blindfolding your boo and restraining their ankles and wrists.
Bring up the subject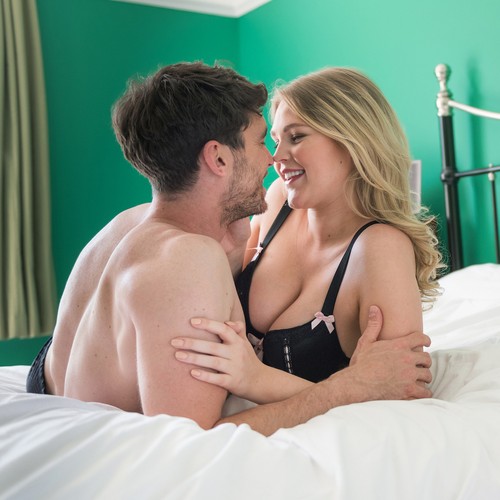 Sure, surprises are fun and all, but just not when it comes to bondage… Being restrained can be triggering for some people, so it's important to chat to your flame about both of your desires and limits first.
Discussing new ideas for the bedroom can be daunting and many people treat themselves to a bit of liquid courage before drunkenly making suggestions. While this approach may work for other sexual adventures, we suggest you steer clear of the booze when it comes to bondage as the two don't mix. When restraints are involved, you're not only responsible for your beau's pleasure but their safety too.
Bondage conversation starters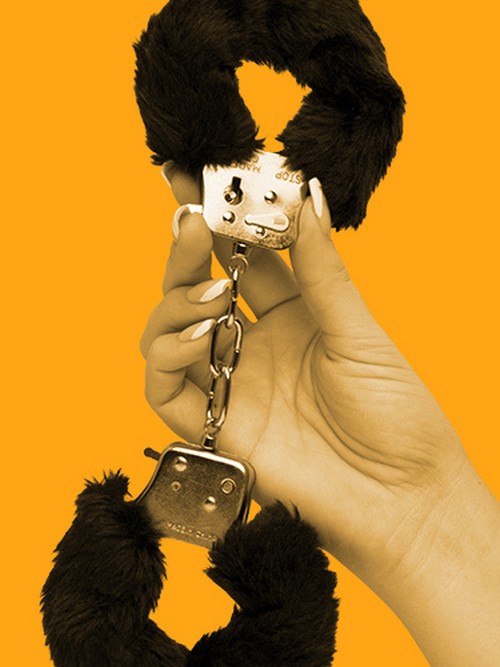 When speaking to your kinky companion ask open questions to understand their thoughts and feelings about dabbling in couples bondage for the first time. If you're stumped for ideas on how to introduce bondage, here's a few conversation starters you might want to try:
I've got a fantasy where one of us is in charge during sex. What do you think?
How would you feel about playing with a blindfold when we go to bed?
How would you feel if we looked on Lovehoney for some handcuffs and things for the bedroom?
Having an open and honest conversation about this kind of fantasy can help you to relate better as a couple as well as help you to express your emotions and expand your own thinking which in turn helps your sidekick to empathise and elaborate on your fantasy even more so.
Keeping it real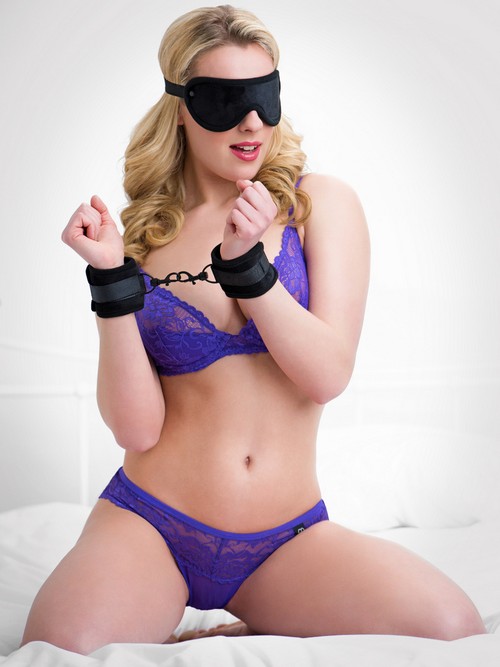 If either party is hesitant about introducing bondage into your bedroom routine, then there's absolutely nothing wrong with expressing your concerns. Have a think about why bondage doesn't sit right with you and chat it out with your partner.
You may even find that after a bit of discussion you may become more curious about exploring bondage with your boo, but if it's definitely a no-go for you then that's 100% fine too!
If you're both keen to give bondage a crack, then a great place to start is with a beginner's kit like the Bondage Boutique Temptation Soft Bondage Kit (2 Piece), which comes with cuffs and a blindfold - the perfect bondage basics!
"I bought this as a starter kit for my partner who hasn't used restraints before. They are good quality, and although they are soft and comfortable they are still sturdy. My partner is very strong and has big wrists, n but they held him firmly. I'd definitely recommend for a beginner." - CurvyNurse
You definitely shouldn't feel bad if you're not sold on trying bondage when your kinky companion is, but it's important to understand that their desires are valid too.
The right tools for the job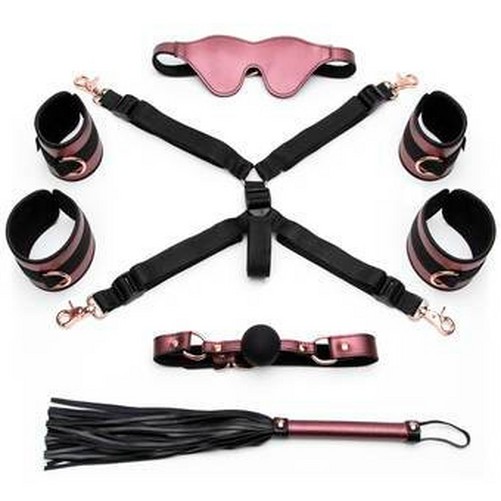 If you do decide to explore bondage, it's worth having a think about exactly what you'd like to try before dropping cash on bondage equipment so that you can be sure the gear matches your ideas.
Here are a few good starting questions to help you figure out what you want to try and what you should buy:
Are you looking to enhance foreplay and sensory play?
Do you or your partner have a preference as to who should be tied up or do you want to take it in turns?
Are you happy being locked into restraints or do you want to be able to escape if you want to?
First-time thrills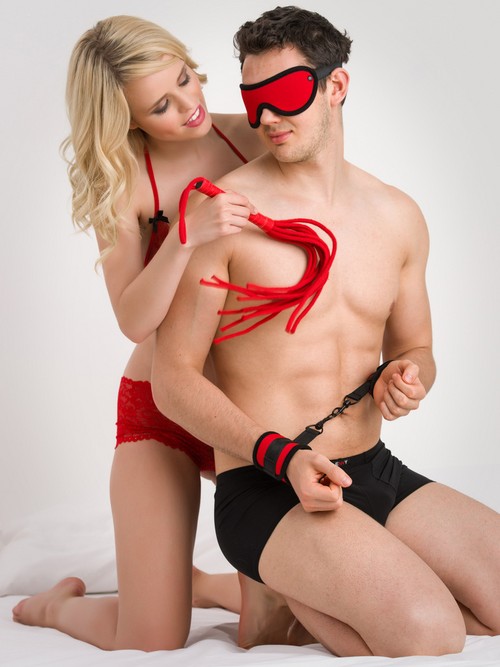 Once you're all fired up, it's time to put your money where your mouth is and invest in your first pieces of bondage gear.
Lovehoney is home to a whole range of beginner-friendly bondage options including handcuffs and blindfolds. Use the cuffs to experiment with restraint and the blindfold to add an element of sensory play while helping to alleviate any nerves about trying bondage for the first time.
To make things even easier, Lovehoney offers a range of beginner's bondage kits that have everything you need to start your first foray into the world of bondage! These kits are a great choice as they usually cover all of the bondage basics you'd likely pick up individually at a great price. Check out the Bondage Boutique Red Hot Passion Bedroom Bondage Kit (6 Piece) for all the basics.
"We are a very sexually active couple always willing to try new things and after this we are going to be buying more bondage equipment. This was a fantastic - little set up easy to use and is strong, and comfortable when in use. the flogger was really nice to hold and use and was comfy in the hand" - Alexandemily
Leather or lace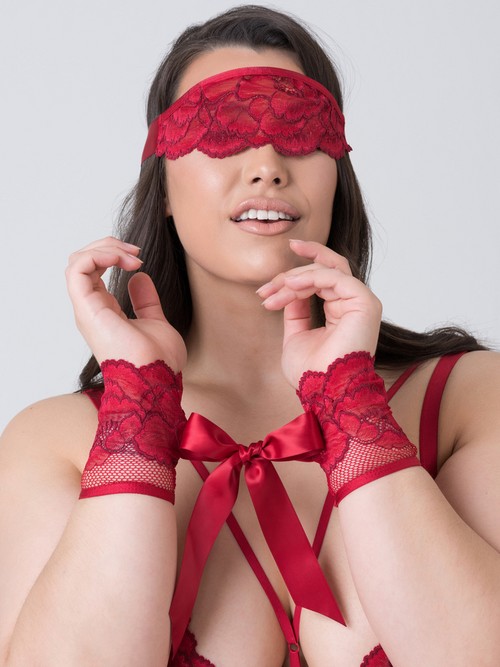 Bondage gear isn't always the most subtle, so if you're finding it a little OTT for your taste then there are plenty of alternatives to the traditional leather and studs favoured by bondage aficionados. A kit like the Bondage Boutique Seduce Me Lover's Bed Bondage Kit is a bit less in your face without skimping on quality making for a great starting point for your romantic bondage adventures.
"This is a MUST HAVE item! I love the material of the cuffs and love just wearing them around the bedroom with or without the use of the harness. The weight of them is perfect and soft against my skin. The matching blindfold is very effective. Can't see a thing! I was not sure about the use of a ball gag, but my husband seems to like it and it can double as a collar." - Emptynest
If you're keen to dive right into something a little more heavy-duty, the Bondage Boutique Black Bound to Please Under Mattress Restraint is an excellent option. This system sits under your mattress, allowing you to bind wrists and ankles should you wish. Perfect for easy release, but also sturdy enough to withstand a good tug.
"I wanted one of these for a while. I was surprised by the different ways this can be used! Great quality, the cuffs are soft but strong and can be taken off to use with other toys." - Notboredhousewife
Play safe and avoid knots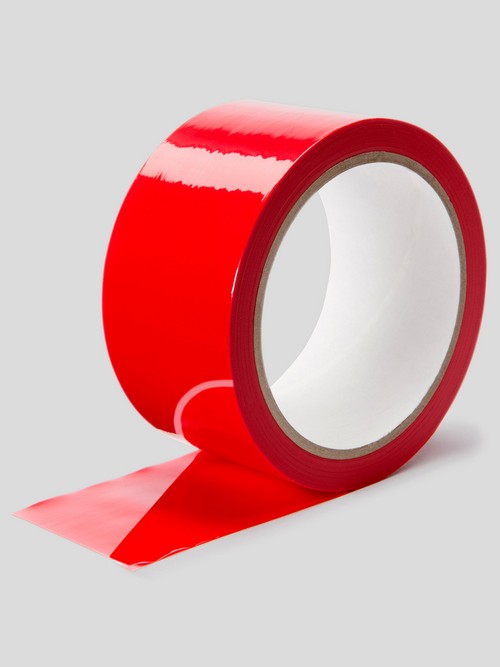 For bondage newbies, it can be a good idea to avoid using anything that ties a knot, like rope. There's absolutely nothing worse than not being able to untie a knot quickly, so we recommend avoiding it altogether before you build up some experience and do a little research.
Just because rope may not be the best option when you're starting out doesn't mean that you can't enjoy restraint! There are plenty of other options out there that don't require knots, like the Lovehoney Black Bondage Tape. This puppy sticks to itself, rather than your skin, so you can still bind wrists, ankles and anything else you can think of without having to worry about knots.
"This tape is fantastic. When using it wrap a couple of times around the area you wish to restrain and you aren't going anywhere. Incredibly strong and the tape absorbs the tension so doesn't snap. As it's tape rather than a specifically designed restraint - it is incredibly versatile! The positions you can be tied in are restricted by imagination alone. Clean-up is easy as it is non-sticky, holding to itself amazingly but not sticking to skin." - Her_naughty_sub
The number one rule when it comes to bondage is to play safe. The safety of you and your lover should be a top priority before you reach for the cuffs. Here are a few of our other top three tips for beginner's bondage:
1. Communication is key! Keep it up before, during and after your sesh to make sure you're all having the best time possible.
2. Establish a safe word before getting down to business!
3. Practice unfastening the restraints before putting them to use.
For more safety techniques, you can read our bondage tips and techniques for beginners blog to get the low down. And remember, have fun and enjoy all that bondage has to offer!
Recommended Bondage Toys & Gear
Other Bondage guides you may like