How to use a Bondage Collar
Collars aren't just for your beloved pooch! Take this collar for a spin and enhance your restraint play.
Nothing screams submission and control quite like a collar. BDSM collars, sub collars or sex collars are often worn in the bedroom or at the fetish club by submissive partners to indicate their position.
If you're on the market for a bondage collar but you're not quite sure where to start, you've come to the right place! Learn about what you need to consider before taking the plunge and how to get the most from your collar in a fun, safe and sexy way.
Why do people use Bondage Collars?
Not only does a BDSM collar make for an incredible statement piece, there are plenty of other reasons to add a slave collar to your naughty toybox:
1. Pair a sex collar with some beautiful lacy lingerie to add a dash of fetish-tastic glamour to your look. 2. Some BDSM collars feature D- or O-rings that allow you to attach your other fave bondage and restraint accessories. 3. Ever dreamed of being a pooch?! Use a slave collar in your next puppy or role play scenario! Add a leash for extra doggy-style realness. 4. Use a BDSM collar with an O-ring to attach your fave wrist or ankle cuffs for full-body restraint. 5. Fitting a collar to your boo can be an incredibly intimate, albeit dominant act and makes for great BDSM foreplay.
Different types of Bondage Collars
Lovehoney is home to a huge range of BDSM collars in Australia. With so many options to choose from, picking the perfect collar can be tricky.
Start by considering what you want to use your collar for. Is it for role play, restraint, school-style discipline or purely aesthetic? Once you've figured out exactly what you want your collar for, you can pick a human collar to fit the scene and the mood.
Here are some of the main types of bondage collars that you can choose from:
O-ring Collars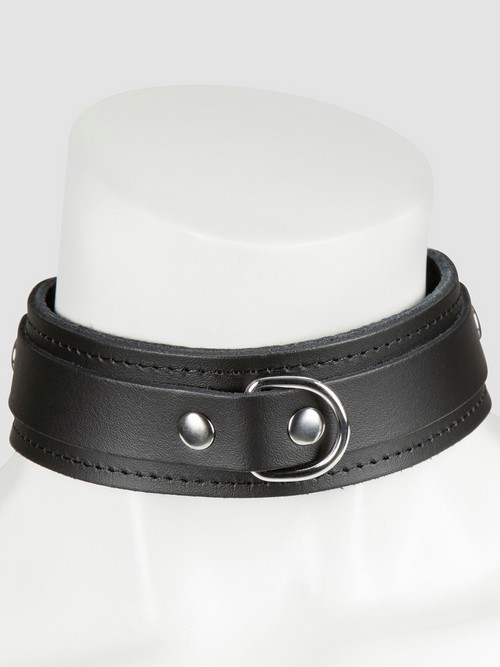 Versatile and easy to use, making them perfect for new collar converts, these collars often feature buckles or velcro fastenings at the back and o- or d-rings at the front. Simply attach cuffs, leashes, ropes or your choice of restraint for a suitably submissive vibe.
Try: Bondage Boutique Soft Leather Collar
"My sub and I are both delighted with this lovely, high-quality collar. The leather smells nice and it's comfortable enough to sleep in, which is a bonus as it makes him look very pretty. The D-ring at the front is sturdy and good for control." - Lovehoney customer
Clamp & Collar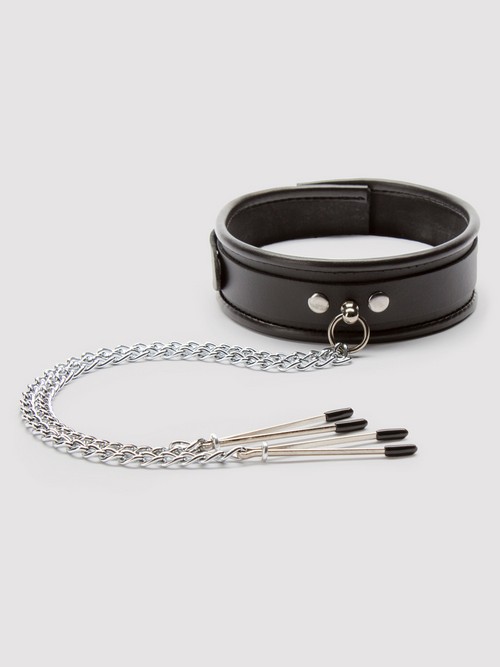 Combine fetishism and submissive play with a clamp and collar combo! A clamp and collar combines a number of chains with nipple or clit clamps which restricts the movement of the neck and body while hitting those super sensitive erogenous zones.
Try: DOMINIX Deluxe Leather Collar with Nipple Clamps
"I feel so sexy when I wear this. Bought as a little surprise to wear around my SO. He loves it as much as I do. I certainly love being pulled around the top of the chains, and the chains tugging on my nipples!" - Lovehoney customer
Leash & Collar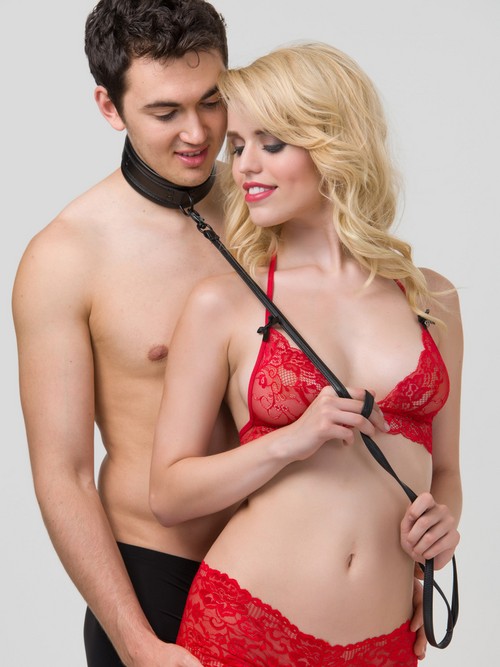 Kill two birds with one stone by grabbing a collar and leash combo. If you're chomping at the bone to try out some puppy play, buying a matching set will take the hassle out of trying to pick and choose a collar and leash that will go together.
Try: Bondage Boutique Faux Leather Collar and Lead
"Soft and comfortable around the neck, and doesn't give you a strangling-type feeling, which is brilliant as I can't even handle wearing halter neck tops, so to wear this and not feel sick is great because I can enjoy role playing with my partner. I've enjoyed playing the part of a sub and this is great fun." - Lovehoney customer
Finding the perfect fit
Now that you've picked out a BDSM collar, the next thing to do is nail the fit. This comes down to two things: measuring and fastening.
Before you add your collar to the cart, use a flexible tape measure to determine the circumference of your neck. A slave collar should sit just above your collarbone, so this is the area you should measure.
Take note of your measurement and compare it against the sizes listed on the product page. If it falls within the minimum or maximum size listed, then you know the collar will fit nicely. If on the other hand your size isn't listed or is bigger/smaller than what's listed, it may be better to find something that will be a better fit.
Choosing the right material
As is the case with many bondage accessories, leather often makes an excellent choice. It's durable, long-lasting and smells bloody delightful. A genuine leather collar like the DOMINIX Deluxe Heavy Leather Collar is an ideal choice for anyone who loves the grainy, luxe feel of leather against their skin.
If leather isn't quite your jam, then there's plenty of other material options when it comes to sex collars. Instead, go for a faux leather collar instead, like the Bondage Boutique Faux Leather Collar and Lead.
How to wear a collar safely
Once you have your beautiful bondage collar in your hot little hands, it's time to fasten it correctly. Incorrect collar fastening and use is not only unsafe but can lead to serious injury if not executed correctly.
If you're using a collar solo, we suggest fastening it in front of a mirror. Or if you're taking it for a spin with your partner in crime, get them to give you a hand in getting it on.
Position yourself with your head upright and facing forwards so your neck is straight. Wrap the collar around your neck and gradually tighten it, making sure you can still breathe and swallow with ease. A good rule of thumb is to make sure you can fit two fingers in between the collar and your neck - if not, loosen it a notch or two.
Be sure to never over-tighten a collar and to stop immediately if you feel any discomfort. It may just be the collar chafing or it could be indicative of something more serious, so it's always better to be safe than sorry.
Never pull sharply on a collar or leash, no matter what you think your sub can handle. A firm tug can cause some serious harm and even whiplash in some cases.
Last but not least, always establish a safe word before you get down to business! You want your experiences with a collar to be amazing and not a complete nightmare.
Recommended Bondage Collars
Other Bondage guides you may like
More Sexual Happiness Advice
You can never know enough about sex, right? Why not join us on our sexploration journey? Stay up to date with the latest advice on our blog, the Lovehoney forum and the weekly Sexual Happiness podcast.