$48.96
$69.95
You save:
$20.99 (30%)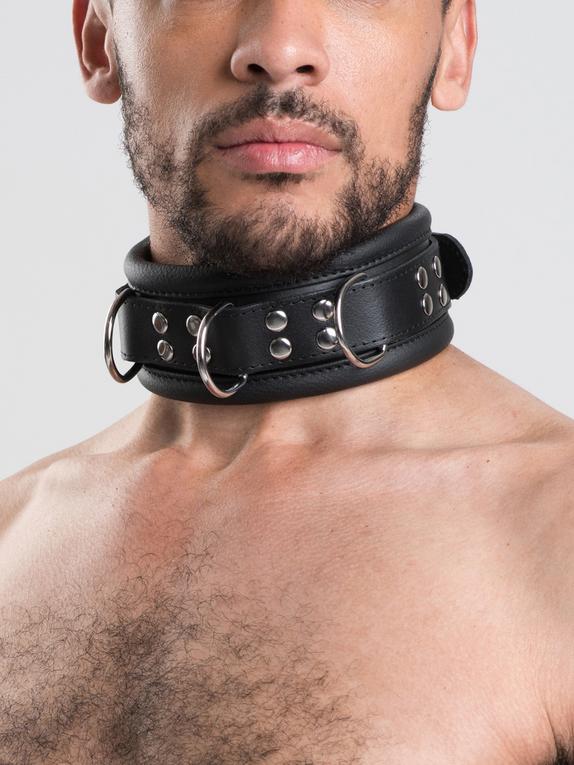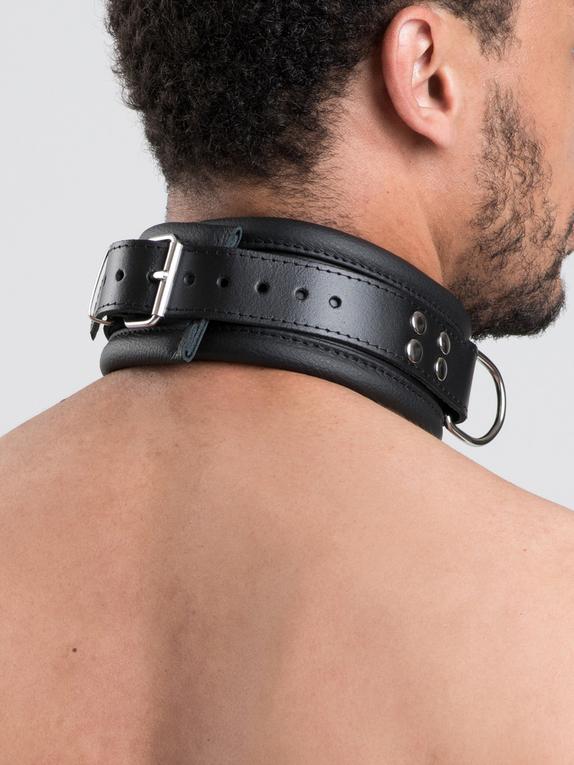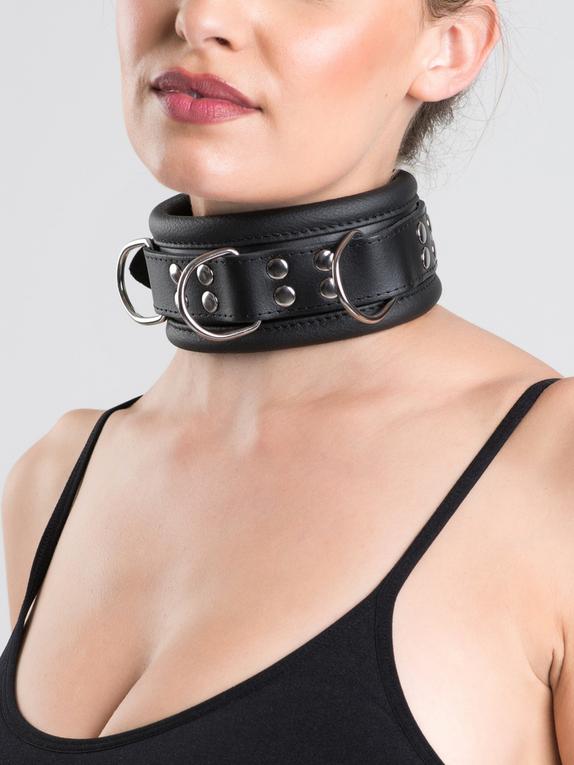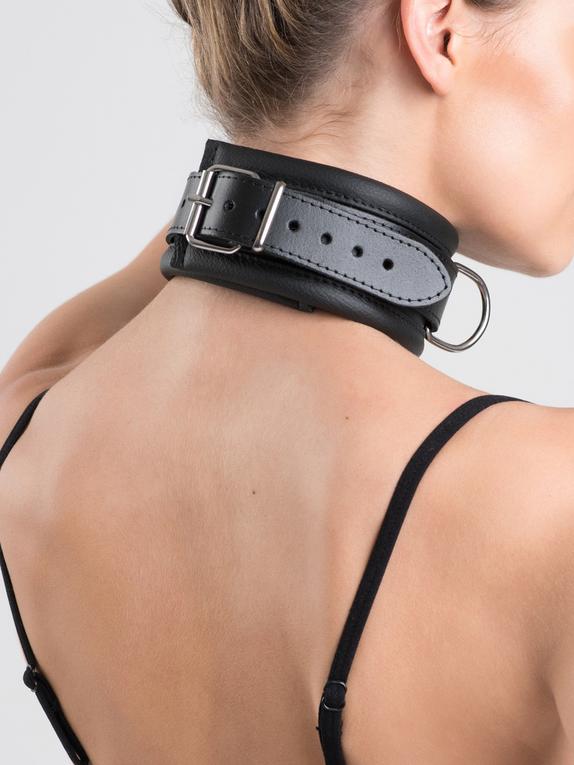 DOMINIX Deluxe Heavy Leather Collar
$48.96
$69.95
You save:
$20.99 (30%)
Last chance! This product is not going to be re-stocked!
$48.96
$69.95
You save:
$20.99 (30%)
Professional standard leather collar for BDSM adventures
Metal stud detailing is perfect for fans of a hard bondage look
2.75 inches deep, padded design ensures absolute comfort
10 hole buckle fastening enables the perfect fit
3 secure D-rings for versatile restraint
Blow your bondage play out of the water with this deluxe leather collar. Extremely versatile and super-comfortable, the padded leather collar boasts 3 D-ring loops to enable complex restraint inhibited only by your imagination. And a safe word.

Adjustable up to 18 inches in circumference via the chunky 10 hole buckle closure, this collar is perfect for both men and women and can be used with or without a lead. Attach a range of leads, chains and restraints to the solid D-rings and begin on your new BDSM adventure.

Collect the full DOMINIX deluxe bondage range to add a professional standard to your BDSM sessions.
Essential Info

Allergen Warning: Contains Nickel
Fastening: Buckle

How it Measures Up

How it Feels
Product videos
Extremely versatile and supremely comfortable, this cushioned leather collar boasts 3 x D-rings and a chunky 10 hole buckle fastening. Attach your choice of leads, chains and restraints to the metal D-rings to enhance your S&M play.
Bondage Advice
If you're looking to dip your toes into the world of Bondage and BDSM, our advice guides are here to help you get started in the easiest possible way.
Frequently bought together
Popular combos for more sexy fun
Customer reviews
5.0
5.0 star rating
5 Reviews
5.0
5.0 star rating
5 Reviews
Thank you for posting a review!
We really appreciate your opinion and hope to see you again soon.
Thank you for posting a review!
Your review was sent successfully and is now waiting for our staff to publish it.
Search reviews
5.0 star rating

4.0 star rating

3.0 star rating

2.0 star rating

1.0 star rating
Deserves all the 5* reviews
Review by Ivy T. on 7 Jul 2020
review stating Deserves all the 5* reviews
What's not to love about this collar? I was concerned it would be too large as I have a very petite neck but was instantly ecstatic when I put it on. It looks amazing on! I got so turned on feeling the buckle fasten and the plush leather against my neck which holds it firm but comfortably (which is great when being tugged on a leash, we paired it with the dominix chain lead which I would definitely recommend with this) As well as looking and feeling fantastic it's incredibly well made and the extra loops are a great bonus for some fun restrictive positions and shibari too. Trust the reviews, if you want a damn good collar, you NEED this one
On DOMINIX Deluxe Heavy Leather Collar
A Must Buy
Review by Anonymous on 13 Apr 2019
review stating A Must Buy
This is the nth DOMINIX Item that I have purchased from Lovehoney and it is admittedly one of my favourites. I have bought countless collars in the past and this is my favourite by far. This is a very well made collar. Strong double stitches throughout and made of a thick but soft leather with strong metal hooks and studs. As someone who has purchased almost all of the DOMINIX line I can say that this is just one ore quality item that screams of quality. The leather is ridiculously soft against the skin, and doesn't have the immediate hot and sweaty feeling the cheaper faux fur or plastic-y collars and cuffs provide. The rings are very strong and they are tightly bound to the collar, and from my own experience can take body weight level strains and not break (though i would never recommend applying these loads with someone wearing the collar). Thusly you can feel comfortable that anything you bind to this collar will not suddenly come free. There are not many more things I can truly say about this collar. It is well made, strong and soft; it is everything that you could ask for in the world of leather bondage accessories.It can also double up as neck stiffener do to the tall nature of the collar should you desire to do so. I can therefore wholeheartedly recommend this to all and any.
On DOMINIX Deluxe Heavy Leather Collar
Solid leather quality
Review by Katie B. on 21 Nov 2015
review stating Solid leather quality
A lovely, thick, wide, well padded and genuine leather collar Stiff out of the simple packet but as soon as it warmed up it moulded itself round my neck. Lots of holes in the strap so will fit both men and women and the D rings are big enough for rope or karabiners to fit through. The locking buckle is a bonus. I ordered the wrist cuffs first which were so glorious I then treated myself to the matching ankle cuffs and this collar too. I suspect they will be the only ones I'll ever need and won't wear out easily. The quality is excellent.
On DOMINIX Deluxe Heavy Leather Collar
Perfect collar
Review by Meaknmild on 13 Jun 2015
review stating Perfect collar
We bought this along with the Dominix cuffs and couldn't be happier. While not cheap, this is a quality item. As always, Lovehoney service is excellent, it arrived promptly in a plain brown box. Inside the box it comes in a simple clear bag but I'm happy they spent the money on the product that we use not the packaging! I'm growing into quite a fan of their stuff actually. It feels and smells like proper leather, its soft, well padded and very strong, you won't be breaking out of this no matter how hard you try! 3 D-rings spaced 90 deg apart, the other 'corner' is where the buckle is. The extra padding top and bottom make it super comfortable. As I say, the whole thing is very sturdy and should provide years of fun. Like their cuffs, one is buying quality so if you sick of 'toys' and want something decent, look no further. This is as good as I've seen and kind of a bargain.
On DOMINIX Deluxe Heavy Leather Collar
Dark and immovable like Batman only far far sexier
Review by Lil F. on 20 Jan 2014
review stating Dark and immovable like Batman only far far sexier
I was sent this collar to test and so decided to put it through its paces. It arrived in just a slim polythene bag and to be honest I was a little disappointed. I realise it was just for me and the packaging would go in the bin but for such a high end collar, I expected a little more. I would say, however, if you are giving it as a gift putting it in a box lined with red or purple tissue paper would have anyone salivating. The smell of the leather is gorgeous and although the leather is stiff as it is new it doesn't have a rough grain at all, you can tell its quality. The collar has four lots of silver studs to separate the D rings, they have a slightly domed look but are perfectly smooth, there are no edges to catch or snag. There are three d rings which can actually move slightly between one group of studs and the other. The left and right ring can move 4cm and the middle one 2cm. I found this to be of benefit as if you were secured from the side the rings could move more to the side and if you were secured in a more central way the rings could move more together. The distance between the d ring on the left and the ring on the right at the greatest separation was 16cm to give you some idea. The height of the d rings vertically is 3cm and the clearance between the d ring and the leather strap they are attached to is 2cm, meaning you could thread a rope or chain 2cm thick through it or as we did in some circumstances two smaller ropes or a rope and a ribbon. The studs go right through the leather but there is no danger or any snagging as your neck is protected by the think padding. The padding is 8mm thick and is very squidgy, the material is a softer one than the leather strap the d rings are attached to. the padding is also folded over the edge of the collar so there is nothing to dig in. The thickness of the leather strap holding the buckle and rings and through which the holes have been punched is 3mm thick and 3cm wide so the rings and buckle are not going to come loose anytime soon. The buckle is secured by the leather being folded over and stitched and being further secured with two studs.To prove the toughness of the collar my OH and I had a game of tug of war. I must admit I was panicking that I would break my lovely new collar but there wasn't a sign of any damage other than to ourselves for gripping the collar so tightly! The collar is very comfortable to wear as it is so padded. On the smaller sizes the padding folds under itself so your neck is completely encased. An important point to mention is on the larger sizes there is a gap between the padding. When the collar is fully extended the gap is 5cm and the padding only joins together when the inside circumference is reduced to approx 16.5''. The only downside for me is I have a very short neck and so I found the collar just slightly too thick. It was fine for long periods with my head held straight but if I had to bend it forward or backwards, I found is slightly uncomfortable. It was time to test the collar out. Fastening it didn't prove a problem and I found it completely comfortable with nothing digging in. We first tested it lying on my back on the bed. Ropes were threaded through the side rings and attached to the corners of the bed, a ribbon was then threaded through all three rings and attached to my wrists so my hands cupped my face. A rope was then tied around the bottom post of the bed, around my ankle and up to the middle ring and then back down the other leg and tied to the other corner. I was well and truly stuck, I wriggled and pulled and tugged but the only thing that happened was the ropes got tighter and the bed creaked. The gleam in my OH eyes when he realised this was a sight to behold. Second test on the bed face down. This time as the rings were facing down the rope went from the middle ring between my legs around my ankles and were attached. Same attachment from the side rings to the top. Needless to say I was nicely presented for either anal or doggie style. Once again the wriggle, pull and tug test but nada, I would have broken the bed or my neck before I broke this collar! We also tested it around my wrists and ankles just because we could. It is too big to fit around my wrists but does secure my ankles. I thought I would be able to wriggle out but the padding seems to let your body sink in and there is no escape. My OH was keen to go into the garage and suspend me from the rafters but it was too cold. Apparently when the summer comes I will have no excuses left! To be suspended the collar needs to be turned around so the d rings are at the back. We tried in the bedroom with my OH just holding the rope up, it works very well and where he tugs you follow, so I ended up on my tip toes. I would remind everyone it is leather so a little cleaning every now and again to keep it supple wouldn't go amiss. The leather will stretch but because of the quality and thickness used this isn't going to be a problem for decades to come if at all. In summary this is an awesome piece of kit. It is truly a professional collar that looks stunning. It not only talks the talk but walks the walk. It is well made and the quality of the materials used and finishing shows. If you are serious about BDSM, bondage or dungeon play, I believe this is the collar for you. I will admit this is a considered purchase, but I think it is an investment piece and whilst cheaper collars will be in pieces, I believe this will be still going strong for decades to come and is worth the price if you can run to it. Oh and as a final note, Batman if you are reading this your time is up. There is a new kid on the block who is far far sexier and DOES take prisoners very very effectively!
On DOMINIX Deluxe Heavy Leather Collar