How to Do Rope Bondage
If you appreciate the finer things in life, then chances are the sensual art of Japanese rope bondage will be right up your alley. Take your sophistication from the streets to the sheets courtesy of rope bondage.
Welcome to the wonderful world of Japanese rope bondage, also known as Shibari bondage! Whether you're a Shibari newbie or you're intrigued by Japanese rope bondage, we've got a whole bunch of knotty tips and tricks tied up in a neat little package for you in this bondage guide.
What is shibari?
Japanese rope bondage, also known as Shibari or Kinbaku, is an artistic and precise approach to restraint play. Shibari requires an extreme level of dedication, patience and imagination to pull it off. So while many opt for handcuffs or spreader bars instead, your efforts are definitely rewarded if you do decide to dedicate a bit of time to this sensual art form!
One super exciting aspect that differentiates Shibari from other forms of bondage and restraint is that the intricate knots and patterns aren't just for immobilising your boo, but they're specially designed to stimulate your kinky companion's erogenous zones. So not only does Japanese rope bondage look like a work of art, but it's also deliciously pleasurable for all involved!
The Japanese are known for executing everything with extreme precision and their approach to rope bondage is no different.
Slow and safe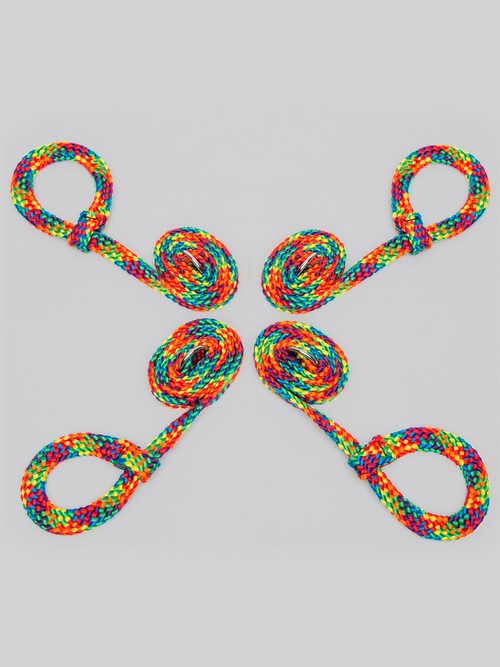 Using rope as part of your bondage play can be a little riskier than simple restraints, so it pays to do a little more prep to be safe. Here are our three commandments of rope bondage that you should follow at all times:
Don't leave your bound lover unattended
Avoid trying Shibari sex while under the influence of drugs and alcohol
Keep a pair of bondage scissors handy in case of emergency
When it comes to rope bondage, it's incredibly easy to overtighten your knots, which can quickly lead to restricted blood flow and nerve damage. Be sure to continuously check in with your boo throughout the whole Japanese rope tying process, especially if you're going the full hog with a whole-body tie as several Shibari patterns can cause breathing difficulties.
If you're keen to give Shibari a crack but the safety aspect has your stomach in knots (pun intended), then start off with some pre-made rope restraints like the Bondage Boutique Rainbow Soft Rope Restraints. Super soft, these restraints will help you to get used to the feel of rope against your skin. They're adjustable and can be easily removed in a hurry, making them ideal for Shibari sex starters.
Get some guidance
But Lovehoney, you say, I'm already here for guidance! We hear you, pal. Props to you for taking the first step, but there's only so much we can teach you via the mysteries of the interwebs… If you're after a more in-depth rope bondage how-to guide, then we recommend hitting up some local fetish clubs or taking a Shibari tutorial at a class near you.
If you're a rope bondage beginner, check out a guide book for some great tips on getting started as well as illustrated guidance through basic bondage knots and some decorative Shibari patterns.
Don't forget to have a cheeky Google too - just make sure you're visiting safe, well-regarded sites for any information or recommendations before giving it a whirl!
Do's and don't's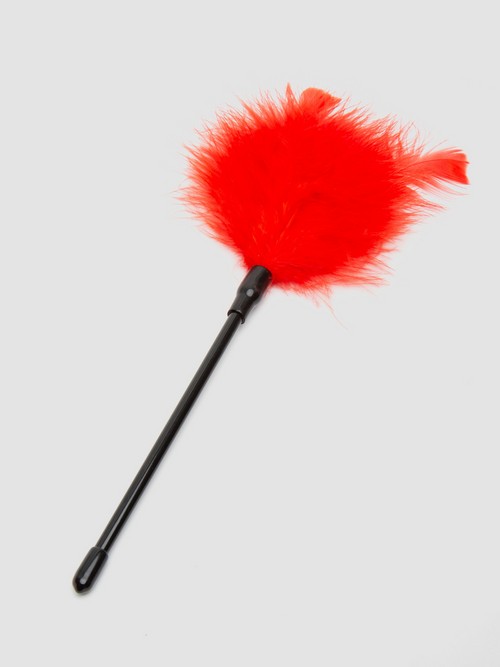 Comfort is key! Before getting into the nitty-gritty of Japanese rope bondage, make sure your partner in crime is comfortable and ready for action. Ask them to manipulate their body as you tie so you can get the best grip and they can move themselves into a comfortable possie. For example, the easiest way to wrap up those tatas is when your squeeze is leaning forward so gravity can do its thang.
Do, and we can't stress this enough, talk beforehand to set any boundaries and a safe word before whipping out the ropes. Japanese rope tying is explorative, sensual and can be wildly intimate. As with any play that leaves one partner fully restrained, it's important to start slowly and progress together, with full consent.
When tying wrists and legs, be sure to replicate the level of tension on both sides. Not only will it feel 100x better, but symmetry is sexy af, so keep it neat to really get the heart racing. This should go without saying, BUT if you're tying around delicate or sensitive areas like the neck, be bloody careful! Choking might get some people going, but it's better to keep the rope loose and apply tension manually.
Once you and your flame have experimented more with Japanese rope tying and are comfortable with it, try pairing it with other BDSM or bondage scenarios that you enjoy. A full-body tie featuring exposed junk goes incredibly well with a feather tickler or a smart spanking if you're into sensory play.
Other Bondage guides you may like
More Sexual Happiness Advice
You can never know enough about sex, right? Why not join us on our sexploration journey? Stay up to date with the latest advice on our blog, the Lovehoney forum and the weekly Sexual Happiness podcast.