Advanced Bedroom Bondage Techniques
Check out our bedroom bondage tips and tricks, all about BDSM restraints and bondage techniques to get you going.
If you've tried the beginner bondage kits and are toey for more, why not take your bedroom bondage play to the next level? There's plenty more kinky fun ahead for your bedroom bondage playtime.
The world of BDSM and BDSM restraints is a beautiful thing. There are a ton of accessories and dynamics to explore, so strap yourself in to kickstart your next kinky adventures.
Video: How to Use a Spreader Bar
Step up to a spreader bar on your bedroom bondage journey. They're a great way to crank your BDSM restraints play up to 11. Check out the hot tips in this handy bondage techniques video.
1. Bondage and discipline
Just because you're using bondage techniques on your beau, it doesn't mean tying them down so you can beat them. Think again, sonny boy.
A resident bonk buddy can be a very willing pupil. You are in the dominant (Dom) role and now you can teach the submissive (sub) in this play some key lessons.
Show how they could pleasure you by using your hands or toys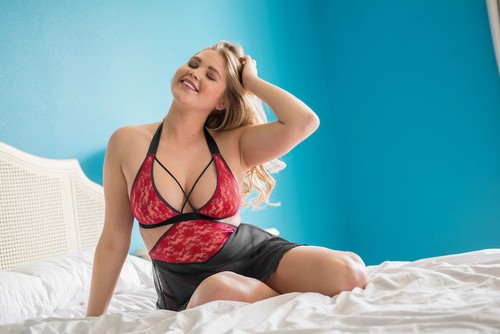 Yes, we reckon, treat them to a full-on masturbation show. Use sex toys if you want them to feature in your couple's play. Or use your hands. Talk your kinky companion through what you're doing, where you like to be touched and how. Come on, if you can give a PowerPoint demo at work, you can teach Polish the Pearl or Crank the Shaft 101 at home to your boo.
Your better half may get frisky as you describe and show the sensations you're experiencing. Don't give in too soon - half the fun of bedroom bondage is playing with delay - otherwise called 'Tease and Denial'.
You know they want it, and they know they want it, but they can't have it. Not until they've learned what you need to convey. Enjoy the tease.
Teach your lover to use sexual positions effectively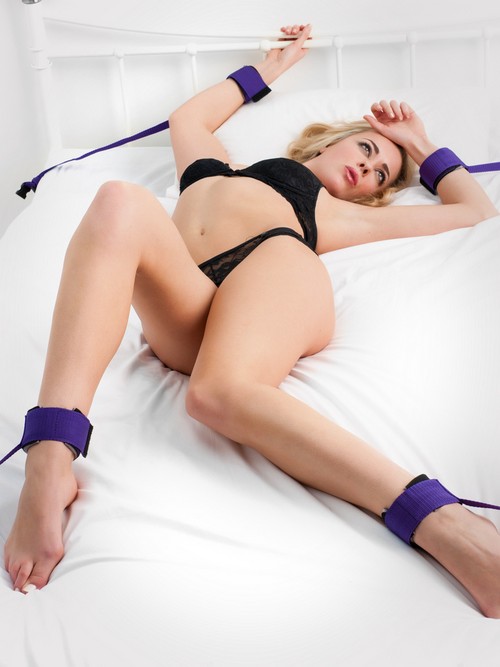 Bedroom bondage isn't entirely restrictive - it can allow some movement. Leg spreaders and overhead arm restraints are wonderful BDSM restraints. Leg spreaders (mostly used on women and men who are into anal play) allow easy access to the downstairs' portals between the legs. Plus it's a handy bar to hang onto or tie into position during more difficult positions.
Restraining your sub's arms above their head (a cinch if you have a four-poster bed) allows you full manoeuvrability of their torso, legs and crotch. Your beau is now a poseable lover.
Shift them into positions that really light your fire. By using BDSM restraints, they can't escape your intent before you get your rocks off. The advantage of partial bondage is that your partner can move with you during rumpy pumpy, rather than being totally bound up and passive.
Teach your lover how to perform mind-blowing oral sex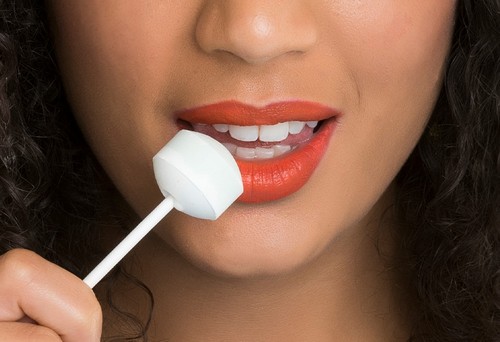 Let's say you're dressed up in BDSM lingerie. Take advantage of your restrained other and demonstrate what you want in oral sex. Put them in position on their knees and have them perform oral on you.
Now's your chance to make great use of the BDSM restraints they're in. You can teach them how to move, where to move and what feels good when they do it right. If they show enough effort, you might decide to reward them later.
2. Bondage and sensory play
When your senses of sight, sound, touch, taste or hearing are restricted, this is called sensory play.
Sensory play toys with your mind as much as your body, and a great bondage technique is to take it slow. Real slow. By experimenting with different methods of sensory stimulation, you'll discover more about your lover and how they respond to sexy signals.
For lovers of foreplay - which kinda should be all of us - sensory play is your ticket to satisfaction. It works hand in glove with bedroom bondage by adding to your anticipation of the scenario. It also slows your better half down to sustain and build up the scene.
You don't have to restrain your lover to have a ball with sensory play, but a blindfold greatly enhances the experience. Headphones can block out the sounds and aural clues that might give the game away, especially if you curate the playlist to suit your scene.
Pleasure / pain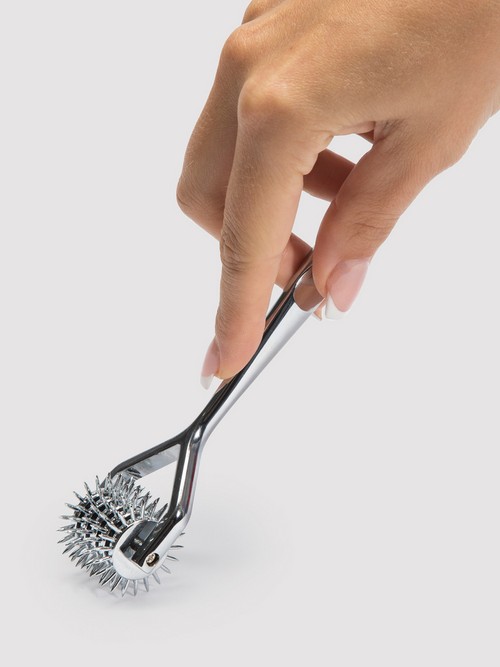 Bedroom bondage can begin with pleasurable sensations and then turn to a brief interlude of pain. Follow this with more pleasurable sensations.
This old switcheroo makes the body react to the cycle of pleasure/pain by releasing adrenaline and dopamine into the blood stream. Enjoy that all-natural high.
It tells your nerve endings to become more alert - that makes the return to pleasure much more satisfying and the body reacts with yet more sensitivity.
You don't need any sex toys to play with the pleasure and pain scenario. But they can be fun.
Spanking is worth a shot. Even with a slow massage, chuck in the odd light spank to your bonk buddy's shoulders, bum and the backs of thighs and calves.
If your partner enjoys a spank, invest in a feather tickler, flogger or spanking paddle. These toys will deliver a range of soft and hard sensations, so remember to build up slowly and learn your lover's limits to please them.
Hot / cold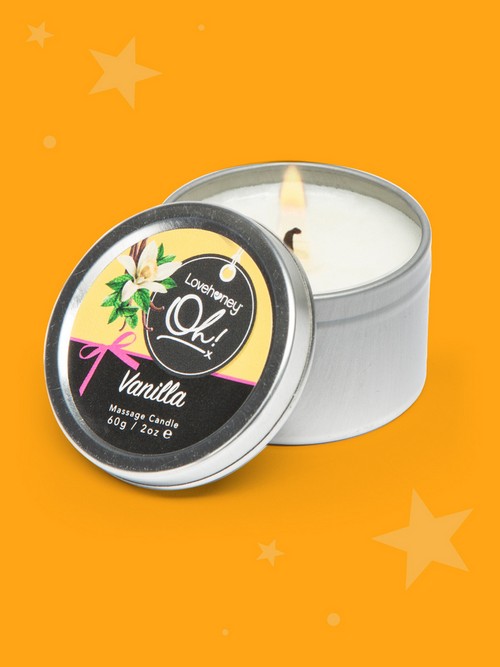 Temperature play is another advanced bedroom bondage technique. You can use hot and cold objects and materials to wake up your lover's sensations.
Try alternating ice and melted massage candles. Or glass dildos and toys that can be both heated and cooled.
Hot tip: Make sure you try out hot and cold sensations on a part of the body that isn't too sensitive first. An arm or leg is a safer testing ground than a Mappa Tassie.
A trickle of hot wax or warmed massage oil alternated with the chilling tingle of ice will have your lover's body curving like a lioness on heat.
3. Tie and tease
Tie and tease is a progressive form of bedroom bondage play. The Dom brings the restrained partner - the sub in this play - just to the point of climax but at the 11th hour stops on a dime.
You can play this game without bondage, where it's known as 'orgasm control' or 'edging', but bondage restraints enable the Dom to more effectively tease and draw out play. Because they have the control, and the sub is restrained from stimulating themselves.
In more hard-core BDSM practice the sub will often be denied the right to orgasm (known as 'tease and denial'), but the aim of tie and tease is to build the intensity of sexual frustration so that the eventual Big O is more intense.
Talking together is vital because the sub can clearly convey their level of sexual arousal. It means the Dom can guide play to time the climax just right. Typically, the Dom will bring the sub to the point of orgasm two or three times before allowing them to enjoy the fireworks with mind-blowing effect.
Recommended for Advanced Bondage
Need more help?
You can Contact Customer Care, who will be able to help you find the perfect toy. You can email, telephone or live chat to an experienced advisor 24 hours a day, 7 days a week.
Other Bondage and BDSM guides you may like