9 Ways to Make a Male Orgasm AMAZING
Upgrade your orgasms, blokes, and discover the bliss that women can experience.
Why should the men of Australia miss out while their women folk are rocking the Big O big time?
Read on for a ton of great tips on how to help yourself - or the beaut bloke in your life - upgrade their orgasms with a couple of simple tips, tricks and tweaks.
And don't forget all the other incredible ideas in Better Sex for Him, including:
Hands-Free Pleasure for People with a Penis and/or Prostate
How to Last Longer in Bed - is a Delay Spray the Answer?
Sex Bucket List: 7 Sexy Things for Men to Try in 2021
---
As inspiration, imagine if you could have multiple orgasms as often as women do. Yes, it is possible, with a bit of sex-ercise, as this helpful video explains.
---
1. Put a (cock) ring on it
Cock rings are one of the simplest and best sex aids around. They can help you go the distance and increase your fun as well as your partner's. By keeping more blood in your donger, stiffies feel harder, last longer and end with a Bigger Bang.
Try the Fifty Shades of Grey Again and Again Adjustable Cock Ring. It's one for your L-plates.
The Lovehoney Bionic Bullet 5 Function Vibrating Cock Ring has double the rings and a textured, vibrating sleeve to stimulate the love bud of your beau.
---
2. The Perineum: Your secret pleasure spot
The perineum is a bundle of nerves between your nut sack and anus. Amp up your jollies when you stimulate it with the right sex toy.
Use a finger vibrator like the Fifty Shades of Grey Touching Finger ring and feel the good vibes.
Or step up with the Doc Johnson Tryst Multi-Erogenous Vibrator for endless other options during couple sex or solo adventures.
---
3. Delayed Gratification: Make it worth the wait
'Edging' is the name for delaying your orgasm just before climax. If you do this a couple times you will get a more powerful Big O. A great training method is with a male masturbator.
Tracey Cox EDGE Cup Stamina Stroker has it all for sensational stamina training.
Try a THRUST handheld masturbator. These toys have tight, textured canals to send you right to the edge.
---
4. The prostate: The male G-spot
Blokes, you've heard of women's G-spot, but you've got the male equivalent, the P-spot, or prostate. It's a gland that makes the majority of seminal fluid and is a key to your sexual function.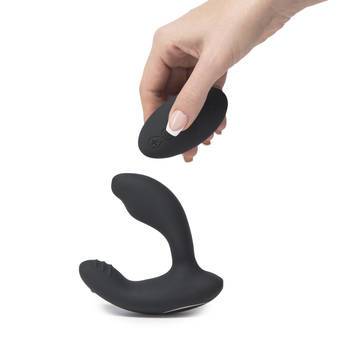 You can try an anal lube like Lovehoney Discover Water-Based Anal Lubricant on your finger or your bonk buddy's. Explore your back passage and smile when you find your prostate.
Or go for a Desire Prostate Massager and experience 12 speeds of vibration to send you to Candyland.
---
5. Touch your testicles
It's not all about your wang. Your nut sack is designed for pleasure too.
A cock and ball ring will add to most men's orgasm intensity.
Try asking your partner to play with your balls during sex or find something like the for a ball-gasmic boost.
---
6. Appeal to your senses
A blindfold can enhance your Big O thanks to the thrill of sensory deprivation.
Try the Lovehoney Satin Blindfold for a simple intro to blindfolds.
Then amp it up with the Bondage Boutique Temptation Soft Bondage Kit as you get into the other amplifiers of excitement and arousal.
---
7. Penis pump your way to pleasure
Penis pumps can potentially increase the length and girth of the penis by creating a vacuum that draws blood to the shaft. But that's not all - they're also a great sensitising device that makes the penis more sensitive to touch and boosts the intensity of your orgasm.
Start off with a pump like the Lovehoney Pumped Up 7 Function Vibrating Penis Pump and find your way to more pleasure.
Or check out the Tracey Cox EDGE Ultimate Performance Stamina Penis Pump. Wow.
---
8. The pelvic floor
Research suggests that sex-ercising your male pelvic floor can strengthen your orgasms. Practise contracting the muscles that lift your penis up and down. Do 3 sets of 10 reps every day and you should see some improvement with practice.
---
9. Orgasm Denial and Forced Orgasms
Orgasm play (or control) is the act of taking charge over how, when and if an orgasm will take place during intimate play.
Orgasm Denial
During couple play, the Sub is kept at the brink of orgasm by the Dom. (You can do this 'edging' yourself in solo play.) The sub's orgasm is magnified from a cycle of getting close to cumming several times before the Big Show.
The Lovehoney Stay Longer Delay Lubricant is a handy sex aid to help you delay orgasm.
Forced Orgasms
In bondage play, this is when the Dom sexually stimulates a submissive partner to the point of involuntary orgasm. With consent, of course.
Any kind of sex restraints will make this play even more fun. Check out our Handcuffs and Sex Restraints.
Now that you know how to make the male orgasm amazing, what are you waiting for? A whole world of pleasure awaits.
---
We hope these tips help give you your best orgasm yet. If you've got any more, comment below. We'd love to hear what works for you!
Want to find out more?
---