Fifty Shades Freed: The Official Trailer is Here! So, Universal Studios have finally released the official Fifty Shades Freed trailer, and we'd be lying if we said it hadn't got all of us at Lovehoney whipped (ahem) into a frenzy of excitement.
Of course, we've already watched it dozens of times, and we have a few hunches as to what to expect when the third (and final, sob) instalment in the trilogy lands in February.
Here are 8 things that caught our eye in the new trailer – don't forget to tell us which bits you're most excited about!
---
1. Mrs Grey will see you now...
Ana is now Fiction Editor at Grey Enterprises, and her office is giving us serious interior design envy, from the orchid and lime arrangement behind her (hinting at the bittersweet nature of what's to come?) to the mini Eiffel Towers on the shelves, no doubt picked up on the newlyweds' recent jaunt around Europe.
Did anyone else notice the big stack of manuscripts on her desk, though? Looks like Ana's working hard already...
---
2. Best-laid plans When the architect tasked with designing the newlyweds' future home gets a little too close to Christian for comfort, Ana reacts by not just foiling but actually sitting on her plans.
That's one way to tell someone to butt out of your relationship...
---
3. That wink It's not just Gia on the receiving end of Ana's new found sass – when Christian tells her he'll pick her up at 5pm, she tells him "I might not be done by then" and gives him a quick wink.
Could their roles be reversing?
---
4. Slippery when wet A shower scene? We've barely recovered from the last one!
Darker featured a very steamy shower scene, and it looks as though Ana and Christian might recreate the moment in the final instalment. Well wouldn't you, if your shower was bigger than most small apartments?
---
5. Jack's back You'd be forgiven for not recognising Jack Hyde, former Commissioning Editor at Seattle Independent Publishing. Looking like he could do with a spell in that walk-in shower, he calls for a not-so-friendly catch up.
Could things be about to take a sinister turn?
---
6. And for my next trick...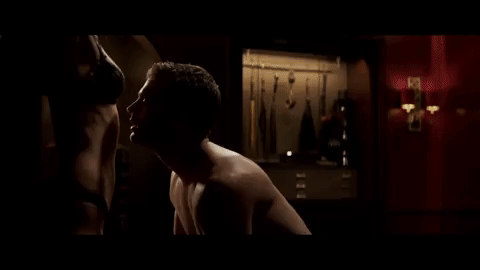 Christian's clearly been reading our guide on the best sex toys for couples, and invested in a massage wand.
Freed's 'spreader bar' scene? We hope so!
---
7. Another silver dress
Silver it may be, but unlike the iconic satin gown she wears to the masked ball in Darker, it's a seriously sexy, slinky chainmail number with a plunging neckline.
More evidence of Mrs Grey's newly acquired confidence?
---
8. Ana, get your gun In this clip we see Ana alone, slipping a revolver into her waistband, and we hear Christian reading his wedding vows: "...to comfort you in times of need".
This looks like a time of need to us... so where is he?
---
If these clips are anything to go by, we're going to be in for one wild ride on February 14th.
What do you think? Did we miss any of your favourite bits? Let us know in the comments below!
---
All GIFs made using GIPHY
---
You may also like: