Everything You Need to Know About Teddies
No longer a retro piece of the 80's and 90's, teddy's have made a huge comeback and we're absolutely ecstatic about it!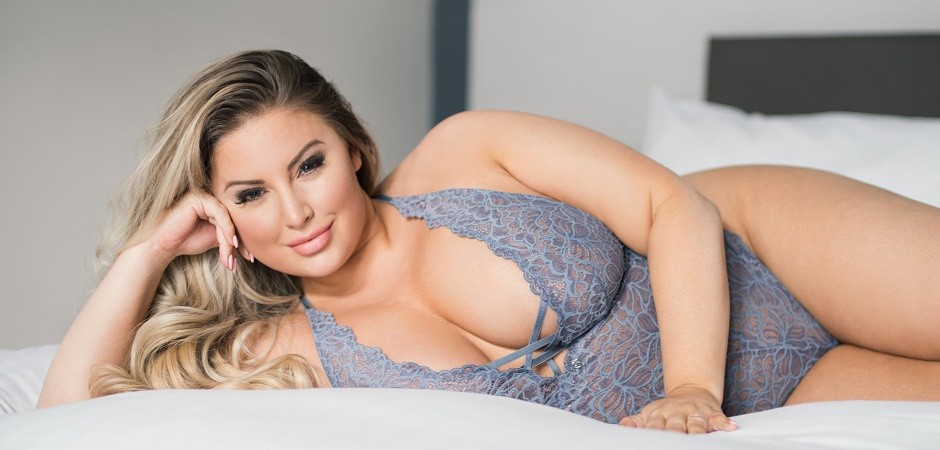 Once restricted to the confines of the bedroom, the fashion-world has finally cottoned on to just how versatile teddies are and you can now catch them on a bod in the club, walking the streets, and even as you sit down for brunch.
While many seem to be more than happy to don a teddy as part of their daily look, sadly some of us are still reluctant to wear them in the comfort of your own bedroom, let alone out and about on the town. You never know, stepping outside your comfort zone with some slinky lingerie may be just the boost of confidence you needed!
This sexy lingerie looks flattering on all body types, but is often the subject of a few common misconceptions. To get to the bottom of the common teddy troubles that plague so many, we took to the Lovehoney forums to understand first-hand the reservations that our lovely customers had when it comes to this glorious all-in-one.
So if you're in a playsuit predicament, you've come to the right place for some top teddy tips to find the best body for your bod!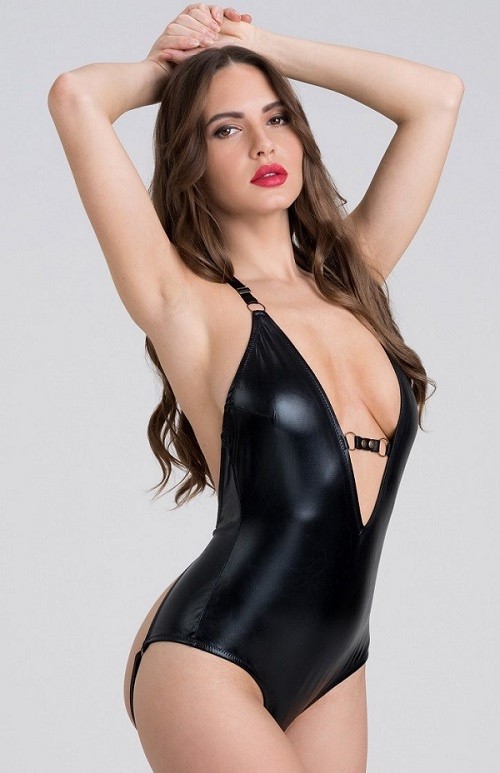 Teddy terms: How to identify the different types of all-in-ones
Turns out there's quite a few different types of teddies out there! Get to know the differences so you can identify exactly what look you're going for and what cut will suit you best.
Bodysuits are skin tight with a vest-shaped top that covers the torso and sometimes the arms. You may know this style more commonly as a leotard.
Teddies are essentially the same as a bodysuit in terms of cut and shape, but this term is often used to refer to much sexier, more revealing pieces that are clearly intended for the bedroom.
Playsuits or rompers have a looser-fit with inbuilt shorts a key design feature. The looser fit makes them super comfortable and absolutely perfect for catching a few z's in or lounging around the house.
Catsuits, jumpsuits, and bodystockings provide full coverage from shoulder to ankle, whether it's a single all-in-one top and pants scenario (catsuits and jumpsuits), or a one-piece that features a cami with built-in suspenders and stockings (bodysuit).
Now that we've covered the different teddy terms, how do you choose your style?!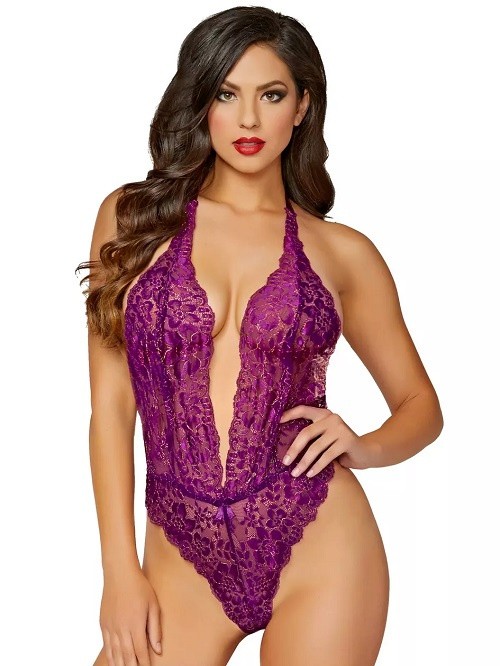 "My torso's too long and bodies don't fit properly"'
As we all know, bodies come in a range of different shapes and sizes, but that doesn't mean you can't still rock an all-in-one piece!
If you're tall or you've got a longer torso, then look for halter-neck styles that tie up as these pieces can be easily adjusted to sit a little lower down for an improved fit. The Seven 'til Midnight Sheer Purple Lace Halter Body is a super smokin' purple lace number that can be easily adjusted using the tie up halter neck for a bit of extra length.
Alternatively, if halter necks aren't quite your jam, then there are plenty of other bodies on the market with adjustable shoulder straps that can be easily tweaked to give a more comfortable shape without having to sacrifice the all important support. The Lovehoney Fierce Wet Look and Mesh Underwired Body features adjustable straps to give you the best possible fit while giving your twins a bit of a boost.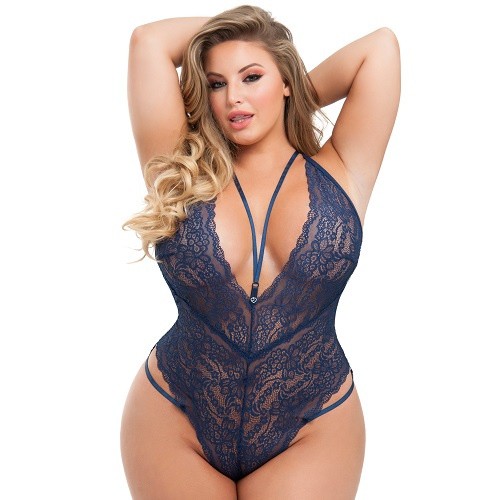 "I'm a size X on top and a size Y on the bottom, so I don't know which size to go for"
While an hourglass physique is absolutely stunning, it can make finding the perfect sized all-in-one a little more challenging, but that doesn't mean you should miss out on all the fun!
Thankfully we have a huge range of one-size teddies that are the perfect choice. These ingenious little pieces have been specially designed so one set can fit three to four different sizes. They're often made out of super stretchy material with adjustable features so they hug your figure in all the right places without digging in.
To make life even easier, Lovehoney's range of one-size lingerie comes in two collections that covers sizes 8 through to 24! The Lovehoney Late Night Liaison Blue Crotchless Lace Body is available in both the Regular range covering sizes 8-16 and the Queen range that fits sizes 18-24. Made from beautiful stretchy lace material, the adjustable shoulder straps mean that this sensual piece will fit and flatter any shape or size!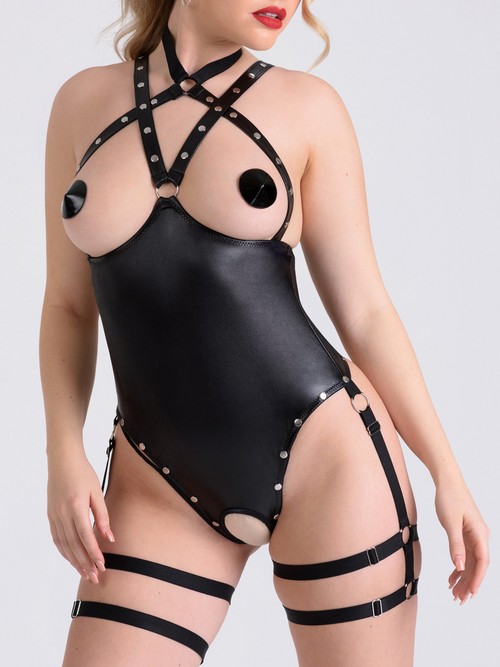 "I'm worried that it wouldn't flatter me"
While absolutely everyone should feel comfortable and damn sexy in their skin, we know that unfortunately it isn't always as easy as it seems. The thought of donning a skin-tight, one-piece for the first time can be frightening to say the least, but these figure-hugging styles are often incredibly flattering no matter your shape or size!
Much like shapewear, lacy teddies offer coverage across your midriff and help to smooth your curves to create a stunning silhouette. The incredibly sexy lace material of the Oh La La Cheri Blue Floral Lace Body will leave your figure looking svelte.
Bodysuits come in a huge variety of shapes that make them a great option for providing a little coverage while emphasizing other areas that you're keen to flaunt. Have a lovely pair of lady lumps you'd like to show off? Look for bodies with open cups, like the Lovehoney Fierce Tough Love Wet Look Studded Open-Cup Body. Want to emphasize your narrow waist? The Lovehoney Black Cut-Out Deep Plunge Thong Body features cut-out details that are perfect for flaunting your hourglass figure! Whatever your fave feature, there's sure to be a teddy out there to flash your physique.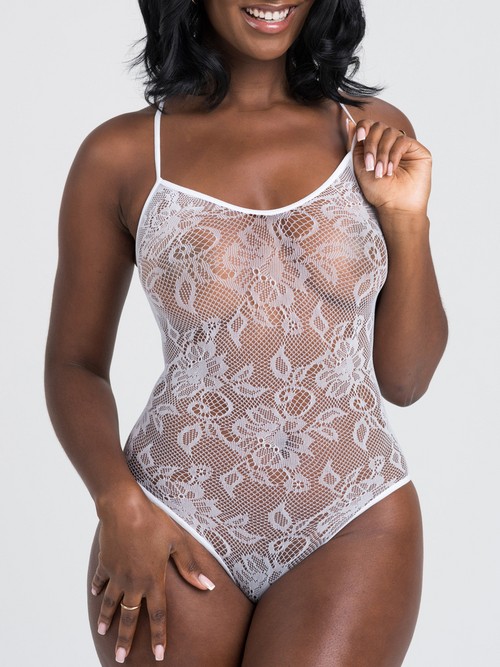 "You have to take them off for sex"
Nothing quite kills the vibe like clumsily trying to peel yourself out of a skin-tight one-piece in the heat of the moment. For this reason, many tend to opt for lingerie styles that feature a skirt offering easy access, rather than an all-in-one bodysuit.
Well, now you can have your lady cake and eat it too, because there's a whole, huge range of teddies sans crotch for easy access! Crotchless lingerie doesn't necessarily feature a huge gaping hole. Lovehoney has a collection of bodies that
feature a super discrete opening to others that leave very little to the imagination with a super overt opening.
Alternatively, we also have a range of teddies that feature poppers or press studs at the crotch, rather than an open hole. These pieces are incredibly practical, meaning you can wear them during the day as outerwear, and also give you more control for the big reveal while you're getting down to business.
Picking the perfect body for your shape
If you've decided to take the plunge and add an all-in-one to your lingerie collection, the next step is selecting a piece that's best suited to your shape.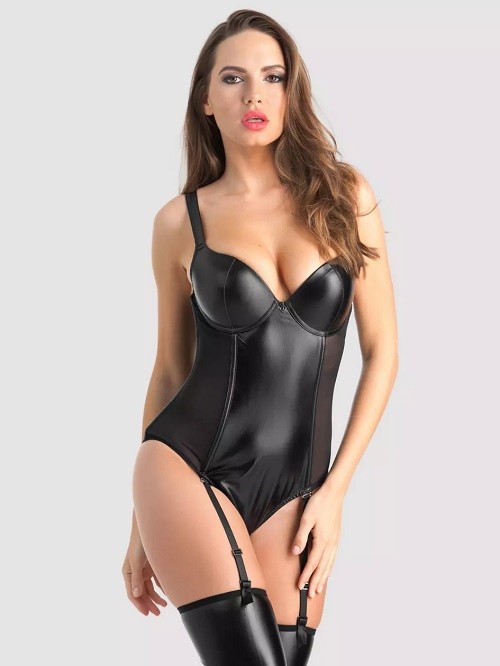 Best for tall figures
Perfect for Amazonian frames, this sultry and slimming bodysuit features adjustable shoulder straps and removable suspender straps for the perfect fit and the ultimate bedroom look.
Running down the centre of your torso is a wide wet look panel featuring mesh side panels that emphasize the curve of your waist for breathtaking hourglass definition. The inviting open crotch means you're ready for action at the drop of a hat.
"The whole outfit is flattering and extremely comfortable. I was a little worried as I'm quite flat chested but have quite wide hips and I've found a lot of lingerie is too big in the chest and too tight around the hips, but this was perfect. It gave my boobs a nice boost without making them look unnatural, and the material never got in the way of his access as I've found with some other crotchless lingerie." Lynxosophony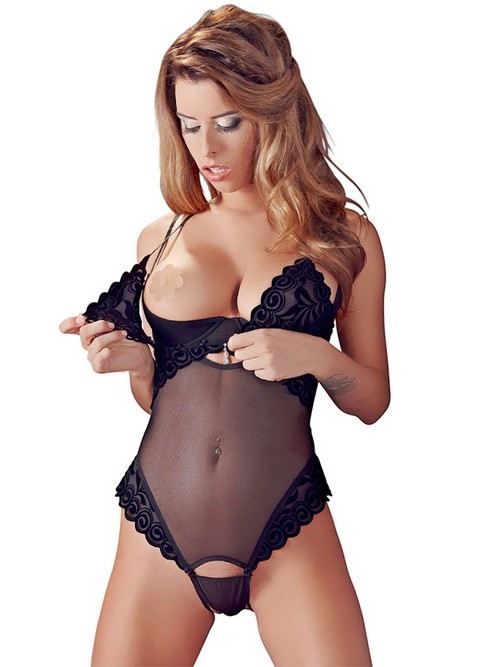 Best for petite physiques
Flirty and flattering on smaller bods, The Cottelli Peek-A-Boo Body is made from a sensuous combination of sheer mesh and devoré. The underwired bra gives the right amount of support to keep your pair looking perky, and the saucy peek-a-boo cups can be released at an instant for a cheeky slip of the nip.
Also featuring button fastenings at the crotch, this piece can be worn during foreplay and into the main event.
"Love this, fits so well. Material is lovely and soft and its so flattering. As someone who is not overly confident with there body this made me feel so sexy and not conscious of my body at all. The other half was very impressed. I think it will be making another appearance in the bedroom very soon!!" Sm.X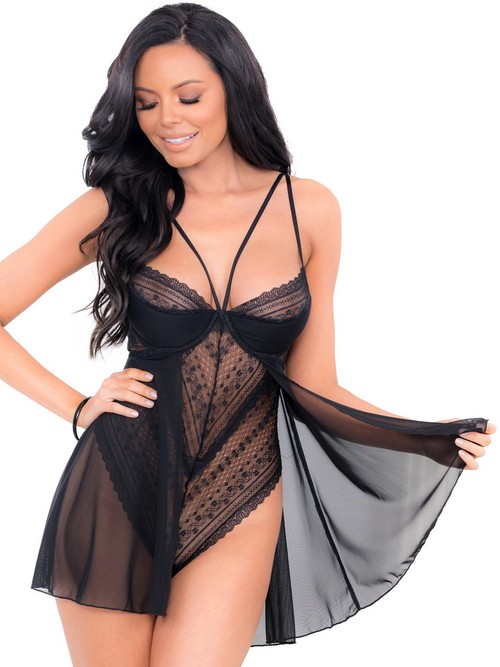 Best for athletic frames
This gorgeous babydoll-style bodysuit has it all! The underwired cups emphasize your cleavage while the lace panels tease a glimpse at your pleasure buttons. The combination of the built-in mesh skirt and lace thong leaves your perfect peach on show. All in all, this babydoll come body will help to accentuate your features and create curves in all the right places. And don't forget the popper crotch for easy access!
"It fits beautifully and hugs all the right places. I am a curvy girl so top and bottom (literally) heavy but this cuts and shapes me nicely. I was worried about my big boobs in th__is but they sit well and love the fact it is in between a body and a babydoll." Curvy L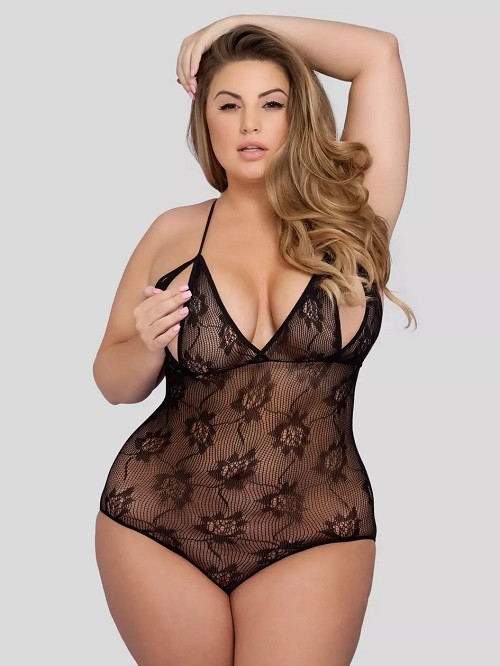 Best for pear-shaped frames
If you're smaller up top with heavenly curves on the bottom, then the trick to creating balance is drawing the attention up to your tatas. Nothing quite draws the eye like a quick flash of the headlights courtesy of this gorge peek-a-boo body! The floral stretchy lace moulds perfectly to your bod emphasizing your booty-ful curve without revealing too much flesh. And it's crotchless to boot!
"It's soft and stretchy and very comforta__ble while allowing full access to my partner without having to undress. I'd recommend it for a change and to spice up your evening with! As well, I find it a really good outfit for those who need a wee boost to their confidence and to help those like myself get more acquainted and comfortable with their body." Husk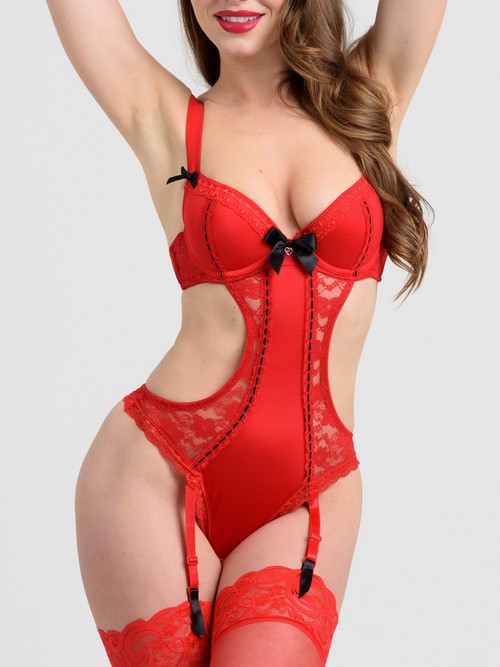 Best for hourglass figures
Ideal for showing off that snatched waist and those luscious curves, this cut-out body from the Lovehoney collection features bare sides and a lightly-padded underwired cup for the ultimate cleave. Adjustable straps allow for a dream fit and the open-back thong offers a tantalising glimpse of your tushy.
"Lovely waist-enhancing cut-outs, a boost to my B-cups, and still some reassuring satiny material to cover my mum-tum. I LOVE the cheeky, little triangle the lace straps make at the top of my buttocks. This feels dressier than some of my other lingerie, I think due to the lovely feel of the stretch satin…" Laetitiaf78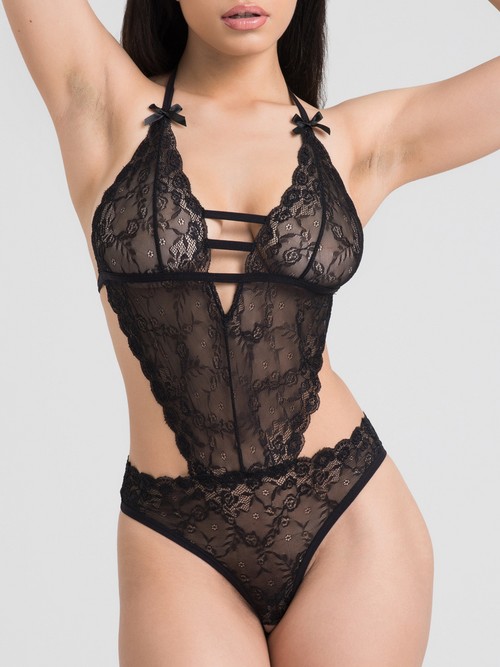 Best for lollipop shapes
Flaunt your coconuts with this sensual lace cut-out body featuring a plunging neckline. The cheeky side cut outs flaunt some serious flesh and the adjustable straps and tie-up halter and g-string allow for the perfect fit, meaning you can flaunt your figure in total comfort.
"LOVE this...perfect for a night in. Really comfortable to wear and super sexy. I'm a slim size 8 / 10 and it gave me curves. Will definitely buy more lingerie from lovehoney." Hels