Going Braless: Do I Need to Wear a Bra?
With so many people working from home these days, you may be asking yourself do I really need to wear a bra, and if so, why?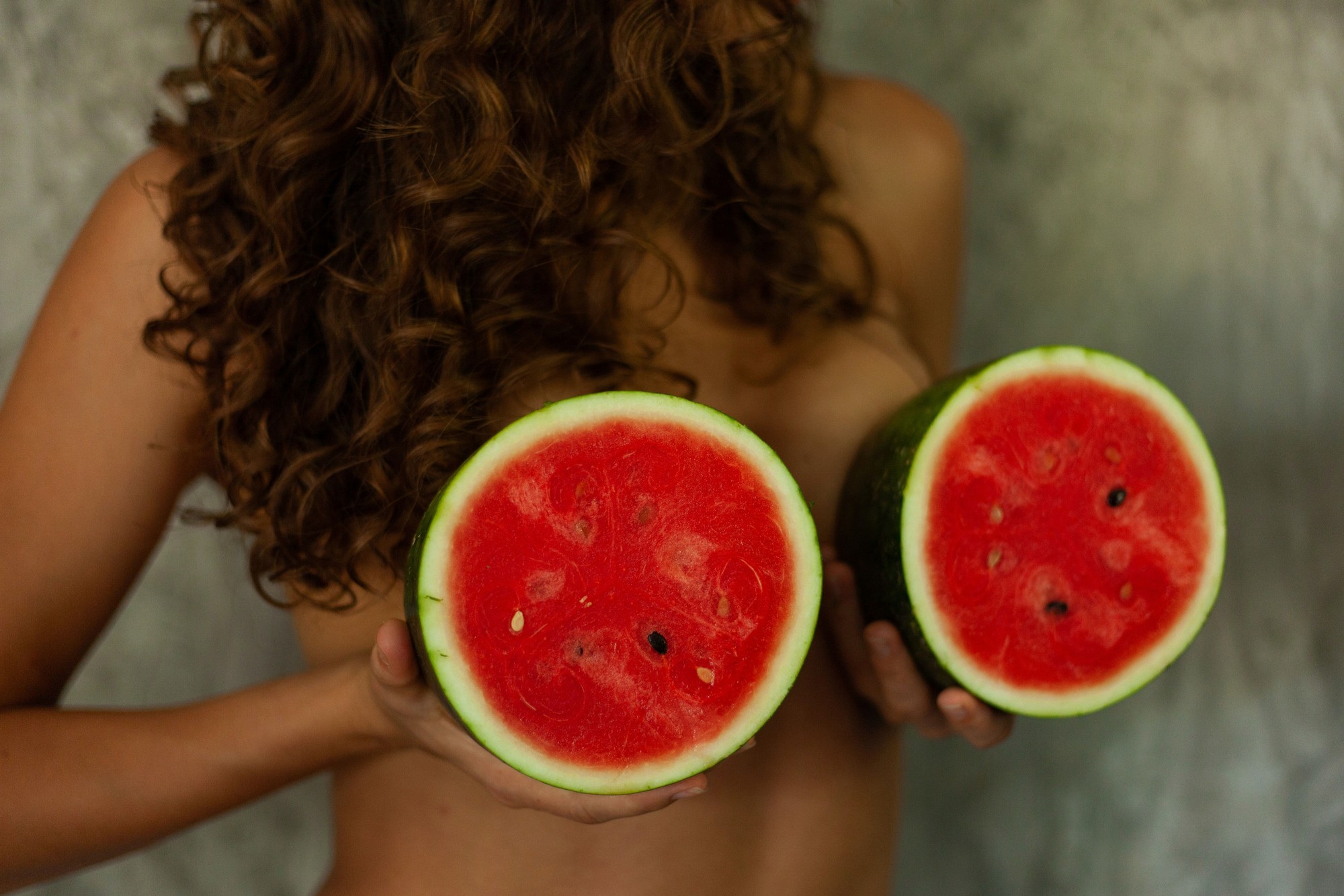 Perhaps it's an understatement, but a lot has changed since the start of the pandemic.
Memories of commuting feel like a strange fever dream, we can never look at banana bread in quite the same way, and our bras have been thoroughly abandoned.
But as the world returns to at least a semblance of normality and many people head back to the office, a lot of us boob owners are wondering whether we need to start wearing bras again.
With comfort being the main priority for the last year and a half, plenty of us have decided to go braless while stuck at home. But are we doing our boobs a disservice? In the long term, what will happen if you don't wear a bra? And is it healthy to go braless?
Before you dust off your old booby-holder, join us in our deep dive into the pros and cons of not wearing a bra.
So, Do I Really Need to Wear a Bra?
Medically speaking, no, not really. Wearing a bra is not essential for having healthy breasts, so if you don't want to wear one, you do you.
There are plenty of bra myths doing the rounds, but from a medical perspective you needn't worry.
In fact, in 2013 a 15-year-long study found that bras had no health benefit to the women that took part.
The study even suggested that going braless helped the women in other ways. Participants in the study were able to breathe better and develop more supporting muscles in their chests.
While there are several reasons you might want to wear a bra, almost all are cosmetic. So, if you do fancy going braless, you needn't worry about your health.
Will My Boobs Go Saggy Without a Bra?
So, what happens if you don't wear a bra? Will your boobs suddenly get very saggy?
Nope.
There's no evidence to suggest not wearing a bra causes your breasts to sag.
Breast sagging has nothing to do with your lingerie. So, if you've been forcing your way back into your bra for fear of having to tuck your boobs into your waistband, we wouldn't bother.
Breasts sag as we age. This is due to our skin losing elasticity and our boobs succumbing to gravity.
While smoking and multiple pregnancies can cause premature breast sagging, living a braless life isn't a cause. Unfortunately, there's not much else we can do to stop breast sagging – it's a fact of life.
If you are self-conscious about your boobs heading South, there are a few things you can do to help on a purely cosmetic level.
Boob tape is a great celebrity trick for lifting your boobs into gravity-defying positions.

Push-up bras work wonders in giving your tatas a temporary lift.

Halterneck tops and bras are a subtle way to lift your boobs. Just be careful if you have particularly large breasts, as they can put a lot of strain on your neck.
Finally, we know it's hard, but try not to compare your boobs to anyone else's.
We all have different genes and body shapes, and we simply can't expect our boobs to behave in the same way as someone else's. We get older, breasts sag – it doesn't make them any less beautiful.
Should I Wear a Bra to Protect My Back?
Another question people ask is, 'Should I wear a bra to protect my back?'
For many of us (especially us big-breasted beauties) having two large balls of weight on our fronts spells disaster for our backs. Surely, wearing a bra will help us to balance the weight out and save us back pain in the future?
While it may be hard to believe, experts say wearing a bra does not prevent back pain or improve a woman's posture.
Dr. Venesy, Physical Medicine & Rehabilitation Practitioner, states that: "In my clinical experience, wearing a bra does not prevent back pain or improve a woman's posture. The benefits of wearing a bra are largely cosmetic".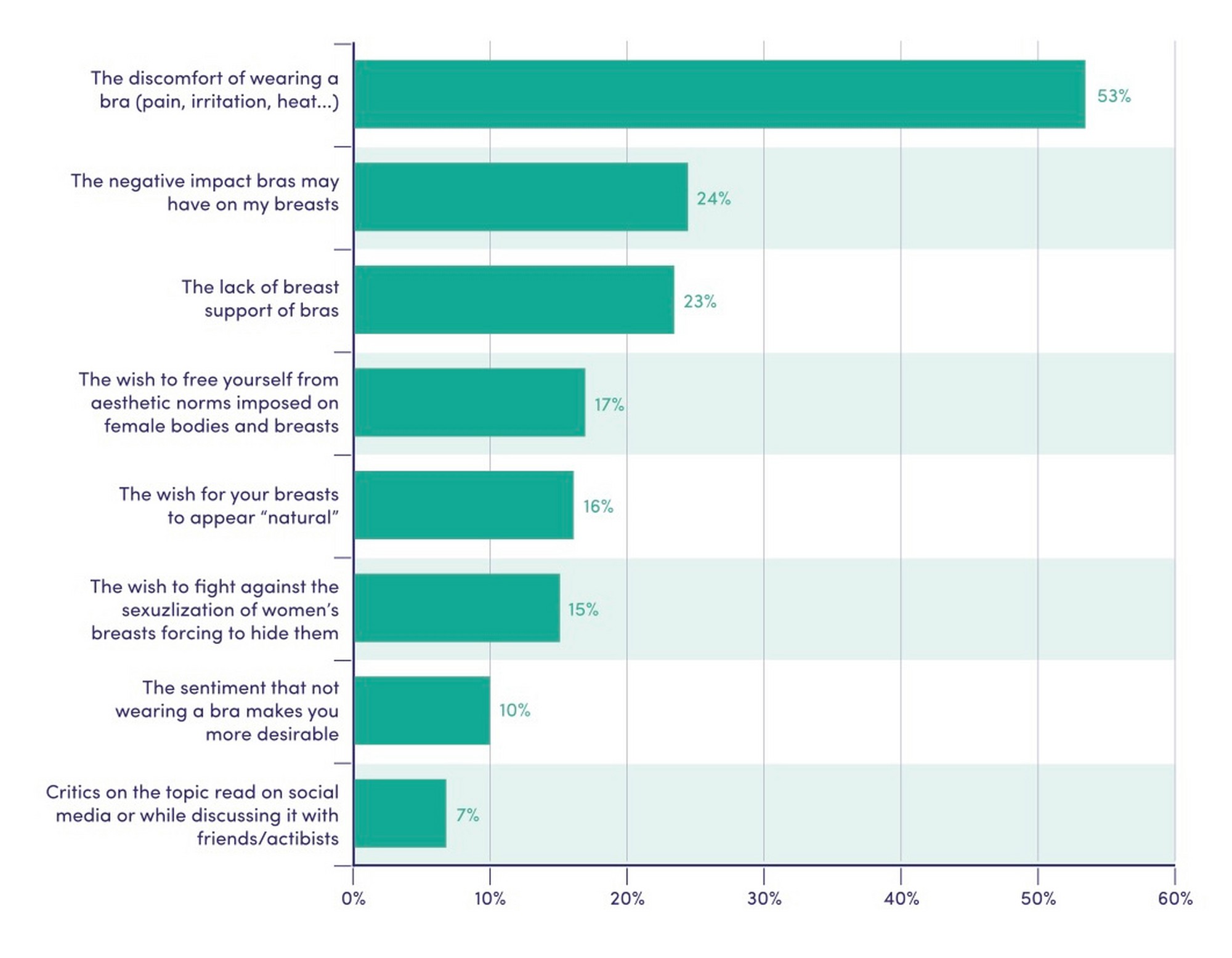 Why Does My Bra Hurt?
Did you know 80% of bra-wearers are wearing the wrong bra? In fact, a 2021 survey showed that of the 1600 people who had stopped wearing a bra, 53% chose to do so due to discomfort.
If your bra is causing you grief, from sore ribs, to red marks on your shoulders, you're probably wearing the wrong bra size.
Bras are not supposed to hurt and you don't need to put up with it if they do.
To ensure a pain-free bra, it's best to get measured by a professional, or at the very least measure yourself.
Alternatively, non-wired bras such as bralettes can be a comfier alternative to a traditional bra. They have no underwiring, thin straps, or structured cups to deal with. Mindful, our eco lingerie range, includes non-wired bras made from strong stretchy fabric, helping to support your breasts without discomfort.
Are There Benefits to Wearing a Bra?
If there's no medical reason to keep wearing a bra, why should we bother wearing them at all? Is it time to whip them off and banish them to the abyss?
Before you toss your bra in the bin with last night's scraps, there are plenty of reasons to wear a bra.
1. Bras Give Your Boobs A Lift
When it comes to building a beautiful going-out outfit, sometimes a bra is the perfect finishing touch.
As we age, our boobs do tend to get lower and may not go with the silhouette we're trying to create. Adding a boob-supporting bra can make our figures look more streamlined and help to sculpt that hourglass silhouette.
2. Bras Keep Your Nipples Covered
While some people love that chilly nipple look, for a lot of us the idea of a nip-slip does not fit in with our fantasy.
Even a very soft bra, with little to no padding, is enough to keep that 'smuggling peanuts' look at bay.
3. Sports Bras Are Essential While Exercising
Even if you decide to never slip your boobs into a bra again, you should keep hold of your sports bra.
Jumping, running and any other high-impact movement can be painful if you're not wearing a bra. Research by the University of Portsmouth also found that athletes not wearing sports bras have a lower sporting performance.
4. Bras Can Boost Your Confidence
One of our favourite things about bras is how sexy they can make people feel. Whether you've got enough boob to share around or you're barely brandishing an A cup, a beautiful bra can work wonders for your confidence.
For example, push-up bras can make smaller-chested people feel more womanly, while open-cup or peek-a-boo styles are a brilliant way to frame and highlight your natural curves.
Feeling sexually empowered is about a lot more than lingerie, but it's a good place to start.
Are There Alternatives to Wearing a Bra?
After almost two years of having free-range boobs, it may seem like too much to go back to your old faithfuls. What you need is a gateway bra.
There are plenty of alternatives to traditional bras. While bras of the past were heavily structured, with underwiring, padding and pointy cups in some examples, today's bras can be soft, flexible and designed for comfort.
Bralettes / Bralets
Whichever way you spell it, bralettes are a great alternative to bras. They're wireless, unstructured and made from stretchy fabrics, for optimal comfort.
Non-Wired Bras
Often, when a bra feels uncomfortable it's the wire that's to blame. Rigid, structured underwiring can dig into your boobs, while older bras can break leaving the wire exposed. Many wireless bras use thick elastic under the breast to offer you support.
Boob Tape
Boob tape is perfect for those occasions when you want your boobs to be lifted but you don't fancy wearing a bra. You simply stick the tape above your nipple, pull the tape up and stick them in place.
Sexy Alternatives to Traditional Bras
Do You Need to Wear a Bra? It's Up to You
For far too long people have tried to tell women what to do with their bodies and wearing a bra is no exception. Myths have circulated for generations that bras are essential pieces of clothing and it's simply not true.
We can tell you with certainty that you don't have to wear a bra. There is no medical or cosmetic reason for wearing one, so if you don't want to, don't.
However, if you, like many other people, enjoy the way a bra makes you look and feel, we have a few tips to make sure you love the bra you're in.
Listen to your body If your bra is hurting you, it probably doesn't fit, so get measured.

Consider a bralette Bralettes are sexy and comfy – the best of both worlds!

Different bras for different things You needn't have one bra for every aspect of your life. What you wear to work out may be very different to the bra you get freaky in.
If you are struggling to find a bra that makes you feel great, check out some of our other lingerie guides. You can also peruse our comment sections, to find out which of our lingerie pieces our customers love.