The Best Positions for Deep Penetration
It's about that time we got deep everybody. No, we don't mean emotionally, you can put your journals away for now. We mean the physical, sexual, mind-blowing kind.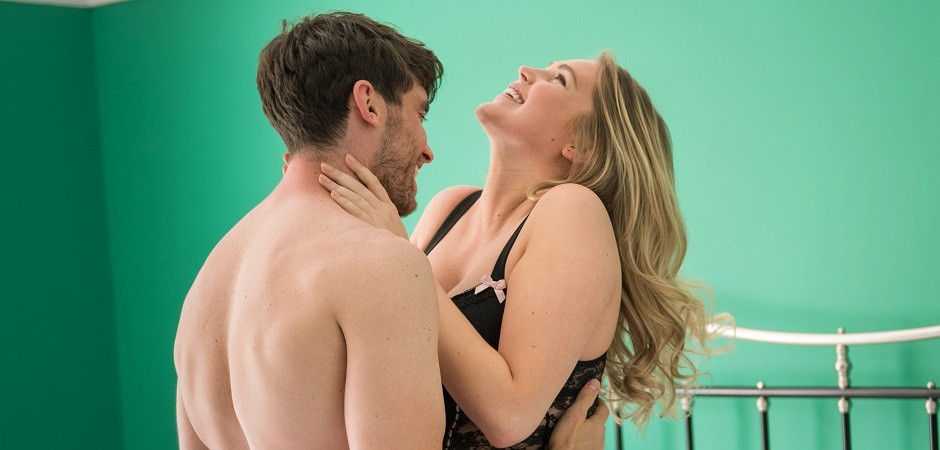 Deep penetration during sex is a wonderful thing when done right. Striking the perfect balance of deep but not too deep (it shouldn't feel like they're going to poke a hole through your cervix, just FYI) while also reaching the perfect angle is no easy feat. It is however, one of the best ways to feel every inch of your lover.
Whether you are on the top or bottom, deep sex positions can feel amazing for any sexuality or gender identity. For people with vulvas and anuses, they help to stimulate the G-spot or P-spot and give a feeling of fullness which feels amazing. While on the other hand, people with penises get the feeling of being enveloped by their partner, allowing the sensations to be felt all the way to the base of the shaft.
Regardless of if you and your partner are fans of the deep G dive or if exploring the depths is a new thing for you, there are heaps of deep penetration positions you can try.
Go where no person has gone before with our list of the best positions for deep penetration. Try each one and be sure to experiment with different angles so you can find the best way to take it all in, so to speak.
We're not entirely sure how a mermaid would get it on since they have a fishtail where all their bits would normally be. But, if they were there we're guessing this position would probably be their fave.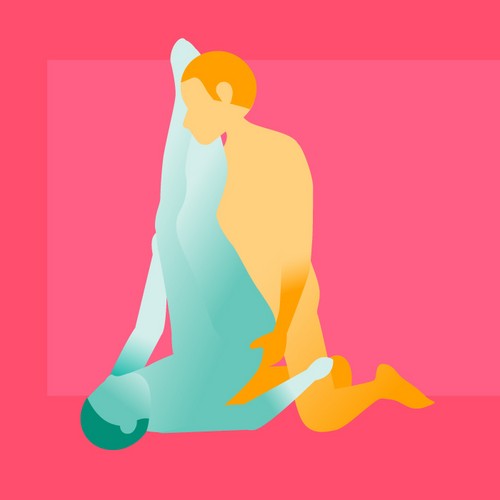 To get into position, the receiver (or bottom) lies on their back and the giver (or top) kneels above them, lifting their partner's bottom to penetrate while the receiver places both their legs over one shoulder.
This deep penetration position is great for G-spot and P-spot stimulation as well as an excellent way to make the vagina feel tighter. The angle does wonders for directly hitting your internal erogenous zones which
is key for taking the guesswork out of it while the control is with the giver.
If you want to relax into this deep penetration position then try using a sex position wedge underneath the receiver's booty so neither partner is having to hold it up. A bullet vibrator would never go astray here as well.
You could win a million dollar orgasm with Hot Seat, one of the best positions for deep penetration.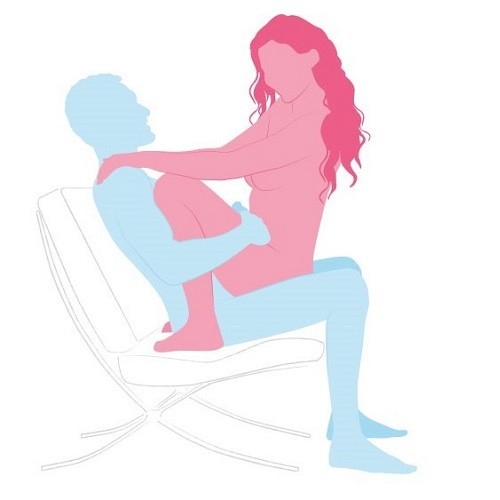 Dong and dildo-wielders, take a seat (on a sturdy chair or couch is best). Receivers, you'll be taking the lead with this one so hop on top, straddle your partner and place your feet flat on the chair with your arms on their shoulders. From here, you'll pretty much have full control over the angle, depth and speed of the thrusts making this position.
Perfect for G-spot stimulation, this position also leaves room for the person on the bottom to let
their hands go for a roam wherever you both please or they can grip the person on top's thighs to give them support and help them thrust.
Did we mention what a good show this deep sex position puts on for the person sitting on the seat? So. Damn. Hot. Take the visual stimulation to the next level with a set of crotchless lingerie and they'll be beside themselves with delight.
Doggie, but make it deeper.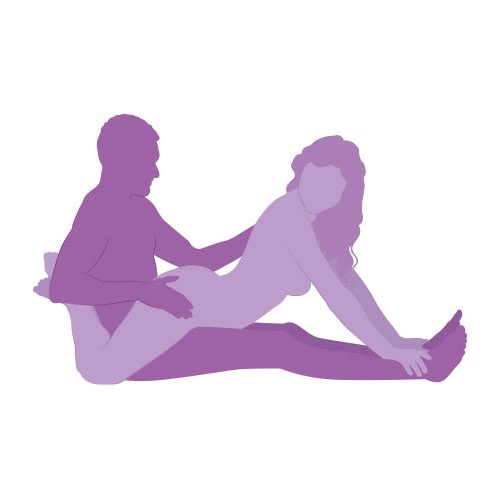 Modelled after one of our favourite back door positions, the Lock 'n' Rock gives the person on top the power over how deep the penetration goes and boy, does this one go deep.
To bump beautifuls in this position, the person on the bottom with their strap-on or joystick will sit back or lie down on the bed. The person on top will get on, facing their partner's feet and as the person on the bottom sits up, they will
lean forward, grabbing on to their partner's ankles and wrapping their own ankles around the other person's back.
Not only does this angle look spectacular for the person on the bottom, it also feels spectacular for both parties as the person on top can inch their way down to the full depth or keep it higher. The best part? The person on the bottom will have their hands relatively free so adding in a toy (like a cheeky set of anal beads) is definitely on the cards.
An expedition in this position will definitely have your inner-treasures thanking you.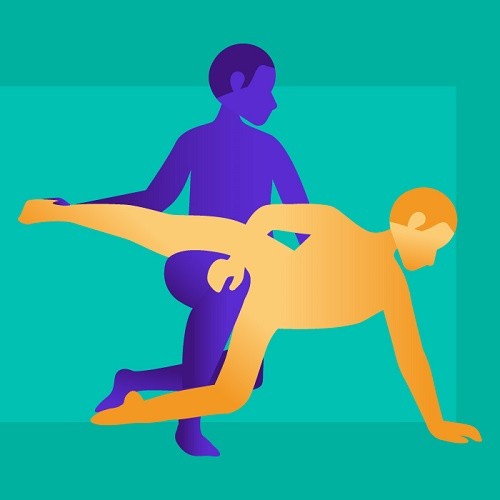 To begin your deep G dive, the receiver starts by getting on all fours and the giver kneels behind them with one knee raised. They then pick the receiving partner's leg and rest it on their raised knee, tilting the receiver's hips into a right angle and supporting their raised leg and body with their hands. The giving partner can then maneuver into the best proximity and angle for penetration.
It sounds like a lot of moving parts at first but as far as sex
positions for deep penetration go, this is a winner. Not only does the strength of the giver's position make for some excellent thrusting, it also means they can lift the receiver's leg higher to go deeper — say hello to your A-spot, vulva-owners (it's just an inch or two further in than your G-spot). Add a vibrating cock ring for extra stimulation and enjoy the journey.
Ride the waves of pleasure and let the sofa surfer be your deep penetration position for the night (or day). Easy-going and full of fun, hit all the right spots internally without having to tie yourselves in knots.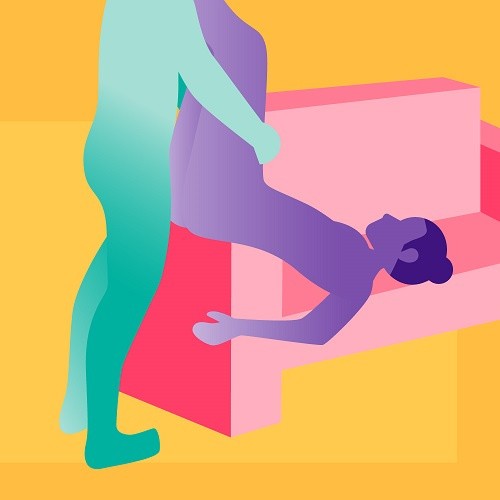 When you're ready to get wet and wild, the receiving partner sits on the armrest of a sofa and carefully lowers their upper body down onto the seat, with their legs straight and raised. The giving partner stands in front of the receiving partner's bum and places their legs on their shoulders while wrapping their arms around the thighs.
O-O-Omg yes, you can bet this is one of the best positions for deep penetration. The height of the receiver's hips are perfectly
poised for deep and targeted titillation.
Each person also has at least one hand free to go for a wander around the external erogenous zones. Add some vibes with a strapless remote control strap-on for luxurious stimulation or a bondage restraint to let the giver take full control of your ride. Thank us and your couch later.
Please note with this deep sex position (as with any position): if you are feeling any pain in your back, stop and either place a pillow or wedge underneath your upper body to soften the angle or try something else on this list to get your rocks off.
Or him or them!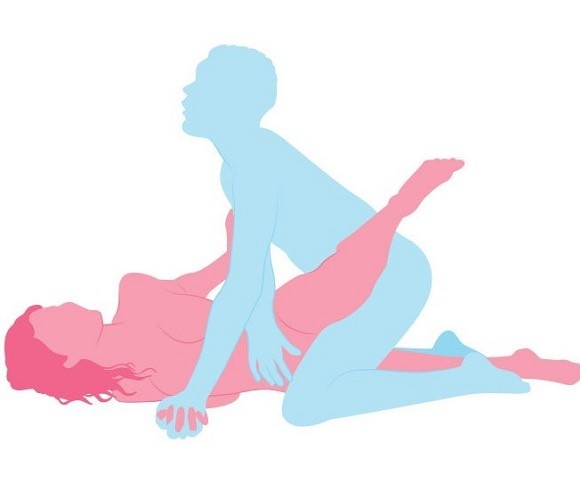 Do yourself and your lover a favour after reading this and try the Sidewind Her out for size. Covering comfort, depth and intimacy, this is a heavenly sex position for deep penetration.
The receiver lies on their side and raises their top leg to wrap around the giver's torso, who straddles their lower leg from behind and enters. From there
they can gyrate, thrust, wind and grind away with either one of your hands free to glide and slide along each other's bodies until you both reach ecstatic bliss - no hotspot gets left behind.
Does the receiver in this scene have a pecker? Get a male masturbator involved for an explosive result. How about the giver? A vibrating cock ring will help them to last longer as well as send pulsating vibes through both partner's nether regions.
Still not sure what is the best position for deep penetration when it comes to you and your partner? Check out our full list of sensual to steamy sex positions here. Good luck on your quest for buried pleasure.