A Brief Guide to Threesomes
We're here to help you take your couple and make it a throuple with this handy guide to threesomes.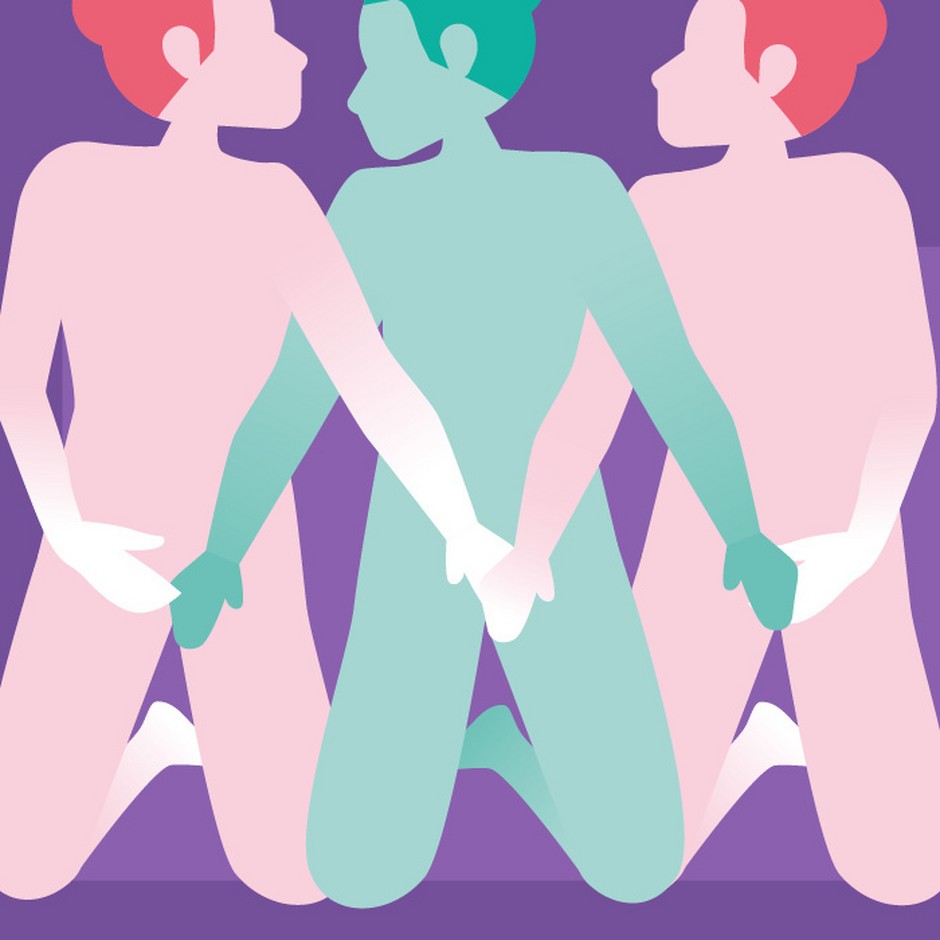 For many people, having a threesome is one of their ultimate fantasies. While it's possible that the thought has crossed your mind at least once, have you ever given thought to 'what is a threesome?' and how to turn your ménage à trois fantasy into a reality?
This beginner's guide covers everything you need to know about a three-way. From how to bring up the idea with your partner to what's it like having a threesome, we've got all the tips and positions to make sure you all have the best possible time with your bedroom buddies.
What is a threesome
While many people think of threesomes as sex between two females and a male, that's not always the case. A threesome is simply when three people have a sexy session with each other. A threesome can cover any combination of sex or gender, so long as it's between three people. Threesomes might involve three singles getting it on, or a couple inviting a third player into their bedroom. Whatever the combination, you're pretty much guaranteed to have a good time.
How to Have a Threesome
You're not the first and you certainly won't be the last person or couple to think about experimenting with a threesome. But before you throw back the covers and dive on in with your new friend(s), there's a few things you should do before having a three-way.
Start with a one-on-one convo
If you and your lover have been tossing around the idea of a threesome, then it's well worth sitting down with one another to make sure you're both on the same page about the whole experience.
Sometimes people in a relationship worry that turning your twosome into a threesome could cause jealousy, friction, and in the worst case jeopardise your current relationship. These are all completely valid concerns, so before your mind starts running with a million different scenarios, take the time to chat it out with your boo. Chances are these thoughts have crossed their mind too.
If after discussing the idea of a threesome one of you isn't keen on the idea, then don't try and push it. Badgering someone into doing something they're not into in the bedroom never ends well and will likely cause more damage than an actual threesome ever would. So if it's not going to happen, you're better off letting it go and experimenting with sexual scenarios you're both interested in.
If it turns out that the two of you are game to invite a third person into your boudoir, then you can start to chat about what kind of person you're looking for and what experience you'd like to share with them. Would you prefer to have someone you know star as the unicorn, like a friend or acquaintance, or would you feel more comfortable jumping in the sack with someone a little further removed from your everyday life?
During your discussions, don't forget to chat about exactly what you'd like to do with your third. Set some boundaries based on the acts both you and your flame are comfortable with, and more importantly, make sure you stick to these boundaries in the heat of the moment or risk unwanted repercussions. Ideally, a threesome should bring you and your lover closer together and solidify your relationship, not cause tension.
Once you've found your third player, it's a great idea to get to know the person before you jump into bed with them. Get to know who they are as a person and spend some time understanding their boundaries too. From here you can finalise the ground rules, including what kind of relationship, if any, you'd like to have with them once the deed is done. Although your relationship should be your priority, it's important to make sure that everyone that participates in the threesome is treated with courtesy and respect.
The Threesome Essentials
Sure, spontaneity is fun, but preparation is key for most things in life - threesomes included. Few people are a fan of admin work, but there's no doubt that future you will thank you for the prep when it comes to getting down and dirty as a new sexual throuple. Not to mention, a little bit of prep goes a long way to making the whole experience more enjoyable and comfortable for all involved, so here are three essentials to cover off before dancing the mattress mambo with your two mates.
Yucks and yums: Make sure you're all on the same page about exactly what sex acts you're all comfortable participating in,or at least happy for your lover to engage in. From kissing to bum fun and everything in between, establishing people's likes and dislikes is essential for setting boundaries and rules. Plus, it'll only be a fun experience if everyone's having a good time.
Protection: As it turns out, the same rules of safe sex apply to threesomes too, so don't be a fool, wrap your tool. No one wants to come away from a three-way with something nasty, so until you all get tested and come back clean, you'll want to use fresh condoms, dental dams and gloves when switching between partners.
Safety first: One of the quickest ways to kill the mood is with a poorly timed medical event, especially if it's undisclosed. To keep everyone happy and healthy, be upfront about any health conditions that could potentially flare up while bumping beautifuls. Keep your medications, like an asthma inhaler, close in case you need to use them. Good sex can take your breath away, but you want to make sure it's for the right reasons and won't end in a trip to emergency.
How to Find People for a Threesome
When it comes to adding a third to your relationship, even if it's for one night only, you'll want to make sure they're the best possible fit for you and your lover. But where the heck are you meant to find your guest star?
Some couples choose to extend an invitation for a threesome to someone they know, whether that be a friend or acquaintance. If this is the case, chances are you know exactly where to find them, so once they've accepted the invite it's up to the three of you to figure out the rest.
If you'd rather head to bed with someone a little less familiar, you'll need to fish in the right pond. There are plenty of online forums and websites that are dedicated to hooking couples up with a third player in your area. Just be sure to meet up beforehand in a public setting so you can all get to know each other before inviting a stranger back to your place for some horizontal refreshment.
Last but not least, you could always try to meet a third person the old-fashioned way, like at a bar, sex club or swingers party. If you're in a public setting, you'll need to read the room to try and figure out who seems interested. Otherwise, if you're at a dedicated club or party, chances are most people are on the same page, but it always pays to check before you hop on the good foot and do the bad thing.
Threesome Sex Positions
Now that you've got your trio and set some ground rules, it's time to get to the fun part. Hitting a home run with your other half is one thing, particularly when you know exactly what gets each other frothin', but doing the deed with a third is a totally different experience and can leave you wondering where to put what next. With this in mind, sometimes it pays to be prepared with a few nifty sex possies that you can all flip into if the inspiration runs dry in the heat of the moment.
Luckily for you, the Lovehoney site has a section dedicated solely to sex positions, many of which can be easily adapted to account for three bodies instead of two. Here's a few of our fave threesome sex positions that can be easily enjoyed by a throuple.
Love Train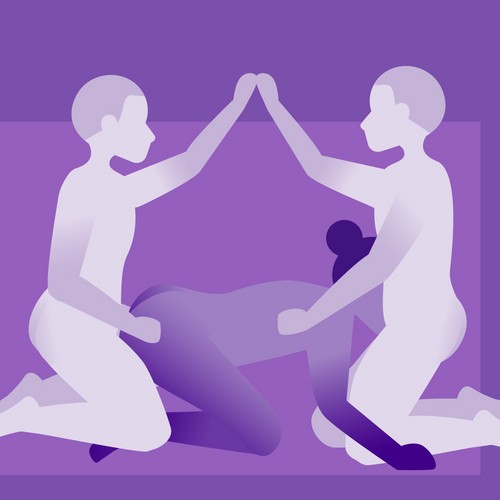 The Love Train is an excellent position to add a third to, especially if you're new to threesomes. In fact, they also call this three-way the Eiffel Tower because that's kinda what it looks like… Although this possie works best when two penis owners and a person with a vulva come to play, with the help of a strap-on or two, this position can be easily enjoyed by a trio with two or even three clits.
How: While this position is meant to be executed in front of a mirror to create the illusion of an audience, we're going to replace the mirror with a person instead to create a threesome-friendly position. The receiving partner positions themself on all fours while the two penetrating partners kneel behind and in front of them, ready to enter either anally or vaginally and orally. Not only is this a classic three-way position, but you can kill two birds with one stone and tick double penetration off your list too.
Liberated Lover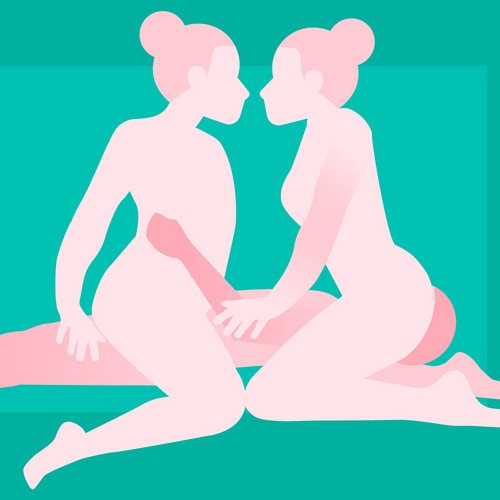 The Liberated Lover is another fun position that can be easily modified to suit a group of three. A spin-off of the classic cowgirl position, with the addition of a third you can upgrade your ride to include a side of face sitting too. If both partners on top are facing each other, it puts them in the perfect position to explore additional stimulation like nipple play or some good old-fashioned kissing.
How: The penetrating partner lies on their back with their knees slightly bent and raised. One receiving partner straddles the penetrating partner's penis or strap-on, while the other gently lowers themselves onto their face for some tongue fun.
Rubdown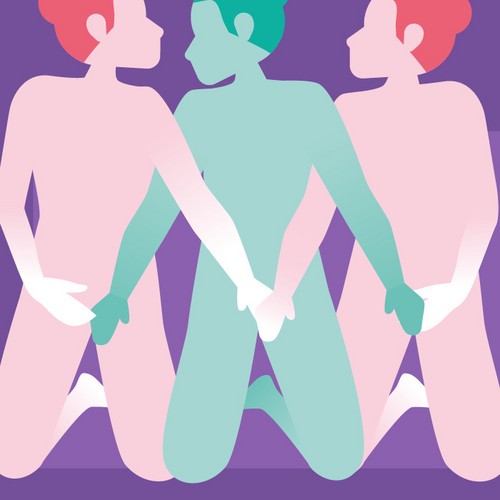 Not all great sex positions have to involve penetration. Sometimes a bit of mutual masturbation can be a great way to get your threesome going and the juices flowing so everyone's ready to rumble. It's also a great opportunity to get to know each other and see what turns your new friend on by observing their body language.
How: All three of you can lie down next to each other, lube up your mitts with a good dash of the swelly jelly and let them wander on over to your companion's bits to tease, massage, stroke and caress away. This is a great possie for using a toy or two, but if you're stuck for options then a great way to cover the basics is with a sex toy kit that combines all of the good stuff into one handy package.
Explore Lovehoney best-sellers