Top 10 Sex Toy Kits
Looking to accessorise before your next loved up escape to paradise, or just browsing to expand your own sexy collection? These kits might break the bedbut they will not break the bank.
Why use just one toy when you can use two, three, or even eleven? You've stumbled upon the heavenly gates of variety because here we've curated the top 10 best sex kits with both solo pleasure (time off at home to explore, anyone?) and partnered play (think: your next couple's getaway or saucy date night in) front of mind. Together, we'll find your dream assembly of gratification goodies - and hey, we'll even please your bank account too...
1. Best for Vibrator beginners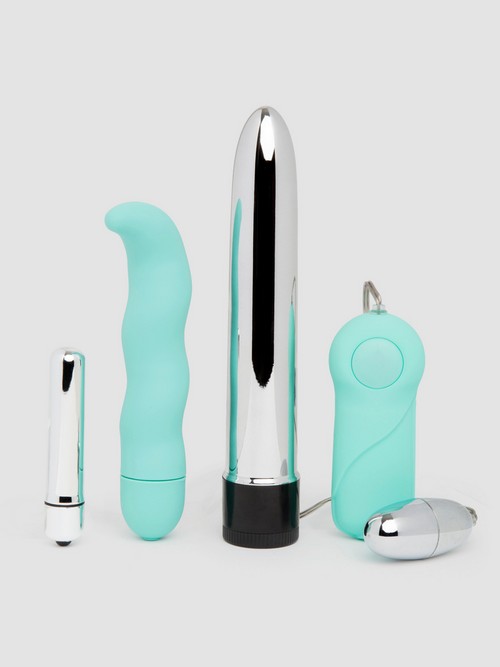 Lovehoney First Time Fun Vibrator Starter Kit (4 Piece)
This sex toy collection will turn your intimate life up a notch. With four user-friendly vibrators to work your way through, the only tough decision will be which one to start with.
Here's the rundown:
In this kit you'll find one classic, tried-and-true 6.5 inch vibe with a quiet, multispeed buzz that can be used for both internal and external arousal.
Next, the egg vibrator, which adds an element of dominance and surrender to your play time - one person gets the vibe, the other gets to be in control.
The G-spot vibrator has 6 inches of rippled, insertable length that aims to stimulate your internal pleasure zones, particularly that space right at the front of the vaginal wall.
And last, but certainly not least, is the bullet: a petite, yet powerful (and highly transportable) vibrator - perfect for precise external stimulation and pin-pointing pulses right where they count.
Pop 2 x C batteries, 3 x AA batteries and 1 x AAA battery on your next grocery list and away you go!
2. Best for bondage newbies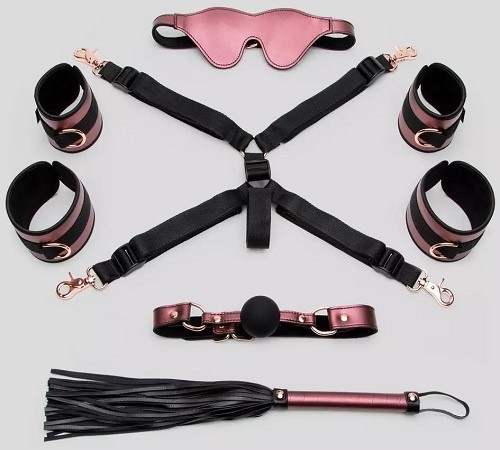 Bondage Boutique Seduce Me Lover's Bed Bondage Kit (4 Piece)
Enter: your wildest Christian Gray fantasies. This collection is both stylish and seductive for the novice who isn't quite ready to enter full dungeon-mode but drifts off with a smile when thinking about being held down.
This kit will unquestionably guide you on how to spice things up in the bedroom - with under-bed strapping, wrist and ankle cuffs, a blindfold, flogger and a ball gag. Don't be intimidated - while full restraint can be achieved, the cuffs, gag straps and blindfold are lined with plush faux fur, and the restraints feature quick-release clasps for coming seamlessly undone when the moment calls for it.
Use only one or two restraints, or use them all. With a kit like this you can choose your own adventure, and work slowly toward your peak kink experience goals.
If this sex toy pack excites you but you don't know where to start, we've got you covered with our beginner guides to bondage and plenty of info on the ins and outs of BDSM.
3. Best for treating your penis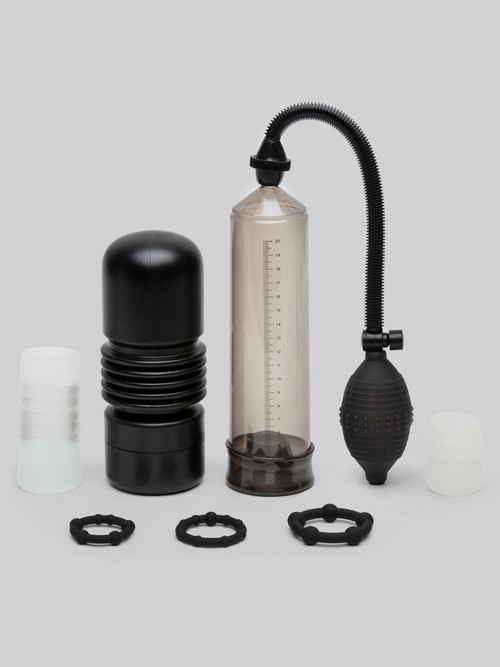 Lovehoney Solo Pleasure Male Sex Toy Kit (7 Piece)
Behold, an array of new additions to the penis-owners toy box. While the name suggests this sex toy pack is for solo pleasure, with seven pieces to discover, there is room to invite a lover. The collection comes with a manual penis pump for testing out the feeling of extra size and strength, as well as two strokers (ribbed and non-ribbed) and three cock rings.
The strokers are soft, easily cleaned, and get their best results when used with plenty of lubricant. A beaut way discover what pressures and paces feel good during a handjob, these toys are an experience for both the giver and the receiver. Similarly, cock rings can assist with lasting longer and enhancing sensation during penetrative sex or masturbation. We've got some stellar advice on how to boost your boner with a cock ring.
The penis pump is a natural way to enlarge the penis and strengthen an erection. By way of suction, the pump draws more blood into the penis, flooding the vessels and causing them to swell, which - viola - makes everything larger and harder. While results may vary depending on the cock, some users have reported pumps offering them long-term solutions when used regularly, safely and correctly.
4. Best for play on the road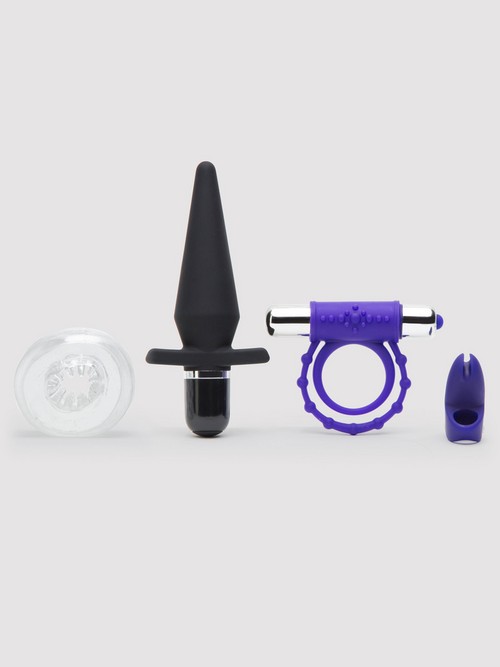 Lovehoney Best Night Ever Couple's Sex Toy Kit (5 Piece)
Having date night in this week? Perfect. We've got just the dessert for you. From foreplay to full-throttle orgasms, this couples sex kit contains enough to keep you entertained for hours.
Kick things off with the finger stroker, lightly teasing, touching, and building the tension. Then increase the excitement with the 10-speed bullet vibrator, which can later be coupled with the reversible mini stroker for both party's simultaneous gratification. Once the energy is right, the vibrator can be paired with its compatible cock ring and used during penetration. For a little extra electricity, be sure that someone makes good use of the vibrating butt plug.
This pack is a great gift from one partner to the other or a good commitment-buy to initiate more contact and intimacy in the bedroom. Whatever your dynamic or experience, there are enough goodies in this kit to keep you chasing orgasms before you're chasing Z's for many nights to come.
5. Best for getting a little bit of everything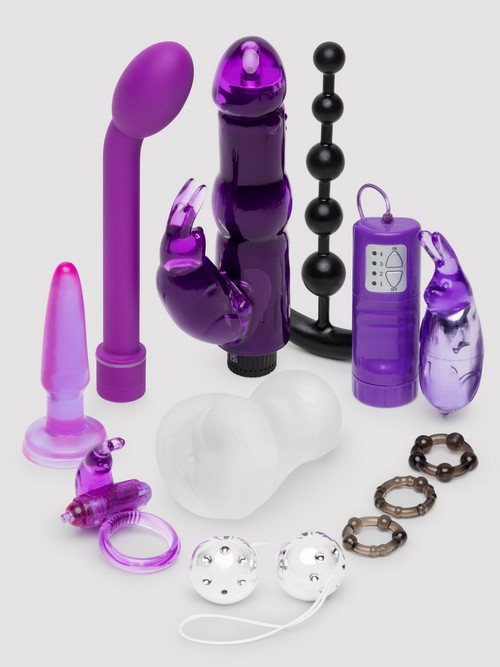 Lovehoney Wild Weekend Mega Couple's Sex Toy Kit (11 Piece)
You've graduated from the aforementioned 5-piece set and you're ready for even more activities on your couple's getaway. Perhaps you've even booked a full week off, instead of just the weekend, to ensure maximum time between the sheets. This sex toy kit includes a little bit of everything for kinky lovers who are open-minded and after diversity.
You'll notice a cheeky 'rabbit' theme peppered among the toys, with this sex kit flexing a classic rabbit dildo, 4-speed vibrating rabbit ears, and a rabbit shaped cock ring. Endless erotic combinations can be achieved utilising the rest of the kit too, which includes a mixture of cock rings, ben wa balls, tapered anal beads, a butt plug, a G-spot vibrator and a stroker.
Designed to keep your play fresh and nights home alone never the same. Be sure to pack plenty of water-based lube and some spare batteries if you're taking this collection away. At such a generous price for all of its accessories, it need not even be mentioned (but we'll do it anyway) that this couples sex toy kit is truly bang for its buck!
6. Best for upping the ante on your bondage play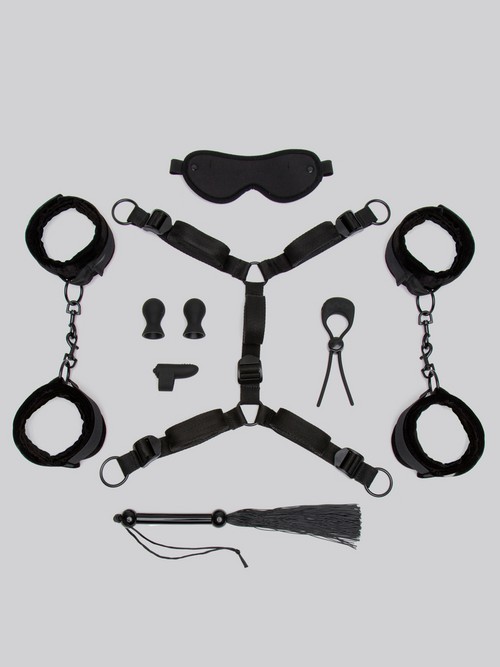 Lovehoney All Tied Up Bondage Play Kit (8 Piece)
This kinky kit contains all the restraint items you need to tie your partner up (we're talking a blindfold, wrist and ankle cuffs, and under-mattress strapping) along with the sensory toys (nipple suckers, a vibrating cock ring, a finger vibe, and beginner's flogger) to tease them while they're bound and begging for more.
The most valuable feature of this kit is that, while it will bolster your confidence in the realm of bondage, there is still nothing overly daunting or advanced, and certainly nothing that will frighten off newcomers to the world of kink. This play set has been designed to look and feel sexy, but to exude safety and comfort.
On that note, be sure to talk safe words and boundaries beforehand so that once it's play time you can lose yourself in the tension and release of light BDSM.
7. Best for bootiful anal play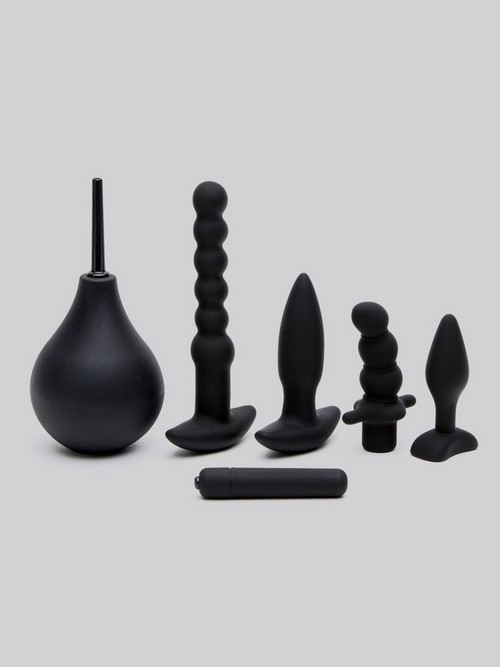 Lovehoney Bumper Booty Bundle Anal Sex Toy Kit (6 Piece)
This is the perfect kit for a sexy night in, and one that will encourage the safe, sensual and seductive exploration of both you and your partner's rear arenas. With two butt plugs, anal beads, a prostate massager and a bullet vibe, you'll be back to back with things to try.
Ease in and out with plenty of anal-specific lube - all toys are highly compatible - and if it's your first time, be sure not to rush. In fact, why not make a whole night (or day) of it, slowly discovering what works and what works even better.
In more good news, this kit also contains an anal douche for preparation and peace of mind during your pleasure. The anal douche is easy to use with its squeezable bulb - the perfect size for manual operation - and comes in a compact, sleek design. Squirt a tiny bit of lube onto the nozzle for easy insertion, and be sure to douche around 45 minutes before you think you might play. An essential accessory for enthusiasts of anal toys and anal sex.
8. Best for super-sized pleasure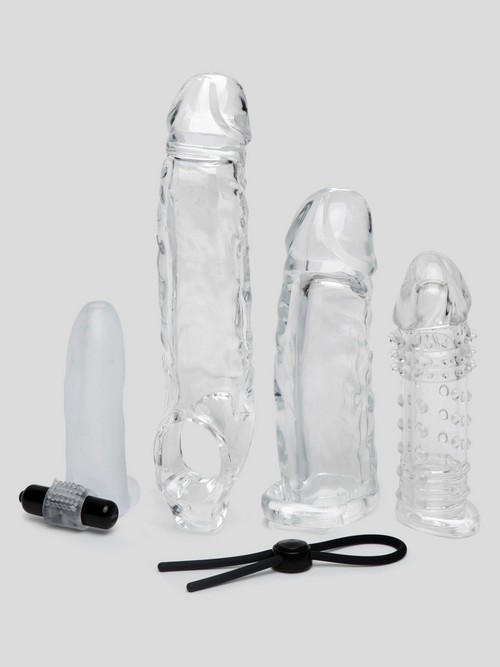 Lovehoney Mega Mighty Male Enhancement Kit (6 Piece)
A different array of sex toys from the usual vibes, sleeves and plugs, but something stimulating nonetheless. This kit contains bits and bobs that will enhance natural talent and increase stamina.
It's your choice between 3 extra inches, 2 extra inches or a girth enhancer. The kit also comes with a cock ring, and 7-mode bullet vibrator that can be used with a sleeve, or separately for isolated pleasure. This kit is a fun way to explore new positions and give the penis owner full dominance.
Truth be told, if you've never used an extender before, it may be fiddly at first. But once you get the hang of slipping it on and off, it may well become another string to your bow. (Or another inch to your bo-ner, so to speak.) We've also got the lowdown on donning, un-donning, looking after, and using extenders here for those looking to get into the sport full time.
A quick note: Enhancers are not always used in place of size or function, but are instead just another exciting way to transform bedroom events and change up stale routines. While they can be helpful for couples working through common issues, their use can be as simple as a costume party for the penis.
Here is what one happy customer said:
"Omg I got a big surprise at the size of them. Great variety for pleasure!"
9. Best for treating your vulva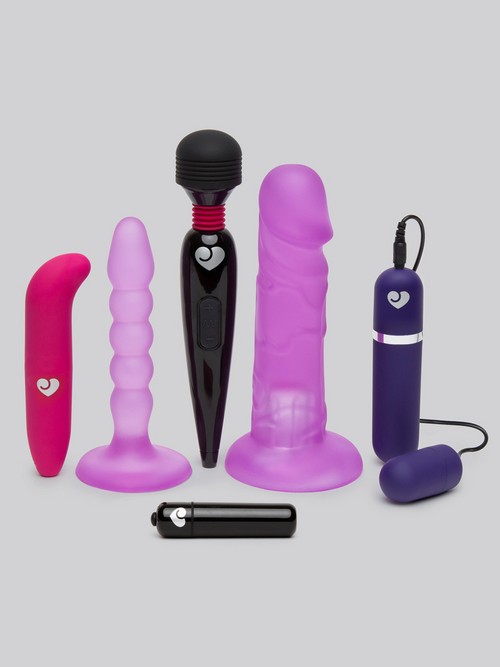 Lovehoney Rock My World Sex Toy Kit (6 Piece)
For the vulva-owning readers who enjoy penis-shaped objects, stop right here. You've reached your destination. This 6-piece assembly has all of your bases covered with a lifelike 6 inch dildo, a 5 inch anal dildo, a G-spot vibe, a bullet vibe and a mini pleasure wand. The bullet vibe also fits inside the base of the dildo, giving the user a bonus seventh high to ride.
This collection is primo for self play but doubles as a comprehensive kit for partnered intimacy. Slip it in your suitcase before your next couples getaway, or clear some room in the top drawer for when a lowkey night at home begins to take a steamy turn. This collection also makes for a great gift if partners are separated short term, or for friends looking out for the pleasure lives of their favourite pals.
With all of your most sensitive regions targeted, what more could you want? Oh yes, just plenty of lube, please!
10. Best for pleasure seekers on a budget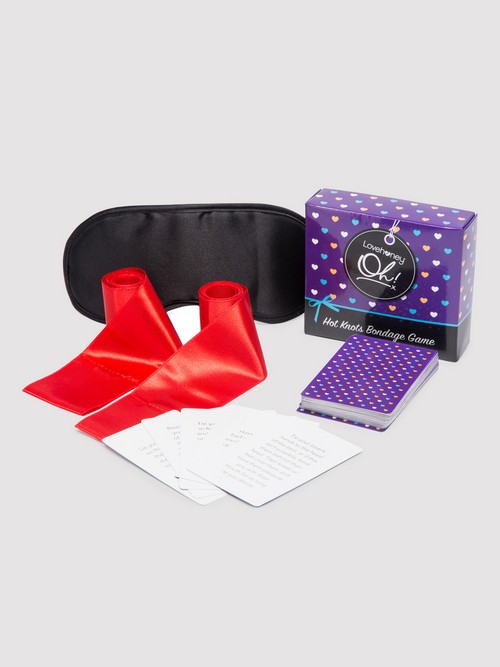 Lovehoney Oh! Hot Knots Beginner's Bondage Game (3 Piece)
Even cards can be sexy when the right people are playing. This affectionate and affordable game offers advice and suggestions for everything from light bondage play to what to do once your lover is blindfolded and bound. With 52 cards at your disposal and a set of instructions that ensure safety and extended play, partners can focus on each other, stay in the moment and never worry about falling short of racy ideas.
To whet your appetite, this game relies on each player drawing cards and acting out what's been displayed. The cards include a sexy activity (which puts one person in the role of giver and the other in the role of receiver) as well as directions on how to utilise the satin blindfold and ties which come with the deck. Because we love a plot twist, the deck also includes 4 'switch' cards, which can be kept by players and used at any point during the game to reverse the power dynamic on a card drawn. Submissives, dominants and versatiles will all relish in this raunchy spin on the game, Uno.
A great gift for the hen, or a cheeky Valentine's day pressie that says everything it needs to without saying anything at all. This is, until everyone's cards are on the table.
That's a wrap
Now that you've got an array of options, from vibes for days to bondage for beginners, get booking your next cheeky trip with your bae or you-sesssion day of eat, sleep, pleasure, repeat. With sex toy kits that are as value-driven as they are indulgence-driven, surely you can afford the time off.