Introducing Tease by Lovehoney for Sensual Bondage
It's official: Couples all over the globe are opening themselves and their bedrooms up to bondage. With our reputation as the sexual happiness people, we're often asked how to add some spice to bedroom adventures while maintaining intimacy and romance.
BDSM and bondage equipment can look a bit strict for first timers and people who are interested in more sensual play. That's why we've created our " Tease by Lovehoney" range of soft and sensual bondage gear, perfect for newbies and adventurers alike.
We're excited to announce the new range of sensual bondage products made from soft and seductive materials and designed for anyone to use.
Whether you're new to bondage, or want to bring some luxurious romance and seduction into your play, read on to discover our favourite Tease pieces.
Pick up the set pictured here: Tease by Lovehoney Luxury Bondage Kit (7 Piece), also available in red and black.
---
Bondage Restraints:
Ideal for everyone from beginners to bondage enthusiasts, these 4 glossy black straps feel delicious against bare skin.
Each strap has a pre-looped tip that offers reliable restraint. As non-intimidating as it is beautiful for uncomplicated, comfortable bondage.
Use all 4 ties together to create custom positions, or combine with other BDSM favourites to tailor your experience. No need to worry about buckles or clasps, releasing your sub is simple in a pinch.
Colour Options: Tease by Lovehoney Red Silky Restraints (4 Pack) and Tease by Lovehoney Purple Silky Restraints (4 Pack)
---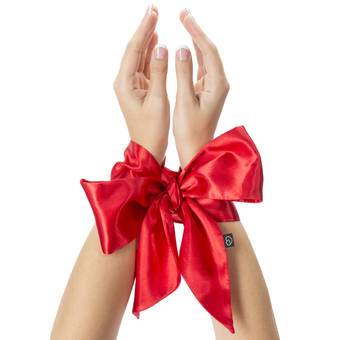 Tie your love up like a gift with the Lovehoney Tease Silky Handcuffs.
Designed for comfort, simplicity and beauty, this sumptuous red wrist tie covers all bases making first time bondage exploration thrilling and sensual.
Unlike traditional heavy bondage gear this satin-feel tie is light and luxe. Made from soft satiny fabric. One extra-long 51.5 inch tie is perfect for binding wrists or ankles and offers comfortable but reliable restraint throughout play.
Colour Options:Tease by Lovehoney Black Silky Handcuffs and Tease by Lovehoney Purple Silky Handcuffs
---
Interested in trying bondage but have no idea where to start?
We've made it easy for you to try our top beginner's bondage toys in one kit. A silky purple blindfold, wrist restraint and soft feather tickler are all yours with a great deal.
The user-friendly wrist tie and blindfold work together beautifully to offer sensory deprivation and enhancement. While tied down, tickle and tease your lover's skin with the delicate feather to make them tingle all over.
Color Options: Red Tease by Lovehoney Soft Bondage Kit (3 Piece) and Black Tease by Lovehoney Soft Bondage Kit (3 Piece)
---
Sensory Play:
One of the best ways to increase sensitivity and free your mind in the bedroom is with a blindfold.
We created this beautiful eye mask for bondage newcomers who want to explore sensory deprivation without intimidation.
Cutting off vision heightens all of your other senses for more intense stimulation. Extra-long silky ties allow for the perfect fit. Gently adjust the hidden wire frame for total blackout.
Color Options: Tease by Lovehoney Purple Blindfold and Tease by Lovehoney Black Blindfold
---
Tease and tickle your lover's body from head-to-toe to treat them to all-over tingles and leave them feeling extra sensitive.
Tease with soft feathery stokes and watch as your sub wiggles with delight.
This mini feather tickler is extra easy to use. Even if you're not into bondage, a feather tickler is an absolute essential for every well stocked toy box.
Color Options: Tease by Lovehoney Purple Feather Tickler and Tease by Lovehoney Red Feather Tickler
---
This naughty and nice crop was designed with beginners in mind.
The extra-wide, dual-sided purple tip offers versatility and a non-intimidating impact for the sub.
One side has a glossy satin-feel side for silky soft strokes, the other leather side providing a bit more sting.
This crop is ideal for couples who want to enjoy authentic BDSM, with minimal pain.
Color Options: Tease by Lovehoney Red Crop and Tease by Lovehoney Black Crop
---
A must-have for fans of impact play, this paddle acts as an extension of your hand.
Extending playtime and allowing the sub to enjoy as much breathtaking punishment as they can possibly handle.
This user-friendly paddle offers 2 opposing sides to give you the opportunity to experiment.
Build up to the smooth leather surface to deliver sharp slaps that awaken the senses. Switch sides to soothe your partner's behind with the soft satin-feel.
Color Options:Tease by Lovehoney Red Spanking Paddle and Tease by Lovehoney Black Spanking Paddle
---
Ideal for first time whipping, this non-intimidating flogger enables a wide range of sensory exploration, from delicate tickles to spine-tingling lashes.
Great for BDSM newcomers, as well as seasoned players who want a travel-friendly whip too. Its lightweight offering a compact design and a convenient leather loop for storage and display.
Use the tips of the fronds to gently tickle and awaken your partner's nerve endings. Soon you can experiment with more intense whipping to see what works for you.
Color Options:Tease by Lovehoney Black Flogger and Tease by Lovehoney Purple Flogger
---
Still looking for some soft bondage for your next scene? Feel free to get in touch with Customer Care for 24/7 live help.
---
You may also like: