Study Reveals More Excitement is Achieved When You Play with a happy rabbit®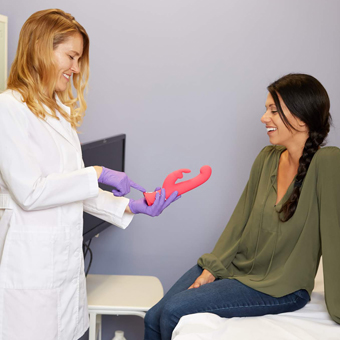 A recent medical study in the US has changed the direction of intimate pleasure for women, demonstrating that super-strength orgasms may be available in real life, not just the movies.
Conducted by neuroscientist Dr Nicole Prause, founder of sexual biotechnology firm Liberos, the purpose of the scientific study was to test the effectiveness of the updated happy rabbit® versus manual stimulation.
19 women to date, with an average age of 31 and a wide range of racial and age diversity, have been tested. Each of the women visited the lab twice under strict lab conditions – once to use a happy rabbit® vibrator, and the other to masturbate using their hands.
And what did Dr Prause discover?...
Excitement levels and measures of orgasmic sensations were all reported for a longer period of time when using the happy rabbit®, and for some women, their alpha brainwave levels were also higher.
And how, exactly, does one measure an orgasm? Good question.
"We know that the female orgasm is a difficult thing to measure – so many factors come into play to achieve the pinnacle of sexual pleasure," Lovehoney's resident sexpert Annabelle Knight agrees.
"However, this is an area that Dr Prause has been studying extensively and using bespoke, cutting edge technology, she will be demonstrating how effective the happy rabbit® range can be in helping women get to that elusive O moment!"
Dr Prause measured levels of sexual pleasure using a combination of an anal pneumatic (a standard way to measure orgasm when the vagina is being used to reach orgasm ie. through penetration), monitoring brainwaves and the galvanic skin response (a change in the electrical resistance of the skin caused by emotion).
Average excitement levels registered at 3.73 during vibrator use, in comparison to 3.1 during manual hand stimulation, while bodily sensation of orgasm came in at 32 with a vibrator, and just 23 when using just the hands.
---
happy rabbit® Vibrators Make You Play More. And We Used Science to Prove It.

The happy rabbit® vibrators lived up to their names with the emotion report from the study suggesting that the women who used them had higher levels of excitement, longer-lasting orgasms and more desire to play from start to finish, during testing, than the hand-based session.

Not only did the women experience heightened feelings of sexual arousal when using the happy rabbit®s, they were also more likely to experiment with different techniques and functions to take them to that special place, as opposed to when using just their hands.
"I assumed the main benefit of the happy rabbit® would be how fast you could get to orgasm, but people wanted to play, explore, and enjoy their new toy." said Dr Prause.

"In hindsight, using the new vibrator to explore made much better sense than rushing through, but I am glad we tested the assumption!"
---
So if the sound of better orgasms and more play time are making you squirm on your seat with anticipation... It's time to ditch those tired fingers and reinvent your orgasms by hopping onto a happy rabbit®. After all, it's International Rabbit Day, so it would be rude not to.
Introducing the New Even Happier happy rabbit® Vibrators
Beautifully sleek, with a curved shaft for targeted G-spot massages, it tips you over the edge to breathless orgasms.

happy rabbit® G-Spot vital function stats: ears: 3 x speeds; shaft: 3 x speeds, 9 x patterns.

What they say:

" The shaft vibration has a deep rumbly sensation that hits my G-spot and the rabbit ears set my clitoris off and have me writhing on the bed, alone or with my partner. "

With a non-intimidating size and clever contours, this realistic rabbit blends a mind-blowing real-life shape with delicious rumbly vibrations to excite and delight.

happy rabbit® Realistic vital function stats: ears: 3 x speeds; shaft: 3 x speeds, 9 x patterns.

What they say:

"I orgasmed within 5 minutes of using the happy rabbit® Realistic Vibrator... Woe - orgasm rating 10/10 for all 5 orgasms I had!"

This bunny's thrusting head targets your internal hotspots, while extra thick, firm 'bunny' ears stimulate your clitoris.

happy rabbit® Thrusting Realistic vital function stats: ears: 9 x patterns and 3 x speeds; shaft: 3 x thrusting speeds.

What they say:

"happy rabbit® equals happy woman. The orgasm was quick and intense. The thrust, such a bonus, and the ears, wow. "
A thick, curved shaft delivers deep G-spot massages while the beaded tickler and rabbit ears satisfy your other pleasure points for incredible blended orgasms.

happy rabbit® Triple Curve vital function stats: ears and beads: 9 combinations; shaft: 3 x speeds, 9 x patterns.

What they say:

"With the flexibility of the main shaft and the 21 different speed and 9 different combinations it came to an amazing whopping 4 orgasms for me and I would highly recommend. Can't beat the buzzing!"

The bulbous, curved head massages your internal hotspots while the beads add an incredible new dimension of stimulation.

happy rabbit® Beaded G-Spot vital function stats: ears: 9 x patterns and 3 x speeds; shaft: 3 x speeds.

What they say:

"The rotations of the head were absolutely perfect for my G-spot. They are strong and firm and the head kept pushing into my G-spot over and over, pushing me towards orgasm in an intense way that felt completely out of my control."

A natural curve aims for your favourite internal spots, massaging those thousands of nerve endings with targeted vibrations.

happy rabbit® G-Spot Curve vital function stats: ears: 3 x speeds; shaft: 3 x speeds, 9 x patterns.

What they say:

"It found the G-spot so quickly and with varied speeds, I could intensify the orgasms. Clitoral action added to this had me squirting in no time! "
---