Find the Perfect Sexy Christmas Lingerie Gift with Our Simple Quiz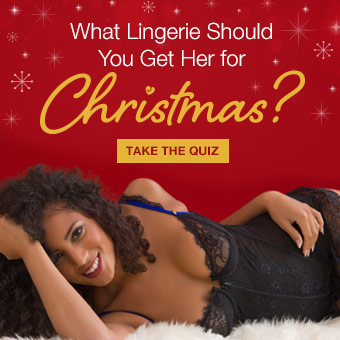 Sexy lingerie is the ultimate erotic Christmas gift to give your lover. Whether you're the one who wears the sexy knickers or are shopping for them, there's nothing like a little lacy number under the tree to bring a smile to your significant other's face on Christmas morning.
If you're buying for someone else, however, it can seem like a daunting task. What if she doesn't like what you choose for her? What if it doesn't fit? What's that lace up bodice thing called again?! Luckily, we're here with the perfect tool to help you find the right gift for your special someone.
Answer our seven questions below and not only will we determine which kind of lingerie your sweetheart will feel most comfortable in, but we'll also deduce which style suits her body type and personality best. Et voilà, the perfect gift in seconds!
On the off-chance your lady doesn't like the piece our magic quiz suggests, remember that at Lovehoney you have a year to return any item for a full refund, no questions asked!
Pro tip: Take a moment before starting the quiz to find out your partner's bra and dress size. How? A quick peek in her dresser while she's in the shower should suffice. All of our suggestions are available in standard and plus sizes so it's easy to find the perfect fit.
---
If you're still not sure what to buy her after taking the quiz, visit Lovehoney's Christmas Lingerie page for loads more inspiration and some great offers, or contact our Customer Care team, where an advisor will be happy to help you find the perfect present.
---
You may also like: