How to Have Sex in the Shower
Everyone has attempted to have sex in the shower or bath before, often with less than desirable results.
The slippery surfaces, awkward angles and lack of space are often contributing factors to shower and bath sex going wrong and, let's face it; no one wants to end up with a cold metal tap becoming lodged in their delicate parts.
With this in mind, we've put together some top tips for making bathroom sex infinitely easier and more enjoyable.
---
1. Coming to "Grips" with Shower Sex
Positioning yourself for shower sex can be difficult, especially when you have limited space and slippery tiles to compete with. Sportsheets have created some amazing shower sex products that allow you to grab on when there's nothing to grab on to! The foot rest and handle gives you perfect leverage and a whole range of new positions to experiment with.
The handy bonus of shower sex is that wet tiles makes the playing with suction based toys a doddle. Simply stick the Lovehoney BASICS 6 Inch Suction Cup Realistic Dildo on the floor or wall of the shower for hands free fun.
Getting Heady
Most women have experimented with using a shower head to masturbate, but did you know that this strong stream of water also feels great for him too? Whilst getting sexy in the shower, adjust the temperature of the water to the perfect level and direct the shower head to the underside of his penis. This will stimulate his sensitive frenulum (the banjo string, to most of us) and also encourage blood flow, giving him a bigger, stronger erection!
Female ejaculation and showers go together like cheesecake and more cheesecake. One of the big factors that hold women back when it comes to squirting is the worry of getting the bed wet and the mental block that accompanies it. By lying down in the bath or standing up in the shower, you can please your G-spot and gush away to your heart's content without needing to worry about the clean up. This Lovehoney Multispeed Slimline G-Spot Vibrator is our favourite toy for G-spot stimulation and luckily it's also waterproof.
Water Way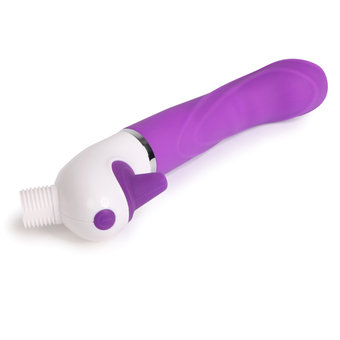 Get a little
Good Vibrations
If you think you can't take your vibrator in the bath or shower with you? Think again! There is an amazing range of waterproof vibrators on Lovehoney and some of them are purposely made with your water-based pleasure in mind.
The I Rub My Duckie Waterproof Vibrator is an ingenious vibe that has won multiple awards for its incredible power and cute design. If you fancy something even more discreet, check out the Sex in the Shower Waterproof Vibrating Mesh Sponge - it looks just like a regular sponge but has a sneaky compartment for hiding the single speed bullet vibe in!
You can even bring your rabbit underwater with you! The Lovehoney Splash Waterproof Rabbit Vibrator can join you for any aquatic activity and you can also bring your splashproof Happy Rabbit in the shower with you, just make sure you don't submerge it entirely.
Keep it Slippery!
Water has a habit of washing away your body's natural lubricants so you'll need something that will keep you wetfor your entire sex in the shower session. Silicone lubricants are brilliant for this as they're water resistant and long lasting. Simply dispense a little into your hands and rub into your body.
We love ID Milennium Silicone Lube and Sliquid Silver Luxury Silicone Lubricant for staying slick in the shower. Just remember, silicone lubricant and silicone sex toys don't mix!
Need more help?
You can Contact Customer Care, who will be able to help you find the perfect toy. You can send an email, telephone or live chat to an experienced advisor 24 hours a day, 7 days a week.
Contact Lovehoney Customer Care
---
You may also like