But an obsession with shower masturbation can last a lifetime. As we get older the bathroom becomes a sacred space, a place where you can truly relax, let go and more importantly, get off.
So, let's delve into various methods for indulging in self-stimulation in the shower, using the showerhead (you know what we mean), and in the bathtub, as well as some sensual toys you can incorporate into your aqueous routine.
Heads up, water puns on the horizon.
Setting the scene for water-based self-pleasure
Firstly, if you're planning on using your bathroom as your pleasure playground, be sure to clean up nice and proper. Steer clear of harsh cleaners like bleach just before any shower activities – a good scrub with soapy warm water and a proper rinse should do the trick. If you're still a bit worried about starting up right after cleaning your bathroom, use a sex toy cleaner to get rid of any residue, then give it a final rinse.
Ensure your environment is visually pleasing and you have a shower mat or some kind of grip to give you traction while you're getting some action. The last thing you want is for your solo adventure to end with a hospital trip.
You'll also want to avoid directing any water into your vagina and instead keep the focus on your external hot spots like the clitoris and labia. Water going inside can disrupt the delicate Ph balance that your vagina naturally maintains.
With safety and health sorted, it's time to shut out the world and relax into some gentle, watery, (possibly orgasmic) you-time.
The Best Techniques for Shower Head Masturbation
Before we crack on: why does a shower head feel so good? Sure, it keeps you clean and all but what is it about these day-to-day devices that makes the legs wobble?
It's the pressurised water delivering a unique gentle yet constant pressure and movement to the clit's thousands of nerve endings. Plus, with the added warmth of the water, blood flow to the area increases as well, turning your shower into a divine daily routine for some. Here's how:
Start slow, amp up the pressure, move the stream around and over your sensitive areas to explore the sensations of the water and find out what tickles your fancy.
The type of shower head you own may also play a big part. In the same way we have toys which deliver different types of sensations which different people may like or not, the pressure of a certain shower head's jet could be a winner for some but not others.
If you're a fan of regular shower self-love, making sure yours is offering you a variety of options and sensations is key. We've got something to help with that.
The Womanizer Wave is a shower head designed specifically to (ahem) get your taps running. With three patterns and levels of intensity, stimulate your clit (or penis) with a gentle rain, a steady jet or a whirling stream of water.
The Best Positions for Shower Masturbation
The next thing to consider is positioning. Although you're at the mercy of your shower's hose length (the Wave has an adaptor, just sayin'), there are still plenty of positions and angles to try when you want to steam things up.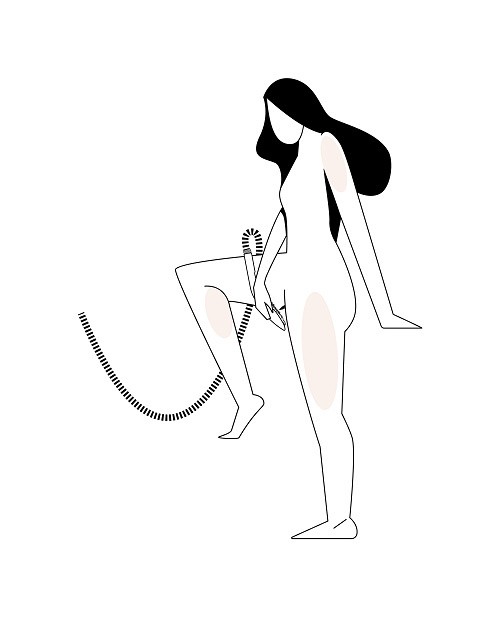 A Leg Up
You don't need a massive shower to enjoy a bit of shower self-love. Just hoist one leg up and place it on a sturdy ledge, shower stool, or bath. From here you can guide the shower head, spraying it over your clit and vulva (or penis if you have one).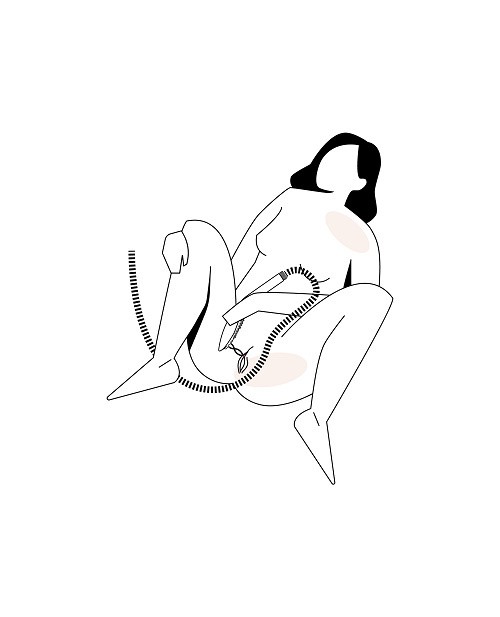 Sitting Pretty
Sometimes, when we want to truly let go, minimising the effort is ideal. Park yourself on the floor of your shower or bath (which you'll be stoked you cleaned), spread your legs, and angle the water jet to stimulate your external areas that way.
All Over
Just like sex and masturbation outside the shower or bath, all your external erogenous zones can benefit from the stimulation of a shower head. Run it over your nipples, thighs, butt cheeks, and even your rear end to get yourself gushing.
"Hang on," you might be thinking, "that just sounds like normal showering." Well, yes and no. Because we spend so much of our lives showering and bathing, it's easy to zone out. Next time you're having some solo time with your favourite shower head, really tune into your body and each sensation it feels – you might find that the gentle trickling or intense gushing of the water stream feels a lot more thrilling.

How to Masturbate in the Shower Without a Handheld Shower head
As incredible as a shower head designed specifically for self-lovin' is (go Womanizer!), there are loads of other ways to rub-a-dub-dub yourself in the tub.
You've got your hands, of course, but there's also a bunch of waterproof toys that can do the trick as well.
Clitoral suction toys work wonders in the shower and bath as the water helps the suction to seal and become airtight, making it even more powerful. You could be excused for mistaking our rose clitoral suction stimulator for a shower decoration, but those 10 different suction modes are anything but decorative. Alternatively, bring the Womanizer x Lovehoney rechargeable clitoral stimulator in from the bedroom to get your senses buzzing.
Both are completely waterproof and promise gentle, fluttering air pulsations as your muscles relax under the warm running water.
As for positions, again we'd suggest one leg up on the side, or if you have a shower within a bathtub, try lying down and angling the water against your clitoris from above while you pleasure yourself.
Use Lube
Just because water is wet, it doesn't mean it helps you get _wet-_wet. It's a head-scratcher, we know. That's where a good lube comes in handy. If you're using a toy in the shower, make sure you've got a good thick lube at hand. An oil-based or silicone-based style will work better than a water-based lubricant here but make sure you check to see what your toy works best with.
Oh, and try not to spill it everywhere – the slick glide of lube on slippery tiles is an easy way to have a fall.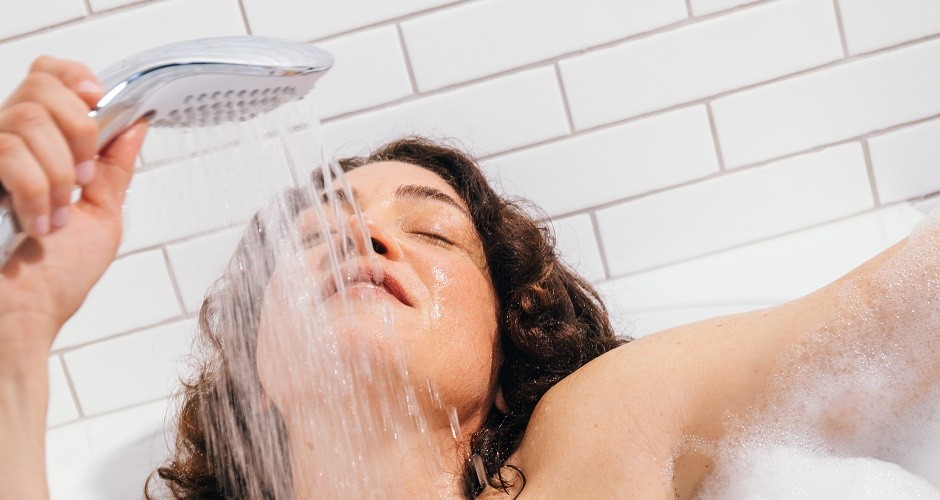 Why So Many People Love Masturbation With Water
Water play offers a thirst-quenching blend of temperature, pressure, and flowing movement for your stimulation.
It also gives you greater control over the angle of the pressure, so you can hit the bullseye in a way other toys might not.
Water play can be an awesome option for anyone who struggles with vaginismus or is going through menopause, which means their vagina might feel 'tighter' or less relaxed. Water is one of the most adaptable toys you have at your disposal. The warmth and massaging feeling of water flow allows you to relax into sensations that may feel overwhelming if they were being caused by a more solid member.
So, the next time you're in the shower or bath, get into some water masturbation and send that shower head downtown to make the most of your alone time.
Womanizer X hansgrohe Wave Clitoral Stimulation Shower Head
Discover wave after wave of pleasure from the intimate wonders of water, with this innovative, climax-inducing shower head from Womanizer.
What customers say: "The shower head is simply fantastic, versatile in its use. It works perfectly for regular showers and also adds that special fun in between. It doesn't stand out, and your relatives wouldn't suspect the amazing things you can do with it."
Explore Lovehoney best-sellers
More Sexual Happiness Advice
You can never know enough about sex, right? Why not join us on our sexploration journey? Stay up to date with the latest advice on our blog, the Lovehoney forum and the weekly Sexual Happiness podcast.