Pleasure On A Budget: The Best Cheap Sex Toys
Looking for cheap sex toys that fit your budget and tickle your pickle? Just because you're shopping for cheap adult toys doesn't mean you have to compromise on looks or quality. Lovehoney has a huge range of budget-friendly options that are sure to suit your taste without hurting your hip pocket.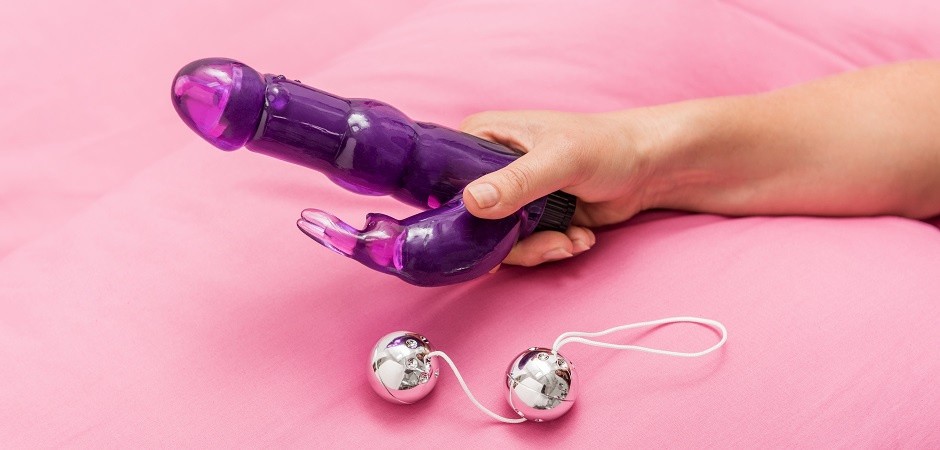 Best cheap sex toys for people with a vagina
If you have a vajango, there's no shortage of options when it comes to buffing the muff! From dildos and vibrators to clitoral stimulators and g-spot massagers, there's any number of toys that will get you to the gland finale time and time again.
An oldie but a goodie, you can't go past a rabbit vibrator! The BASICS Beginner's Rabbit Vibrator comes in three different colours and is ideal if you're new to the world of sex toys or are just looking for a quick fix. At just under $40, this baby does NOT disappoint. Shaped to hit that internal sweet spot while the extended ears fondle your juicy jewel, you'll be popping your cookie in no time!
BASICS Beginner's Rabbit Vibrator
BASICS Beginner's Rabbit Vibrator
Pull orgasm after orgasm out of your hat with this beginner's rabbit vibe. Featuring the iconic ears to tantalise your magic bean alongside a realistic shaft for internal thrills, its multispeed vibrations are easily controlled by the simple twist base.
What customers say: ""I never expected a product from the basic range to be such good quality. You can control your own intensity. Powerful and perfect size"".
Another classic, the Lovehoney 3-Speed Micro Magic Wand Vibrator may be petite but it certainly packs a punch! Perfect for some on-the-run fun, this little beauty can be slipped straight into your handbag for when you're out and about. With three orgasmic speeds that will get your heart racing, this cheap sex toy is incredibly affordable without having to compromise on the main event.
Lovehoney 3-Speed Micro Magic Wand Vibrator
Lovehoney 3-Speed Micro Massage Wand Vibrator
One small wand for man, but one giant leap for pleasure-kind, the Micro Magic Wand is a scaled-down battery-powered version of the massage wand. Perfect for those who can't bear to be parted from their wand, it slips easily into a handbag for nights away.
What customers say: "Perfect size. Discreet sound. Honestly haven't been past the 1st speed, its powerful and didn't take long to get me there".
Best cheap adult toys for people with a penis
Just because you have a penis doesn't mean that you have to miss out on the fun! There are plenty of cheap adult toys available on Lovehoney that are compatible with a main vein.
Get the full backdoor experience with the THRUST Pro Mini Andi Super Ribbed Pocket Ass. Featuring a super tight canal with undulating internal ribs, this pocket-sized patootie provides spine-tingling stimulation at an affordable price.
THRUST Pro Mini Andi Super Ribbed Pocket Ass 205g
THRUST Pro Mini Andi Super Ribbed Pocket Ass 205g
Start a sexy new chapter with Andi, a realistic butt with an extra-tight canal for stunning stimulation from start to finish. With ultra-undulating internal ribs plus a lifelike ass opening, Andi offers wonderful realism in a pocket-sized portable style.
What customers say: "I purchased this as my partner isn't exactly keen on me doing this to her. So I bought this wonderful toy. Absolutely amazing, love how simple this is and how good it feels. Very soft to touch and nice and tight, the ribs inside of it are great. Easy to clean up when you're all done".
If prostate stimulation tickles your hidden walnut then the Tracey Cox Supersex Vibrating Butt Plug is just for you! This unassuming p-spot vibe is gently curved to hit those internal hot spots. Thanks to the super handy remote control, this pint-sized vibe is ideal for either solo or couples play.
Tracey Cox Supersex Vibrating Butt Plug 3 Inch
Tracey Cox Supersex Vibrating Butt Plug 3 Inch
Once you've mastered the pleasure of beginner anal plugs the next step is to shake that tail feather with a little delectable vibration. Petite and non-threatening, this vibrating plug ups the ante on anal stimulation for top-shelf orgasmic intensity.
What customers say: "I bought this because I was curious to try anal play Used some Liquid Silk to help it find its way in I tried it on setting one and it felt nice. moved up to setting 2 and my god I was gripping the covers for dear life thinking to myself this thing is STRONG Setting 3 is unbelievable and setting 4, my gosh! The vibrations are sooo strong you'll be coming in minutes (I did!)".
Cheapest sex toys for couples
Share the love and get your partner involved in some good old-fashioned couple's play! Some sex toys are best enjoyed with company and Lovehoney stocks some of the cheapest online sex toys.
If you're looking for a cheap and cheerful toy to add to your next romp, then give the Lovehoney Bionic Bullet 5 Function Vibrating Cock Ring a red hot crack. Perfect for adding a bit of extra clitoral or perineal stimulation while you get your groove on, the bullet vibe also sends scrumptious vibrations to the love spuds through the dual rings that can be worn around the cock and balls.
Lovehoney Bionic Bullet 5 Function Vibrating Cock Ring
Lovehoney Bionic Bullet 5 Function Vibrating Cock Ring
Shared climaxes and languorous pleasure sessions are a reality with the deliciously stimulating Bionic Bullet Cock Ring. Slide the 2 stretchy rings over his manhood, then activate the vibrations for spine-tingling stimulation of clitoris and balls.
What customers say: "... my wife loved the feel of the soft fronds on her clit and was impressed with the multi vibration options. The double rings are extremely comfortable on both the shift and balls and easy to get on even in the heat of the moment and you can feel the vibrations around the balls and up the full length of the shift".
Cheap sex toys aren't all just vibrators and dildos! No sex toy collection is complete without a pair of Lovehoney Black Furry Handcuffs. The soft faux fur cover is super gentle but also removable if you're looking to turn up the heat a notch. The set includes two sets of keys and a quick-release lever making it ideal for your first foray into the world of bondage.
Lovehoney Black Furry Handcuffs
Lovehoney Black Furry Handcuffs
Spice up playtime with Lovehoney's Furry Handcuffs. Offering a gentle introduction to bondage, the cuffs are coated with soft fur and boast a secure lock and quick release lever for effective and safe restraint.
What customers say: "As someone who's only now gotten around to buying BDSM items, this is a great item to start off with! The fur is very soft, and even more importantly the cuffs are VERY sturdy - I can try to break them all I want, those chains are not budging in the slightest".
Last but certainly not least, you can't have great sex without an equally amazing lubricant! The Lovehoney Peppermint Flavoured Lubricant does just the job. This minty-fresh formula makes playtime super refreshing and adds an extra tingly dimension when applied to your bits!
Lovehoney Peppermint Flavoured Lubricant 100ml
Lovehoney Peppermint Flavoured Lubricant 100ml
If you can't get enough of that minty-fresh feeling and fancy adding a little flavour to your foreplay, this tingle-tastic lube could be just the thing. Offering extra stimulation thanks to the menthol extract, it's ideal for oral, anal, and vaginal play.
What customers say: "Tried this out for the first time last night and safe to say, two very satisfied customers! Sweet and fresh taste without being too much, very pleasant tingles, and generally a lot of fun - makes giving and receiving oral even more enjoyable".
Lovehoney is home to one of the biggest ranges of cheap sex toys in Australia, so you're sure to find something that fits your style, needs, and budget!