7 of the Best Sex Positions for Adding in Your Vibrator
What are our thoughts on adding your vibrator into sex? Yes, yes, oh god yes. Turn it up a notch in the bedroom with these seven sex positions perfect for adding in your vibrator sex toy.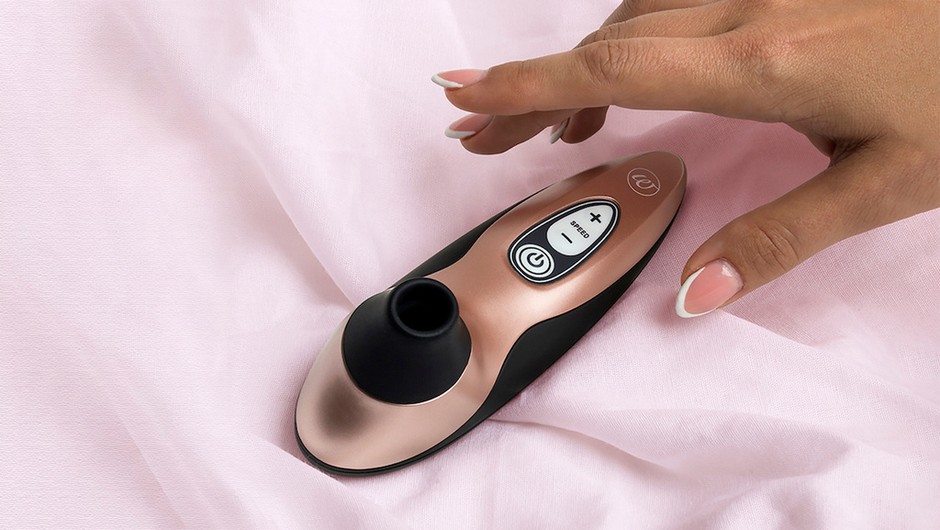 It's Vibe Time
We've always been told it takes two to tango and that three's a crowd. But we're not that into math anyway, so forget what you've heard and get ready to bring an extra friend into the bedroom - a vibrator.
Introducing sex toys into your relationship doesn't have to be an awkward conversation, so if you haven't experimented in this way before, pick a time to have a chat with your partner/s about it. This way they won't be caught off guard when you whip out your favourite bullet or rabbit vibrator halfway through a steamy sweat sesh.
Once you're all on the same page, you'll want to figure out how to best incorporate a sex toy into your routine.
Vibrators are a straightforward way to begin this journey. Research on the female orgasm has shown that around 75% of people with vaginas are unable to climax from penetrative intercourse alone.
If you're in this boat, while sex should still be a fun experience, it's likely to be more satisfying for all parties involved if you can reach the big O.
Insert: the vibrator.
Of course, vibrators aren't only for inserting. The benefit to this sex toy is that it can be used all over the body to stimulate nerves and increase pleasurable feelings.
But figuring out how to use a vibrator on your penis or clitoris in a way that still allows you to engage in other sexual activities can be a little tricky.
Not to worry! In no order, here are our picks for the 7 best sex positions for adding in your vibrator.
Electric Cowgirl

If you've been wondering how to use a vibrator during sex and thinking it meant strange new positions, guess again.
The cowgirl is a tried and tested position where the partner with a penis lies facing upwards, while the other partner straddles them.
While not only allowing the partner on top to control the depth of penetration, it also gives easy control to add in a vibrator sex toy.
If you're on top, lean back to give easier access to your clit. Or, if you feel like you want to use both hands to support yourself, hand over the reins. Your partner can use the toy on you while they lie down.
If your partner's feeling a little unsure about bringing a vibrator into the bedroom, this is a great way to introduce one, as it still allows them to feel like they're the one contributing to your pleasure, not just your buzzy little friend.
Try a clitoral suction vibrator in this position, like the Lovehoney Rose Toy Clitoral Suction Stimulator.
Power Shower

Waterproof vibrators people...is there nothing technology can't do these days!?
Jump into a steamy shower and bring a vibrator to play. Our suggestion: one partner leans against a wall, while the other partner enters from behind.
This gives both partners each access to hold a vibrator against the partner leaning against the wall.
We recommend trying the Desire Luxury Rechargeable Curved G-Spot Vibrator, as it's a unique shape means it's not immediately obvious what it is if you forget to take it out of the shower once you're done.
Missionary

Ah missionary: sex's equivalent to Savasana/Child's pose in the yogi world (I just made that up, please don't hold me to it).
It's restorative, and great when you've had a long day or exhausted yourselves out with multiple other positions. This sex position doesn't need to be kept for quieter moments - it's easy to inject some sparks with a vibrator.
You just need to choose one that is going to stay in contact with your sweet spot when your bodies are pressed together.
If your penetrative partner has a penis, they could wear a vibrating cock ring - check out the Lovehoney Bionic Bullet Vibrating Cock Ring if this sounds like the position for you.
Doggy

Okay, we know you shouldn't pick favourites but... Doggy style is up there as an easy way to have vibrator sex.
With less contact between your bodies, you're left with more options of how to bring in a sex toy.
The We-Vibe Touch X Rechargeable Clitoral Vibrator is super handy (no pun intended) due to its smooth, easy to grip shape. With a pointy tip that grows broader below, you can choose how and where you want to use this.
Try the tip for intense clitoral stimulation, or the wider section for a broader vibration.
Alternatively, if both partners want to be handsfree, the Dame Eva II Hands-Free Rechargeable Clitoral Vibrator is here to save the day!
This genius little piece of technology allows the wearer to anchor the vibrator to their labia, holding it in place throughout your sexcapades.
Move onto other positions to test it out, or stay in doggy, either way you'll never think of hands-free technology the same way again.
Dual delight

Two vulva-owners can both enjoy the benefits of adding a vibrator, by choosing one that's larger in size, like the Lovehoney Luxury Rechargeable Silicone Wand Vibrator that boasts 10 inches of length.
In this position, one partner sits cross-legged while the other straddles them.
Once you're balanced and in position, you can introduce your vibrator and place it between you both in a way that stimulates both of your clitorises.
The partner sitting on top can wrap their legs around the other partner too pull you both closer together, heightening the pressure of the vibrations.
Stay this way until climax, or add some lube and use movement to help you on your merry way to orgasm.
Upgraded Oral

Easy to start with, easy to enjoy. This technique can be used on either partner, of any gender.
If you aren't familiar with your partner's perineum, this will be a game changer. The perineum is one of the more hidden endrogenous zones on the body.
Call it a taint, call it a gooch, call it whatever you like, because as long as you stimulate this sensitive area you're likely to have no complaints.
If you have a prostate, the perineum is the super-sensitive patch of skin located between your scrotum and rectum.
For vagina owners, you'll find it located between the vaginal opening and rectum.
This patch of skin is jampacked with nerve endings, and you may be familiar stimulating it on yourself or others with fingers alone. Introducing a vibratorto stimulate the perineum during oral sex is the perfect way to give mind-blowing head. Plus, multitasking is sexy.
It's easiest to use a small vibrator to stimulate this area, like the We-Vibe Tango X Lipstick Rechargeable Bullet Vibrator.
Solo Performance

Who knows best how to get you off? Spolier alert: it's you.
While it's important to communicate what you do and don't like, there are other ways to teach.
Embarking on a solo session with your favourite vibrator in front of your partner/s is not only enjoyable and beneficial, it's also really hot.
Instead of both of you having to think about what you're doing, in this position, one party gets to sit back, relax and enjoy the show. The other partner gets to take in all the things they may miss when they're getting down and dirty - enjoying you in all your glory.
Both sexual tension and pleasure build quickly, and there's no doubt what follows after will be worth the cost of admission.
Our recommendations? To be real, this is a great position for adding in any vibrator toy. But if you have a clitoris, one of our all-time favourites is the Womanizer X Lovehoney Pro40 Rechargeable Clitoral Stimulator. The size of this clitoral suction toy can make it more difficult to include in other positions - so go to town with it while your partner enjoys from the sidelines.
With multiple settings, you can speed up or slow down throughout the performace, to keep your audience on the edge of their seat.
Good Vibrations
As you can see, vibrators aren't only useful for solo play. You can incorporate them into pretty much any position, but these seven are the easiest way to start. Just don't blame us if you can't stop.
Explore Lovehoney best-sellers