6 Best Sex Toys for Masturbating with a Partner
Grab one of Lovehoney's 6 best sex toys for masturbating with a partner and improve your love life.
If you like to play a love buddy masturbation game with masturbation toys, we've got six of the best to get you and your partner off in style.
There's no doubt that mutual masturbation, bi-wanking, parallel buffing the muff or dual cranking the shaft is a beaut way to feel good. Yes, it's more fun than a barrel of baby bandicoots, but did you know it can also strengthen your bond with your partner?
Too right. Oxytocin is the pleasure hormone your bod releases when you hit the Big O. The blokes in white lab coats call it the 'love hormone' because, in tech talk, it 'facilitates social bonding between humans'.
Aka, you want to cuddle them and hang around to have babies together. Or at the very least, breakfast.
Masturbating with a partner can also relieve stress and insomnia, help alleviate pain and even keep you looking younger and living longer. Sign us up for this miracle cure.
Pleasuring yourself in front of your partner is a super-hot way to show your lover exactly what you like. And when you hand over the controls of these devilish toys to your better half, you can dial your arousal up to 11.
So, check out our Top 6 wanking toys for a mutual masturbation game of shared pleasure.
And here are more handy tips on masturbation:
A Beginner's Guide to Masturbation
Mutual Masturbation: What Is It and How Can You Do It?
Video: Sex Toys for Mutual Masturbation
Watch the vid to learn about some of our fave mutual masturbation toys.
Lifelike Lover Ultra Realistic Double-Ended Dildo 12 Inch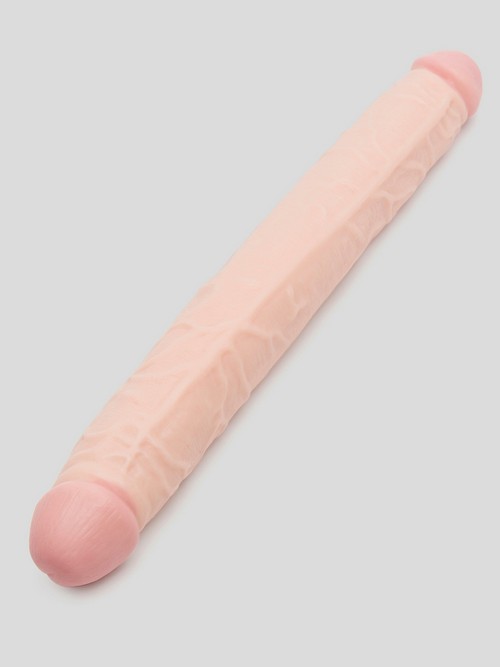 Have you ever tried a double-ended dildo? Go hands-free with 12 inches of veined love sausage - 2 heads are better than one in providing a mutual sex toy thrill for you and your partner.
Masturbation with toys has never been so deliciously deep and satisfying.
Ideal for:
Sharing by 2 people at the same time
Fans of larger sex toys
Double-penetration play
What they say:
"Absolutely fantastic. Both me and my wife are into anal in a big way. We have used this in many different ways - anal to anal, pussy to anal, and my wife has used it on her own, using both ends while I masturbate over her. A great toy for those living bum fun." - Rich2681
Desire Luxury App Controlled Love Egg Vibrator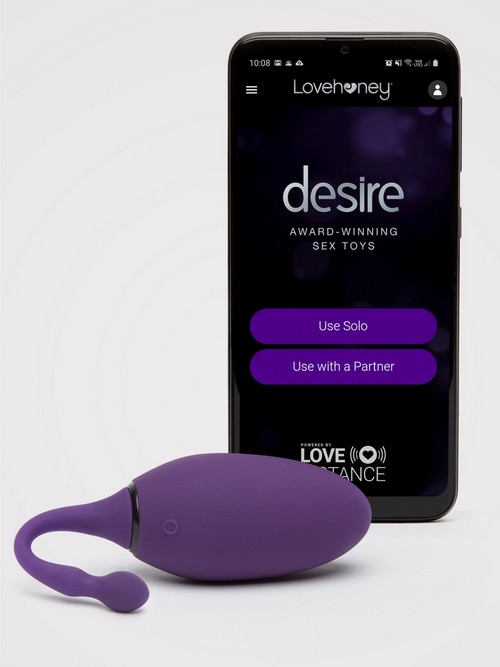 The Desire app-controlled love egg is your ticket to a masturbation game that will send you both to O-town.
Slip the velvety-smooth and perfectly formed love egg into your paradise slice. Now blush as you hand over control to your partner and they can do with it or you as they will. Lie back and think of England as the 8 blissful patterns of waves and pulses come in 12 incredible levels of intensity.
Your better half can erotically observe as you surf the sensual waves, enhancing your mutual love life and your intimacy.
Ideal for:
First-time love egg users, and a wonderful toy for couples
Delicious internal stimulation with a luxurious silicone app-controlled love egg
A world of possibilities for shared play with the Lovehoney Free Desire app
What they say:
"So, lockdown has not been the most ideal situation if like me you do not live with your partner. Coming up with new ways to remain intimate for the past year has been a challenge, but this toy has definitely added the je ne sais quoi we were looking for. From the app my partner can control the sensations I am feeling, adding that thrill back into long distance loving." - Lovehoney-Cobra
Desire Luxury App Controlled Rechargeable Prostate Vibrator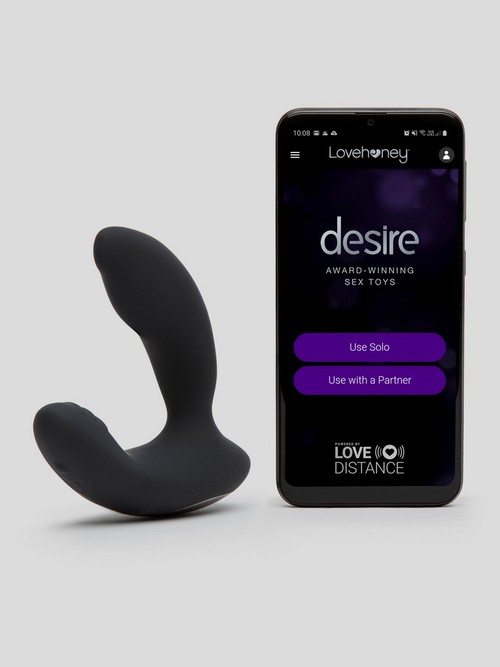 Now it's his turn. Blokes can play a mutual masturbation game when they check out this wonderful prostate vibrator. Apply lube generously, slip it into your stage door and put your pleasure into your partner's hands with Desire's app-controlled prostate vibrator.
This clever toy has one motor for your P-spot and another for your perineum, and delivers 8 sensational patterns with 12 intensity levels. Bonus - you can
play a masturbation game with your partner, whether you're lying next to each other or in different countries. All they need to do is hook themselves up with one of our wanking toys and away you both go to see the fireworks.
Ideal for:
Remote-controlled phone/text sex for couples
Blending perineum pleasure with internal gratification from the indented P-spot-massaging bulb
A world of possibilities for shared play with the Lovehoney Free Desire app
What they say:
"The real treat is the Desire app, which lets you or your partner remotely control each motor in the toy separately via your smartphone. This adds a new level of excitement as you hand over control of the toy to your partner and enjoy the fantastic vibration patterns."
Lovehoney Delight Extra Silky Water-Based Lubricant 250ml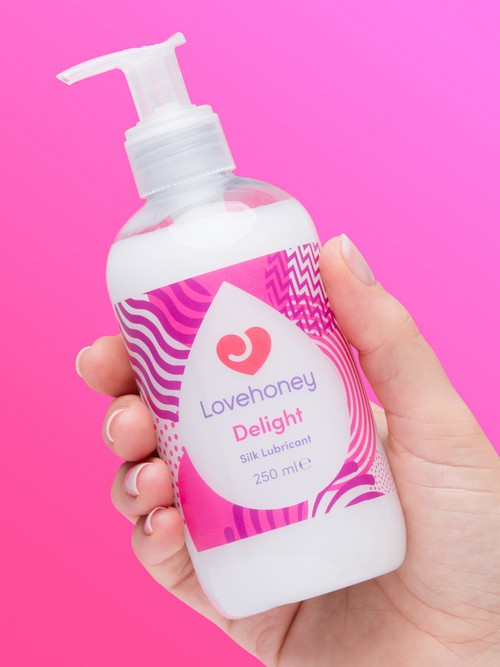 What can we say? Lube makes everything better. This versatile, slippery bottle of bliss juice is a popular best seller that now comes in a larger 250ml bottle for tons of fun.
We've made this lube creamy-white in colour - perfect for you and your boo to explore cum fetishes, creampie fun and ejaculating dildos. Rest assured it is condom-safe and vegan-friendly.
Ideal for:
Good for everything, condom-safe, toy-safe and body-safe
Creamy-white formula is perfect for faux-cum play
Moisturises & hydrates your skin
What they say:
"A little bit goes a long way, which is great, but I still love using loads of it! The colour makes it look like cum. The texture is slippy without being sticky. It doesn't smell. Overall, the fact that it resembles cum really turns me on. I can't get enough of this lube." - Helen
Dominix Deluxe Large Inflatable Wedge, Handcuff and Blindfold Set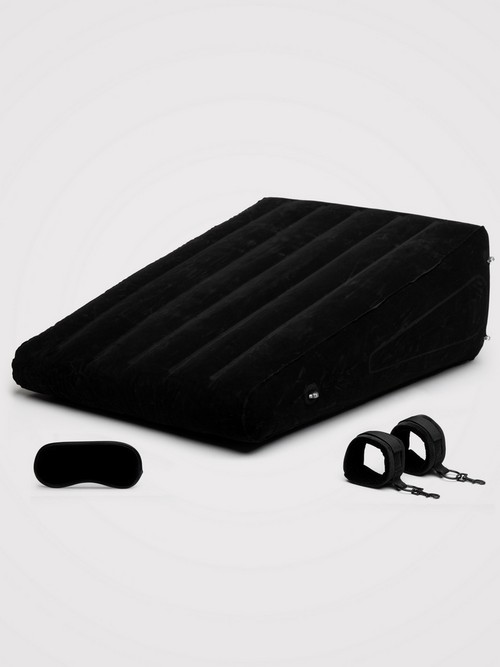 If you've never tried sex furniture, think again. This kinky couple's wedge and bondage set is purpose designed to amp your mutual masturbation game to the next level.
The velvety wedge lifts your bum by 24 inches, elevating access to your sensitive bits so your beau can get off on the new and exciting views and access. Meanwhile, enjoy playing with the detachable cuffs for some BDSM flirtation.
Ideal for:
Improving the perv factor for you or your partner during masturbation
Flirting with restraint play, with detachable cuffs suitable for wrists and ankles
Sensory deprivation exploration with a velvet-lined blindfold
What they say:
"This is such a great purchase… Reasonably priced and very well made and durable. It brings you and your partner closer together physically and can help reimagine how you approach positions - making for more exciting and intimate play." - Mackenzie G
Bondage Boutique White Bound to Please Under Mattress Restraint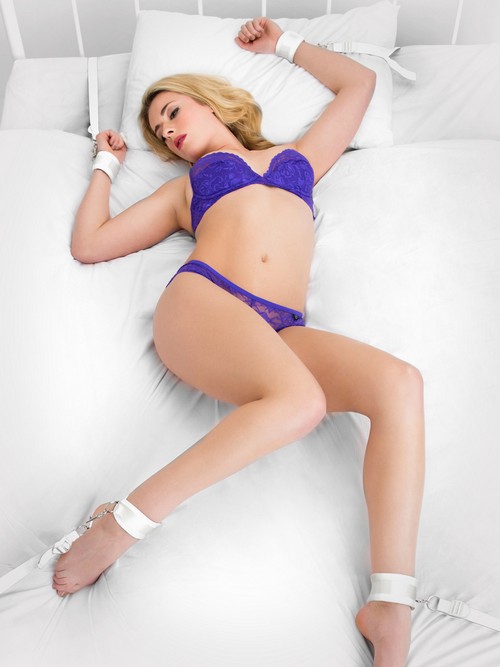 Transform any bed into a den of iniquity with this quick and easy restraint kit.
Pop it under the mattress of any bed and adjust the straps to the correct length. Then put the 4 Velcro-fastening cuffs onto your partner and strap them down. Easy peasy.
Ideal for:
Unclipping one cuff to flip them over or leave them totally immobile and enslaved to your desires
Complete restraint of sub's arms and legs and leaves them bound and vulnerable in your power
Teasing your partner - they can look but not touch
What they say:
"Just starting to get into bondage and so happy with this purchase. Fits my king size bed and straps can be tucked away easy without having to move anything. Cuffs are soft but strong and adjust easily." - Hornyunicorn
Want to find out more?
You can Contact Customer Care, who will be able to help you find a massage candle. You can email, telephone or live chat to an experienced advisor 24 hours a day, 7 days a week. The other great place to look for people's advice on foreplay and massage candles is on the Lovehoney Forum, where our community is on hand to give their opinions and tips.