Top 10 Best Rabbit Vibrators
Allow us the good fortune of dangling a few carrots your way: the top 10 best rabbit vibes our site - and perhaps the world - has to offer. All guaranteed to make your hair stand on its end.
The busy multitasker, who spends their life ticking boxes and striking things off lists, wants this same gusto reflected in their sex life. Why only thrill one bird when you can thrill two with the same bone? That's where rabbit vibrators come in. These cleverly designed dual-action sex toys target all the right spots for intense climactic pleasure.
Whether you're a novice or an expert, clitorally orgasmic or internally orgasmic, riding a partner or riding solo... rabbits will be your vibe. Having said that, the forest from whence these rascals came is sizable and there are multitudes of designs to choose from. Determining which is the best rabbit vibrator for you can be the hardest part. But not to worry, we've got you covered. Let's take a trip to wonderland…
1. Best for versatility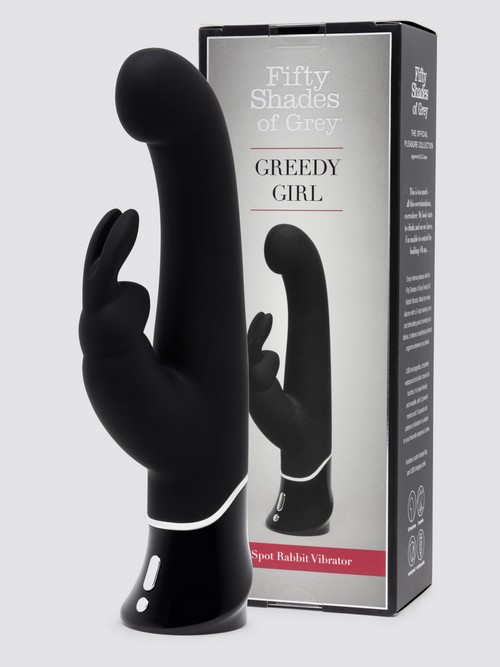 Fifty Shades of Grey Greedy Girl G-Spot Rabbit Vibrator
Don't get it twisted - being greedy ain't always a bad thing. The Fifty Shades Greedy Girl is a powerful vibe that couples silky silicone with 36 (ahem, yep, thirty-six) vibration mode combinations. You certainly won't get bored in a room on your own with this insatiable gal.
Customers have submitted rabbit vibrator reviews on the Greedy Girl which are littered with descriptions like "immense", "game changing", and "oh my" - we'll let you use your imagination there. A handy tip we were also offered courtesy of one loyal shopper is that this toy is extremely versatile for use with a partner, thanks to its size and curved shaft (essential for hitting the vulva-owner's G-spot).
More perks include its USB rechargeable function (tres modern), whisper-quiet buzz, waterproof guarantee, and the cute bag it comes in for when you want to take your rabbit on a roady. You won't be feeling needy or greedy after you're finished with this toy. Or rather, after she's finished with you.
Check out our how-to blog for the low-down on using our best-selling Greedy Girl Rabbit Vibrator.
2. Best for hitting your G-spot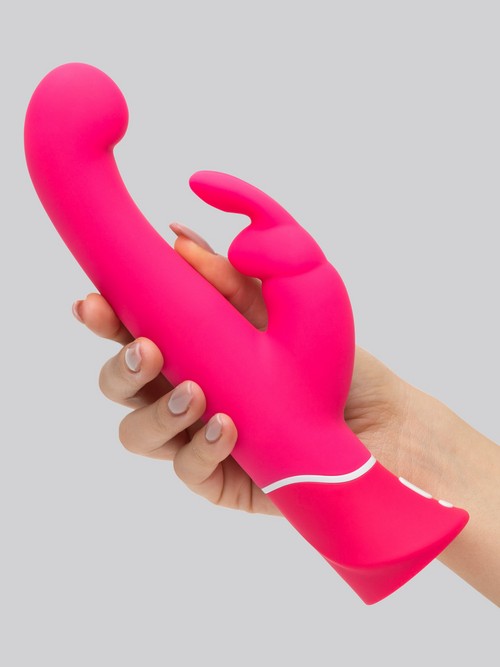 Happy Rabbit G-Spot Rechargeable Rabbit Vibrator
Everyone orgasms differently and there certainly isn't a right or wrong way to reach the big O. If the G-spot is your highway to pleasure, then this happy little hopper has you sorted. Its smooth design features a long, bowed shaft with a smooth and defined head for optimum internal attention, plus three speeds and nine patterns. The ears have an additional 3 speeds for dual stimulation - yep, this brand knows exactly what rabbit owners want.
The look is sleek and simple, but its hot pink finish adds a bit of sass. There is nothing too formidable or confusing about this toy, making it the best rabbit vibrator for those who want achievable gratification and streamlined pleasure processes.
Our favourite feature on this rascal is its genius travel lock. You won't be caught out with an extra buzz in your baggage at the airport or left feeling disgruntled with a flat battery upon arrival. Hoppy days!
3. Best for keeping it classic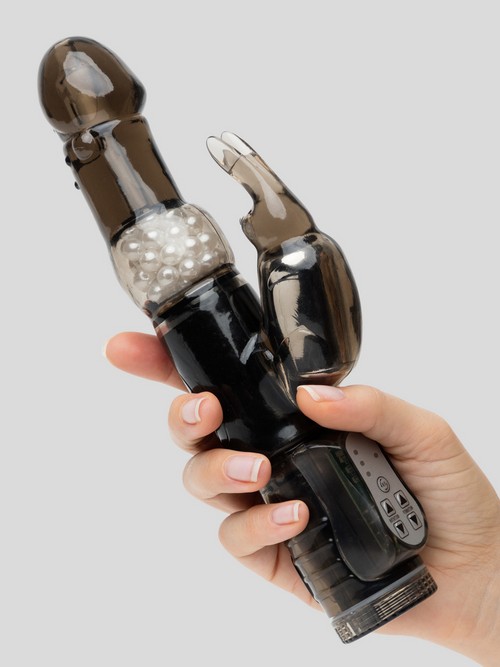 Lovehoney Jessica Rabbit 10 Function Rabbit Vibrator
For the 'keeping it classic' kind, Jessica is your jam. Despite how imaginative her design appears, the swirling beads make the experience feel alive and real. Her cleverly poised ears tickle the clitoris, while the metal beads within her shaft rotate to achieve internal stimulation. And she's surprisingly lightweight. You'll notice her shaft also stands bolt upright - so to enjoy her from all angles, we suggest including a partner in on your playtime.
For those who enjoy a touch of history before making a purchase, this design - vibrating ears, revolving pearls, straight shaft - was the original rabbit configuration to hit the market in the 1980s. Despite sex toy technology having skyrocketed since then, this shape has managed to reign supreme in the bedroom. We hazard to guess that it has something to do with the invention's timeless capacity to bring about blended orgasms and offer a relaxing internal massage, all in one.
Jessica boasts 3 speeds and 7 patterns and comes in four different colours. She's also shower-friendly, a big fan of lube, and you don't even need to buy her a drink first.
4. Best for girthy filling sensations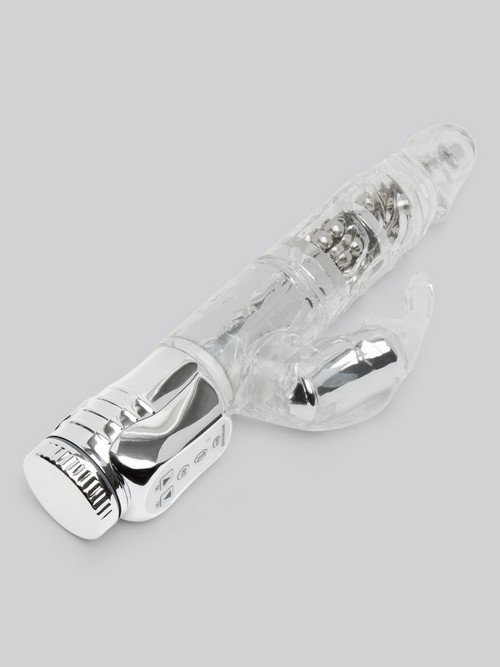 Lovehoney Jessica Rabbit Xtra 10 Function Girthy Rabbit Vibrator
This Jessica will certainly fill your cup. She's a much broader bunny than the aforementioned - perfect for those who like a tighter fit and a fuller feeling - while keeping the rest of the specs the same. She's still packing 5 inches of insertable length, her signature rotating beads, 10 vibrating patterns, and a whirling head for delectable G-Spot massage along with a water-safe guarantee.
We tend to find the extra girth can create a different sensation for vulva-owners and mix up the experiences that other sex toys might offer. This unique touch sets Girthy Jess apart from her sisters-in-stimulation, and she looks even thicker in real life. Slather this toy with lube and get your fill.
5. Best for triple stimulation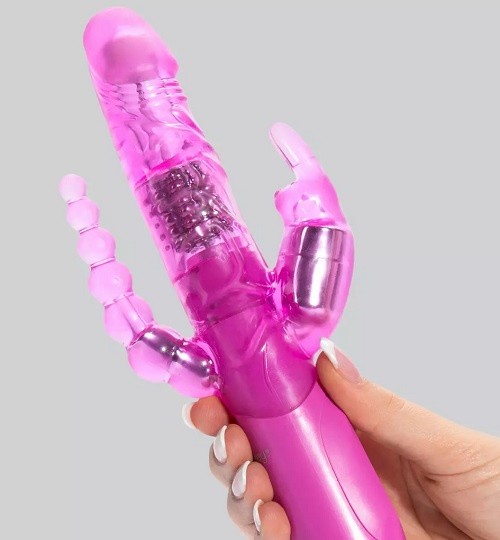 Lovehoney Jessica Rabbit Xtra 10 Function Girthy Rabbit Vibrator
Whoever said "two's a company, three's a crowd" clearly never got their hands on the Jessica Triple Rabbit vibe. This fail-safe orgasm supplier features a realistic rotating shaft, vibrating rabbit ears and - wait for it - an anal stimulator. For back-end, top-end and end-goal play, this toy travels to all the right regions and will leave you feeling full to the brim.
Of course, she's not for everybody, but for those that like it thrice as nice, she is a must-have in the bedside table drawer. Having said that, if anal play is something you're only new to, she's still a great entry level toy. Her anal beads are flexible and tapered - making them versatile and safe for beginners - and their springiness allows them to be curved away from the anus for external strokes or intense perineum stimulation. Of course, with plenty of anal lube, this textured probe is ready for backdoor penetration too.
A triple action, powerful dream machine, with 3 speeds, 7 patterns, 4 inches of insertable length (at the shaft) and endless promises of pleasure. If you're calling in a rabbit vibrator for anal, then look no further than our girl, Jess.
6. Best for pleasure on the go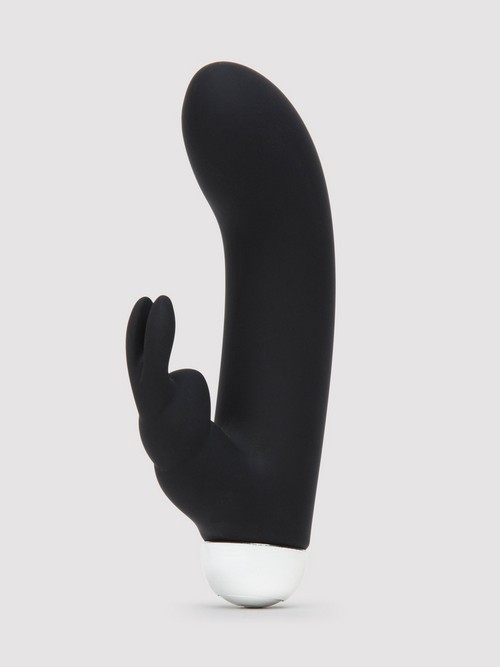 Fifty Shades of Grey Greedy Girl Mini Rabbit Vibrator
You don't need to be a fan of the book or films to be entranced by this Greedy Girl Mini Rabbit (although it does make a great gift for those who are Fifty Shades fanatics). But don't be fooled, what this bite sized bunny lacks in size, it does not lack in competence.
In fact, this cheeky little number may be the best rabbit vibrator for effective on-the-go-O's, given its fun travel-friendly size. You're looking at 5.5 inches all up - with 5 of that the insertable length. This design isn't wasting any space with a clunky base or overkill controls.
Better yet, it's whisper-quiet, waterproof and USB rechargeable, making it perfect for discreet play anytime, anywhere. If you're prone to spontaneous, combustive arousal, then we suggest you keep one of these in your bathroom, underneath your pillow, in your handbag and on your person at all times.
7. Best for bunny beginners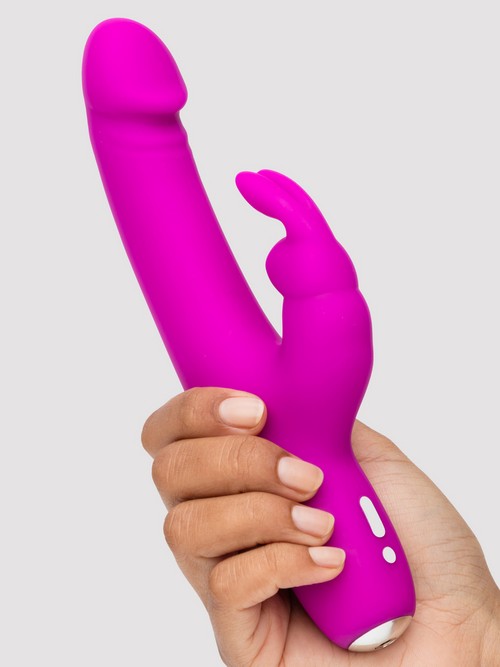 Happy Rabbit Slimline Realistic Rechargeable Rabbit Vibrator
This bangin' bunny for beginners sports an array of powerful settings in a slender and manageable size. If you've been thinking, "Gosh, darn, I still haven't found what I'm looking for in my first rabbit vibrator", then introducing you to the Happy Rabbit Slimline is our express pleasure - we're sure it'll be yours, too.
Offering life-like internal massage and tantalising external vibes, you might find yourself hopping into bed earlier than usual. With 15 vibration modes and a dual-button control panel (which allows its user to operate each motor independently), personalised play is certainly on the menu.
The design is firm to emulate a rock solid-hard on, but the toy's soft silicone covering makes it comfortable for insertion and very compatible with your favourite lubricant. Its curved shaft and realistic penile tip also aims to hit your G-Spot and ensure you generate vibrations of your own. Yuh-meee.
8. Best for thrust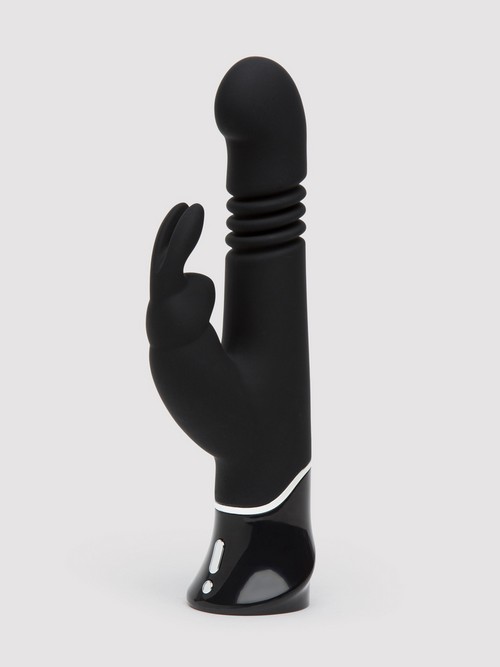 Fifty Shades of Grey Greedy Girl Thrusting Rabbit Vibrator
This vibe is sex-nology (sex+technology, if you couldn't tell) at its best! For vulva-owners who love to relax into penetration and are who able to achieve powerful orgasms through G-spot touch, this toy will implode your universe.
The Greedy Girl Thruster thrusts from two thirds of the way up its shaft and can also be teamed with velvet ears vibrating in a mixture of patterns. A true treat at the end of a long day, or the perfect personal present to wake up to in the morning.
You may be apprehensive about investing in a thruster given that most rabbits don't include this fancy feature (and how could something be that good?!), but this toy is every-penny worth it. Don't just take our word for it, have a squiz at what some of our customers have to say:
"It truly massages your G-spot - and when paired with the vibrations from the rabbit ears, all you can do is lie back and enjoy it."
"This toy definitely did the trick. I had the most pulsating, intense orgasms within minutes."
"The thrusting element of the toy adds to the real feel and gives a whole new sense of pleasure without you having to move a muscle!"
9. Best for pleasure on a budget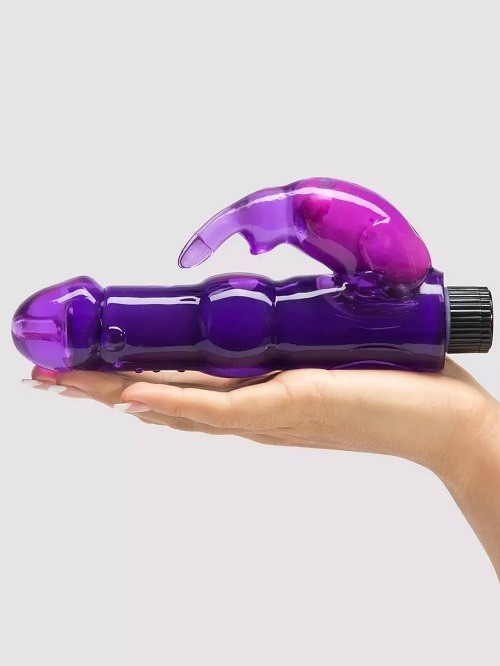 BASICS Beginner's Rabbit Vibrator
Curious about rabbits but not wanting to throw it on the line yet? This traditional vibe is the one for you. For a very affordable price, you'll receive all the dual pleasure yumminess that rabbits are known for, packaged up in a slick, opulent-looking design. The insertable shaft offers a realistic head for intimate massage, and the vibrating ears are perfectly placed for clitoral stimulation.
This bunny is also a great choice for those at the beginning of their toy journey, with an easy-to-use twist-base control that seamlessly flicks through multiple settings during play. And, despite being cost effective, this hopper is completely waterproof for your shower and bathtub self-care ritual.
A great gift for present shoppers on a budget. Treat the hen to something she can take on her honeymoon or buy your bestie a pressie that'll make 'em scream.
10. Best for luxurious gift giving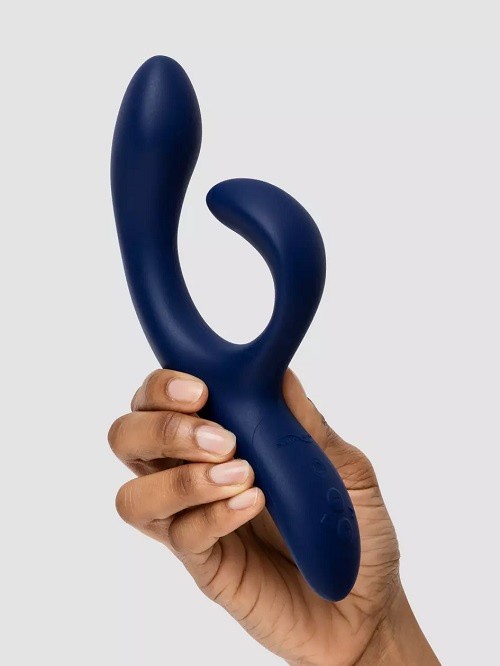 We-Vibe Nova 2 Midnight Blue App Controlled Rechargeable Rabbit Vibrator
Satisfaction is yours with this delightful We-Vibe Nova 2. Its silky silicone will feel like a lavish dream against your skin, while its completely customisable app controls the waves pulses and intensities of the vibrations.
This sumptuous toy has been innovated by the team at We-Vibe with all the best contours for G-spot consideration and the right amount of kick for the imperative clitoral area. It's a combination dreamed up to bring its user all the way to back-arching blended orgasms, be that in during a solo session or when incorporated into partnered play.
The noiseless yet powerful vibrations also ensure discretion when required and the sleek design is super flexible to suit loads of bodies.
There you have it: our top 10 bunny-licious vibes. And, if after all that, you still haven't quite found your flavour, then there are plenty more vibrators to explore...
More Sexual Happiness Advice
You can never know enough about sex, right? Why not join us on our sexploration journey? Stay up to date with the latest advice on our blog, the Lovehoney forum and the weekly Sexual Happiness podcast.