Top 10 Best Sex Toys for Couples, According to a Professional Sex Coach
Wherever you are in your relationship, sex toys for couples can change the game of your sex life - and these ones, they're expert approved.
If you've ever used a sex toy on your own, then you know they're great for exploring your body, your sexuality and finding out what really makes you tick (like your preferred erogenous zones). On another note, they can also help you decide what might not be your cup of tea when it comes to your solo sex life.
But how can things change if you're in a relationship... can you bring sex toys into both of your sex lives then?
The answer is, of course, yes. In fact, sex therapists advocate for the use of sex toys for couples.
To give you the lowdown on sex toys for couples, we turned to the experts. We asked Lovehoney Australia's Resident Sex Coach, Cam Fraser, for the ins and outs on sex toys for couples and turned to research to dive into the depths of couple's sexual pleasure.
Read on for some sexy advice and the Cam Fraser-approved top 10 sex toys for couples.
Why use sex toys with a partner?
There's a whole bunch of reasons why sex experts are all for couples sex toys - you might find you align with one, several, or none. But we'll leave that for you to decide.
Reasons to use sex toys with a partner can include:
adding diversity to a monogamous relationship
inspiring arousal and easing performance anxiety
discovering new ways to communicate and/or achieve orgasm
If you and your partner have incompatible sexual fantasies, sex toys for couples can also help foster intimate conversations and broaden your shared sexual experiences. Toys can even assist with enhancing sexual desire for those with low libido.
… Oh, and they're also dang good fun.
Cam Fraser - Lovehoney's certified Sex Coach - is all for sex toys within a relationship. He says: "Using sex toys with a partner enhances the experience by adding novel stimulation that works at heightening arousal. Sex toys can add different kinds of stimulation that may make it easier for one or both people to orgasm."
Talk about ascending to new heights with your love!
Not that you need approval to add toys into the bedroom, but if you need a little more convincing, Cam adds: "Sex toys for couples can also help couples explore different power dynamics, as well as certain kinks."
Will my partner mind if I bring toys into our sex life?
We're not your partner, so we can't say for sure! But we can tell you that research suggests sex toys can enhance partnered sex - big time.
Studies have found toys for couples can improve sexual performance (including foreplay), and satisfy someone who may need more time to climax than their partner. And, long-distance couples out there, sex toys can make the time away from your partner a little more bearable (and sexy). This is where remote and app-controlled sex toys come in, but we'll get to those...
It's good to note that sharing your sexual likes and dislikes with your partner (what can be called sexual self-disclosure) is not only good for your solo sexual satisfaction but your partner's sexual satisfaction too. So, if you're looking to start the sex toy convo, we 100% support it and we think your partner could come around to the idea too.
Couples sex toys aren't limited to one type of couple. While one study found that hetero couples are big fans of sex toys (with most women and men in a couple being positive about using couple's sex toys, especially vibrators), there certainly are couples sex toys for any and every match. What toys you're into - that's up to you as a couple, based on your sexuality and what your likes or boundaries are.
The same study suggests that men and women are positive about how sex toys can enhance sexual relationships and how they can contribute positively to sexual health and sexual agency.
If your partner has some reservations about using sex toys, that's okay too. Having a conversation is a good place to start.
How do I talk to my partner about trying a sex toy for couples?
You might know how good that vibrator, Fleshlight and/or butt plug in your bedside drawer can be, and we salute you, but before you whip it out, with a new partner or long-term lover, communication and consent is key.
Like anyone, your desires are what make you human and you should feel comfortable to express them openly with a partner.
Wondering how to open the conversation with your partner?
We suggest bringing it up as an idea - something fun that you'd like to experience, rather than as a niggle or complaint.
For example, you could try one of the below:
"I love when you did this, and I think trying X toy together could be really fun - and add extra stimulation for both of us."
"How would you feel about using X together?"
"I have X toy and I'd love you to try using it on me. How would you feel about that?"
Just remember, they're allowed to say no, and so are you!
What should couples consider when shopping for sex toys?
So, you and your partner are keen to try out toys together… Maybe you've set aside some time for a browse on Lovehoney or perhaps to take an adult store adventure. Either way, there are a few things to consider when you're getting ready to purchase.
Cam Fraser, our trusty Sex Coach, has some pointers for couples ready to start shopping for sex toys.
Keep compatibility in mind
Cam says keep compatibility in mind: "For example, a gay couple [probably] wouldn't use a couple's vibrator designed for penile-vaginal sex." Whereas a heterosexual pair can certainly take note of the range of sex toys for p in v penetration.
Think about what kind of stimulation you and your partner want
Another question couples can think about, says Cam: "What kind of stimulation is a couple interested in exploring or adding to their sex life?
"For example, if you and/or your partner has a vulva, and either of you is looking for clitoral stimulation - you might consider a vibrator.
"But if a couple want to experiment with power play, they might consider a blindfold or restraints."
If you're a beginner, start with something small
But what about if you're new to the sex toy game entirely? "There's no shame in that whatsoever," Cam says.
"Start with something small and not very intimidating.
"And like any purchase you make, budget is always something to consider. You can always get going with something a little more financially viable before saving up for something extravagant."
Benefits of looking for sex toys together
You might not even realise this, but when looking - together - at toys for couples, there's some good additional stuff going on for your relationship.
Talking about and deciding on what works for you is some awesome relational work. When you're making calls about the function and aesthetic of the sex toy you're keen on, you're exercising some negotiating skills right there.
What are the best sex toys for couples?
With willing partners, any sex toy can be a couple's sex toy if you make it one. Typically-solo toys can be a great addition to partnered sex.
If you've got a sex toy that makes you feel great and you've had a chat with your partner about it together, then that's a great starter. But when it comes to which toys are best for specific sex situations and individual couples' needs - we've got you covered.
So, let's dive into the top 10 sex toys for couples, Sexpert-approved by Cam Fraser.
1. Best for classic satisfaction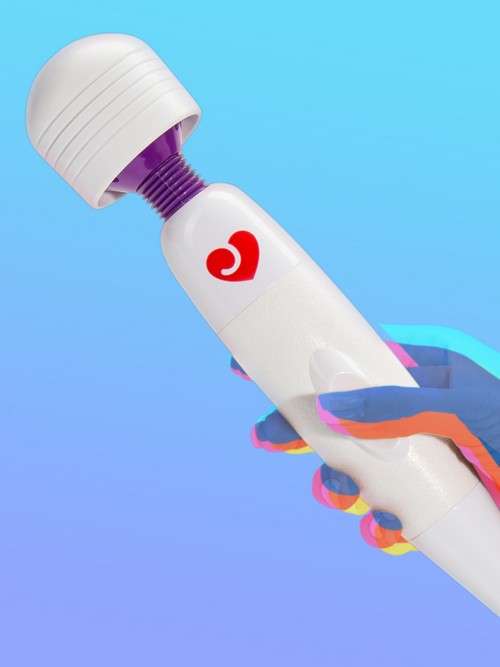 One of the best sex toys for you and your kinky companion? The vibrator (surprise, surprise).
In a 2019 study, most participants responded that they use vibrators both alone and in partnered sex, and participants who do not own a vibrator reported that they would like to and anticipate purchasing one in the future. This is just one study - there are many vibrator studies happening in bedrooms across Australia each day. If you'd like to conduct one yourself, Cam approves of the...
This massage wand will grant your every sex wish. An ideal addition to penetrative sex, this kinky toy is perfect for external - and extra - stimulation. It's one of our most popular sex toys (for couples and for solo play).
Cam says: "A top recommendation. It can be used on any genitals, won't run out of battery, and is super versatile."
2. Best for enhancing penetrative sex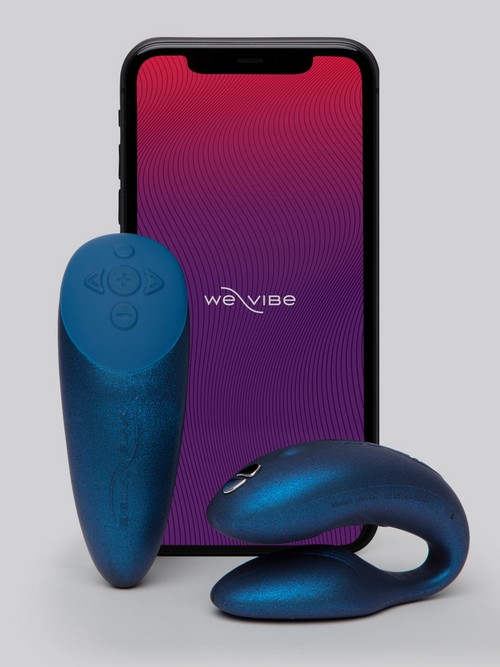 According to some experts in the realm of sex, only 28% of women can get their rocks off from penetrative sex. You know what that means? We've got to pay close attention to that juicy jewel - the clitoris is the primary sensory source for triggering orgasms in vulva-owners.
Better yet, penis-owners love the additional stimulation vibrations bring, which leads to the next sex toy.
A wearable vibe, this option is perfect for hands-free fun - and will switch on your lady button, thanks to some thrilling vibrations. It's ideal for couples' play - particularly for those doing things long-distance - as it can be controlled remotely from the We-Vibe app. What would we do without technology, honestly?
What customers say: "I got this because my boyfriend works offshore for two weeks at a time and I needed something to spice things up. It's great! We have wonderful times playing. He likes to surprise me occasionally by activating it."
3. Best for wearable vibes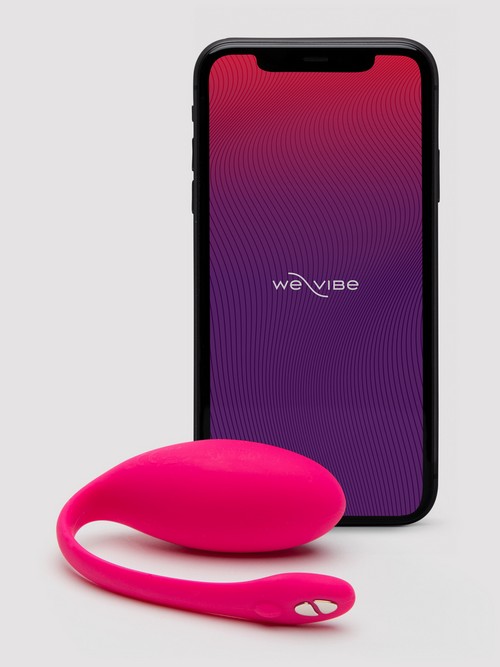 So, while we're on the topic of wearable vibes, let's talk about toys made for your G-spot: love eggs.
Named after their shape and love-inducing vibrations, love eggs are generally discreet and small enough to be inserted into the vagina. They can also be held against the clitoris or perineum for a stimulating massage.
Love eggs are great for orgasms on the go and sex at a distance. Sounds like the perfect toy for date night, whether together or afar.
Who hasn't wanted to experience internal stimulation while out with their flame?
Think intensely good vibrations, hitting that sweet spot - all while your good vibrator stays in its place, no matter how much you're wriggling. Another sex toy that can be hooked up to We-Vibe's app, this one is perfect for those of you who are living long-distance from your beloved. Or, for a little exhibitionist touch, it's remote controlled with a range of up to 3 metres. And if you're into shower sex, this one can come along - it's completely waterproof.
What customers say: "An excellent and exciting product that allows control to be given to your partner. Discreet and exciting while out on the town and especially when dancing in crowds. If you want to have an experience that leaves you unable to stand then fire passion when you are alone, this is it."
4. Best for gender neutral play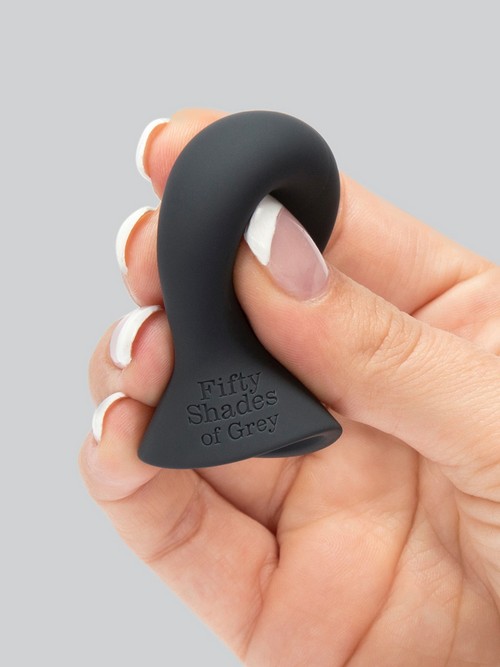 The tactile stimulation of nipples has been found to trigger sexual arousal. Our nips are known as an erogenous zone and this doesn't discriminate based on gender.
This study - just looking at women - found 84.6% of those who participated reported "high arousal" from nipple stimulation. Another study found that young adult men report that not only does nip play "induce their sexual arousal" but also "enhances it" when they're already feeling horny.
Trans women undergoing gender-affirming hormone therapy have spoken about developing new erogenous zones - which can include greater erotic sensitivity in the nipples. So, we can't skip nipple suckers for some pleasing gender-neutral play.
These nipple teasers come in a set of two, adding subtle suction to your nipples. They're sure to get you even more hot under the collar - boosting blood flow to the area for the most delicious of tingling sensations. As for taking them off? Your love buttons will have never been so sensitive.
These are Fifty Shades inspired - and approved. Perfect for partners looking to dip their toe into the world of BDSM.
What customers say: "As a couple, nipple play is a big part of our sex. I decided to buy these to further enhance nipple stimulation - and enhance they did. Nipples increase in size by double at least and become ridiculously sensitive. I'd recommend using a bit of lube on them just to get an air-tight fit. Once on, squeeze, twist and tug."
5. Best for bondage beginners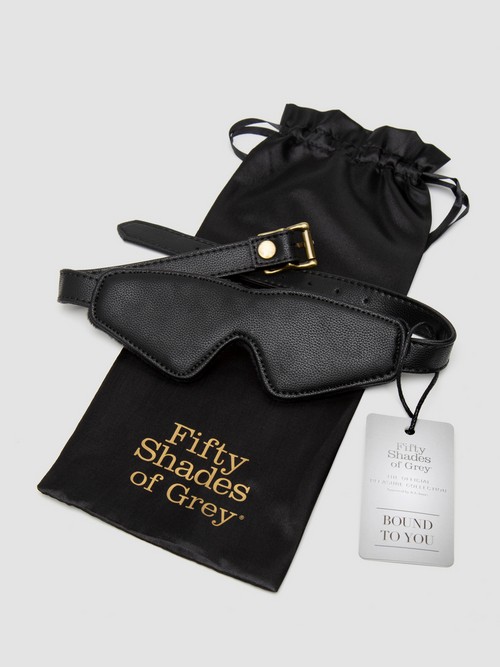 While we're on the subject, let's talk about that world of BDSM. Brought into mainstream pop culture by the Fifty Shades series, it's an umbrella category for the people who are into bondage, discipline, dominance, submission, sadism and masochism.
Bondage specifically, involves physical restriction of some kind - with or without the incorporation of pain (that's for you and your partner to decide). Researchers believe over 10% of people incorporate BDSM "into their sexual repertoire". Oh, and a further 30-60% fantasise about BDSM (source).
Seen as a softer element of BDSM, blindfolding is still seen as a physically restrictive act as your sense of sight is taken away. Deprivation of sight can make things even hotter, as your other senses are heightened (and oh boy, does that include touch).
Featuring faux leather with a softly padded lining, this blindfold is both erotic and comfortable - ideal for sensory deprivation play. It's an essential for BDSM, and perfect for beginners.
What customers say: "Comes with a useful silky storage bag. The blindfold feels and looks well made. It was a perfect addition to an evening of blindfolded fun alongside bondage dare dice. I liked the simple luxurious design and the buckle feature."
6. Best for Fifty Shades of Grey lovers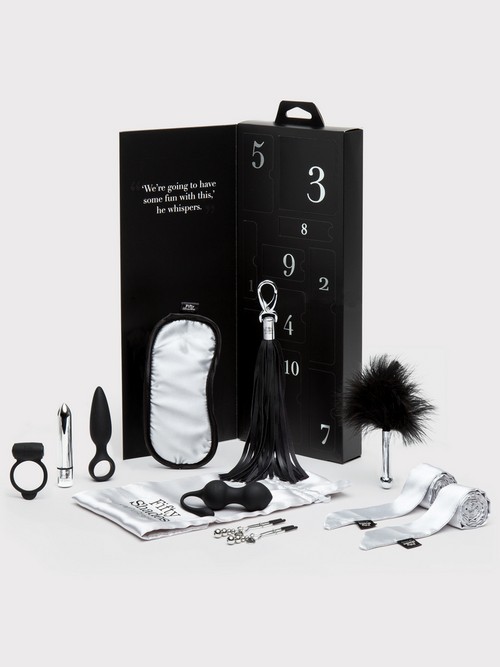 Well, while we're here… Mr Grey will see you now. Or Ms, Mrs, Mx - whatever works for you.
Into Fifty Shades of Grey? Fifty Shades has changed how erotic pleasure can be embraced - and shown us dedicated spaces for play and play aids. We're here for the conversations it's started about pleasure and sexual exploration. May we humbly recommend a couple's set from the collection...
Christian Grey's playroom collection is one for the fearless pleasure-seekers, and we've got you covered with this tantalising gift box.
With 10 mystery doors to open each day, this gift set is ideal for exploring your sex life and each other. Think sensual pleasure, all kinds of stimulation, and some introductory bondage accessories.
Why get one sexy gift or kit when you could get multiple?
What customers say: "This set is absolutely perfect for beginners, or people who want to spice up their sex life without diving right into the admittedly sometimes intimidating spectrum of BDSM toys. It offers a nice collection of toys that I feel are a great introduction to a bit of kink."
7. Best for power play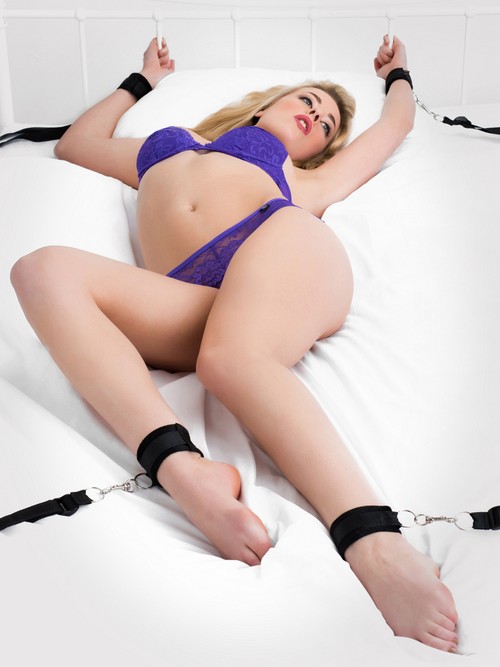 Power play can involve giving, taking, or exchanging power. When it comes to power play, unbalanced (consensual) power between partners is sexually arousing for half of the general adult population (source).
Physical restraint or restriction is one way to partake in power play - the interplay of bondage and discipline (the B and D of BDSM) that's considered a "low-impact practice" (source). Which brings us to the…
This restraint set is perfect for those who love bondage - or dominant and submissive couples.
With four (fully adjustable, and comfortable) cuffs, this set is for full-body restraint play. Easy to set up and set down, it doesn't even require permanent fixtures or fitting - it can just be slipped under the mattress. Once your partner is strapped into place, you'll have full access and control of their pleasure. Just think of all the positions you can have them in, especially when it comes to deeper penetration.
What customers say: "We bought this to try a little bondage as we were fed up trying to run around the bedroom mid-play trying to find stuff to tie each other up with. Needless to say, this is so convenient: all set up ready for whenever the mood may desire it."
8. Best for anal discovery
Missed out on tickets to your favourite show? Well, we've got another backstage pass for you, and it's much more satisfying.
Just like nipples, despite gender, we've all got bootyholes. And that stage door has got nerve endings all around it that can feel great when stimulated.
In Australia, stats show that almost 1 in 5 women partake in some backdoor action in their lifetime, while with men it's 1 in 4.
If you're looking to start or continue your journey along anal action, then butt plugs are a great stop. The fourth most frequently purchased sex toy item in 2013, a butt plug, can be used for anal stimulation or for anal training (source).
This set-of-three butt plug set comes with three teardrop-shaped plugs, each with a shimmering crystal base. Wet with water-based anal lubricant before using it to pleasure yourself or your partner - and with three sizes, you can work your way up.
What customers say: "These are great butt plugs for beginners. The jewel is really cute! You can start with one and work your way up. I like the smooth softness of the silicone making it easy to slide in with lube. The base is easy to grip, making it easy to remove as well. It's flexible, making it comfortable for me to ride my husband while it is in. Definitely helps give that extra stimulation to climax."
9. Best for long-lasting fun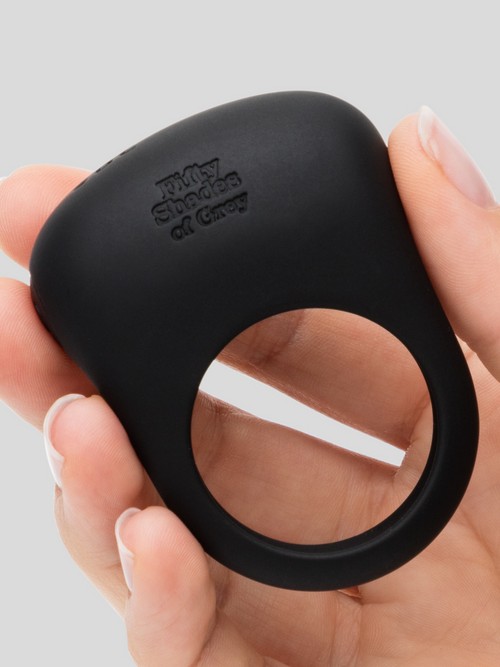 Remember the Energizer Bunny that just kept going and going and going? Well, you can too.
It could be a cock ring that works for you or your penis-owning boo. Designed to retain blood in your peen, cock rings can maximise your erection, and keep everything engorged and stiff. And that constriction helps delay your final O, meaning more staying power for you and your partner.
All parties are in for a good time with a vibrating cock ring. Not only do the vibrations feel good on the base of the rod and the berries, but the stimulating benefits extend to the clitoris as well.
When the vibrating cock ring has 20 vibrating speeds and patterns, like this one from the Fifty Shades of Grey collection, things can get explosive for the wearer. And that's not even mentioning the sleek, comfortable silicone, and textured pad for teasing the clitoris…
What customers say: "I think I'll be ditching my other cock rings for this as its vibrations are the best I've found in this type of product. Plus it is easily rechargeable, and waterproof so can be used in the bath or shower."
10. Best for a wild weekend together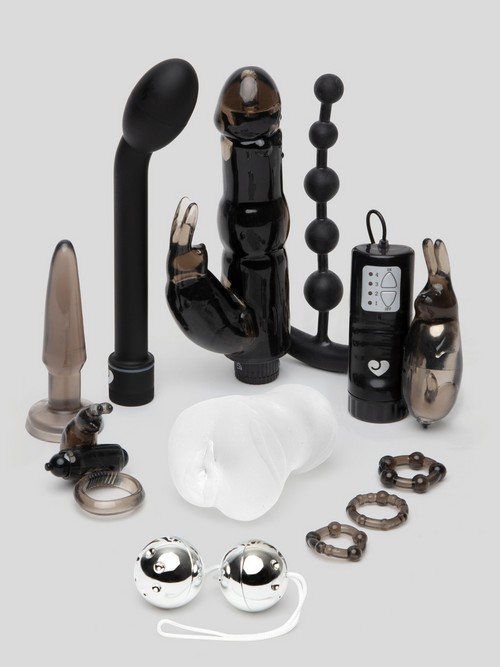 10. Best for a wild weekend together 83299
Hopefully you're feeling informed about the benefits of incorporating a sex toy into your partnered sex life now. But what about the mental anticipation and benefits of scheduling protected sexy time together (like a wild weekend)?
Making time and space in your relationship for sex and pleasure can have a positive impact, "increasing [couples'] awareness of the importance of prioritising intimacy." Oh, and it can increase emotional closeness, as well as improve communication, which ultimately benefits your sex life (source).
So, once you've scheduled in that protected time, you'll need the kit...
Whether it's a sex holiday you've scheduled or a wild weekend at home, you might like to consider some travel-friendly sex toys or this sex toy kit. Coming with 11 toys, there's no doubt you'll be cumming, too.
It includes everything from rabbit, clitoral and G-spot vibrators to anal beads and a butt plug (if you're into buttlove), plus lots more.
What customers say: "I love this so much. I use the majority of the kit, and the price is incredible for what you get. I gave my partner the male stroker as it was irrelevant for me, and he says it's nice. Great for beginners to experiment before spending a load on things that may not maximise pleasure."
Other Sex Toy guides you may like