Alternative Masturbation Techniques for Trans People
For many trans people who have not had gender-confirming surgery, sex and masturbation can be a minefield. 'Traditional' ways of masturbating - especially with your hands - can trigger feelings of gender dysphoria, ranging from mild discomfort to utter revulsion. As the Sexual Happiness people, we at Lovehoney want everyone to have the most fulfilling sex life possible, and sometimes that can mean thinking outside of the box.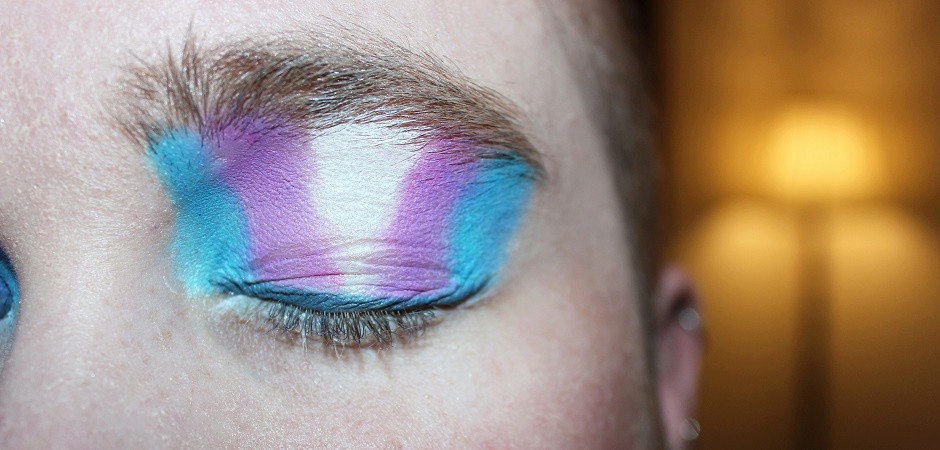 We have pulled together this guide to alternative masturbation techniques, based on the real experiences of real people, in the hopes that you will find a new way to enjoy sexual pleasure, while avoiding the negative body-related feelings that can sometimes surface when you're transgender.
It's important to note that everyone views masturbation differently - some people don't find that their genitals trigger much dysphoria for them, and instead enjoy masturbation as a way to fully mentally immerse themselves in and explore their gender. Others struggle much more - remember that if this is the case for you, talking through your feelings with a professional can be very beneficial.
This guide is written primarily for trans people who have not had gender-affirming bottom surgery, whether you are undergoing HRT (Hormone Replacement Therapy) or not. We will be using wording specifically addressing trans men and trans women, however if you are non-binary, genderqueer, or identify in a way outside binary gender, this guide is inclusive of you and your experiences. Many of the techniques here could work for you too, and we hope they do.
Finally, an important note on language. Trans communities are beautifully diverse, as is the language people use to identify themselves and their body parts. Talking about genitals in a way that is accessible, understandable for everybody, and is also affirming for everyone can be very difficult. There are endless words for our genitals, and a name that is comfortable for one person can be just as uncomfortable for another.
To make sure everyone knows exactly what body part we are talking about, we'll be using medical terms: penis, testicles, vulva, vagina, and clitoris. If any of these words don't sit right with you and could distract from the techniques we're talking about, you can use a browser extension that allows you to find and replace words on this page so you don't have to read them. Here's how to do that on Chrome and Firefox browsers.
Advice for Trans Women and other AMAB People
Toys to try
Many trans women and other AMAB (assigned male at birth) people find that using toys and vibrators is more comfortable for them, and lessens the chance of dysphoric feelings pulling them out of the moment.
Wands have long been held as the holy grail of sex toys - and for good reason. They are powerful, often either rechargeable or plug-in, quiet, and deliver incredible orgasms. No complicated controls, and simple to use with yourself and a partner.
Work slowly, exploring your body inch by inch, allowing yourself to relax into the sensation. Try the vibration on your nipples (gently if you are on HRT as they'll be sensitive!) and around your inner thighs. For genital stimulation with vibrators, many people prefer to wear underwear to hold their penis up against their body, aimed towards their belly button. Try gently moving the wand up and down over the outside of your underwear, or holding it still just under the head of your penis with gentle pressure. You can also use it to apply pressure to your perineum for simultaneous internal and external pleasure.
Some people on HRT may find that magic wands provide too much stimulation for them. If this sounds like you, you may prefer to use a bullet vibrator, which has a more gentle vibration and is a little easier to manoeuvre. Whichever toy you go for, if you are using it without underwear, you'll need a healthy dollop of water-based lube.
Hands-only techniques
If you prefer to work with your hands, there are lots of different techniques you can try. Structurally penises are almost identical to clitorises, as both develop from the same basic tissues. Treating your penis like a clitoris is a great way to give yourself pleasure. Just remember to use lube for ultimate pleasure!
Try masturbating over the top of tight underwear, stroking up and down the underside of your penis with a smooth touch, focusing your attention just under the head. You can also try applying pressure to this area with the heel of your palm, using your fingertips to stimulate the base of your penis or your perineum with small strokes or circles. Another option is to hold your penis aimed more towards the ceiling. Curl your fingers over the top of the head, so the bottom of your palm is cupping the side closest to your face, and your fingertips are stimulating your frenulum. Again, 'come here' strokes or small circles can feel amazing.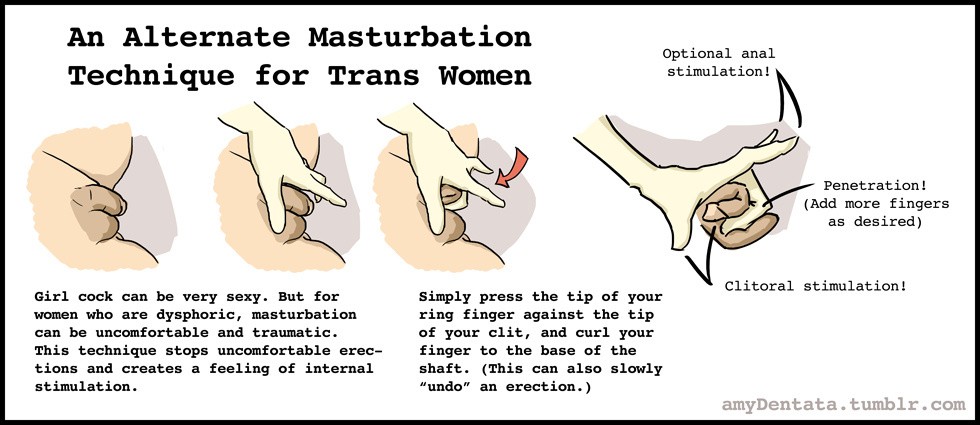 Advice for Trans Men and other AFAB People
Toys to try
We always recommend using toys with lube regardless of gender, but this is especially important for trans men and other AFAB (assigned female at birth) people on HRT, as testosterone and hormonal changes can affect natural lubrication.
HRT causes bottom growth, which allows for more 'penis-style' masturbation techniques using your enlarged clitoris. A clever way to take advantage of this is with an adjustable cock ring. Using plenty of lube, pass the loop of the cock ring over your clitoris and tighten to your liking before masturbating. As you become aroused the cock ring helps 'trap' blood in your clitoris, making it hard and erect. This can make hands-only techniques easier, reduce dysphoria for some people, and can even allow for penetrative sex.
Fancy yourself as a bit of a MacGyver? Give this DIY technique a try. Use a cylindrical clit pump, such as the Lovehoney Swell Time Clitoris and Nipple Pump or the DOMINIX Deluxe Nipple and Clit Triple Sucker Set, to enlarge your clitoris. Our full guide to pumping if you have a clitoris can be found here - this guide does not use cisnormative language, however does refer to pumping as 'pussy pumping'. Once you are at a comfortable level, remove the pump from the cylinder without hitting the quick release valve, keeping the cylinder attached to your clitoris with the suction. Now you are able to insert the cylinder into the hole of a hollow silicone dildo. This technique allows for jerking off, as the suction will feel great on your clitoris, and for penetrative sex too. Make sure to check that the cylinder of your pump fits into the hole of your dildo first - you may need to use lube to get it in.
If this technique sounds a little complicated, never fear. Our Packer Gear FTM Stretchy Stroker may be exactly the toy you need. This stretchy stroker is designed specifically for trans men, with a large opening perfect for bottom growth, and a textured inner for ultimate pleasure. It works in a similar way - suction on your clitoris, but with stretchy silicone to allow for a jerking off motion.
Hands-only techniques
If toys aren't your thing, here's a hand-y technique you can try without them.
With plenty of lube, squeeze your clitoris between the sides of your index finger and your middle finger. Your fingers should be flat against your body with your clitoris between them. From here you can slide your fingers up and down your length with as much or as little pressure as you desire. If it's too much sensation, squeeze the skin either side of your clitoris in between your fingers too, kind of like a sandwich. You can slide the 'sandwich' up and down, or try pushing in and out so the skin moves back and forth.
Further Resources and Reading
Masturbation for people of any gender takes practice to find out what works for their body and what doesn't. Experiment, listen to the sensations running through your body, explore all of your sensitive spots, and pay attention to the signs your body is giving you. Sexual Happiness awaits!
Here is some further reading and resources you may find helpful:
Safer Sex for Trans Bodies Guide
Transgender Teen Survival Guide Blog
Brazen's Trans Women's Safer Sex Guide
Fucking Trans Women zine (requires purchase)
Primed2: A Sex Guide for Trans Men Into Men
Pump: Sexual Pleasure & Health Resource Guide for Transmen who have Sex with Men
Thank you to our transgender and GNC friends for their contributions and assistance with the creation of this guide. Together, we can help make Sexual Happiness accessible for more people.