How to Pimp Your Wand and Upgrade Your Vibrating Stroker Game
Read on for wand-erful vibes at your fingertips.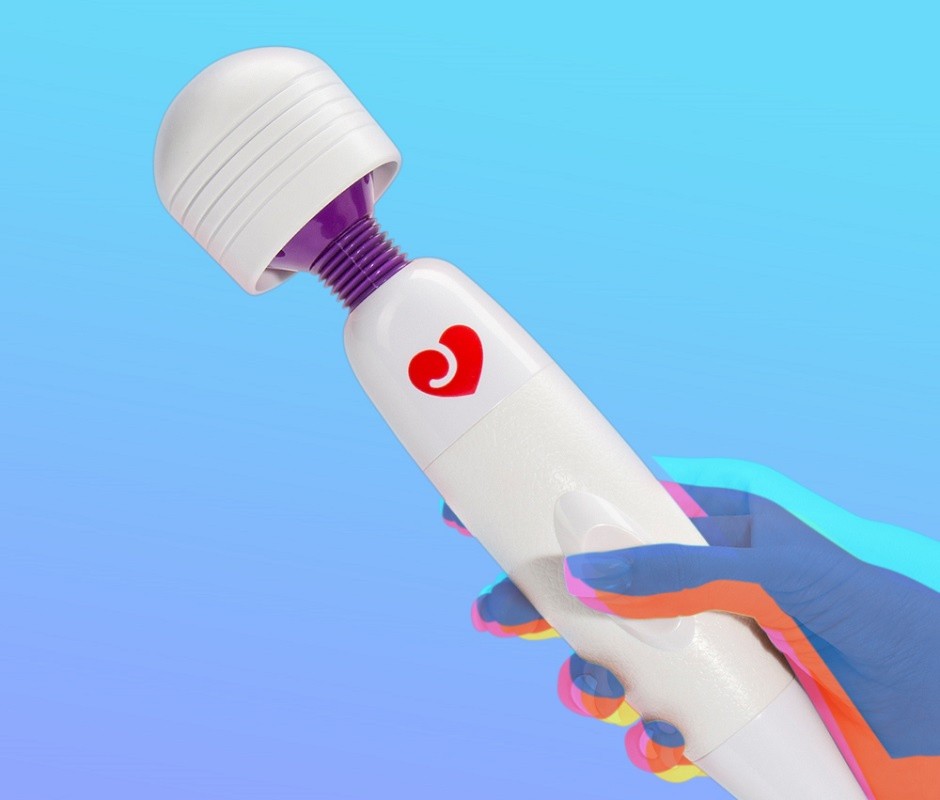 Massage wands changed the game for sexual pleasure in the 1970s by making powerful vibrations available to anyone who wanted them (especially female-identifying people). Since then, the powerful vibrations and non-phallic shape of the massage wand have made it a must-have addition to any toy fan's collection regardless of whether you have a penis or a vulva.
For all the intensity and pleasure a massage wand can provide, many penis owners enjoy combining vibrations with textured sensations through a vibrating stroker. How do we know? Our wonderful customers and their reviews.
We've received a tonne of reviews over the years and one thing which keeps coming up with the proud owners of a penis is their love of vibrators and strokers. We have great options when it comes to vibrating strokers but if you're keen on the power of a wand with the flexibility of a changeable attachment, this is the blog for you.
Turn Your Massage Wand into a Vibrating Stroker
One of the benefits of a wand is that it can be used on anybody to send beaut vibes through all their external sweet spots. For those who want to give extra love to the penis, adding in a stroker like the Lovehoney Hummer Deluxe Masturbator Wand Attachment is the way to go. This vibrator wand attachment is a flexible, open-ended cylinder with a textured canal and clear design for you to feast your eyes on the full length of your peen.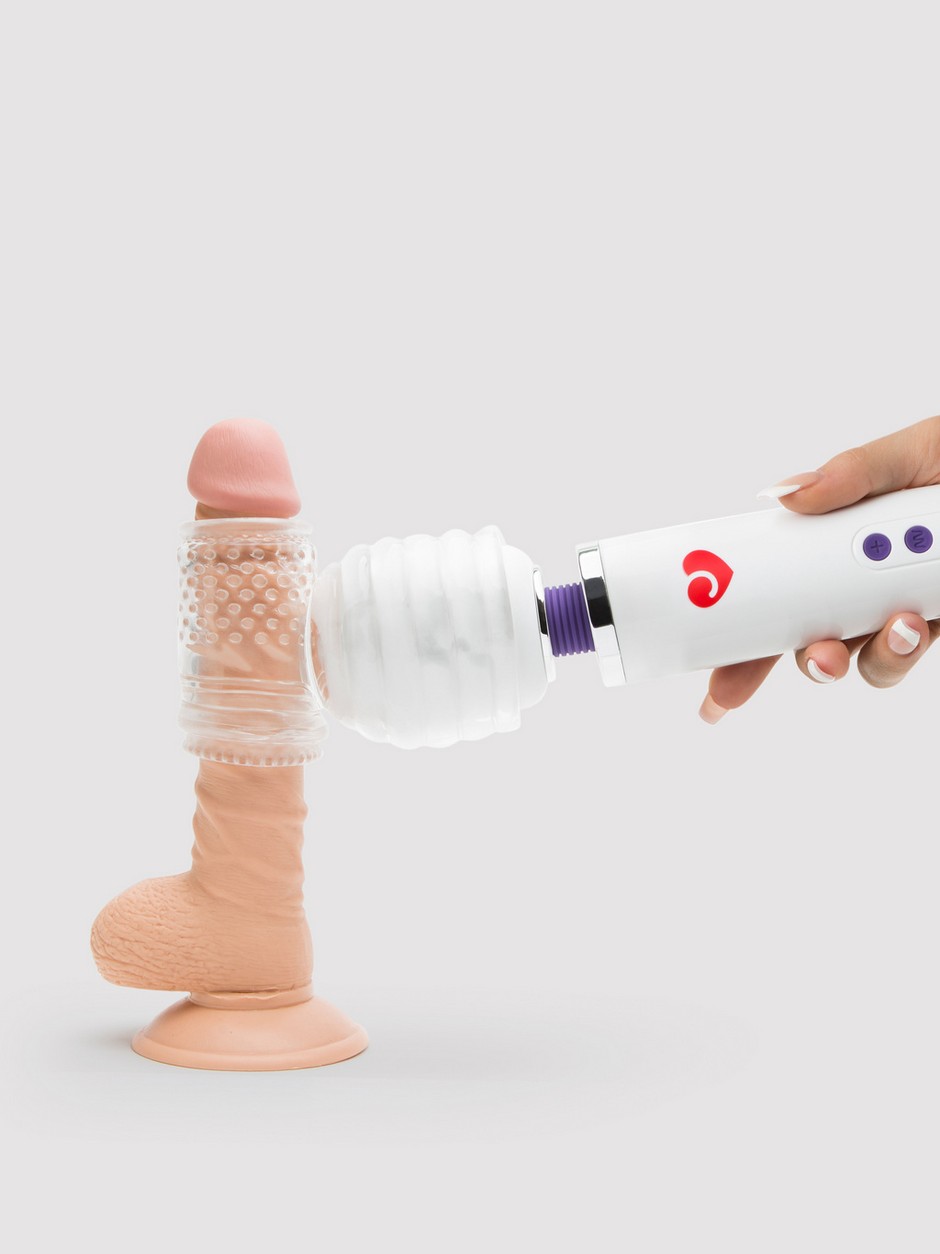 Made to fit wands with a 7.5 to 8-inch circumference, the mains-powered motor of the Lovehoney Classic Mains Powered Massage Wand Vibrator can make it one of the strongest and best vibrating penis sleeves on the market – and you never have to worry about it running out of batteries.
One of our massage wand and Hummer customers said in a review:
"Wow!!!
Review by John69 on 13 Jan 2015
Wow, this is quite a piece! Bigger than I thought and much stronger than expected. Unfortunately, when you by vibrators of different kind they prove to be too weak and give no real satisfaction. This one is different! The vibes are fantastic and give you an instant thrill. My wife tried it with some scepticism (due to the size), but we lubed it thoroughly and off she went. And how she went! I've never seen her squeal and moan as much. It was a joy to see how she enjoyed it. Luckily enough I bought the male masturbator hummer together with the wand. So, when she was satisfied, I could take over. She was licking and sucking my balls and rectum while the hummer did its job around my penis. I can tell you, there will be a fight between the two of us who will get the benefits of this wand first in the future!"
If you think this sounds like something which will make you last about 0.00004 seconds, then think again. The scrolling controls and hand motions of the vibrating stroker combo mean you can practise edging to help improve your stamina and enjoy some seriously explosive O's.
Edging is a sexual technique where you perform an act on yourself or someone else, working slowly towards orgasm but as you feel like you are just about to tip over the edge into ecstatic bliss, you stop and take a break. Repeat as many or as little times as you like or for as long as you can hold out for – even twice can be enough for some people – until you are ready to feel your climax. Sound interesting? Read more in our guide on edging here.
Vibrator Wand Attachments Are for Everyone
Vibrating strokers aren't the only sex toy accessories you can use to pimp your wand and pleasure your pecker. This deluxe silicone wand head was originally designed with the G-spot in mind but you'll be pleased to know it can also be an excellent tool for perineum and anal stimulation.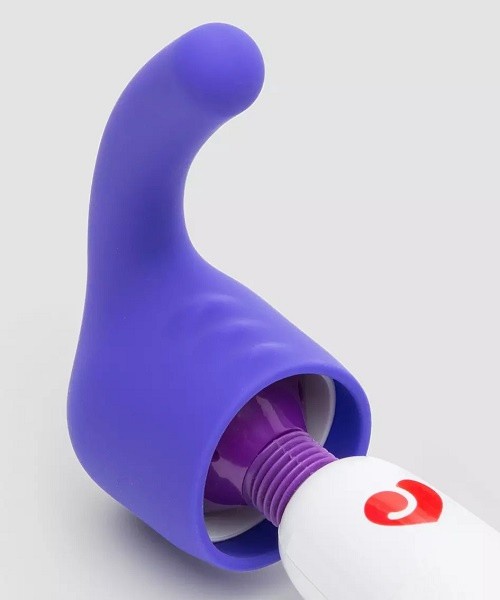 Lube up the smooth silicone, switch on the wand to feel the vibrations through the accessory and use it to massage your taint, anus and even your P-spot if it tickles your fancy (just make sure you don't try and slip the whole head into your rectum or you might lose your attachment).
"Nice attachment
Review by Lovehoney-Minty on 2 Apr 2020
Great packaging with simple instructions on how to use with your wand. I love the fact its
silicone so nice and smooth. Very tactile. It also makes it super easy to clean and removes from the wand easily. Its easy to attach and gives you something different without buying a whole new toy which is one of the things that attracted me to it. Overall works well with the wand and vibrations can be felt."
Begin on the lowest setting, add lots of lube and let the tip flutter perpendicularly along your shaft and up to your frenulum. If the precision here is too intense even on low, explore further back behind your balls and between your butt cheeks while you or your partner use another hand to buff the banana.
How to Turn Your Blow Job Stroker into a Vibrator
Okay, we've told you a hundred times how powerful a massage wand can be, you get it. Now it's time for you to get creative and see why this adaptable toy should be one of your favourite cock vibrators.
The key for getting the most out of your massage wand is thinking of different ways you can use it on your own, with a partner or with another toy.
Take the Sue Johanson Head Honcho Masturbator for example; if you have two mobile hands available to you, try using this non-vibrating stroker in one hand and hold your wand against it in the other. It'll create a buzzing blow job-style suction we're pretty sure you'll love. This way, rather than having to buy a vibrating penis/male masturbator every time, you can choose a more affordable, non-vibrating option.