The Top 10 Waterproof Sex Toys
Keen to get wet and wild? There are toys to help you with that.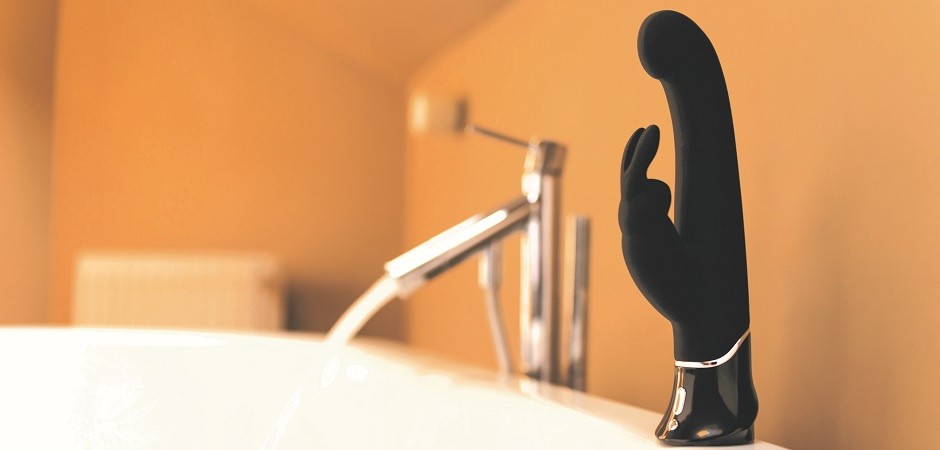 Bathrooms have long been a calming, sacred space for taking a moment to practise self-care — and yes, by self-care we mean banging one out. With the privacy of a locked door, the sound of running water to block out any noises and easy access to a tap if things get messy, it's the location of choice for many when it comes to playtime (especially when living with others).
What's your go-to tool for having a rub-a-dub-dub in the tub? Is it a shower dildo? A waterproof vibrator? The showerhead?
For some, the tried-and-true method of the showerhead (or even just their hands) is enough to satisfy them and that's okay! But at Lovehoney, we're all about shaking things up and adding in the variety which makes a sex life so exciting. Read on for our list of the best waterproof toys to take you from dry to wet without even having to turn the tap on.
Shower Stud Realistic Suction Cup Dildo Vibrator with Balls 6 Inch
Shower Stud Realistic Suction Cup Dildo Vibrator with Balls 6 Inch
Showers will take on a whole new meaning when you invite this stud of a dildo to join you. Poised on a mega-strong suction cup, its erect shaft, bulbous head and firm balls send powerful vibrations exactly where you want them for almighty climaxes.
What customers say: "Very flexible, soft but sturdy material. Easy to just the vibration strength. Suction to surfaces it strong. Make shower time so much more fun".
It was a good day for the world when some clever person decided to add a suction cup to the end of a dildo and thus created the shower dildo. With an extra strong suction cup which begs to be attached to a smooth surface for hands-free penetration, this vibrating toy is the perfect dildo for the shower or bath.
While it can be used with a partner, the best part about taking a solo dildo shower? You get all the warm water to yourself.
We-Vibe Touch X Rechargeable Clitoral Vibrator
We-Vibe Touch X Rechargeable Clitoral Vibrator
Treat yourself to the thrill of the We-Vibe Touch X. Its smooth silicone form and carefully sculpted shape envelop your clitoris with 7 lip-bitingly good vibration modes, each with 8 levels of intensity. Enjoy its sensual curves all over your body.
What customers say: "This sleek little stimulator really packs a strong vibe. Out with the old wand and in with this discreet new favourite".
Worried about getting your toy from bedroom to bathroom without your fam or housemates noticing? This little clitoral vibrator from We-Vibe is compact enough to be hidden under your towel for discreet transportation.
Small doesn't necessarily mean weak when it comes to this 100% waterproof vibrator though. Enjoy eight levels of intensity and seven vibration variations that will make it hard to stop. Keep an eye on that water bill.
Lovehoney Tentacle Textured Sensual Glass Dildo
Lovehoney Tentacle Textured Sensual Glass Dildo
Spectacular, tentacular adventures await the holder of this 6 inch glass dildo. Both work of art and object of pleasure, this beautiful glass toy is elegantly curved, with stimulating nubs, rows of bumps and vein-like ridges all powering arousal.
What customers say: "My favourite sex toy. Though it's small, the glass tentacle has ridges and curves that drove me mad with ecstasy. Playing with it never gets old and it never fails to push me to squirt each time I do".
Want to live out your mermaid fantasies? Do we have the dildo for you.
The gorgeous glass of this tentacle design not only looks beautiful but makes for a perfect bath and shower dildo thanks to its hypoallergenic material, devine textures and temperature reactive qualities. It also works well with silicone lubricant which is water-resistant and will last longer for your underwater adventures.
Our top temperature play tip: Cool it down in the fridge or freezer before taking it into the bath with you for an amazing hot-cold sensation.
Desire Luxury Rechargeable Remote Control Prostate Massager
Desire Luxury Rechargeable Remote Control Prostate Massager
Awaken intense sensations with Desire's luxury prostate toy. Silk-spun silicone inserts smoothly, with a firm and dented tip to maximise stimulation on tender P-spots. Remote control operated for ease of use, with 8 modes and 12 intensity levels.
What customers say: "It gave me an earth shattering O".
Prostate-owners, it's time to level up your shower wristy. Hands-free vibrations from this massager stimulate your P-spot while you get busy on your external hotspots for truly explosive results.
A prostate massager is also excellent for incorporating into partnered aquatic play time. For best results during penetration, get into the Bear Hug position. Have the giver and wearer of the massager lift their foot onto the shower ledge (or spread their legs wide if there isn't one) to give the toy space to tantalise and tickle the backdoor's hidden gem. This move will also give you room to penetrate deeply while standing but be very careful not to slip.
Leave the remote control in arms reach but do not bring it into the shower or bath, because while the prostate massager is 100% waterproof, the remote is only splash proof.
Womanizer X Lovehoney Pro40 Rechargeable Clitoral Stimulator
Womanizer X Lovehoney Pro40 Rechargeable Clitoral Stimulator
$127.46
$169.95
You save:
$42.49 (25%)
Using Womanizer's revolutionary Pleasure Air Technology, this sleek, ergonomic stimulator encircles your clitoris with a silicone head, offering 6 intensity levels to gradually build sensation. From a soft flutter to an intense pulse, use the simple interface to send yourself spiralling towards ecstasy with wave upon blissful wave.
What customers say: "Honestly this is just amazing!! I don't think I'll use any of my other toys ever again! As soon as I got it I just had to test it out and it felt amazing!! I love using it in the shower, I can't get over how fast I orgasm using it and it makes me so wet".
Bathtime takes on a whole new level of chill when there's a clitoral stimulator involved because really, what's more relaxing than a climax?
Not only does the Womanizer's pulsating Pleasure Air Technology feel as breathtaking in the tub as it does out, it provides a completely different sensation for you to enjoy thanks to the warming water. Make sure your Pro40 is charged, light some candles, pour a glass of wine, turn on your favourite sensual movie and you've got yourself a perfect bathtime set up if you ask us.
Tracey Cox Supersex Rechargeable Vibrating Butt Plug
Tracey Cox Supersex Rechargeable Vibrating Butt Plug
Everyone deserves Supersex, and the Tracey Cox Rechargeable Vibrating Butt Plug is poised to deliver just that. With 3 speeds, 7 patterns, and a smooth tapered tip for easy insertion, this small silicone plug delivers gloriously grand sensations.
What customers say: "This. Rocked. My. World. My partner said she had never heard me be so loud or squirm so much during an organism before. This toy has opened the door to a whole new world of back door play".
Butt plugs are a surefire way of enhancing sex and solo play and if you're looking for efficiency (and to save water) in the shower, hands-free stimulation should be your go-to.
Insert your favourite vibrating toy like this one and let the vibrations warm you up while you follow your normal shower routine. Once you've finished washing your hair and you're likely to be ready and rearing, use your hands or another toy to take yourself to ecstatic bliss.
Fifty Shades of Grey Greedy Girl G-Spot Rabbit Vibrator
Fifty Shades of Grey Greedy Girl G-Spot Rabbit Vibrator
Tailor-made orgasms are on hand with Greedy Girl, a G-spot rabbit vibrator that combines silky silicone with 36 possible vibration mode combinations. USB rechargeable, waterproof and travel-friendly with 2 powerful motors and 15 speeds and patterns.
What customers say: "Omg the best vibrater I have ever owned. My husband bought this for me as a gift and just wow. Every time I use this toy I am beyond satisfied the power this thing has and sleek design a real must have. Easy to recharge and go again and again".
Blended orgasms don't have to be constrained to dry land. Did you know one of our most popular rabbit vibes is also 100% waterproof? The super-soft silicone of the Greedy Girl combined with its 36 vibration combinations will have you treating yourself to many dildo shower delights. G-spot and clitoris love — need we say more?
TENGA GEO Aqua Textured Male Masturbator
TENGA GEO Aqua Textured Male Masturbator
Plunge into wave upon wave of thrilling texture with the TENGA GEO Aqua. Intense as the ocean but in your control, flip this artistic male masturbator inside out and go hard and fast or deep and slow until you overflow with orgasmic satisfaction.
What customers say: "This is great for solo or couples play. It's well made, excellent quality and easy to use. It's also easy to clean! The best bit is the sensation is amazing but whether you or your partner are holding it, the sensation can be intensived purely by how hard you grip it".
Sex toy or shower loofah, you decide! This clever, stretchy male masturbator by TENGA gives you the choice of two different textures to play with while you're uh, checking the plumbing. With a drying stand included and the inconspicuous look of this reusable toy, leaving it out in plain sight (in a dry place) is absolutely an option.
It's also an excellent toy to keep on hand when you want to up the ante during foreplay.
Desire Luxury Rechargeable Curved G-Spot Vibrator
Desire Luxury Rechargeable Curved G-Spot Vibrator
$87.96
$109.95
You save:
$21.99 (20%)
Let waves of pleasure ripple through your intimate canal with the Desire G-spot Vibrator. A heavenly curved creation crafted from soft silicone that offers sensuality and blissful sensations from its 8 vibration patterns and 12 levels of intensity.
What customers say: "First toy ever for my gf, she's never before experienced a mastabatory orgasm on the same level that she got from this. Top marks".
We love being open about sex at Lovehoney and don't think a cheeky dildo shower necessarily needs to be a secretive thing but we know some people like keeping things a bit more subtle. It's why we love the gorgeous design of the G-spot vibrator from Desire. This powerful but discreet looking toy doesn't scream "dildo" so there's no need for any embarrassment you could feel if you accidentally left it in a shared bathroom after a hot and steamy sesh.
The real test for being secretive is how quiet you can be while using it.
Lovehoney O Force 2 Dual Motor Powerful Male Vibrator
Lovehoney O Force 2 Dual Motor Powerful Male Vibrator
Storm to orgasm with the high-voltage vibrations of the O Force 2. Re-engineered to hold a second motor, this upgraded successor offers 5 stimulation intensities and a similar snug fit for the head of your penis, but surges power to new levels.
What customers say: "Loved it. First time using a vibrator. My wife used it on me and it was amazing! Very intense orgasm! Would definitely recommend! 5 star".
If you're the proud owner of a penis and a lover of extra wet play then this waterproof vibrator is for you. Designed with a dual motor and a canal which fits snugly around the tip of the penis the O Force 2 sends titillating vibes from top to bottom.
Enjoying a sensual couple's bath? We have two words for you: mutual masturbation.