Lovehoney Advent Calendars: What's in the Box?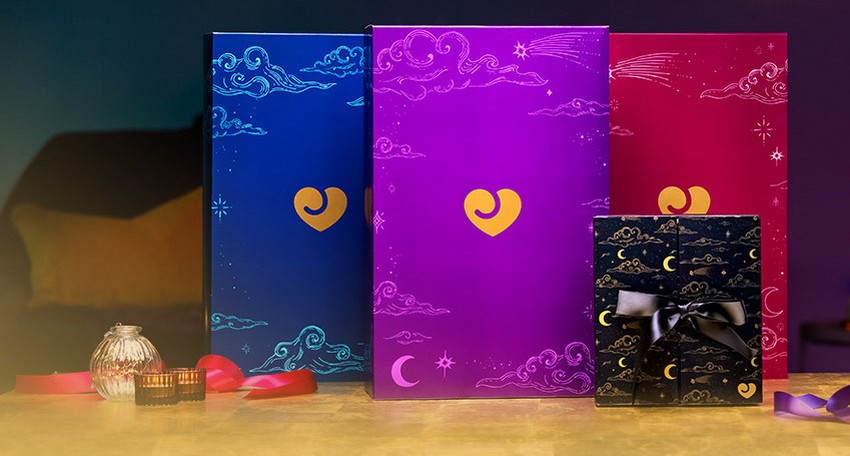 Boasting incredible cost-savings and filled with some of Lovehoney's best-selling sex toys and luxurious lingerie, our upcoming advent calendars are filled with the promise of erotic surprise.
Whether you're hoping for a romantic late-night rendezvous, a hot fetish-inspired evening, or to simply upgrade your lingerie collection, behind each door waits a gift that keeps on giving. Our advent calendars are filled to the brim with delightful surprises and if you just can't wait for the grand reveal of each sweet treat, we're giving you a sneak peek at what's in the box, so you don't have to.
Excited much?
Yup, us too.
Let's take a closer look…
Lovehoney X We-Vibe Sweet Seduction Couple's Sex Toy Advent Calendar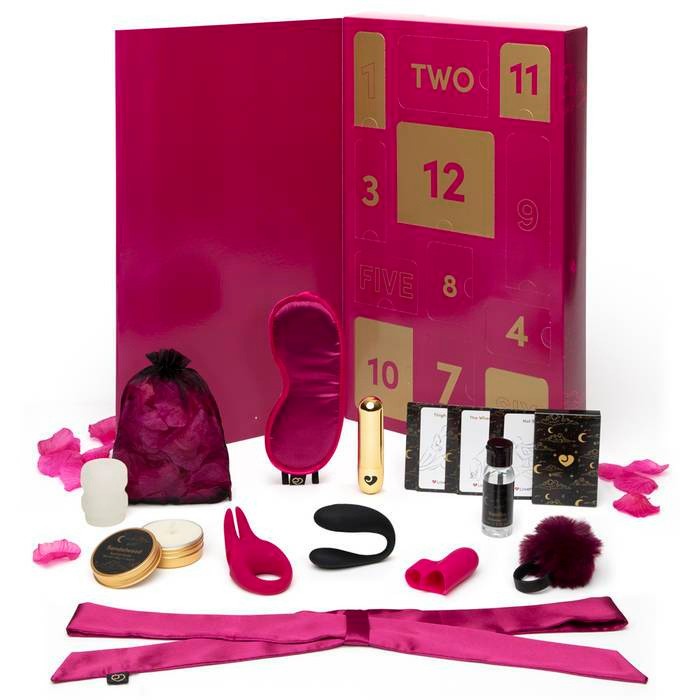 Settle in for a sizzling night together with this box full of tempting treats. Featuring 12 tantalising gifts for you and your lover to enjoy together, this exciting set is a must-have for those looking to explore an unforgettable sexy festive adventure.
Whether you're hoping to spice up your foreplay sessions, dip your toes into an exhilarating world of light bondage or to simply have the best orgasm of your life, there's a hidden treasure for everyone to be found behind each door.
Our top pick from the Lovehoney X We-Vibe Sweet Seduction Couple's Sex Toy Advent Calendar
What is it? Sweet Vanilla Massage Oil
Why do we love it? Infused with 5 nourishing oils and the scent of sweet vanilla, this kissable massage oil smells delicious for sensual massages with a sweet reward for the masseur. Warm a few drops in your hands and smooth it over your or your lover's skin for a nourishing and sensual treat. It's perfect for making those intimate moments even more inviting…
What Lovehoney customers say: "The oil itself allows for easy gliding over my partners body, allows for an easy transition from massage to foreplay. Smell is nice and strong, but not overwhelming."
Lovehoney X Blowmotion 12 Days of Play Sex Toy Gift Set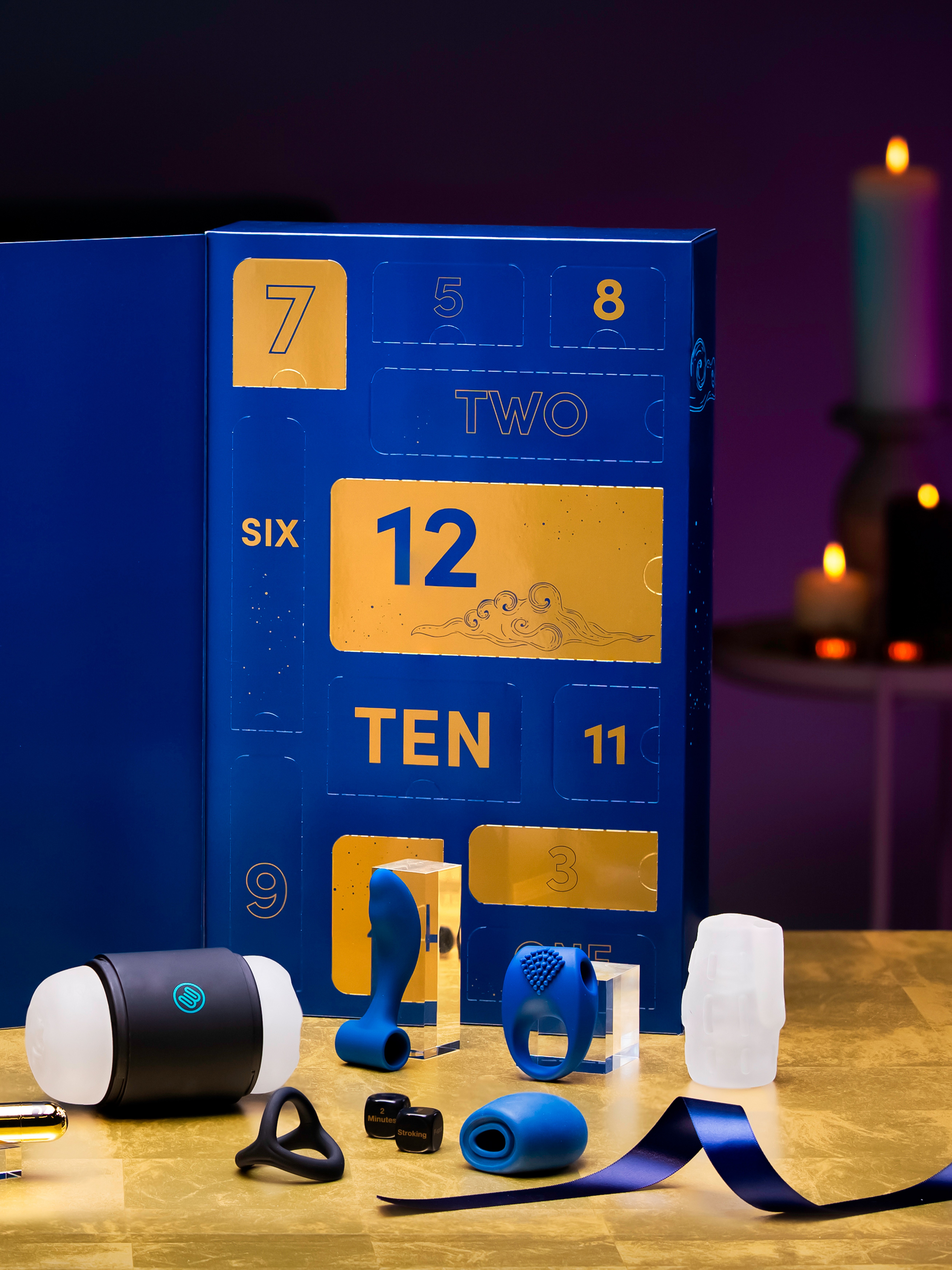 Every day, an invite to play another way. This 12 piece gift set has so much pleasure potential and the versatility on offer lets you spice up those solo sessions or add a little magic to your partnered play times.
Action-packed for late night thrills, you can look forward to unwrapping each surprise as you discover new ways to enjoy some of Lovehoney's finest sex toys. Featuring the Blowmotion Dual Entrace Rechargeable Vibrating Male Masturbator, smooth silicone cock and ball ring and P-spot pleasing anal beads, you'll be spoilt for choice.
Ideal for a little self-indulgence or perfect for gifting to your lover, this all-inclusive gift set won't disappoint.
Our top pick from the Lovehoney X Blowmotion 12 Days of Play Sex Toy Gift Set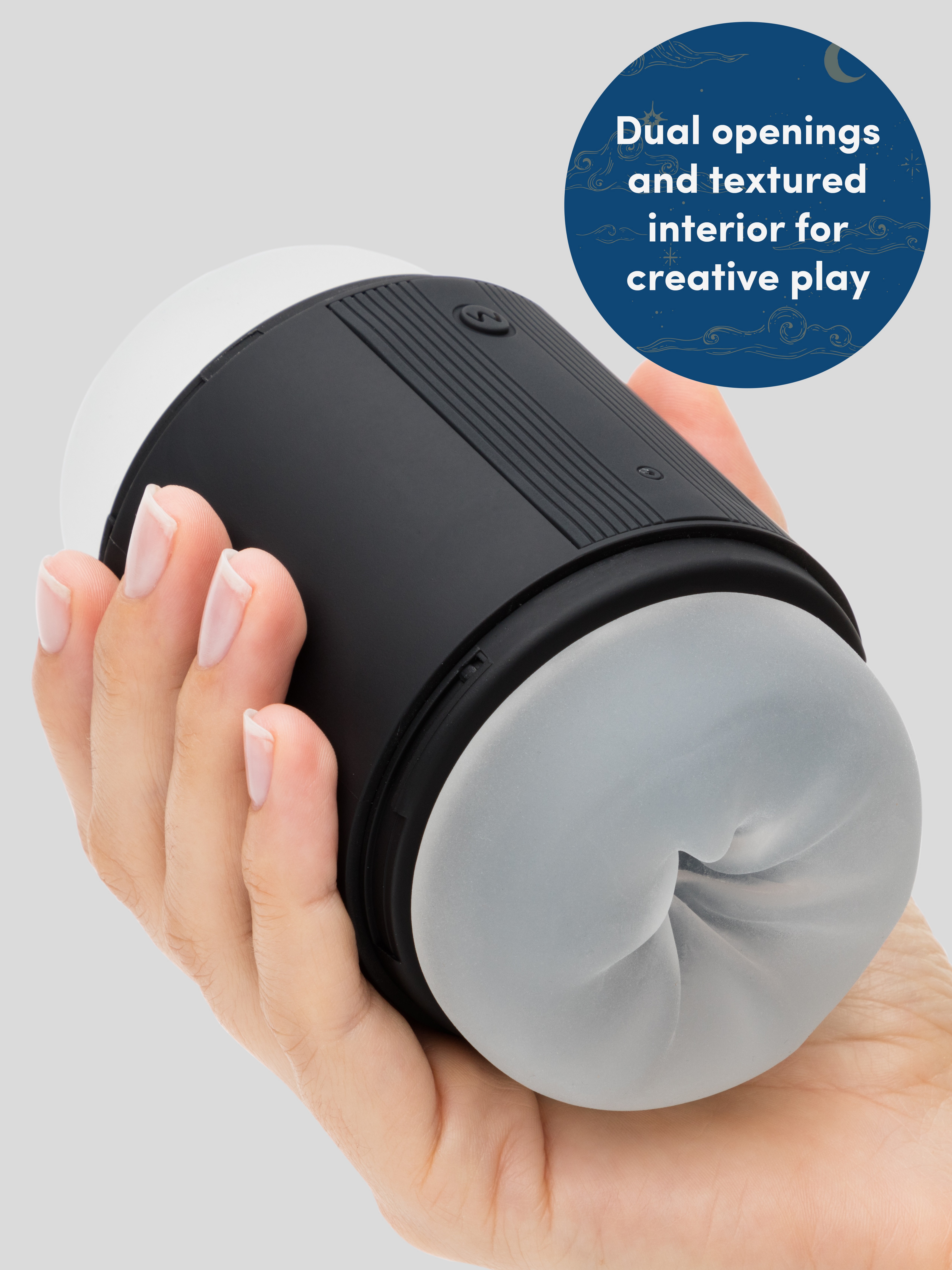 What is it? Blowmotion Dual Entrance Rechargeable Vibrating Male Masturbator
Why do we love it? Small but super-satisfying, this real-feel toy boasts 3 speeds, 7 vibration functions and a textured channel to tease and tantalise your member with intensely gratifying stimulation. Open-ended for limitless pleasure, it's also fully rechargeable with an easy-to-activate travel lock for taking with you anywhere.
What Lovehoney customers say: "The design of this is perfect for self-pleasure. The silicone is soft, but firm enough to provide pleasure. The two different sides allow for variability in feel, and the toy itself is extremely tight. It includes a vibrating setting which has variability in frequency, and surprisingly powerful."
Why Should I buy a Lovehoney Advent Calendar?
The Lovehoney Advent Calendars are the perfect self-indulgence treat, but also ideal for gifting to a partner. With several doors to open and an array of exciting gits to uncover, our calendars are great for couples and individuals who want to experiment, explore and play.
The gifts, toys and treats in each calendar have been hand-selected by our product teams so that there's something for everyone. Additionally, buying a Lovehoney Advent Calendar means you'll not only build your personal collection with some of best-selling toys but also enjoy the added benefit of incredible cost-savings too!
When do the Lovehoney Advent Calendars go on sale?
Our much anticipated Lovehoney Advent Calendars for 2022 are now live, so you can get yours straight away without waiting until December. Following the sell-out success of last year's advent calendars, we're expecting high-demand for our 2022 editions, so order today and look forward to quick and discreet delivery direct to your door.
Who are the Lovehoney Advent Calendars for?
The Lovehoney Advent Calendars are for everyone. Those of us with more vanilla tastes, to those of us who want to live a little more vicariously in the bedroom, the options are limitless. Our Advent Calendars cater to couples and individuals, work well as gifts for friends and lovers and are the ultimate gift to yourself, too.
Which Lovehoney Advent Calendar should I choose?
Any one of our Lovehoney Advent Calendars will be the perfect surprise, but the Lovehoney X Blowmotion 12 Days of Play Sex Toy Gift Set really is the ultimate choice for penis-owners with toys and treats that target the penis and anus with direct stimulation.
The Lovehoney X We-Vibe Sweet Seduction Couple's Sex Toy Advent Calendar is ideal for couples who are keen to explore light bondage and intimate fantasies with one another, and includes small treats such as massage oil for those more relaxed and romantic evenings.