Queer Sex Ed with Chantelle Otten
Masturbation, Orgasms and how to maximise pleasure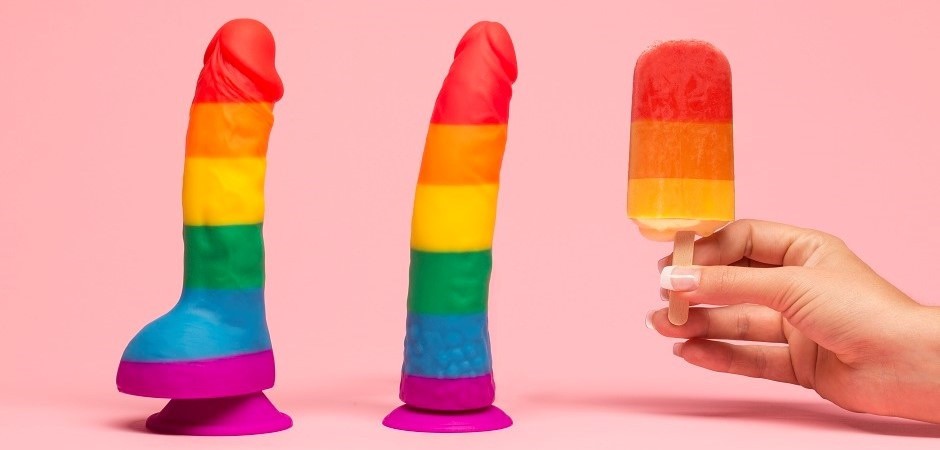 Sex education has historically been heteronormative and binary.
You might think: "okay, but thats easy to change the language to non-binary and voila! Everything will be okay then - right?"
No, actually. Because language is one thing, but normalisation comes from exposure. Most of us have never heard about LGBTQIA+ issues at school.
There is a direct link between our traditional sex education which fails to normalise queer desires, bodies, and lifestyles, and the discrimination queer individuals face in their everyday life. For example, trans kids are at a higher risk of bullying and mental health concerns.
Today we are going to talk about queer sex ed, and move away from looking at sex through a heteronormative lens. Heteronormativity is when hetero sex is considered 'the norm'. So basically penis in vagina sex.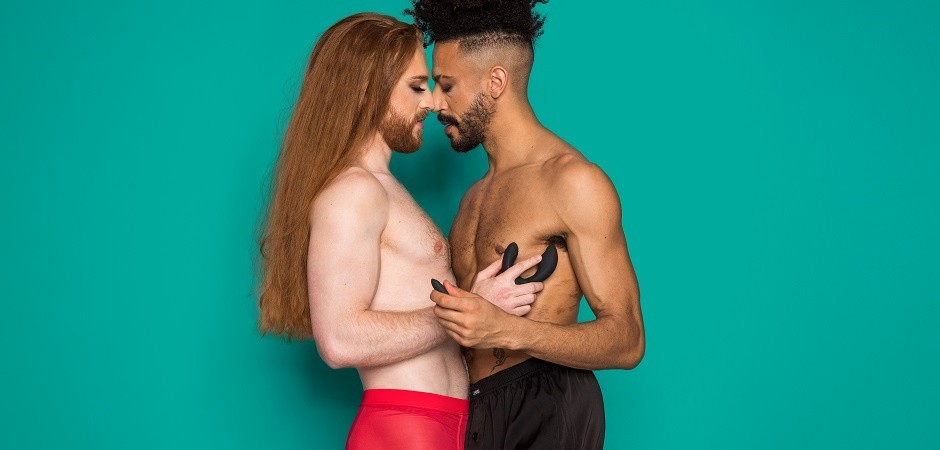 As I have spoken about many times before, prescribing penis in vagina sex rules out many people from the LGTBQIA+ community, people with certain disabilities and people who cannot have penetrative sex due to some sexual concerns. It may also not accommodate for variation in erotic activities, like using toys to assist in pleasure!
If you can, start to challenge the way you look at sex and examine whether you're looking at sex in a more inclusive way, or 'queering' it.
There isn't enough research or literature around trans and gender non-conforming sexual experiences. And for me, that means we need to break the silence and start to change the conversation in the mainstream.
There is a lot of binary narratives which we use when we talk about sex, and many of those in the gender non-conforming and trans communities rarely feel like they are included, or have the opportunity to discuss sexuality, different types of trans-bodies and experiences in an open way. Having a queer view of sex can change that, alongside re-thinking our language when it comes to activities and anatomy. It is always an individualised experience though, of course.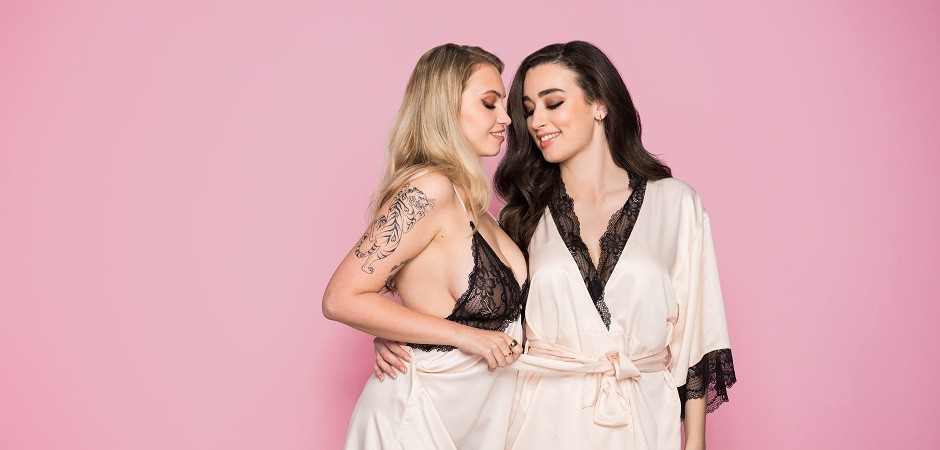 Studies show lesbians have more orgasms than straight women. The reason behind this is likely because of the length of their sexual encounters. For lesbians, the length is usually between 30 and 45 minutes. While heterosexual couples report their sexual activity lasts between 15 and 30 minutes on average. Lesbians have sex for longer, and that seems to be the reason why their sex is more satisfying.
Why does this matter? The longer your sexual experience, the more play is happening outside of penetrative sex. It allows lesbian couples plenty of time to become fully aroused which increases the likelihood of an eventual orgasm.
It also affirms the idea that the orgasm itself is not the goal of the sexual experience. Mutual pleasure is the goal, instead of climax, which is usually the focus and endpoint of heterosexual sex.
Now, some sex positions!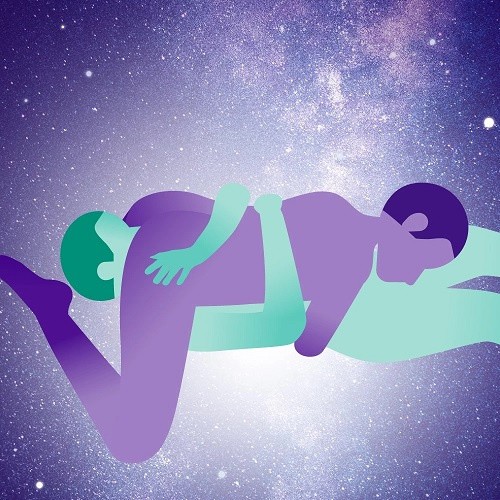 1. 69
Where you go top-to-tail with your partner while you both give and receive oral sex - tends to work for people of all genders and orientations and anatomy types, and can be mixed with some good vibrations from a classic wand vibrator, which can be used on a vulva, the underside of a penis, or really anywhere on the genitals. It is an external vibe though, so please don't stick it inside you!
69 is also great because it gives each partner a really nice view and is usually comfortable for all involved.
2. Anal
Everyone has an anus. And while yes, some people are not comfortable with anal play - whether that be intercourse or outercourse - and that's fine, it is a non-gendered activity, and there are a lot of different things which can be done to find anal pleasure. For anyone who is interested in having penetration, whether they're trans, straight or queer, anal sex in particular can be really pleasurable.
You can start with outercourse and again I would recommend trying a great wand vibrator on the outside of the anus or even a small bullet. Or you can grab a sex toy kit (like the Up All Night couples toy kit), which will have a few pieces in there to choose from. But please do not put anything inside you that doesn't have a base, as you could lose it in the anus.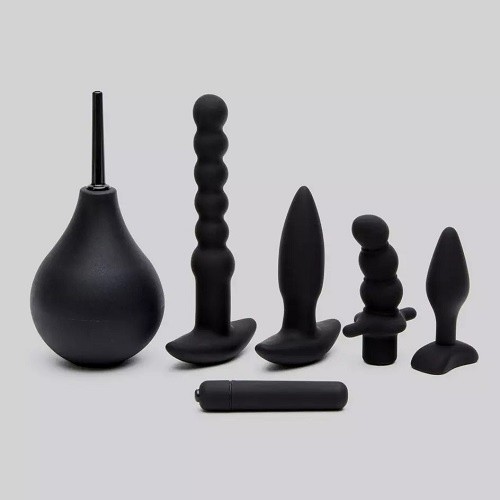 If you are wanting to play with penetrative anal, start with the Lovehoney Bumper Booty anal sex toy kit. It really has everything you need, to begin anal play, with six pieces which provide incredible pleasure. And don't forget some water-based anal lubricant.
There's a whole range of sexy positions two people with vulvas
can engage in when using a double-ended dildo, but also two people with anuses. Try experimenting with your favourite vaginal or anal penetration positions and make them fit your pleasure and preferences. You can even play with doggy style and your double ended dildo by bending the angle to suit you!
4. Sharing a vibrator
This is such a great way to get to know each other's tastes, and people of all genders and orientations can engage in vibrator play. This can be any vibrator you like, and you can show your partner how you like it to be used on you.
It's also a wonderful way to chase that elusive orgasm… if that is what you are aiming for.
Remember to use a barrier (like a condom or a dental dam) with your toy if you do decide to share a vibe with your partner to avoid transmitting any potential infections.
5. Oral sex but mix it up with a flavoured lubricant
Oral sex is great for all genders and orientations and can be made even more fun by using a flavoured lube. You get a tasty treat when you go down on your partner and they feel great. I also like the fact you can have oral in many different scenarios, such as the shower, by face sitting or even on the kitchen bench. My tip here is to take it outside the bedroom and enjoy yourselves in lots of different ways.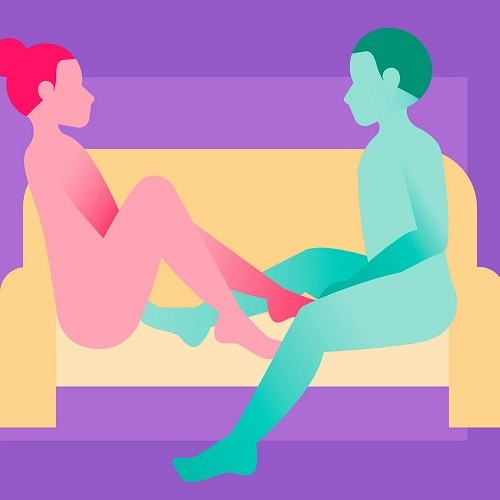 6. Mutual masturbation
Mutual masturbation can look different in every relationship, but basically, the idea is that you masturbate and your partner masturbates while you are together. You are basically including your partner in your solo sex play. They can touch themselves at the same time, and you can both take turns watching.
It doesn't always have to involve reciprocal touch either. You can simply be in the pleasure zone separately, so if you have a fave clit sucker or penis sleeve, whip it out and show off your skills.
There is so much more to discuss when it comes to queer sex and heaps of other positions! Let's start with an open conversation, normalising queer sex, remaining curious and most importantly, having fun.