6 Ways to Make Your Sex Toys Work Harder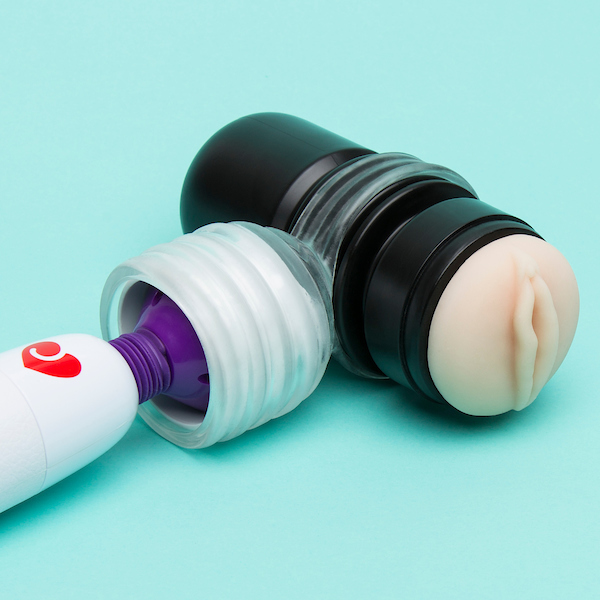 If you're anything like us, you have a huge collection of sex toys tucked away in your bedside table, in the back of your sock drawer, under your bed, in the bathroom cabinet, in the spare room...
Okay, maybe it's only us with sex toys stashed everywhere.
It happens! Maybe you've replaced your old faithful with the newer, more powerful model. Maybe a once-fulfilling smaller toy has been upgraded to a heftier item that once seemed too large.
Whatever the reason, if you've got a plethora of fave sex toys kicking around, you'll want to read this blog to find out how you can make some of them even better by teaming them up.
---
Combo 1: Stroker + Cock Ring
First up is a way to make your favourite stroker tighter without straining your knuckles. For a firmer, more pleasurable squeeze in your male masturbator, try snapping a stretchy cock ring around the outside of it.
For an even better experience, use a pack of three stretchy cock rings: one for your shaft, one for your balls, and one for your stroker. The gentle constriction on your old fellow and sack may help delay ejaculation and increase the strength of your orgasms.
Many strokers come in a case, but provided the case isn't completely rigid, this tip should still give you some gratifying results.
Combo 2: Dildo + Vibrating Cock Ring
If you're anything like us, you've probably got a favourite dildo.
Flawless shape, exquisite girth, and a length that hits your inner hotspots just right. It's practically perfect in every way, except it doesn't vibrate.
Well, here's the solution for that: slide a vibrating cock ring down your dildo. Shazam! Just like that, your dildo is now a vibrator.
We think the best thing about this tip is that you now have a rabbit vibrator with a clitoral stimulator that can be positioned exactly where you want it most.
Combo 3: Stroker + Bullet Vibrator
Cock rings aren't the only way to amp up a male masturbator.
If you don't have one, we highly recommend picking up a bullet vibrator. These super-versatile vibes are ideal for pinpoint external stimulation on all kinds of erogenous zones, including but not limited to nipples and naughty bits. They can also add a lot to your favourite stroker.
Dab it with a touch of lube then slip the bullet vibrator in to the open-end of your stroker, or consider buying a stroker with a ready-made bullet vibe space to enjoy extra stimulation during use.
Combo 4: Rabbit Vibrator + the other end
Okay, this tip only involves one toy, but we think it's something that really makes the average rabbit vibrator do double duty as a pleasure provider.
Take a slimline rabbit vibrator and slather it with water-based anal lubricant, then go explore your backdoor. Not only is your bum full of sensitive nerve endings ready to be aroused by the experience, but the rabbit ears will be perfectly placed to stimulate your perineum.
Combo 5: Butt Plug + Nipple Suckers
Rather than doubling up the excitement in one area, instead try amping up the pleasure everywhere.
Slide a glass butt plug inside your bottom, pop a pair of suckers on your nipples, and voila! You're already stimulating three erogenous zones, while leaving your hands free for all sorts of other play.
You could recruit a lover for indulgent oral sex or you could add your favourite other toy to the mix for an outstanding solo session.
Combo 6: Magic Wand + Stroker
Much like some after-dark episode of Power Rangers, you and your partner can combine forces to create an all-powerful pleasure machine!
Using our masturbator attachment for wand vibrators, you can turn most strokers or male masturbator into a wonderfully rumbly male vibrator.
There are also a host of other magic wand attachments that you and your partner can use to make your favourite toy work even harder. Check them out here.
Have you got any other top tips for making your toy collection work harder? Let us know in the comments below!
---
You may also like