11 Orgasmic Ways to Supercharge Your Sex Life With a Massage Wand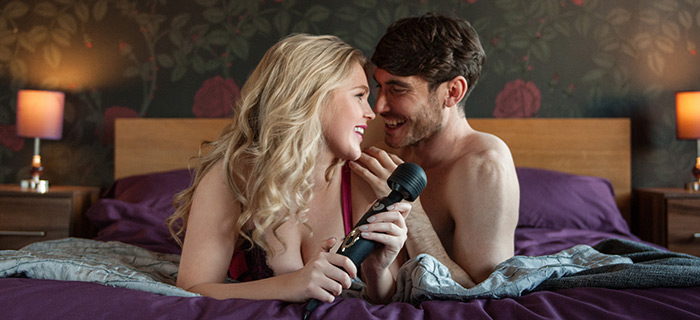 ---
Discover all the delicious ways you can use your massage wand and get even more out of these marvellous machines.
---
Go all Harry Potter and get yourself a magic wand, go on. To find out which one will have your toes curling fastest, check out our top 5 guide.
If you already rock a magic wand, congrats. Now, read on to learn how to use it to its full potential.
---
1. Always Use Your Wand with Lube
That is if you're putting anywhere near your slice of paradise or your wedding tackle.
Grab a bottle of lube and it will make those sweet vibrations even more sensational at getting you to the big O.
You can't miss a trick with Lovehoney Enjoy Water-Based Lubricant.
---
2. Release Your Tension
Heading straight to third base without warming up is so blokey, sorry blokes. Instead, use your wand as it was originally designed – as a muscle massager. Turn your wand to its lowest setting and gently stroke it over your shoulders and back in a slow, circular motion for a deep tissue massage that might just relax you for other things. Bliss bomb.
---
3. Start Slowly
See the point above. If you start at 11, there's no way to build to a glorious climax. Dial your wand to the lowest setting and play with it. See what it can do to you on low first. You might discover you have a delicate sensitivity to slow vibes.
Once you're warmed up, you can build your way up to the bigger thrills, like Buddy Franklin at the SCG.
---
4. Tie Me Up and Tease Me Play
If you're coupling, why not use your wand as part of your foreplay? Your flame could love it when you roll your wand over their sensitive spots. Take your time and slow work yourselves into a frothy state of excitement.
You can always add a blindfold or handcuffs to the foreplay dance and see how the wand works combined with a sensory or security tease. Take turns to do each other. Yum.
---
5. Experiment with Materials
Just like a delicate touch of your Golden Globes through a nightie can be more erotic than a skin-to-skin touch, your wand's intensity and feel can be enhanced by using it over underwear or bedsheets.
Play and experiment with different materials like silk, satin and cotton to find out the different sensations on offer.
---
6. Add an Attachment or Three
Your wand is really many toys in one – if you add on the good stuff. That's right, magic your wand into a G-spot-pleasuring toy or vibrating penis stroker by adding special attachments.
Take a Captain Cook at our handy guide for tips on choosing the right accessories for your massage wand.
Here are some magic wand attachments to get you frothin'.
---
7. Go Hands-Free
Go hands-free by wedging your wand into places so that it still hits the right spots. Experiment around the house to see what angles work best, and don't forget your cover story if your auntie drops by suddenly.
Or, you can give a position enhancer like the Liberator BonBon Toy Mount a go.
---
8. Explore Other Areas
Play your wand on your thighs, stomach and mons Venus rather than directly on your Mappa Tassie. The wand's vibrations will give you a slow-building, intense orgasm.
---
9. Use it on Him
A wand feels great on a wang. Use plenty of lube and slide it gently up and down the length as your bloke moans for more. For delicate areas like the goolies or the frenulum, dial your wand down, use a mini wand or get an attachment, or something with glitter like the Lovehoney Deluxe Rechargeable Mini Glitter Massage Wand Vibrator.
---
10. Make Sex Even Better
Your wand's ergonomic shape makes it easy to add to your position play.
Use it to stimulate your pearl when you're spooning or riding in cowgirl, or hold it between you to share the vibes.
---
11. Take it on Your Holiday
Your plug-in wand may not leave much room in your suitcase for zinc cream and thongs, so buy a mini battery-powered or USB-rechargeable wand you can use wherever you go.
The Tracey Cox Supersex 10 Function Silicone Wand, Lovehoney 8 Function Mini Magic Wand and the Lovehoney USB Rechargeable Mini Magic Wand are both powerful and portable.
The Mantric USB Rechargeable Wand Vibrator has a travel lock. Yay, no more blushing buzzes when you're going through passport control.
---
Above: Learn about the many different ways to use a wand vibrator with Sammi Cole.