How to Use a Vac-U-Lock Strap-On Dildo and Harness
Checking for compatibility is a thing of the past with the Vac-U-Lock collection!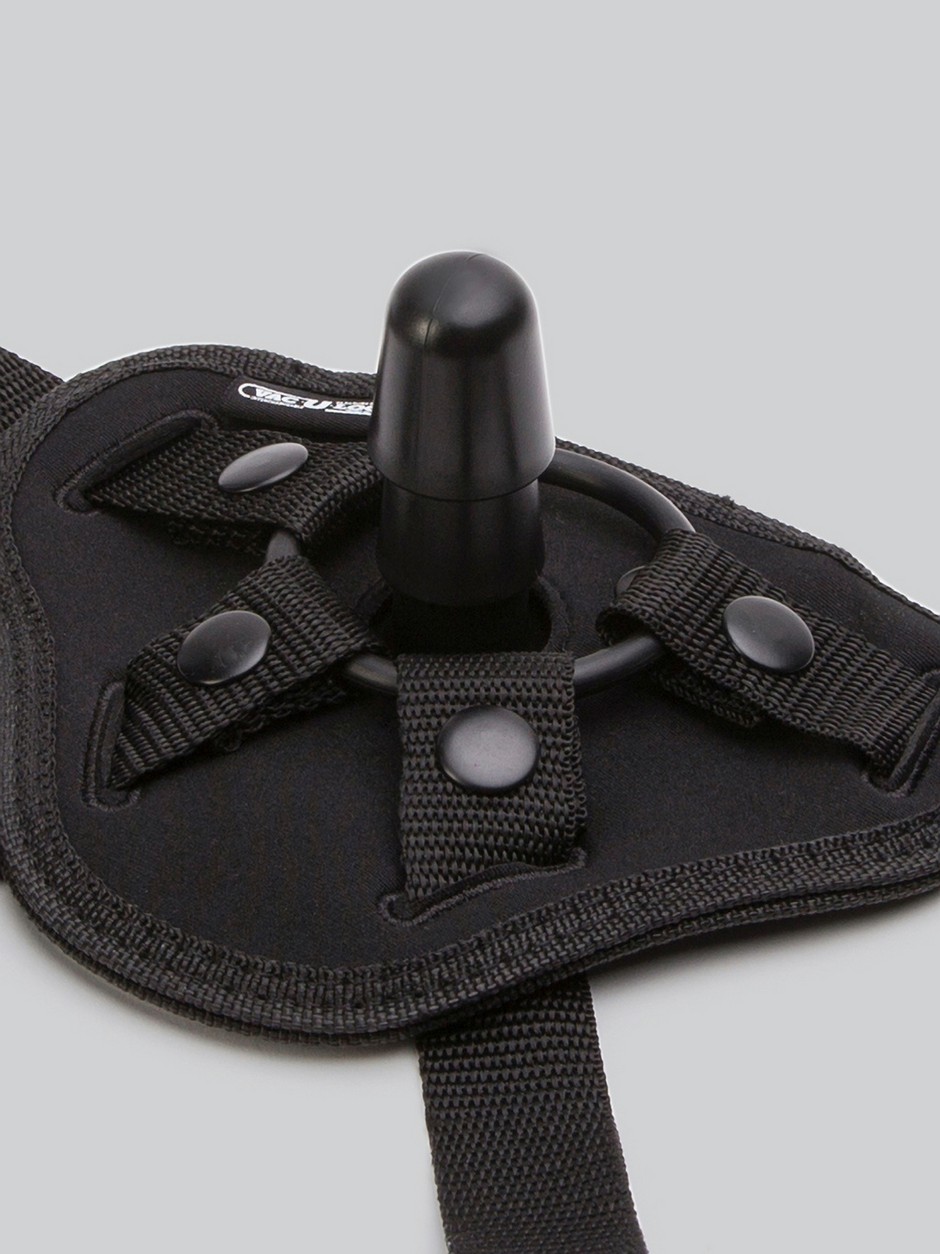 So, you've decided to take to plunge and give strap-on sex a red hot crack. Before you dive in, it's worth making sure you've got the right equipment on hand or risk heartbreak with a side of blue balls.
First things first, you'll need to make sure that you have a harness and a dildo and that the two are compatible with one another. Just like Goldilocks, you might want to take a few different sized and shaped dildos for a ride before settling on the shaft that's just right. But what if your perfect faux peen doesn't fit the harness?!
Thankfully, Doc Johnson has your back with their ingenious strap-on system. The Vac-U-Lock is the world's very first fully interchangeable pleasure system that allows you to enjoy strap-on sex without having to worry about O-rings, flared bases, and appendage girths.
All that's left to do is check whether or not the toy is Vac-U-Lock friendly and then you're ready to bang! All Vac-U-Lock products are made from durable materials, so once you've invested once it'll provide you with (almost!) a lifetime of pleasure.
How does it work?
Rather than fiddling around with interchangeable O-rings, Vac-U-Lock strap-ons feature a universal plug system that securely holds the attachment in place for pleasurable penetration. The lock system means that Vac-U-Lock harnesses are compatible with all Vac-U-Lock attachments, no matter the size or girth!
Each Vac-U-Lock attachment has been specially designed with a purpose-built hole at the base that perfectly fits the patented plug. To attach your dildo of choice to your harness, simply push your toy onto the plug and you'll be ready to ride! No more fiddling around with different-sized O-rings to figure out which is compatible with your new dildo. Shopping for new attachments online has never been easier. You'll be free to experiment with different shapes and sizes without having to worry if they'll fit your harness.
Take a closer look
The very thoughtful team at Doc Johnson has developed a whole range of spectacular products and accessories that go together like handy and panky to give you the most pleasurable experience!
Have a gander at their core products to learn how they work together. Who knows, you might even be inspired enough to take the plunge and add them to your cart.
The Plug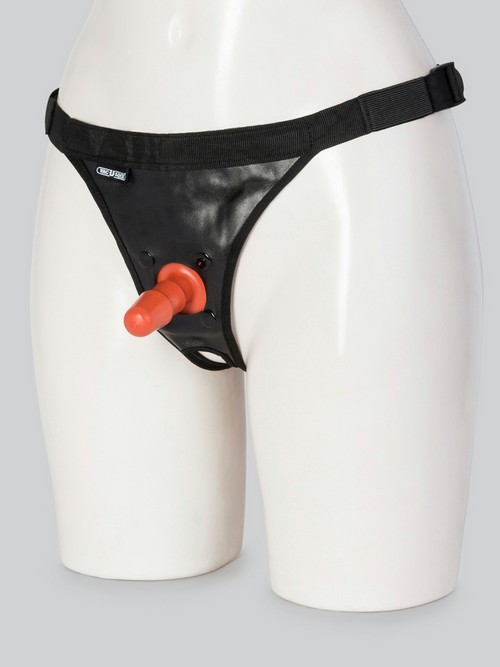 Although it may look small, this mighty little plug is the holy grail of the Vac-U-Lock range - it's the part that securely anchors any attachment from the Vac-U-Lock range to your harness. The geniuses at Doc Johnson have mixed science with simplicity to develop a plug that allows you to strap in and indulge in some quality pegging.
As the name suggests, the plug simply 'plugs' into the base of your Vac-U-Lock attachment to create a vacuum-tight seal that even the most rigorous of pounding can't break! The plug attaches to the harness with four snap locks, promising you security while you have a naughty while being easy enough to remove for cleaning.
Kill two birds with one stone and pick up a Doc Johnson Unisex Vac-U-Lock Ultra Harness with Plug.
The Attachments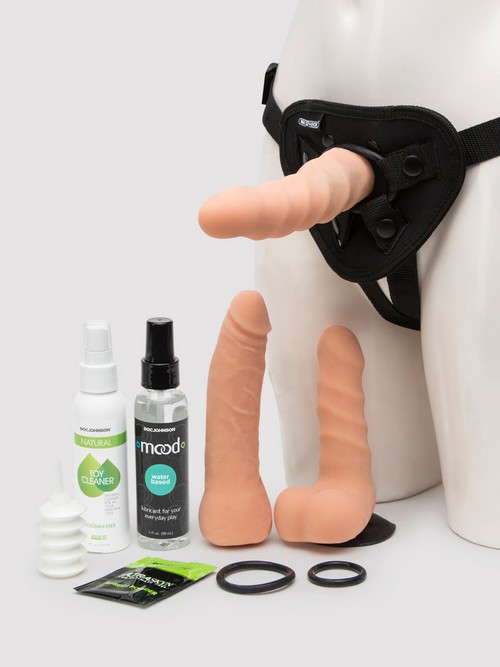 As you've probably gathered by this point, all Vac-U-Lock attachments feature a perfectly plug-sized hole at the base so they can be securely fastened to your harness. Have your pick of different sized girths, lengths, and shapes, and swap easily between your top picks. From realistic cock and ball style dildos to smaller spiral dildos, there's sure to be something that tickles your Vac-U-Lock pickle!
The Harness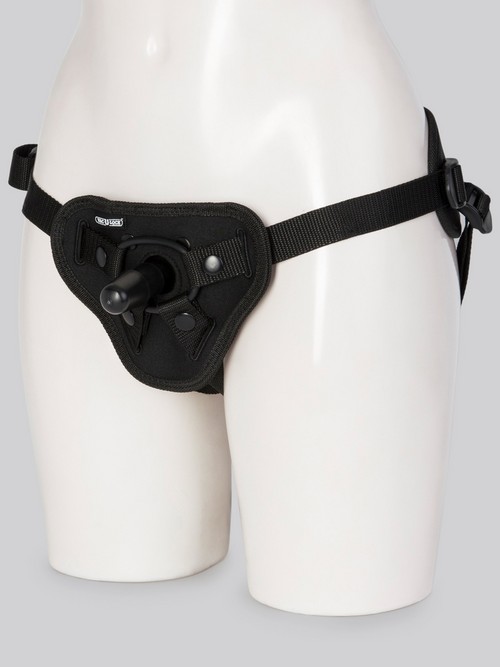 You can't have a good strap-on without an equally good harness. The Vac-U-Lock harness has been specially designed with four internal poppers to securely house the all-important plug.
The Doc Johnson Vac-U-Lock Extra Support Supreme Harness with Plug features an open jock strap style that offers complete access to the wearer's badonkadonk. The cushioned back provides the ultimate support so you can enjoy your root without throwing your back out.
Alternatively, the Doc Johnson Unisex Vac-U-Lock Ultra Harness with Plug comes complete with an open crotch, making it perfect for easy access!
All harnesses from the Vac-U-Lock range are unisex and adjustable to fit most so everyone can enjoy a bit of strap-on action.
Whatever takes your fancy, you can rest assured that you'll be able to quickly and easily attach any accessories from the Vac-U-Lock range so you can spend less time setting up your strap-on and more time getting down to business.
The Accessory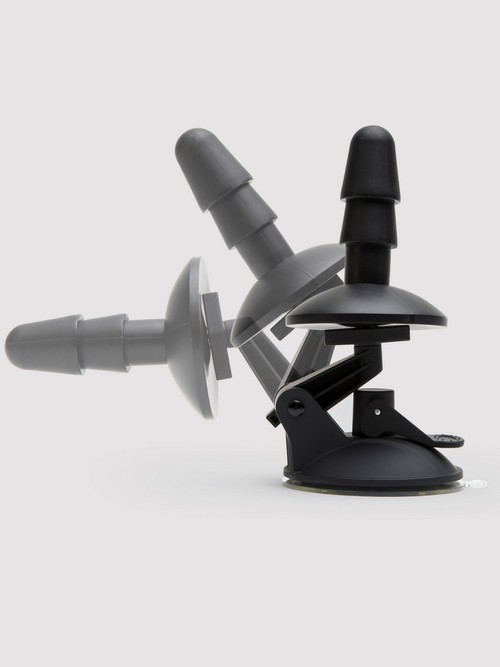 The accessory uses the same plug-in functionality and also features a suction cup, making it perfect for a bit of hands-free lovin'! It swivels and bends for the perfect penetrative angle to deliver ultimate pleasure.
The Powder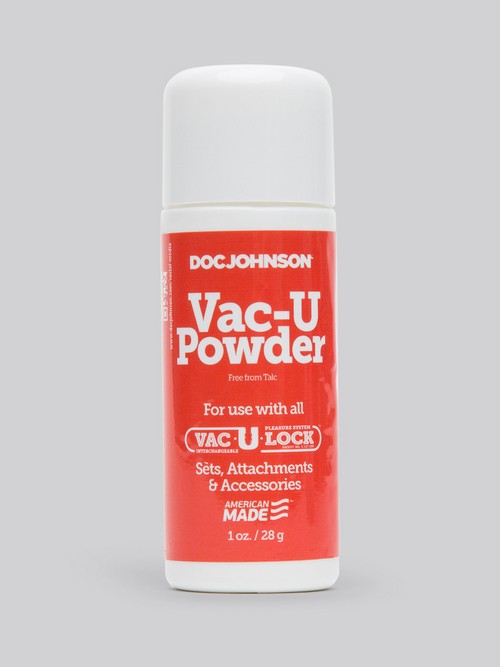 If you're adding some of the Vac-U-Lock products to your collection, then the Doc Johnson Vac-U-Lock Powder is an absolute must! This dual-purpose pow aids in the attachment of your dildo to the plug, while also helping to maintain your delightful collection of Vac-U-Lock dildos.
To apply, simply squeeze out a good dusting of the powder into the hole at the base of the dildo you're wanting to attach before pushing it onto the plug. This will help you to fix your dildo to the plug and harness while maintaining good suction. The powder is also ideal for maintaining the realistic feel of the Doc Johnson UR3 sex toys. Again, dust a little powder over your toy after cleaning to keep it feeling just like the real deal.
How to shop Vac-U-Lock
As if an all-in-one strap-on system didn't make life easy enough, Doc Johnson has taken it one step further! When shopping for Vac-U-Lock products in-store, the packaging has been specially colour-coded for ease of purchase.
1. Complete sets contain everything you need to get started! From an adjustable harness, Vac-U-Lock plug, a selection of dildo attachments, and a sample of powder to get you going, full sets come in orange packaging and are marked with the number '1'.
2. Attachments are essentially any items that anchor to the plug. Ideal for use on their own, these puppies pair perfectly with a Vac-U-Lock harness or suction cup accessory for a bit of extra fun! Look for purple packaging with the number '2' if you're wanting to expand your Vac-U-Lock toy collection.
3. The accessory has been designed to turn your Vac-U-Lock attachment into your very own custom-made suction-cup dildo. Packaged in blue boxes with the number '3', the accessory is hard to miss and is a worthy addition to your Vac-U-Lock collection.
Orrrr, you can avoid the crowds and shop online at Lovehoney for the Doc Johnson Vac-U-Lock collection.