5 Reasons To Try Crotchless Lingerie
Lingerie has a way of making one feel unbelievably sexy. Whether it's made from seductive lace detailing, hot AF leather or sensual silk, there's nothing like flaunting your stuff in a new set and crotchless lingerie takes it to an entirely new level.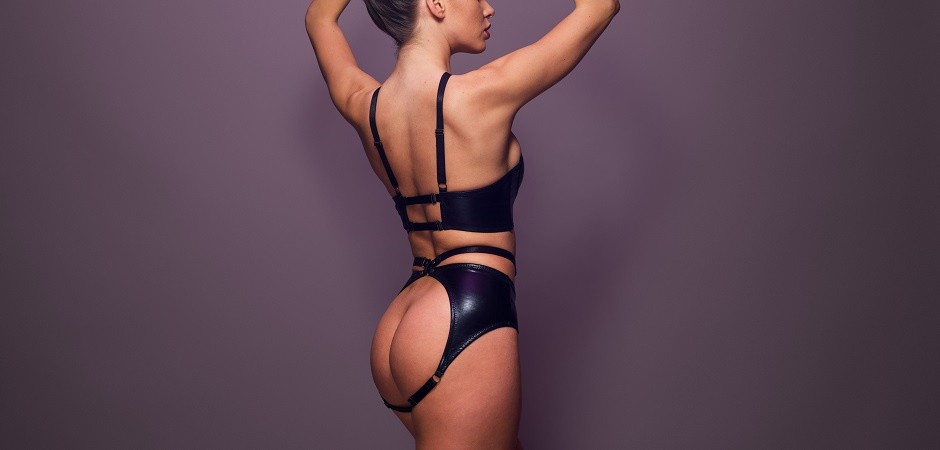 There's no such thing as a stupid question (especially not at Lovehoney), so if you're wondering to yourself "what is crotchless underwear?" right now then look no further. In short, it's exactly what it sounds like. Undies without the crotch.
Does that mean what you think it means and your (or your lover's) paradise slice can be on show and accessible without ever having to take your sexy crotchless lingerie off? You bet.
Does this make wearing crotchless undies hella erotic? Oh yes.
Intrigued? Read on to find out all of the reasons you should give these sultry skivvies a go.
1. They feel very freeing
We'll preface this one by saying that not everyone enjoys the feeling of the wind in their nether regions and that's okay. Your hooha, — or peen, who ever said crotchless fun was just for vulva owners? — your choice.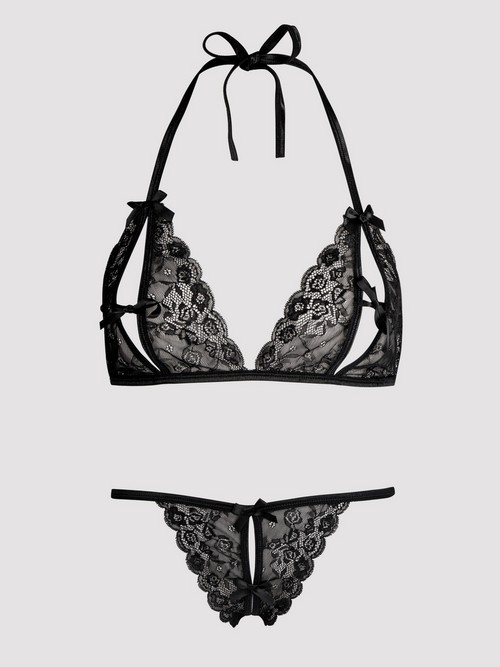 That being said, if you're someone who loves the feeling of going commando or you've always wanted to try it but would prefer something there to make you feel a bit more secure, then crotchless undies are the lingerie for you.
The feel of your bits free to do as they please — whether it's your sexy little secret while you're out and about or you're at home with your lover — is simply titillating for some. Wear your crotchless lingerie for date night to let the anticipation build before the big reveal sends you and your lover into a frenzy of lust. For an extra thrill, try this peek-a-boo bra set to let your tatas out to play too.
2. They are easy access
Gone are the days of having to slip your panties to the side when the time is right for a little bit of what you fancy. With a pair of crotchless undies on, penetration or any other kind of action down there becomes seamless (after consent is given of course) as you don't have to take them off at all.
Getting it on in the bathroom at a party? Quickie in the kitchen before the kids get home? The possibilities are endless when you remove those pesky extra steps. Say goodbye to losing your knickers in places they shouldn't be lost.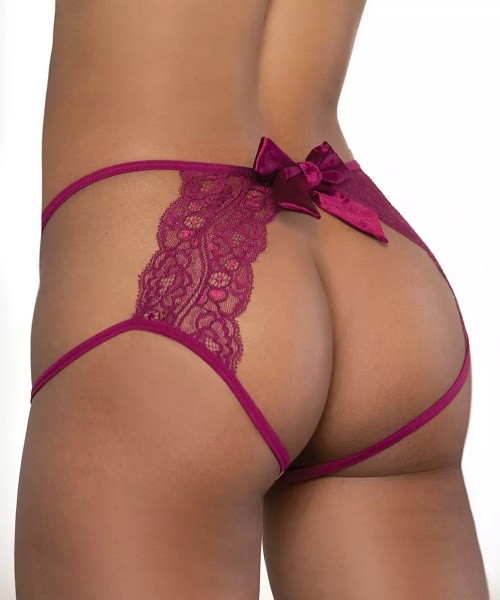 For those who feel like a sex bomb while wearing a lingerie set or if you're not in the mood to go the full monty, these babies are the best of both worlds. Plus, you'll never have to worry about your partner ripping your favourite pair in a fit of passion (unless you're into that kind of thing).
While some feature a gap focussing solely on the front bits, other crotchless lingerie expands further to let your backdoor be just as easily accessible like this pair of Seven 'til Midnight Wine Crotchless Lace Satin Bow Knickers.
3. They look Ah-May-Zing
Nothing says "come hither" quite like your cooch (or cock) on display in a lacy set of sexy crotchless lingerie. It's gloriously bold and takes your confidence to stunning, new sensual heights.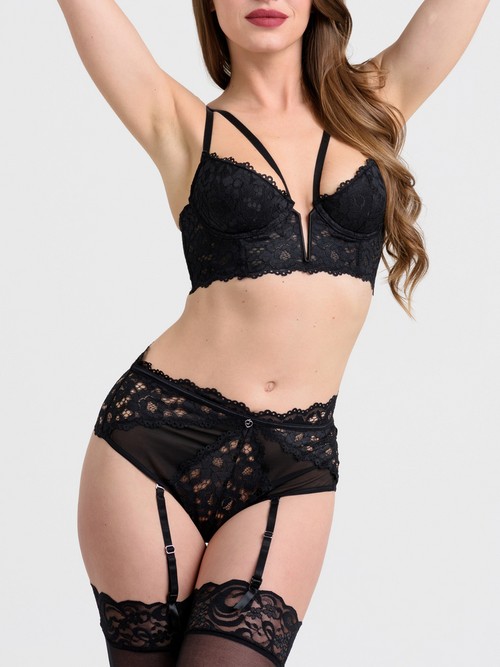 Lingerie is designed to accentuate your curves in all the right places so you can look and feel as good as possible in your own skin at any time. Whether you are wearing them under your clothes throughout the day or you've stripped down to just your crotchless undies for showtime at home, you are bound to be a sight to behold.
For a perfect day-to-all-night-long look, try the Lovehoney Parisienne Black Plunge Longline Bra and Crotchless Thong Set.
4. You can wear them for longer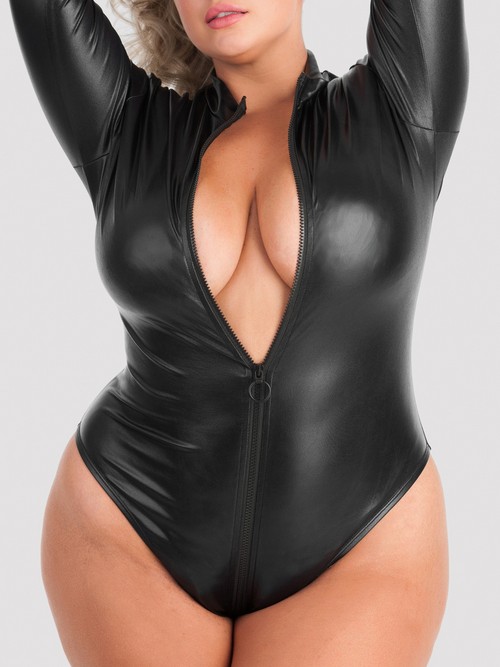 Sometimes there's nothing more disappointing than spending the money and getting all dressed up in a brand new lacy number just to have your partner take it off within 30 seconds of seeing it (because of course they will, look at you, you sexy minx). Crotchless lingerie means you can strut your stuff for as long as you like regardless of what fun things you're getting up to.
Take your time and let yourself and your partner soak up your seductively-clad form in all its glory. Opt for something more on the premium side like this zip-around wet look body and rest easy knowing you are savouring every last penny you spent on it.
5. There are heaps of styles to choose from
You can find so many different kinds of crotchless lingerie in Australia and Lovehoney has a massive range to suit any figure or desire. After a full body look? The Lovehoney Mindful ECONYL® Fishnet Crotchless Bodystocking features all the benefits of a racy, curve-hugging piece with the added perks of being a sexy crotchless lingerie set.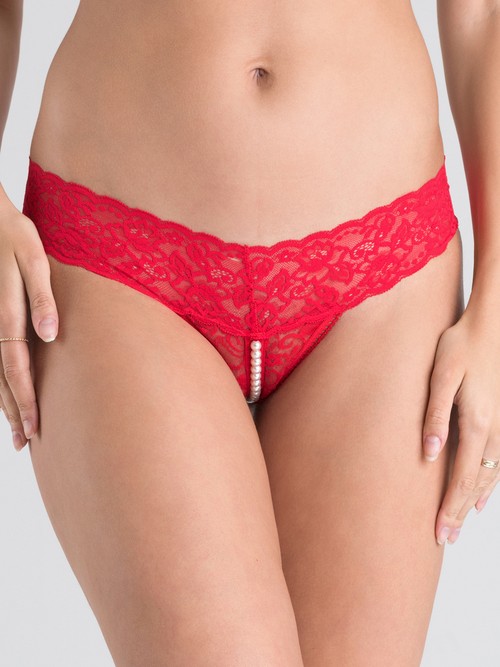 Want to add a little bit of juicy stimulation to your crotchless undie exploration? We have two words for you: pearl thong. Designed for people with a vulva, the smooth pearl beads on these ultra sensual knickers caress your love button as you move around and build anticipation before anyone has even touched you.
If the thought of a gaping hole around your flower sends you into a bit of tail spin but you still want to try your hand at some crotchless seduction, Lovehoney has a bunch of styles which feature more subtle openings. Try this sumptuous Lovehoney Moonlight Wine Crotchless Plunge Body and give your lover a surprise reveal they won't easily forget.