Finding 'The One' in Australia
Dating in the 21st century is certainly no easy feat, but when it comes to the first hurdle of meeting 'the one', how are we most likely to find them?

We surveyed Australians to uncover how couples across the country found their most recent partners and how their first interactions began. We also turned to Aussies to ask their opinions on: in a perfect world, where they would meet their match (and it's not all 'meet cutes') in order to help fellow singles on their journey to finding their perfect match.
How Australians are most likely to find 'the one'
There is a number of ways we can meet a partner, whether that's at a crowded bar or at work. But it seems as though it's our friends we should be keeping close! Our survey reveals being introduced to someone through a friend was the most successful match-making method, especially for women - with 13.3% of people (16% of women) having met their most recent partner this way. So when you're friend next introduces you to a stunning stranger, it might be time to think twice before passing them up.
However, it's not just our friends who are putting in the heavy lifting when it comes to playing cupid, as another 13.2% said their most recent relationship bloomed at work, which is great news for singletons with a soft spot for an office romance. It seems that men may be more partial to a workplace romance as they were found to be the most likely to meet their partner at work compared to anywhere else.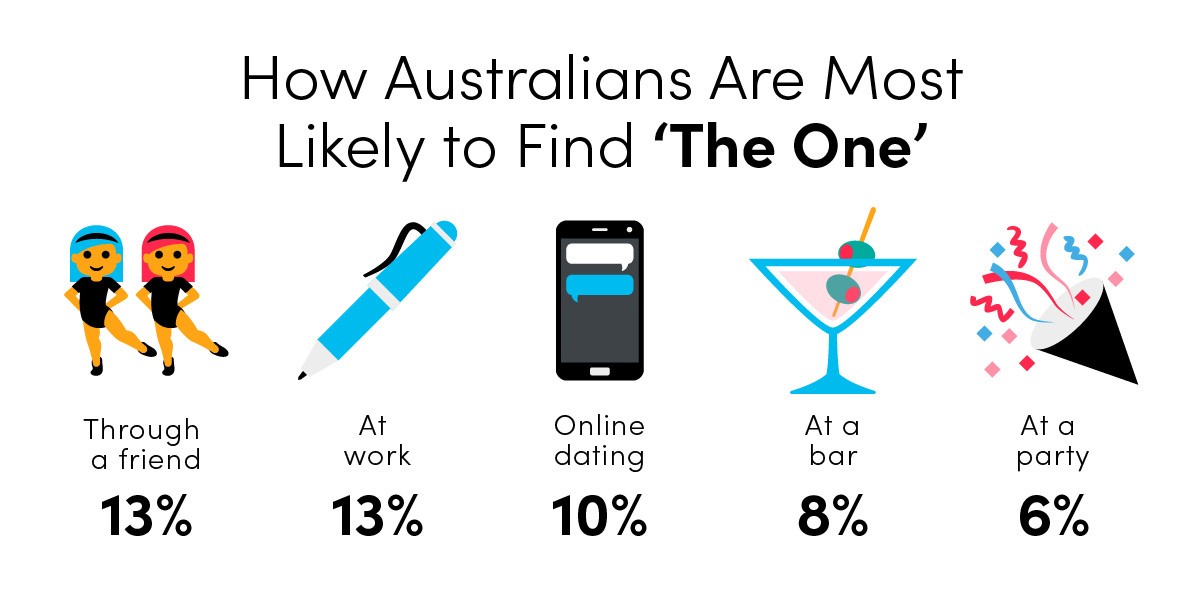 Though it may be thought that in the 21st century swiping left and right would land you with the greatest chance of finding a new love interest, surprisingly, less than 10% of the Australians we surveyed met their most recent romantic partner on an online dating app. However, for those who have, women were almost twice as likely to find their match on a dating app (11%) when compared to men (6%).
Our survey revealed the most common ways Australians are meeting their partners, but how does this differ from how they would actually like to have met them?
The answers from our survey were more than wholesome as being introduced through a mutual friend (15%) was found to be the most preferred way to find a partner. Interestingly, this aligns with how 13% of Australians actually met their most recent partner, so for many, the reality of dating in Australia mostly matches up with their expectations. After that, Australia's idea of the next best ways to meet a partner is at a party (7%), at work (7%), at a bar (6%), and at a club (4%) - so even though you might not want to meet your future partner at work, don't shy away from it, as they are twice as successful as you might imagine.
Finding the one based on your location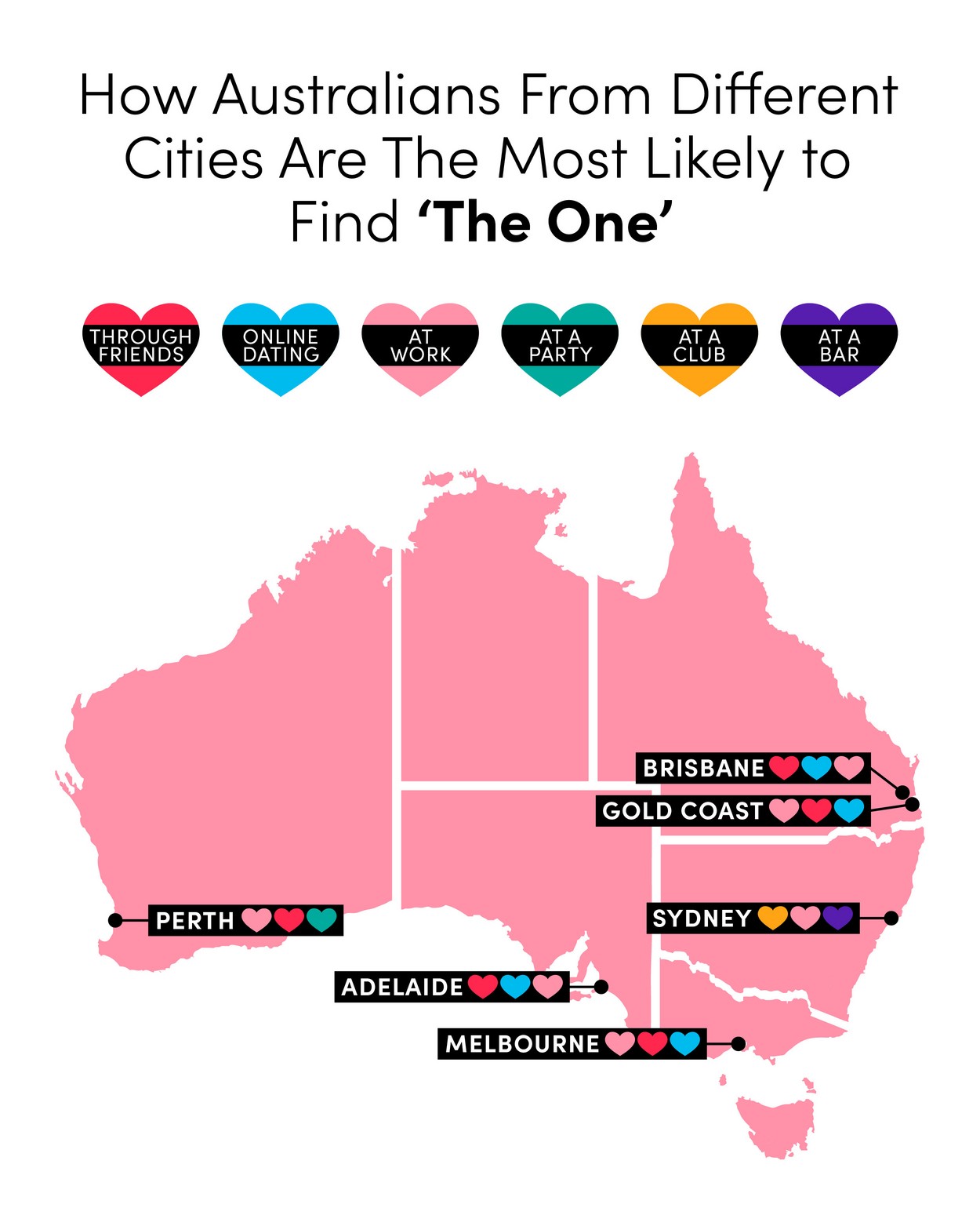 Our study found that the perfect place to find 'the one' varies depending on where you live. For those in Adelaide and Brisbane, introductions from friends top the list as the most common ways to meet a new love interest, whilst singles in the Gold Coast, Melbourne, and Perth have better luck building new relationships from a workplace romance.
Online dating is also popular in each of these cities except for Perth, where almost 10% met their most recent partner at a party.
How are Australians most likely to first interact with a partner?
Now we know where we are the most likely to meet our next partner, what will our first interaction be like?
Unfortunately, unlike the movies, not all of us are lucky enough to bump into our one true love in a crowded nightclub or bar. Instead, it was found that whether it's your nosy nan or out-there aunt, being introduced by a family member or friend (30%) was named the most likely way Australians first interact with a partner.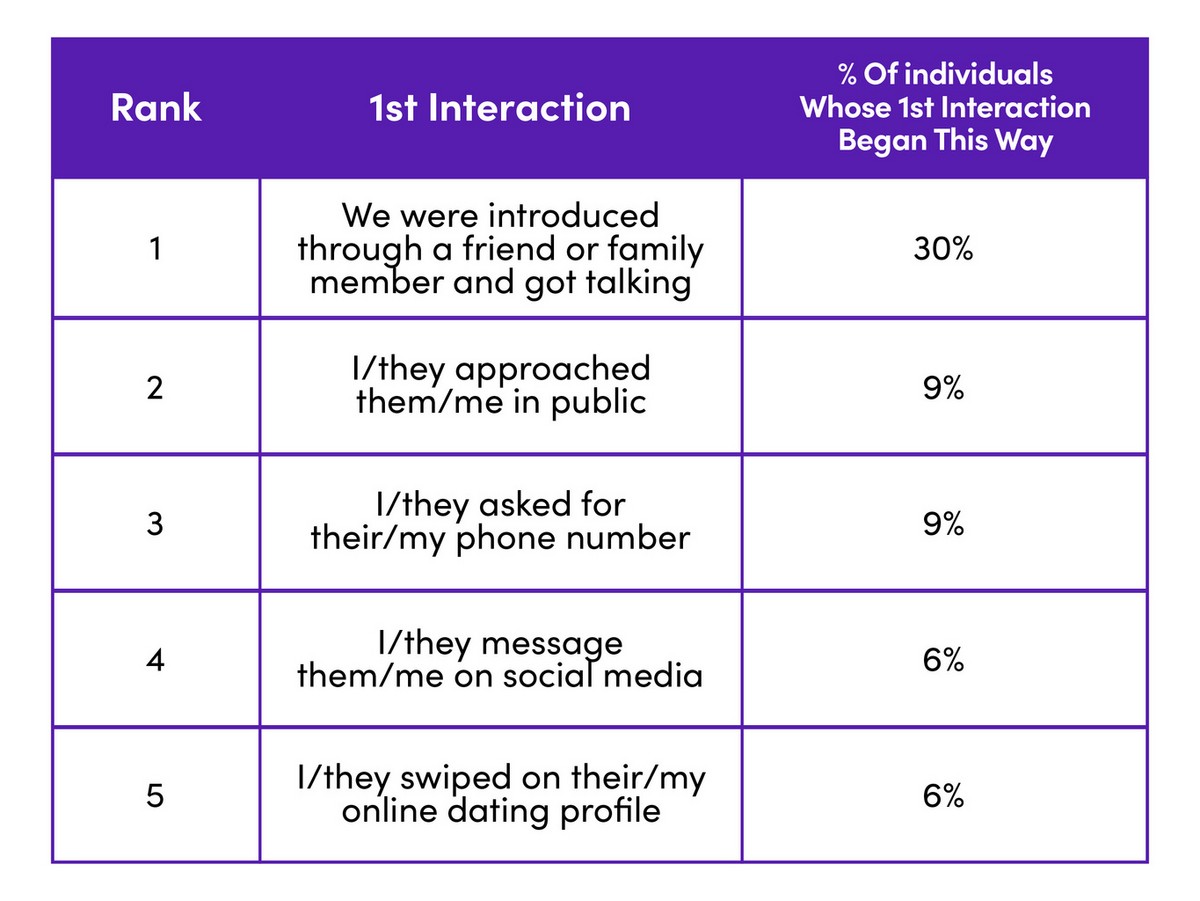 As this is the 21st century, it comes as no surprise that both asking or being asked for a phone number (9%) and social media (6%) also topped the list. However, it seems we are still all holding on to the thought of an old-school romance, as both of these tech-related first interactions were named the least desirable ways to first get talking to a new love interest.
This is bad news for singles who hope to find their soulmate by sliding in their DMs, with only 2% wanting their first interaction with a significant other to be a like on a social media post, and only 4% to be a message on social media.
Almost a quarter of Australians wait until their third date to have sex with a partner
So you've met a new love interest, and the first few interactions are going well - but how long do you wait to have sex?
It seems as though the third date rule is one of the most popular among Aussies as almost a quarter (22%) wait until this milestone before choosing to take things to the next level. Interestingly, our survey revealed that on average, women (7 dates) tend to wait longer than men (5 dates) to have sex with a new partner.
It's so important to wait until you feel ready, so whether that is after the first, third or tenth date, it can be a bit nerve-wracking getting intimate with a new partner for the first time. With this in mind, we have spoken with our resident sexologist Chantelle Otten for her top tips on having sex with a new partner for the first time.
1/ Communication is key
Communicate with your partner about what gives you pleasure either before sex, or during. This can be done through using verbal (telling your partner what you like) and non-verbal cues (such as moaning and body language) - feel confident to get a little playful and sexy with asking for what you like!
2/ Take it slow
There is no need to rush, unless it's a quickie… Often the first time we have sex with a partner can bring up some nerves. Take time to enjoy each other and work into sex rather than rushing to penetration - the foreplay and anticipation can be incredible too!
3/ Manage your expectations
Have realistic 'sexpectations' about sex for the first time with a new partner. Sometimes it can be great, and other times – not so great. That doesn't mean that it can't get better! You are both still learning about how to give and receive pleasure from a new person, and the journey can be a fun ride…
4/ Don't fake it
If you have found 'the one' and are looking to spice up your sex life, explore our range from strap-ons to butt plugs and bondage equipment for beginners.
Methodology:
The survey data in this study is based on a survey of 1,003 adults in Australia who were over the age of 18 and who have previously had sex. The survey took place in August 2022.
Gender splits are based on respondents choosing how they identify.
Expert:
Sexologist, Chantelle Otten