Common Lingerie Terms Explained
When it comes to lingerie, the term boning may be a little different to the boning you're familiar with... We're here to give you the A to Z of common lingerie terms so you know your fence net from your fishnet and your padded bra from your push-up bra.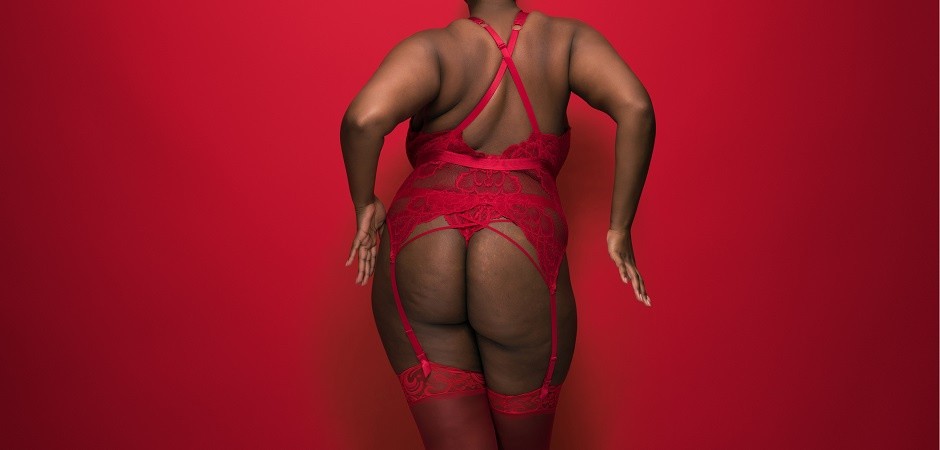 Balcony or balconette is used to describe the neckline of a bra, basque, or fitted piece of lingerie that covers the torso. Balcony or balconette bras sit straight across the top of the bust to give the illusion of a fuller-looking curve at the top of your chesticles.
Fantasy Curve Plus Size Underwired Longline Bra Set
Lovehoney Kiss Me Underwired Black Basque Set
You've heard of the LBD, but we think LBL (little black lingerie) is the wardrobe staple no seductress should be without. From the boob-boosting underwired lace bra and the sexy suspender briefs, getting that classic come-hither look is a piece of cake.
What customers say: "As a size 22 I was dubious....but the longline bra and High briefs appealed due to the coverage of the 'tum' so I ordered!!! I was not dissapointed and neither was my fiancée! The set is incredibly flattering, and made me feel super confident"
The band refers to the part of the bra that sits on either side of the cups and holds it against your body. Often used when it comes to sizing, the band size is the number at the start of your bra size, eg. _12_C.
Boning is the flexible strips of plastic or steel that are found in structured lingerie pieces, like a corset or basque. Steel boning is great for reducing the appearance of your waist, whereas plastic boning is incredible for smoothing the shape of your figure and holding the lingerie in place so it doesn't roll-up.
Bralettes are soft bras without padding or underwire that are perfect for providing support to small busts. Does this sound like a piece for you? Check out this gorge set:
Lovehoney Moonflower Emerald Green Lace Strappy Bra Set
Lovehoney Moonflower Emerald Green Lace Strappy Bra Set
Forget diamonds: emeralds are everybody's best friend – and this sheer, shimmering bra set from our Moonflower collection is the proof. The soft cup bra features cleavage-enhancing straps, while the cut-out thong puts your delicious derrière in full view.
What customers say: "Modern, fun and totally sexy. This bra set is a great with the beautiful lace and strap detailing. The front fastening opening is a nice touch with a plunging neckline adds that extra sauce and the high waisted thong with cut out detailing is really flattering. I wear this day to day also. Great investment piece"
The centre gore is the piece of fabric that sits in between the two cups on a bra. The wider this piece of fabric, the more supportive the bra is likely to be.
A cookie refers to the removable pieces of padding you find in some push-up bras.
Cups are the part of the bra that hugs your boobies to keep them nice and snug.
Demi cups are cups that expose most of the upper half of the breast. They sit on or just below the nip, flashing a bit of extra skin.
Denier refers to the thickness of the fibers used in nylon or silk and is often referred to when discussing hosiery. The higher the denier number the thicker the fabric and the less see-through it is.
Eyelash lace has a fringe of vertical stands along the hemline. Eyelash lace is perfect for creating a super glam boudoir look, as can be seen on this stunning set:
Oh La La Cheri Wine Eyelash Lace Bra Set
Oh La La Cheri Wine Eyelash Lace Bra Set
Wine down in this bra and knickers set. With curve-skimming high-waisted knickers and a matching bra, this dynamite duo may leave your lover feeling light-headed. Made from soft, wine-coloured fabric with an eyelash lace trim, it's perfect for seduction.
What customers say: "The fabric is soft and very comfortable throughout. I can't fault how this set has been produced at all.I enjoyed this set so much that I had a bit of a photo taking session in it and loved the results. One step closer to my gothic dominatrix dream"
Fence net is a stretchy, revealing fabric with diamond-shaped holes, not to be confused with…
Fishnet, which is similar to fence net but is made with a much narrower weave helping to shape the bod. You can't go past a heavenly pair of fishnet thigh highs:
Lovehoney Black Fishnet Lace Top Thigh High Stockings
Lovehoney Black Fishnet Lace Top Thigh High Stockings
Naomi Campbell might need to drop the attitude when you rock up in our thigh high stockings. Captivating fishnet climbs all the way up your legs to elongating effect, eventually reaching lace tops that rest just beneath your bottom.
What customers say: "I love fishnet stockings and these certainly did not disappoint. Affordable, yet great quality. Plus they look very sexy on"
Galloon lace is an intricately embroidered lace, often featured in intimates.
Georgette is a lightweight floaty sheer fabric that skims over the figure and is generally made from silk so it's super luxe.
A gusset refers to the piece of fabric that sits in between your legs in a pair of knickers. As this fabric is up close and personal with your intimate area we suggest choosing pieces with cotton gussets as it's best for your bits!
Hosiery is the collective term for tights, stockings, and hold-ups, or anything that covers your feet and your legs. Hosiery does not include leggings as they don't cover your feet. Simples!
A longline bra refers to any style of bra with extra fabric underneath the wiring. The longer cut of the bra is perfect for shaping your torso from bust to waist. Have a gander at this beauty:
Lovehoney Plus Size Front-Fastening Satin Longline Bra Black
Lovehoney Plus Size Front-Fastening Satin Longline Bra Black
$30.00
$44.95
You save:
$14.95 (33%)
Sleek black satin, a retro-inspired longline shape, and a salacious front zip mean that our lush longline bra is set to become a serious contender for sexiest bra of the year. Plus, the underwired half-cups and stretch satin make it super-comfy, too.
What customers say: "Extremely comfortable, extremely sexy. it's a win-win! love this product"
Mesh is a finely woven sheer fabric with lots of teenie tiny holes, almost like a much finer version of fishnet.
Microfiber is any fabric made from super-fine synthetic fibers that give a stretchy finish.
Nipple pasties are decorative bits of fabric that sit over the nips. Add a tassel and you've got yourself a nipple tassel!
Padded bra cups hold their shape without needing a melon in them, not to be confused with…
Lovehoney Flirty Underwired Plunge Bra Red
Lovehoney Flirty Underwired Plunge Bra Red
$19.96
$24.95
You save:
$4.99 (20%)
Not only will any red-blooded lover adore the seductive scarlet lace of our flattering Flirty bra, but you'll fall head over heels for its comfy, cushioned design. Padded half-cups and a plunge neckline accentuate your cleavage under or out of clothes.
What customers say: "Bought this and a nice little pair of frenchies to give my fella a little treat... I was the one getting the treat 🥰 defo worth the money. The sizing was good and the look on his face was priceless"
Push-up bras, which feature extra padding to give the illusion of a fuller-looking cleave. Who could say no to a little enhancement for the bubs?
Lovehoney Love Me Lace Push-Up Bra
Lovehoney Love Me Lace Push-Up Bra
$25.00
$32.95
You save:
$7.95 (24%)
With its plunge shape, foam padding and underwired support, your cups will most definitely runneth over in our Love Me bra. Whether you're looking for a sexy bra to complete your bedroom outfit or a secret everyday boost, its moulded cups are ideal.
What customers say: "Have to say this bra is fabulous. My boobs look like they did when I was in my 20's. Lots of compliments when wearing"
Picot trim is the tiny loops of elastic that you often find on the hem of your knickers.
Plunge refers to a v-shaped neckline. A plunge cut shows the inner curve of your cleave, unlike a balcony cut which enhances the upper curve.
Lovehoney Plus Size Parisienne Wine Lace Plunge Chemise
Lovehoney Plus Size Parisienne Wine Lace Plunge Chemise
$40.00
$74.95
You save:
$34.95 (47%)
Your lover will want to savour each and every inch of you in this beguiling burgundy chemise. A blend of sheer mesh and lace with underwired cups and a vampish V line, it slides over your curves, smoothing your body and spotlighting your best bits.
What customers say: "Fits absolutely amazing everything is neatly tucked in and what needs to be out is out. You won't be disappointed"
Racerback refers to any style of top where the straps pass in between the middle of the shoulder blades, rather than through the shoulder like a traditional bra.
Satin refers to how a fabric is woven, rather than the fabric itself. It can be made of synthetic materials like polyester or nylon.
Silk, not to be confused with satin, is a distinct natural fiber that is derived from silkworms.
Scalloped trim the name of the curved hem found on some styles of lingerie.
Sliders are the small metal or plastic loops found on bra straps, garter straps, or suspender straps that are used to adjust the length of the piece.
The welt is the thicker band of fabric that sits around the top of the thigh on stocking and hold-ups.
Lapdance Fishnet Thigh Highs
Lapdance Fishnet Thigh Highs
If there's every a garment that screams 'sex goddess', it's a pair of thigh-high fishnet stockings. These sultry numbers from Lapdance feature the classic flattering fishnet weave alongside a plain top that's ideal for clipping to garters.
What customers say: "The materials are strong and comfy to wear causing no irritation. Looks wise they are 10 out of 10 and a perfect piece to add to any sexy outfit for the bedroom"