How to Use an Anal Vibrator
Anal vibrators are vibrating toys designed for use in the anus. Anal vibrators come in a wide variety of shapes and sizes and can be used by anyone with an anus to stimulate the rear's sensitive internal and external nerve endings.
Many anal vibes are curved to stimulate the prostate gland (or 'P-spot'), making them especially pleasurable for men. Others include textures for external stimulation of the perineum, and some can even be operated via remote control.
Toys for anal play should always feature flared bases or finger loops so they're safe to use in the butt. Many anal vibrators start with a tapered head to help ease insertion, and it's always best to use plenty of anal lubricant like Lovehoney Discover Water-Base Anal Lube when playing with an anal toy.
Other toys like butt plugs and anal beads can also vibrate, so why not see if a vibrating version of your favourite anal toy exists?
---
Our Customer Favourites
Best Anal Vibrator: Butt Plug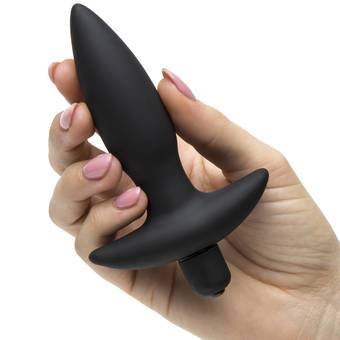 Stimulate sensitive nerve-endings and indulge in the smooth, petite curves of our Lovehoney Butt Tingler 10 Function T-bar butt plug vibrator. With a slender, graduating bulb, 3.5 inch maximum girth and tapered tip, it's an ideal toy for first-time anal play.
Also available in 4 Inch and 4.5 Inch lengths.
Here's what our customers have to say...
Once inserted, I pushed the little on button and BOOM! What a surprise! - DrPleasure
Anyone considering trying anal play really should take the plunge and buy this product! - Black Butler
Take a look at our Vibrating Butt Plugs section for lots of other anal play options.
---
Best Anal Vibrator: Prostate Pleasure
Premium prostate massage is yours with the Mantric Rechargeable Remote Control Prostate Vibrator. A silken silicone shaft is curved to deliver intense P-spot pleasure, while the flared, cushioned and textured base massages the perineum for added external stimulation.
Here's what our customers have to say...
I have tried other anal toys and butt plugs but this - this takes the cake! - castle2017
Honestly, this may be one of the best things I have ever spent my money on. You should definitely take a chance and get one of these, you won't regret it. - br4ssb0x
Take a look at our Anal Vibrators section for other exquisite anal play options.
---
Best Anal Vibrator: For Couples
You'd be one penis short of a pleasure picnic not to indulge in the Lovehoney Double Fun Vibrating Rabbit Double Penetration Strap-On, with soft ears to tickle her clit, a double cock and ball ring to enhance his pleasure, and an extra anal penetrator to really give you bang for your buck.
Here's what our customers have to say...
Her exact words: "OMG that thing is crazy!" Now my favourite toy. - FreakyG
The vibrations provide good orgasms for both partners, so I definitely think that it was a good purchase. - Miss B x
Take a look at our Double Penetration Strap Ons section for more anal play options to explore with a partner.
---
Best Anal Vibrator: Kit
The Lovehoney Bumper Booty Bundle Anal Sex Toy Kit (6 Piece) has everything you need to add a thrilling new dimension to your sex life. Amazing value for money and the perfect gift to each other, the kit includes customer-fave butt plugs, anal beads, a prostate toy and more.
The kit includes a powerful bullet vibrator, which you can pair with the toys to get you and your partner buzzing. Plus, one of the most pleasurable things about this kit is the fact that you save a chunky 47%, compared to buying each toy separately.
Here's what our customers have to say...
It will get you/your partner looking at you intensely wide eyed as to ask where that power came from. - GeOrGeLc
Young and old, male or female, there is a great deal of pleasure derived from this delightful box. Go on. Give it a try. You know you want to. - Capnsi
---
Above: Need some assistance stimulating the prostate? Sammi Cole explains it all in our handy video guide.
---
Above: Want to know all about anal sex? Jess Wilde and Sammi Cole are here to help!
---
Need more help?
You can Contact Customer Care, who will be able to help you find the perfect anal sex toy. You can email, telephone or live chat to an experienced advisor 24/7.
---
You may also like