7 of the Best Sexy Secret Santa Gifts
Being part of a Secret Santa is that much more fun if the presents are sexy.
No one really wants novelty socks or cheap-smelling hand cream when they could be getting the gift of an orgasm instead!
Secret Santa doesn't have to be a tat-filled snooze fest. Give the gift of sexual happiness to your nearest and dearest this year instead!
Here are 7 of the best sexy secret Santa gifts you can give to people you care about this Christmas.
---
Silent Night
If you're planning to gift someone a sex toy, you can't go wrong with a bullet vibrator!
We've picked out a discreet Secret Santa present that packs a powerful punch.
Not only is the Tracy Cox Supersex Bullet Vibrator under $25, but it's whisper quiet (a perfect buy for anyone headed home to a house full of extended relatives this December!).
---
Carols by Candlelight
This just may be the ultimate stealth gift. To the rest of the group, it just looks like your Secret Santa got a normal candle. But that's where they'd be wrong!
There's no better way to tap into that Yuletide feeling then by lighting the DONA Flirty Blushing Berry Pheromone Massage Candle.
Ambience, a delectable scent and an indulgent massage all for under $20 – now that's a Christmas miracle!
---
'Tis the Season to Get Lucky
Playing party games is a big part of the Christmas season, so why not take that tradition and give it an X-rated twist?
Cheeky gifts like the best-selling adult boardgame Nooki make for perfect Secret Santa gifts.
Check out Sexy Games – you're bound to find a pastime that's perfect.
---
Naughty or Nice
Your Secret Santa will be feeling festive and foxy when they unwrap these playful little panties. Sure, we've called it The Night Before Christmas Bikini, but that doesn't mean you have to wait until the 24th of December to flaunt it. With the soft velour cups and the barely-there thong, this is one your Secret Santa will want to rip open ASAP.
The Lovehoney Slay Belle Christmas Pom-Pom Knickers Bauble is a gift of many talents, in that can take pride of place on the tree until its new owner is ready to show off its contents.
---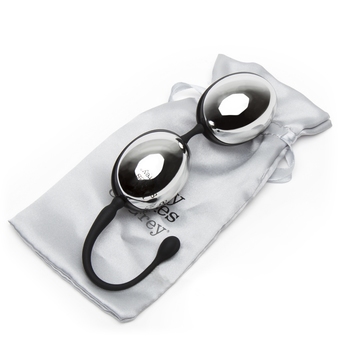 Jiggle All the Way
You've heard the Christmas tune 'Silver Bells'? Well, get ready for Silver Balls!
The Fifty Shades of Grey Inner Goddess Silver Jiggle Balls are an ideal gift for fans of steamy series and, importantly, they're beginner-friendly.
If you've feeling extra-generous, team these jiggle balls with some Lovehoney Enjoy Water Based Lubricant and you've got yourself a Christmas Care Package ready to go!
---
That's the Jingle Bell Lock
Well, they do say you should buy people gifts they wouldn't get for themselves.
It's not that easy to lock yourself up, so a pair of Lovehoney Red Furry Handcuffs will undoubtedly be well received by your Secret Santa.
With two sets of keys and a quick-release lever, there will be peace on earth and peace of mind this Christmas season.
---
I Wanna Wish You A Merry Christmas (From the Bottom of My Heart)
We're so busy stuffing our faces during silly season that we can end up neglecting other orifices!
The Lovehoney Classic Silicone Beginner's Butt Plug is another sex toy that's made for Secret Santa.
Under $20, compact and non-intimidating, this classic butt plug has a slender neck, tapered tip and a flared base (because safety first ok?)
---
Audrey Andrews is a student blogger for Lovehoney. In her spare time she loves to do craft, but would not advise knitting your own condoms.

---
You may also like: