10 Ways to Embrace Your Inner Femdom
Firstly, let me get one thing out of the way – if you've come here to learn about 'femidoms', you've got the wrong article. "Femdom" is a BDSM term used to describe a female dominant or 'top' partner.
Femdoms may enjoy having their submissive partner call them "Mistress", or they may prefer to refer to themselves as "Dominatrix" or "Domme". They may not call themselves anything at all – the point is that many women take great pleasure in ruling supreme between the sheets.
If you get a kick out of being the lady in charge, maybe it's time to embrace your inner Domme. Of course, the best thing about exploring any new kink or fetish is that you don't have to dive straight in the deep end.
There are plenty of X-rated activities you can partake in that range from the saucy and the sensual to the down-right dirty and dominant.
If your inner Femdom is aching to make her debut, don't deny her a minute longer! Use any of the above 10 tips to embrace your dominant nature and you'll be BDSM-ing with the best of them in no time.
---
1. Eyes Wide Shut
If you're looking to test the waters, blindfolding your lover might be the way to go.
Non-intimidating and a great example of soft BDSM, a blindfold adjusts the playing field ever so slightly.
While your partner lies in the darkness, aching for your touch, you'll be enjoying the uninterrupted view.
Try: Bondage Boutique Black Rose Faux Fur Lined Blindfold
---
2. Indulge in Worship
Body worship is another perfect introductory activity for those getting touch with their inner Dom.
The submissive partner shows their adoration for the dominant partner's body (or even just one part of their body, like their feet), by kissing, sucking, licking – whatever pleases the dominant partner.
The Femdom can lie there like a goddess, soaking up the attention they so obviously deserve, or they can reinforce the sub's acts of worship by praising or punishing them.
---
3. Tied Up In Knots
One way to coax your inner Femdom out is with bondage. There is plenty of room for creativity, and it's up to you and your partner how far you decide to take it.
For the uninitiated or inexperienced, bondage can seem intimidating at face value. But you don't have to convert your garage into a Fifty Shades of Grey-style Red Room straight away.
Start off with some simple restraints before you graduate to hog-tying your lover.
Try: Lovehoney Silky Black Bondage Restraints (4 Pack)
---
4. Spank You Very Much
Spanking is another activity that can be adapted accordingly to your desires.
Some couples consider it borderline vanilla, while others may consider it the height of kink. If you've never spanked someone before, we've got you covered.
Check out How to Spank Properly if you want to whip your sub into a frenzy.
Try: The Sex & Mischief Slapper Paddle
---
5. Let's Get Sissy With It!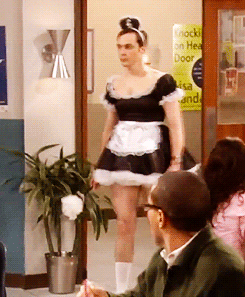 Sissy play is an ideal way to enhance the power exchange.
Whether you and your partner find the humiliation aspect of sissy play enticing, or it's more about the role reversal and the gender-bending side of it, playing Adults Only dress up can be incredibly liberating.
Read up on sissy play here.
---
6. You're a PEGGA-SUS
Pegging – when a woman with a strap-on, with a dildo, penetrates a man – has "Femdom" written all over it.
Thanks to this generation's push-back against rigid gender roles, pegging is really having a moment. But is it really that surprising?
All power dynamics aside, prostate stimulation feels incredible and can be enjoyed no matter your sexual orientation. Then, when you throw in the fact that pegging puts the woman smack bang in the driver's seat, you can see why so many couples are getting their peg on!
For a thorough explanation, check out our guide, Why Do People Love Pegging?
---
7. Clothes Maketh The Femdom
Ok, clothes don't really make the Femdom, but they can certainly help!
Fetish clothing can instantly change your mindset from that of your regular 9-to-5 self to a latex-clad, dominant Queen of Carnal Delights.
It also signals to your submissive partner that there's a new sheriff in town!
Shop the Fetish Clothing range to get your Domme on.
---
8. Silence is Golden
Silence is golden, and boy can it serve to enhance the power dynamic!
Gagging your submissive is super symbolic. By taking away their voice, you're assuming control of the situation.
Remember, though, the sub is the one who's really in control, and should consent to everything that happens.
You'll need to swap your 'safe word' for a 'safe gesture' instead, like tapping or clicking, but it'll be worth it.
Try: Bondage Boutique Black Rose Silicone Ball Gag
---
9. Chastity Rules, OK?
What could be more dominant putting your partner's sex on lockdown? You'll have your submissive begging for sweet relief in no time at all with the help of a cock cage or chastity belt.
I would say "lock them up and throw away the key", but that could end up being quite problematic once the fun and games are over.
Maybe just throw the key gently onto a well-lit spot on your bed side table instead...
Try: Anything from Lovehoney's Chastity Devices range
---
10. Pleasure and Pain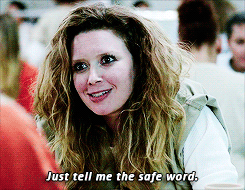 A bit of cock and ball torture never hurt anyone.... well, that's a lie, but a little bit of pain is kind of the point!
As long as you and your partner have clear boundaries and safe words, you're free to be as authoritative as you like.
Try: DOMINIX Deluxe Leather Ball Strap with Lead
---
Audrey Andrews is a student blogger for Lovehoney. In her spare time she loves to do craft, but would not advise knitting your own condoms.
---
You may also like: