Why You Should Try a TENGA Egg
If you've never tried a TENGA Egg, read on to find out what is a TENGA Egg and how to use a TENGA Egg.
The five knuckle shuffle, painting the pickle, polishing the rocket - they're all time-honoured euphemisms for male masturbation. But there should be more to your solitary sex life than beating the meat the same old way with the same old hand. You owe it to yourself to jazz up your manual override sessions.
There's a ton of sex toys for blokes to put the sizzle into your sausage and nearly 100 different male masturbators in Lovehoney's collection. Each and every one has something to recommend it.
For now, read this TENGA Egg review to discover why you should try a TENGA Egg male masturbator.
What is a TENGA Egg?
TENGA is a Japanese sex toy maker who do things differently. We've got around 20 amazing sex toys made by TENGA and some of their inventions look more like sculptures than sex toys.
Thinking outside the box is absolutely their approach. So we weren't surprised when they came up with a sex toy that looks like a beautifully wrapped Easter egg.
Once you peel off the wrapping, you've got a hard-shelled plastic egg in your hot little hands. Open up this packing case and find the real treasure inside - a soft, squishable inner egg made of super stretchy elastomer.
Meet your TENGA Egg male masturbator.
You'll also find some instructions and a sachet of lube discreetly tucked into the hollow. Pull that out.
Peer into the hollow to see that your TENGA Egg is lined with an array of textures. This internal ribbing varies with each egg and is designed to deliver a wide range of sensations.
How to use a TENGA Egg
TENGA Egg use is very simple. Yet you can ring the changes to customise your TENGA Egg for your own pleasure.
To begin, apply the supplied lube generously to the inside hollow of your TENGA Egg. For good measure, whack some on the end of your wang. Pinch the tip of the TENGA Egg, like a condom, then place the TENGA Egg on the end of your donger and slip it on.
Wow. It should feel good, but you're just getting started. Like a condom, the TENGA Egg will stretch all the way to accommodate your old fella, no matter how big or small it is. One size fits all. Give it a stretch to see the full measure of the TENGA Egg's stretchability.
You may choose to go straight for the steady stroke, cranking the shank technique. Full marks for the tried-and-true approach.
Or, now that you have a new sex toy at your disposal, you could experiment with some new methods. Try twisting the TENGA Egg around the top of your doodle - that's a sensation you're unlikely to get with an arse or vagina, even if your lover is a spinner.
If you combine the twisting motion with an up-and-down move, you'll achieve a kind of spiral swirling. This can be very pleasurable.
Lastly, who said you had to wrap your big mitt around the TENGA Egg? Why not try using just your fingertips, making delicate or strong individual moves with your fingers on the sensitive tip of your wedding tackle?
What is the best TENGA Egg?
The question of what is the best TENGA Egg will never be resolved. That's because every bloke is different and we believe in different strokes for different folks here at Lovehoney.
But the good people at TENGA have produced a series of TENGA Eggs - some say 13, some 15, even 23 types have been rumoured to exist.
We currently stock two of the best. Demand more and we'll supply them.
TENGA Egg Wavy Textured Male Masturbator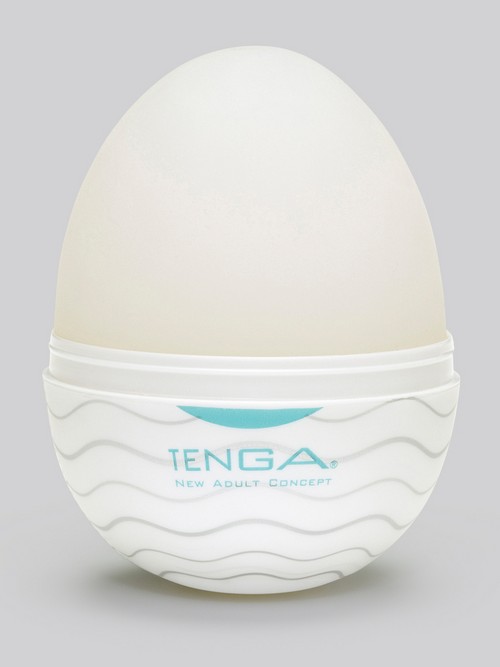 The Wavy TENGA Egg comes with an inner ribbing of thick ridges in a wave pattern. It's been described by some as the most intense TENGA Egg. Others report that it's a customer fave because the contours feel like a vagina or anus.
Still more suggest that it's the best toy for simulating a blowjob. Add in a twisting motion during use to replicate the movement of a tongue around your schlong. Suffice to say, if a range of blokes are getting their jollies from sensations ranging from vagina to anus to mouth, this TENGA Egg could be the best TENGA Egg out there.
TENGA Egg Lovers Heart Textured Male Masturbator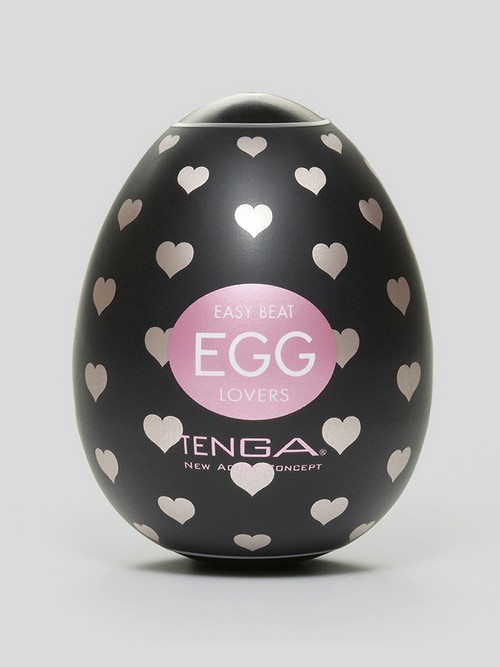 Could the Lovers Heart be the best TENGA Egg? It probably is for all you romantics out there. Coming in a heart-shaped case, this is a terrific Valentine gift or romantic prezzie for a weekend away or romantic nights in.
The inner sleeve is covered in cute heart shapes to give you intense stimulation of the joystick at the same time as stimulating your relationship. That's because the TENGA Egg makes a terrific couples toy. Your partner can use the toy on you to elevate spanking the monkey to coupled bliss. Read on for more surprises…
Can women use TENGA Eggs?
Absolutely. And if you are coupled up, surprise her by turning your TENGA Egg inside out. Now those heavenly textures are on the outside of the toy. Add some lube to the outside, slip your fingers inside and gently apply the TENGA Egg to her love button. You'll soon discover the hidden potential of TENGA Egg use.
Want more fun? Slip a bullet vibe into the egg. That will deliver brand new sensations. Or you could even slide the inside-out TENGA Egg over a wand vibrator or any dildo vibrator.
Give one of these a creative workout and then send us your TENGA Egg review.
Are TENGA Eggs reusable?
The question is: is a TENGA Egg reusable? TENGA designed them as single-use, disposable toys. But many users report multiple uses of their TENGA Eggs without any problem. It all comes down to the care you take with them in use and during cleaning.
One option is to wear a condom, or avoid ejaculating into the TENGA Egg, but we think that rather defeats the purpose.
To clean them, simply turn them inside out and rinse them well under a tap to eliminate the lube. Then spray with a toy cleaner and set aside to dry. Replace it in its case once dry.
You'll need some good water-based lubricant for your next sesh. Avoid using silicone lube as the egg material can react and break down.
Some users report using a TENGA Egg three to five times within a week or so before disposing of it. Long-term storage after use is not advised.
Lovehoney recommends you follow the manufacturer's instructions for use and disposal to achieve the best possible TENGA Egg experience.
Why Are TENGA Eggs loveable?
TENGA Eggs are great for solo or couple play. They can be used by males and females alike. Being inexpensive, you can throw them away and not worry, or clean them a few times to reuse. They're small enough to hide in a sock and carry when travelling.
The TENGA Egg looks innocent, like an Easter egg, so they won't scare anyone who finds them. They come in a wide range of textures and sensations to please everyone. Containing their own lube is convenient, and containing your spunk is a bonus.
What's not to love about TENGA Eggs?
You May Also Be Interested In
More Sexual Happiness Advice
You can never know enough about sex, right? Join us on our sexploration journey via the thriving Lovehoney forum, our weekly Sexual Happiness podcast and our blog.