How to Use a Fleshlight
Kiss carpal tunnel goodbye and indulge in a toy that'll treat your willy right.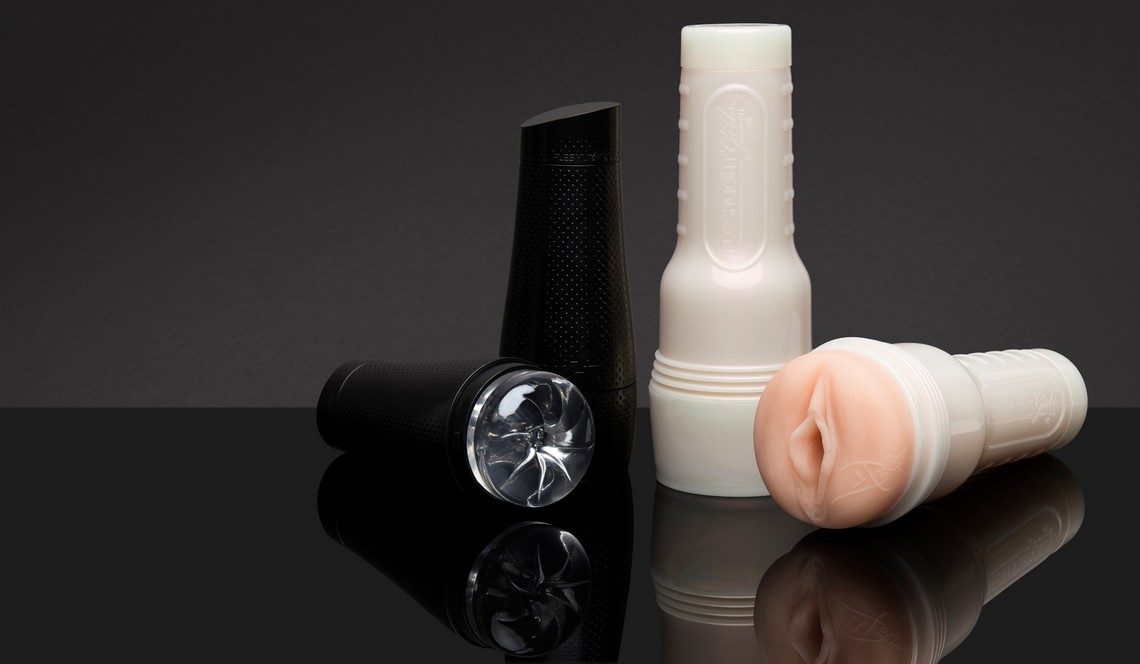 A lot of people foolishly think, "I've got my hands already - what is a Fleshlight good for?". Well, let us tell you something: those people are missing out, big time. The Fleshlight is the world's top-selling male sex toy for a reason.
At Lovehoney, we're all about amping up your pleasure. Why would you want to settle for second best? Designed to enhance your solo time tenfold, the Fleshlight is truly man's best friend. If you're going to be jerkin' it anyways, you might as well have the best jerk of your life.
What does a Fleshlight feel like?
Made from an ultra-realistic feeling material dubbed SuperSkin, Fleshlights have one goal in mind - to create a sensation that feels as real as it gets. With a variety of textures available, your Fleshlight can replicate the feeling of a real live vajingo or patootie, or create a whole new sensation all together. Whatever floats your boat!
Good old-fashioned hands can only go so far. Why not invest in something a little higher tech? Specifically designed with your pleasure in mind, using a Fleshlight is truly one of those feelings that you'll never understand until you try it out for yourself. And take it from us: you won't regret it.
So, we convinced you. You've thrashed the plastic and bought one. Now how are you supposed to use this thing? Although it might seem intuitive (you just put your peen in it, don't you?), we've got a few expert tricks and tips that will up the ante and help you get the most Fleshlight fun out of your new toy.
What is a Fleshlight?
Fleshlights are made to level-up male masturbation. They are basically a super-soft and gooey chasm that you put your dong inside and stroke away to your heart's content.
Designed to be discreet, Fleshlights come in a sturdy plastic casing that looks kinda like a torch (or a flashlight… get it?). If you're looking for a toy to keep near your bed that won't startle Aunt Sheila when she sees it, a Fleshlight is a great choice.
The best part about the Fleshlight is that it can take a variety of different inserts that'll create a whole new world of sensation. These silky wonders are designed to simulate the feeling of sexual penetration of a real human. The tightness level is just right, and they're made to create a sucky-sucky suction on the inside. At the entrance, the insert has a mouth, vagina or anus design, and the Fleshlight insert interior is soft, pliable, and (in some models) ribbed for extra stimulation. Plus, you can even get inserts that look and feel like your favourite porn star! Fulfil those fantasies, my friends.
Lovehoney customers say:
"The internal texture of the Flight has to be one of my favourites so far. What impressed me is that you can actually feel each section individually." - Incendiair
Our guide to using a Fleshlight
1. Warm it up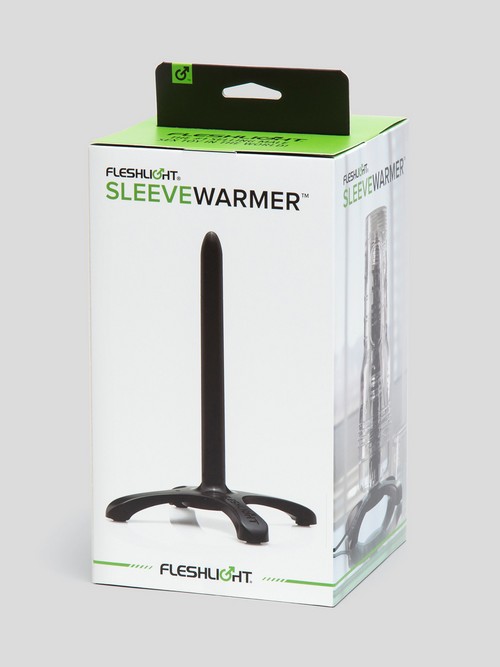 At Lovehoney, we've read the forums and we reckon the best trick for making your Fleshlight feel like a truly lifelike simulation is to warm that baby up first.
To do so, remove the Fleshlight insert from the case and submerge it in warm water. Once the sleeve is your desired temperature (AKA not so hot it will burn up your junk), shake off the water and slip the Fleshlight insert into the plastic case.
Alternatively, you could also stick some ice cubes in your device to get it really cold if you've got a little Frosty the Snowman kink. Hey, we're not here to judge! (Although it might not be the most comfortable experience.)
For the tech-savvy among us, there's a handy accessory you can buy to do the same job. The Fleshlight USB-Powered Warming Rod reaches 55ºC in 10-15 minutes. Toss your Fleshlight on the rod, load up your naughty video on the TV, and it'll be ready in no time for a quick pump. The rod is also discreet enough that Uncle Bernie might think it's your modem, so leaving it next to your computer won't raise any suspicions.
Lovehoney customers say:
"I think the pre-heating was an essential part of the preparation. If I was blindfolded and someone had used this on me, I would have no idea that it was a toy." - Blake3393
2. Lube it up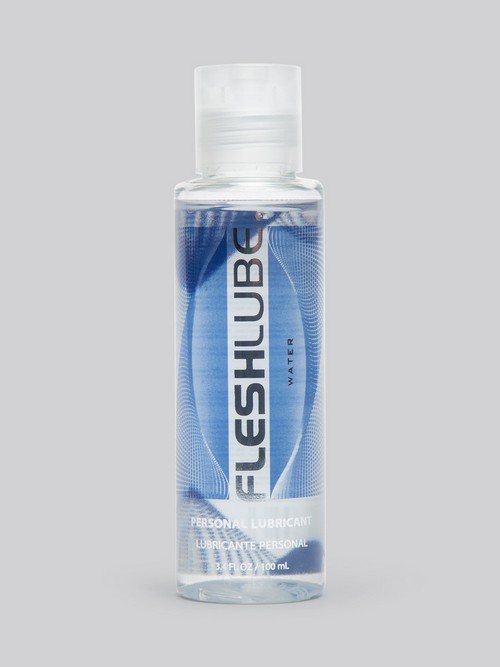 Just as things go better with Coke, sex goes better with lube. There's nothing worse than putting your treasured penis into an uninviting environment, so make sure you get it all goopy and glidey by applying a generous amount of water-based lubricant to your Fleshlight insert and outer sleeve's entrance. Also, whack some lube on your wang to make the most of your Fleshlight fun.
When you're using lube with sex toys, it's important that the type of lube is compatible with the sex toy material so you don't cause any damage to your new toy. Sometimes oil and silicone lubes can react with your sex toy in a not-so-fun way. Water-based lubricants are usually the best bet, but double check the box to make sure. The ultimate lube for your toy is the Fleshlight Fleshlube Water-based Lubricant.
Lovehoney customers say:
"I love this lube. It's just great, especially when it comes to use with Fleshlight products. It feels nice and it's worth the price. Last long and is even better when you have great amounts." - fundreamz100
3. Penetrate and thrust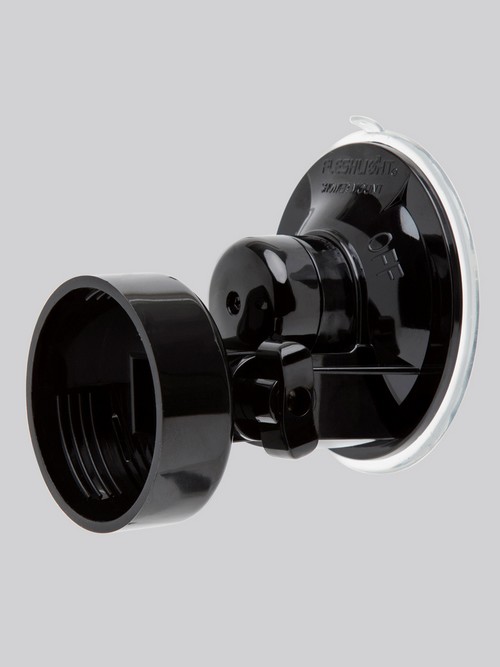 Now that you're oiled up like Arnold Schwarzenegger, it's time to do the deed and devirginise your beloved Fleshlight. Over to you, mate, to find the speed and rhythm that feels just right. Try in and outs, up and downs, or even a little twisteroo - whatever makes your clock tick.
If you're enjoying yourself so far, we recommend adding a little more spice to your solo session by sticking a bullet vibrator into the end of your Fleshlight. The added vibrations will change the game, creating a unique feeling in your tip and urging you to plunge in deeper. For many, this can help add an extra kick to the usual Fleshlight orgasm.
One of the beautiful things about a masturbation sleeve is that it gives your hands a well-deserved break. Why not step your J-O game up a notch by hooking your Fleshlight up to the Hands-Free Adaptor? The super powerful suction cup allows you to stick it to any smooth surface. We recommend putting it in your shower for a hands-free, wet-and-wild pump sesh. But really, any handy surface is your oyster, chaps, so take full advantage of the versatility of this toy.
Lovehoney customers say:
"I have a nice small vibrator that I put in the other end and it makes the orgasm strength out of this world." - GoodSir
4. Bring in a partner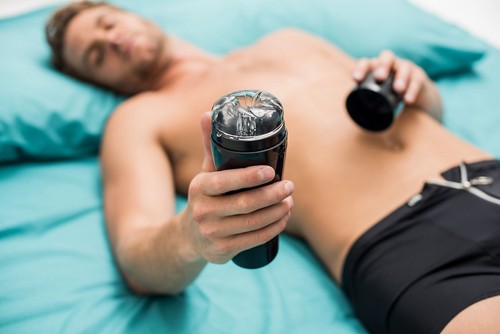 When people think of a Fleshlight, it's usually the masturbation station that first comes to mind. But believe me when I tell you that your partner will look at you with otherworldly adoration and awe if you unleash one of these bad boys on them in the bedroom.
There are a trillion ways to incorporate your Fleshlight with a partner. It's a great Valentine's gift for a curious lover, a wonderful addition to the little black box under your bed, and it can also help to close the gap for couples in long-distance relationships.
Try using a Fleshlight to amp up your foreplay game. Many of our Fleshlight forum customers report that Fleshlights are a bonza way to get the party started with a partner. Test it out in your next 69 scenario before getting started with the real thing.
Giving it to your better half to use on you is another way to have Fleshlight fun. Toys add a novel element to sex and can switch up your usual routine and boost your jollies. To turn up the kink, blindfold your partner and then stroke them with a warmed-up Fleshlight on them. It'll be a new sensation that they will never forget.
The only thing to keep in mind when you bring a Fleshlight into the bedroom with another person is that sometimes it can be, uh, too good.
If you find yourself reaching the finish line a little too early when you're playing with both your partner and a Fleshlight, putting on a cock ring can help to prolong your boner and prevent you from busting too quickly. Plus, it'll make you extra hard and extra big, which I'm sure no one would complain about.
Research shows that the main difference between the least sexually satisfied couples and the most satisfied ones is that the happy ones are more likely to use toys together. Listen to the science and don't forget to invite your plastic friend to your next romantic rendezvous.
Lovehoney customers say:
She was able to get a good grip of this Fleshlight Girls Brandi Love Heartthrob Texture and had fun adjusting the suction to tailor the experience just so. It really added a great element to our experience. - Boomplus
5. Keep it clean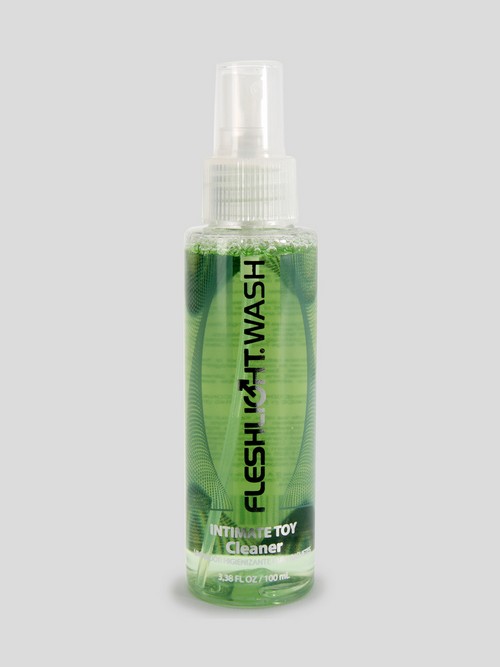 Just like washing your wang is important, proper cleaning of your Fleshlight and Fleshlight inserts after each use will ensure it is raring to go whenever you are.
If you've done it right, it should be a little messy in there. Remove the Fleshlight insert sleeve from the case. Run hot water through the love canal to remove any lubricant or bodily fluids.
Warning: Don't use soap. Your average hand soap or body wash can degrade the special SuperSkin material. Warm water is fine, but boiling water may melt your little guy, so avoid that as well. And don't you even think about putting it in the dishwasher.
Instead, use a specialist sex toy cleaner like Lovehoney Fresh Toy Cleaner or Fleshlight Fleshwash Sex Toy Cleaner.
Give it a good scrub. Treat it with respect after everything it's done for you! Once the Fleshlight insert sleeve is nice and clean, lay it to dry on a towel. Make sure the Fleshlight sleeve is completely dry before you put it back in the case.
Lovehoney customers say:
"No odour and doesn't leave any residue after Fleshwash. Don't need to use a lot, so it can last a long while, and easy to store with the rest of the toys, and the bottle is secure enough to avoid any spills." - Curums123
6. Take care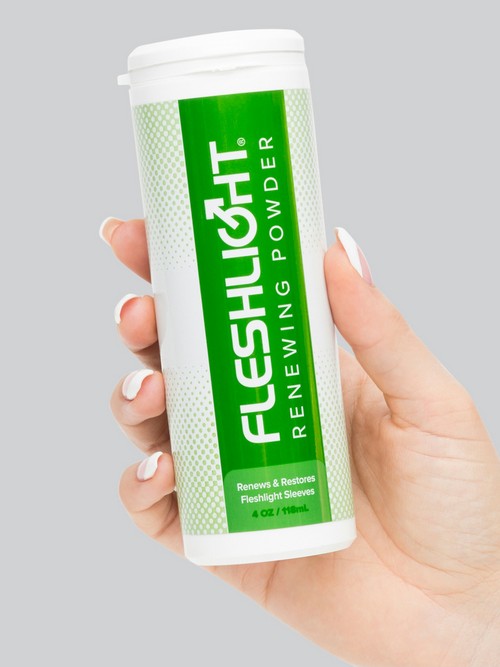 After cleaning, Fleshlight inserts may feel tacky or sticky to the touch - this is normal. Sprinkle the dry Fleshlight inserts with Fleshlight Renewer Powder to restore their silky-smooth feel.
Other care tips:
DO store your Fleshlight in its case where possible
DO use your Fleshlight with a condom if you like the sensation or you're sharing it with others (just make sure the condom isn't pre-lubricated)
DO feel free to take your Fleshlight in the bath or shower
DON'T use talcum powder on your Fleshlight
DON'T use silicone lube on your Fleshlight
DON'T use soap or non-specialist cleaners on your Fleshlight
Lovehoney customers say:
"Having been unused for a while and then packed away for a bit, my Fleshlight had become tacky. Enter the Renewal Powder and it's brand new!" - Rad Man
More Sexual Happiness Advice
You can never know enough about sex, right? Why not join us on our sexploration journey? Stay up to date with the latest advice on our blog, the Lovehoney forum and the weekly Sexual Happiness podcast.