How to Choose the Perfect Role Play Costume
Sexy costumes are a great way to jazz up your sex life and we have the best sexy costume ideas.
Do you love dress ups? Some of us do, and we get all excited at the thought of a sexy costume or risqué outfit. For others, the idea of donning a maid costume, sexy nurse costume or a school girl outfit is enough to have us cringing in the corner.
But role play with bedroom costumes is about more than indulging your fave fantasy, however appealing that is.
Some peeps find that - by adopting a different persona in some sexy role play - it's easier to explore situations and sexy practices they would typically avoid.
This gives you the freedom to experience greater fulfilment in the love shack. It can also bring you closer to your better half.
The big question for many is - how can I do it without feeling a tad ridiculous?
Check out our tips below on how you can choose the scenarios and sexy role play costumes that work for you.
You may find it inspiring to explore our Spooktacularly Sexy Costumes for Halloween.
And if you're buying a sexy costume, have a squiz at our Lingerie Buyer's Guide.
Video: How to Pick a Sexy Role Play Costume
For effortless role play outfits and why you should laugh when you dress up in role play costumes, check out our video on how to choose the perfect role play costume.
What do you want?
Ah, the age-old question. But give it a whirl, because if you're keen as mustard to try some role play in your love life, it's good to work out what you want out of it.
Maybe you wouldn't mind a spot of light bondage but you've gone all shy about it, 'as yourself'.
But as a misbehaving baddie, in a police-themed role play, you have the freedom to play your part with no holds barred. And when your beau slaps on the handcuffs, your bondage fantasy has begun. See how role play can be a fun way to lower the pressure of indulging a fantasy?
Start small Let's say you want to shake up your sex routine, but aren't ready to put on a full sexy costume. You could try something as simple as popping on a wig or how about some sexy librarian glasses? Steamy.
Going out to a bar with your lover in a minor disguise can help you pretend to be strangers meeting for the first time again. Welcome back that rush of erotic feelings we all remember from first meetings. All without taking you too far out of your comfort zone as far as sexy costume ideas go.
Power play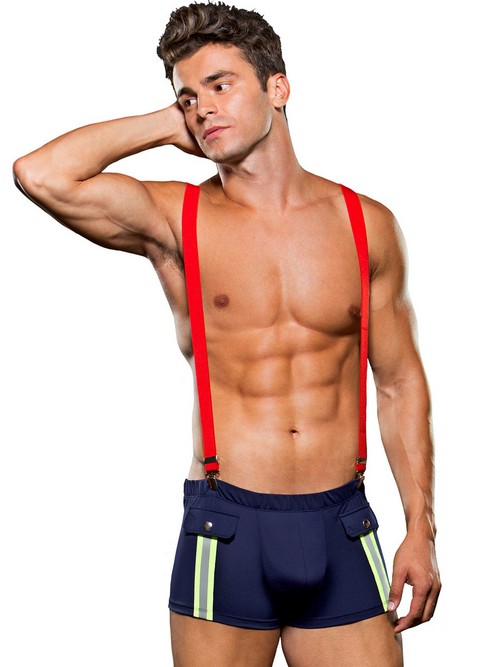 What power dynamic are you after? If you get hot to trot at the idea of a dominant lover, role play situations that cast you as the submissive party are ideal (think secretary and boss, doctor/nurse, fireman or even master/mistress and slave).
Fancy being in charge? Just flip the roles and find a sexy costume that suits both players.
Working out what you want will inform how your role play unfolds. That will reduce any pressure for both you and your kinky companion
Talk it through
Top tip: don't dump your fantasy on your beloved without warning. After all, if you hand them a sexy costume like a skimpy firefighter outfit without a chat first, they may say no regardless of the kind of sexy costume it is.
But, when you tell them exactly what you want to happen in your fantasy and why, they get a chance to see what your motivation is. If they know what you want, it's easier to say yes.
It's also easier to improvise around the plot of your role play, rather than just winging it, which can lead to disappointment.
An example
Just imagine you have a cop fantasy but you're worried your partner might feel like you're lusting after every police officer you see. This is when you'll want to frame your fantasy in the context of a dream which places them in the role you want. Like so:
You: "Honey, I had a dream where you were a cop who handcuffed my hands behind my back and then had your way with me."
Your beau: "Great, where's my sexy costume?"
What not to do
Don't do it this way:
You: "Babe, all I can think about, all day long, is wanting to bonk a cop, any cop."
Your beau: Ummmm...
Just kidding, but you get the idea. Notice when you personalise the fantasy, you've put your flame front and centre in your desire for a sexy role play. This should hopefully open them up to the idea more. If certain role plays or fantasies really don't appeal to one partner, don't push it, compromise. Do some research together and find something you're both into.
Boundaries
Don't forget to set your boundaries when it comes to sexy role play. Chat with your squeeze about what you are and aren't comfortable with them doing or saying.
Agree on a safe word if you're introducing bondage in your play, so your sidekick knows exactly when to stop.
Plan your outfit
Once you've sorted out exactly what you want from your sexy role play, it's time to pick something from your sexy costumes ideas. In our Sexy Costumes category, we've got a ton of sexy women costumes, sultry outfits, maid costumes, adult student outfits and sexy nurse costumes.
There are lots of accessories to choose from too. If you're nervous about dressing up in full-on sexy costumes, why not ease into it with some small accessories, like a stethoscope, or a hat, to set the scene?
Pick styles that you'll be comfy wearing so your sexy costume is a turn-on, not a turn-off. Take note of your body shape and find role play costumes you feel confident wearing during your sexy roleplay.
If you're looking to minimise your hips and bottom, a flared skirt is a fabulously flattering choice; or if you're arm-conscious, look for costumes with sleeves. Costumes with cut-outs are great for highlighting a slim waist, while those who want to show off their Golden Globes should look for plunging necklines or front zip details.
It's showtime
Once you've chosen your fantasy role play and the perfect costume, it's time to think about your location, or your set. Does your fantasy involve a desk? Set it up for safe sex play. Are you acting out a little interrogation? Switch off all the lights except for one lamp to create the mood.
The benefit of adding a few extra touches is to convert your boring old everyday room into a fantasy place - classroom, prison cell or hospital.
Remember, no one said you and yours can't get the giggles, or even bust your gut laughing. Have fun with your fantasy - the more fun, the more likely you'll do it again.
Recommended Role Play Costumes
More Sexy Lingerie Advice