Beginner's Guide to Electro Sex Toys
We've got everything you want to know about electro sex stimulation as well as all the electrostimulation devices you need.
What is Electro Sex and E-stim?
If you've never tried electro sex stimulation, a whole world of pleasure awaits you.
In this electro sex guide, we'll answer all your highly-charged FAQs and give out some electrifying tips so you can electro play with confidence and safety.
Electro sex, aka electro play, electrostimulation, or e-stim, uses electrical energy to stimulate your sexy bits and erogenous zones - below the waist.
Our banging bods are mostly made of water, which is great at conducting electricity. So when you apply an electro sex toy or conductive pad to the body, electricity zips through the nerve cells, creating pulsing, almost vibrating sensations.
You can climax from e-stim sex alone, and you may call it an electro orgasm. Or e-gasm.
If you're curious about other BDSM practices, check out:
Spanking and Whipping for Beginners
Why do people use Electro Stimulation Sex Toys?
Electro sex is considered a type of BDSM or bondage play, but you don't have to label it to have fun with it.
Electro sex toys are a truly unique way to bring a little pleasurable pain/pleasure tension to your next sex sesh, whether you call it BDSM or not.
Why do people like pain during a pleasurable experience? Well, in a nutshell, our pain and pleasure centres in our brains share the same address and produce the same hormones that moderate our behaviours for reward and motivation activities. See source.
Setting the toys to a low setting gives you a light tickle that gently stimulates your nerve endings. Cranking them up can produce strong contractions - read on for more details.
What do Electro Sex Toys feel like?
On the lowest setting, the experience you get from electrostimulation is so faint that you barely feel a tingle.
As you experiment with the lower settings, this tingle increases and can tickle. The electric charge stimulates your nerve endings, making you hot to trot as if you were being stroked very lightly with a feather tickler. Read more about tickle play in How to Use a Feather Tickler.
Cranking the settings up a bit, the tickling feels firmer, and the tingling increases like you get with a high-powered vibrator. These settings are great for insertable toys, with a similar vibration effect as well as added stimulation.
On the highest power settings, you can feel a numbing or lightly stinging sensation. Is it pain or pleasure? No one can say but you, since it all depends how you perceive it. For many players, it inhabits that boundary in a way that is very arousing and satisfying.
At the peak power, the stimulation can cause your muscles to contract. It's entirely up to you what power setting you want to experience. You should always start with the power switched off and slowly increase the intensity - this lets you control the e-stim machine setting that feels good for you.
How do people use Electro Sex Toys?
In couple electro play, wearing external electro pads on your skin, you and your flame can use your bodies as conductors and explore sending gentle pulses to each other - a perfect and sensual massage.
Want to go deeper? When you rig a dildo to an electro sex machine, you can explore intense internal stimulation. The e-sensation on high can cause your vajingo muscles to contract, giving you a deep, orgasmic massage.
Electro sex machines have a wide array of settings to make your experience as customised as you want. Stay in the first few levels of power if that rocks your boat, or dive deeper into settings starting at 1 and going all the way to 99. Oh baby.
In addition to the added pleasure benefits of using electro sex toys, e-stim has been shown to manage erectile dysfunction in penis owners. E-stim does not discriminate either. A study shows that electrical nerve stimulation can also improve female sexual dysfunction symptoms.
Electro Sex Toys for Beginners
If you like the sound of electro sex toys and want to give it a red hot go, you can't go past an all-in-one kit like the ElectraStim EM60-M Flick Electro Sex Stimulator Multipack Set. It's got everything you need to get you started.
Each unit can control a wide range of sex toys, tools, and accessories, each offering a different erotic experience. Later, you can find compatible attachments that suit the parts of the body you like zapping best.
Almost every category of sex toy has been adapted for use with electro sex stimulation kits. We're talking dildos, butt plugs, and probes - they're the most popular electrostimulation devices.
Our Electrostimulation Solo Experiment 101
We gave the ElectraStim EM60-E Flick Single Output Stimulator and ElectraPads Set a run around the block, along with the ElectraStim Lula Noir Silicone Kegel Balls with E-Stim.
After trying the ElectraPads on our thighs first to get the hang of it, we placed them on our shaved vulva (the pads work best on hairless skin). Ringing the changes through 7 different patterns causes your sexy muscles to contract as if they had a life of their own. We can confidently state that it was the best hand-free solo session we've ever had.
In a second sesh, we tried the e-stim Kegel balls at around Level 5 and got a very pleasant rippling sensation through the love oven. It's a complete unique feeling we haven't experienced with any other sex toy. Definitely worth a try.
Electro Sex Stimulation FAQs
We answer below a few of the most commonly asked questions regarding electro stimulation. If you have any other questions that you don't see here, don't hesitate to get in touch with our customer care team.
Are Electro Sex Toys dangerous?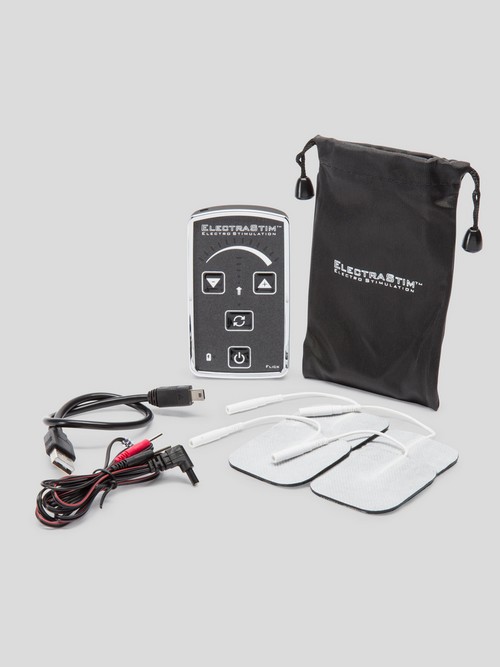 No, is the short answer. The electricity allowed through electrostimulation sex toys is fairly minimal and can be compared to that of a TENS (Transcutaneous Electrical Nerve Stimulation) unit.
You can enjoy electro sex safely in your own home, but there are a few precautions to take:
Do not use an electro stimulation unit if you have heart problems or have a pacemaker fitted.

Do not use electro stimulation devices while pregnant.

Do not use electro stimulation devices above the waist.

Do not use electro sex kits when feeling fatigued, dehydrated, undernourished, unwell, or not at your best.

Do not use electro sex toys on broken or irritated skin.

Always use a water-based lubricant (with internal attachments) or electro-conductive gel (with external attachments) to increase sensitivity and avoid any skin tenderness.

Always ensure that the power is off when you're applying a device to your body (that includes while you're inserting a dildo or butt plug).
Should I use Conductive Gel?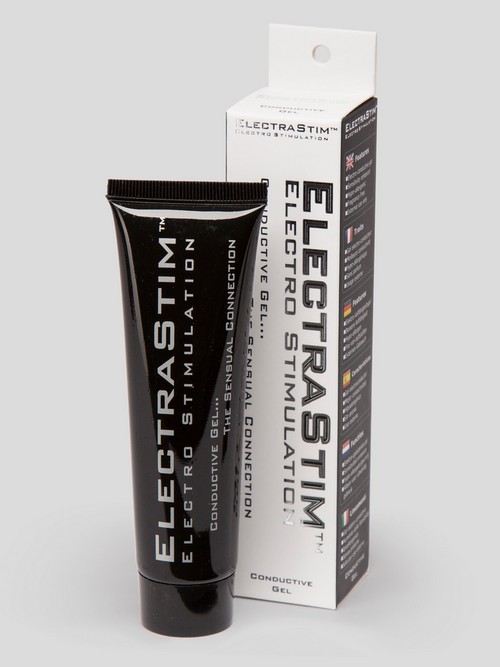 Electro-conductive gel evenly spreads out the stimulation. You should use conductive gel on external accessories only and only where advised. Always check the instructions first. For internal accessories, use a little water-based lube instead.
Can I use Silicone Lube?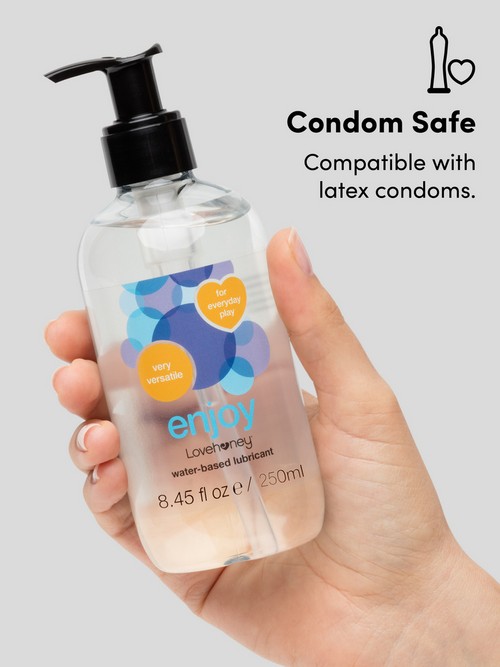 No. Silicone is an insulating material, so it's not ideal for e-stim. And many accessories are made from silicone, which can be degraded by silicone lube. Water-based lube will help insertion and conductivity.
How can I clean my accessories?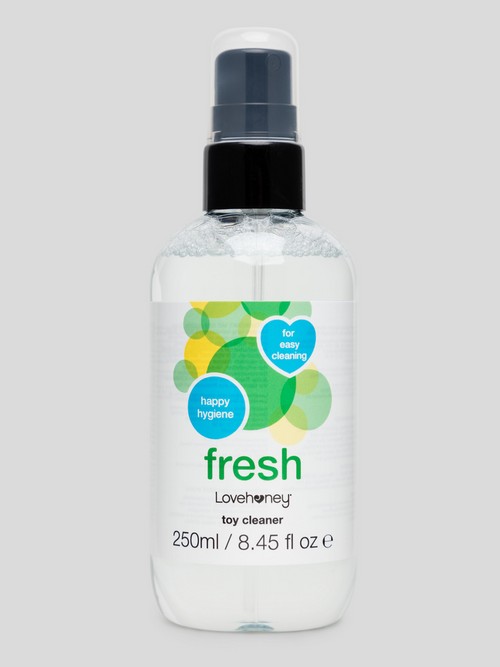 Simply unplug them and clean with antibacterial sex toy cleaner and water. They're not electric, so as long as you leave them to dry thoroughly before plugging them in again, it will all be great.
Avoid getting water inside the plug sockets. Although getting water in the sockets will not damage your toy, it's better to avoid residue remaining inside next time you do electro play.
What's the most powerful Electro Sex Unit?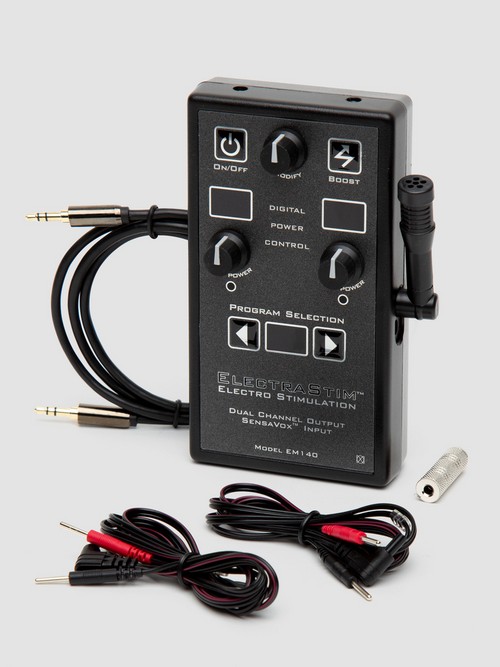 Lovehoney recommends the ElectraStim SensaVox Electro Stimulator. It has an amazing 99 power settings and a mains adaptor, so you won't lack for thrills.
Speaking of power, electro sex toys work by channelling the power charge to the toy surface. The smaller the surface area, the more intense the charge will feel, so small accessories are a great choice.
Now that you've got the ins and outs of electro sex toys down pat, it's important to remember that looks can be deceiving with cheap sex toys and that you should steer clear of any deals that seem too good to be true on cheap websites. Cheap toys online may sound appealing, but you might find yourself getting disappointed, or worse, zapped. Check out the Lovehoney range of electro sex toys for quality orgasms.