Beginner's Guide to Ball Gags
Introduce ball gags to your sex life and enjoy the thrill of dominance and submission play.
Experience the enticing world of dominance and submission with a ball gag. These highly effective bondage accessories will become a BDSM treasure in your collection of toys.
Open your mind - and your pie hole - to these bondage accessories with our super handy ball gag guide. If you've ever wondered about being bondage gagged or how to gag someone, read on. We've got you covered.
And if you are curious about other types of BDSM, why not also explore:
Spanking and Whipping for Beginners
Beginner's Guide to Electro Sex Toys
What is a ball gag, we hear you ask? Simply put, a ball gag is a type of bondage equipment designed to muffle the submissive partner during BDSM play. There are many different types of gags, but ball gags are by far the faves, and you should get one.
If you're coupled up, it may be that one or both of you are a wee bit intimidated by gags at first. Relax, that's normal. It's even part of the attraction. The illicit thrill of doing something naughty that breaks the rules is half the fun.
You could find that, after trying one out, they add an exciting edge to dominance and submission play. Many do.
Ball gags cum in several different styles and offer varying levels of restraint. It's important you choose the right gag for you as some are for newbies and some are best left to the more experienced BDSM sexplorers.
Video: Bondage Gags: What, Why, and How
Ever wanted to know more about why people use ball gags, and which one is the best gag for you? Lovehoney's Bondage pro, Jess Wilde, talks you through the key things that you need to know before getting your hands on a ball gag or bit gag.
Why use a Ball Gag?
Ball gags, after blindfolds, are probably one of the more popular ways to explore submission and dominance. They are small enough to pop into your bag or pocket for portable BDSM on the run. They're grand for all types of fantasy play.
Other benefits of bondage gagging include:
For the sub, it is arousing as hell by enhancing their role as a sub or slave

Large ball gags act as silencers - so the sub can let really cut loose with their moans and groans

Non-breathable gags force the sub to nose-breathe - reducing oxygen for a Bigger O

Ball gags are sights for sore eyes for the Dom

Gags are great for roleplay scenarios like pony play
Types of Ball Gag
You can get a bunch of shapes and materials to choose from, but the biggest thing to consider is your level of experience.
Size counts, big time. Don't be bold and go large at the start - you might scare the horses and overwhelm yourself or your sub. Start small.
Safety is a biggie too. Certain materials and fastenings should only be introduced to your play when you've been around the ball gag block a few times.
Check out the range below to suit your level of experience.
Beginner Ball Gags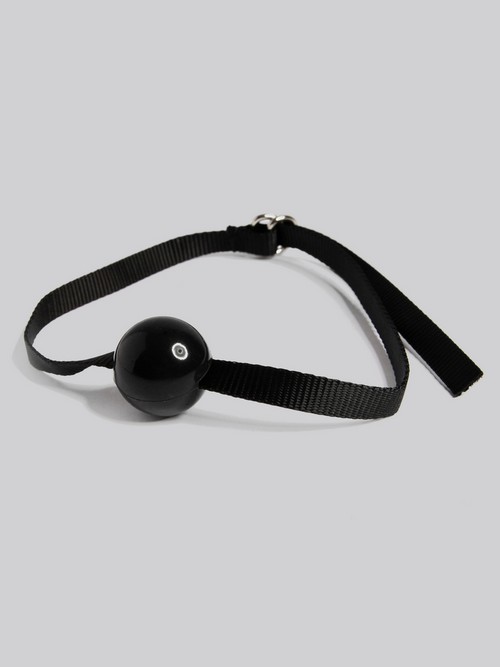 Welcome, newbie. You'll want to start off with a ball gag that has a small ball. They are made from non-intimidating materials and are easily adjusted to suit you.
First-time gags consider your comfort. They provide the essence of being bondage gagged without dislocating your jaw.
Wearing one of these little beauties, your sub can still breathe easily and make some sounds.
Gags with a flexible mouthpiece, breathable balls or flexible O-ring gags are great for beginner's play.
We recommend: Bondage Boutique Beginners Small Ball Gag
Open Mouth Gags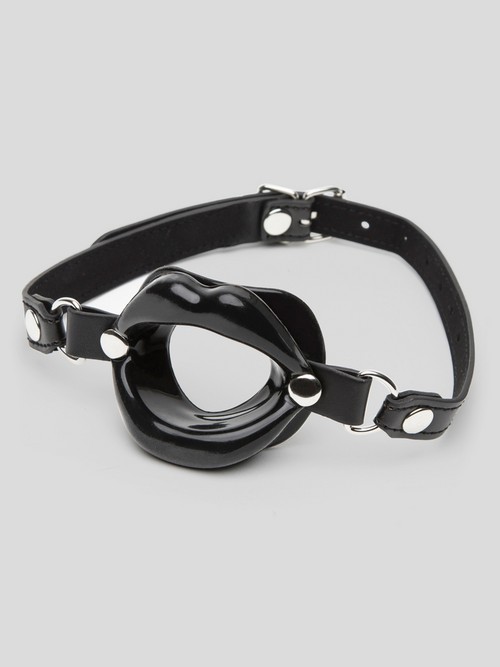 If oral is your thing, you might want to consider an open mouth gag. This is another good option for beginners. They feature a ring bit rather than a ball, so you can breathe easily while being restrained.
The rings are designed for cheeky blow jobs or sensual muff-diving. Agree on a safety gesture so you can stop if you want to.
Intermediate Ball Gags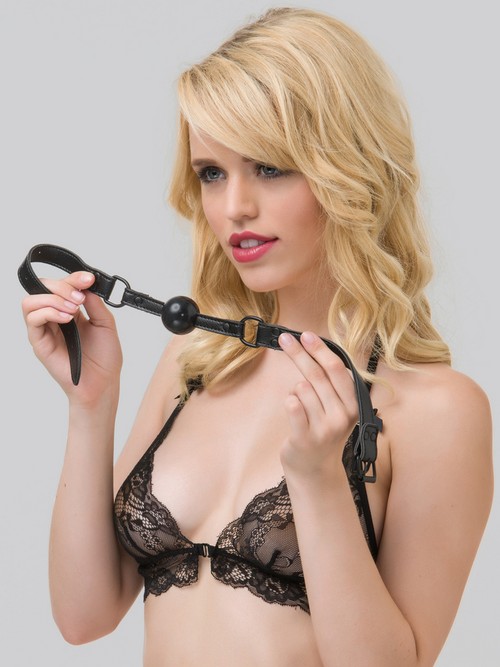 Step up to the minor league. Intermediate gags use a slightly larger ball made from more durable materials, and often feature a buckle fastening.
These will open your pie hole a little wider. Yes, submitting more brings more pleasure to both the sub and the Dom.
Subs wearing an intermediate gag do feel more restricted, but they are not 100% muffled and Aunt Sally may come running if she hears you groaning.
Our stock of intermediate gags contains larger, breathable balls and straight bit gags.
We recommend: Bondage Boutique Faux Leather Ball Gag
Advanced Ball Gags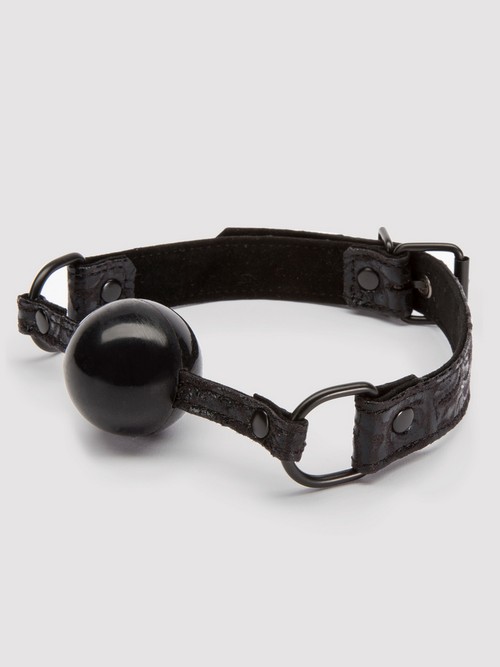 You're in the big league now, mate. An advanced ball gag is going for broke to hit a six in the BDSM world. These honeys will provide maximum oral restraint and your sub's mouth is going to be open as wide as it goes.
These advanced ball gags have a large mouthpiece. They are built to last from hard-wearing materials like leather and metal - and a lockable buckle is further evidence of the power play.
An advanced gag will leave your sub completely gagged and all-but muffled.
Dildo Gags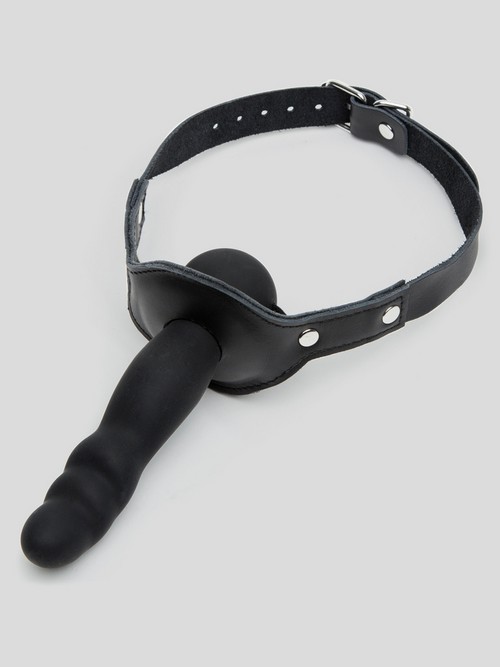 In case your mouth isn't full of Tim Tams, you can fill it with a dildo gag. Dildo gags are another level of advanced bondage play.
Some models have a backward-facing dildo to fill the sub's mouth, and others go the other way with a forward-facing dildo. Riding partners can ride their playmate's face and get their jollies. Giddy-up.
These gags are not for newbies, peeps. You want some gagging miles under your belt before you give these a spin.
Safety tip: You need a safe signal rather than a safe word when using a dildo gag, since you can't talk with a mouthful of dildo. Keep it safe at all times. And while we're at it, don't play with ball gags at all if you are nauseous or have a cold, because your health and safety comes first.
We recommend: Bondage Boutique Large Silicone Ball Gag with Dildo
More Sexual Happiness Advice
You can never know enough about sex, right? Why not join us on our sexploration journey? Stay up to date with the latest advice on our blog, the Lovehoney forum and the weekly Sexual Happiness podcast.