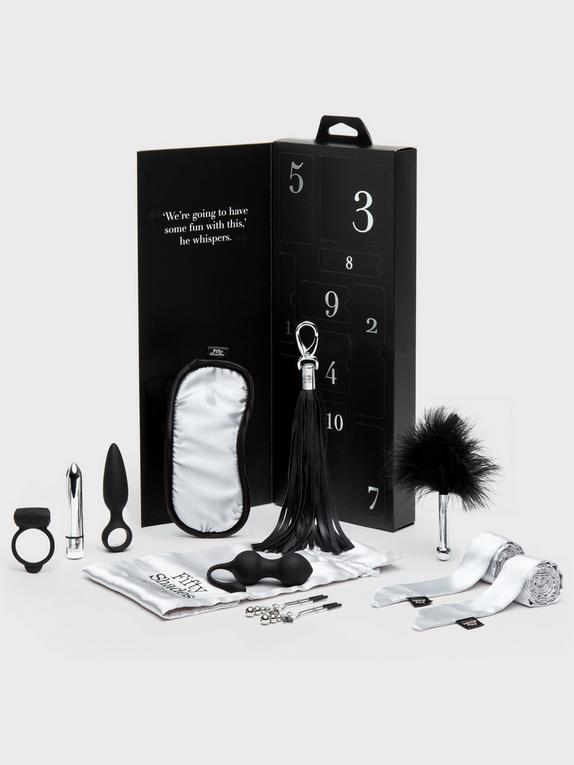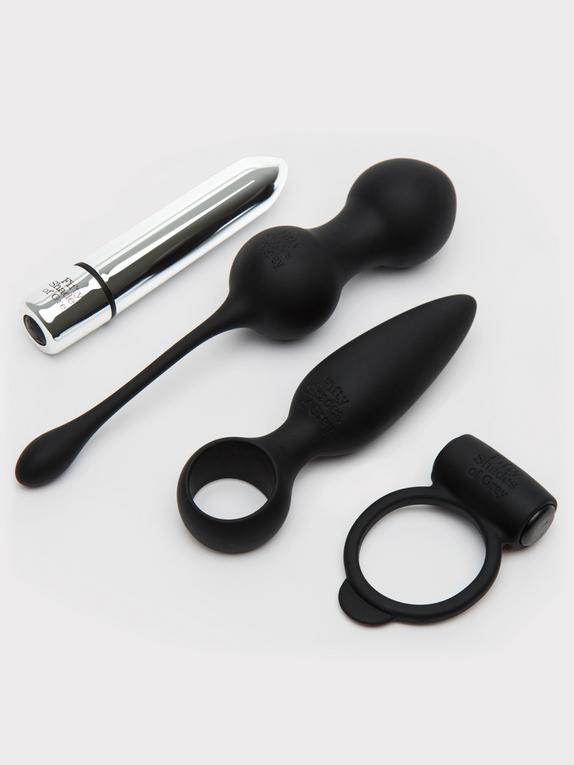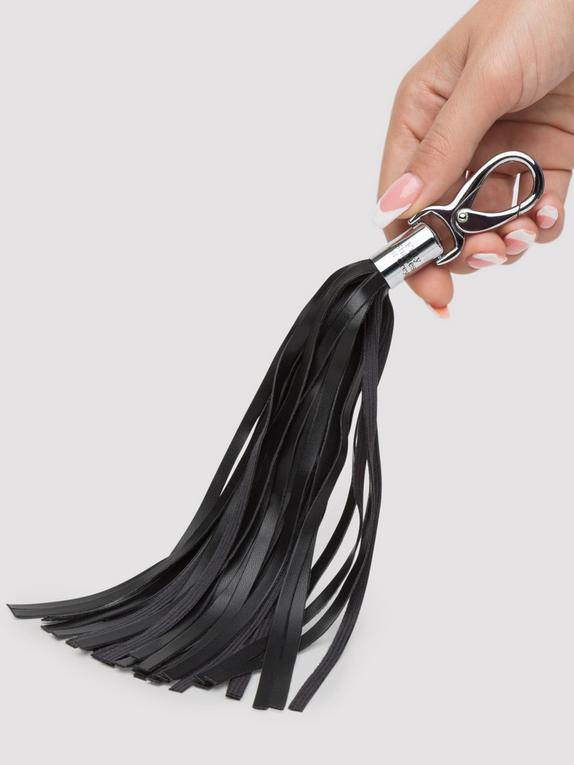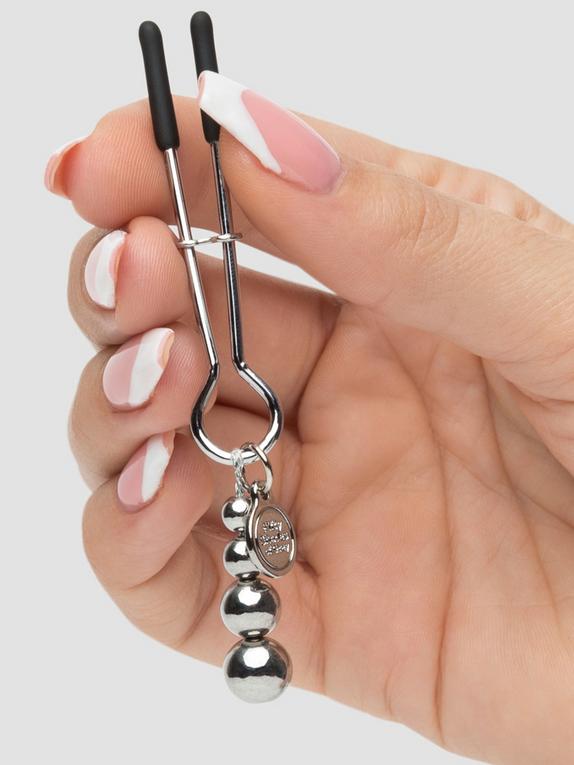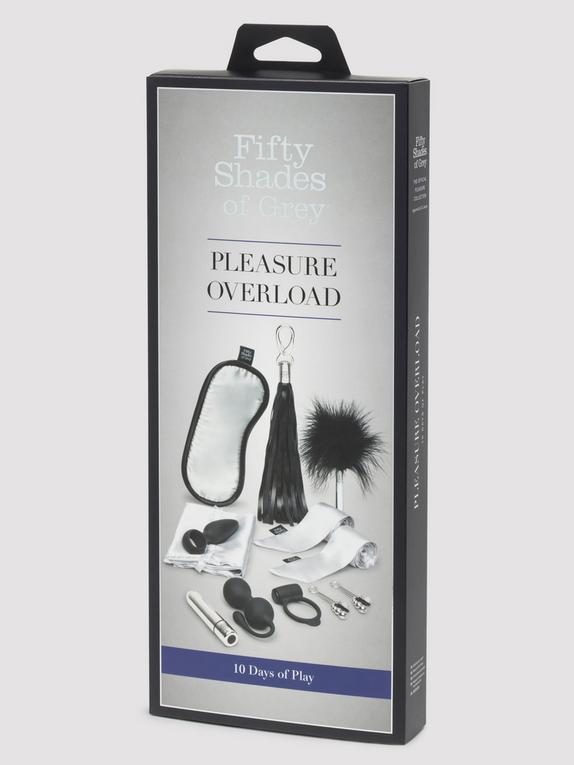 Fifty Shades of Grey Pleasure Overload 10 Days of Play Gift Set
Last chance! This product is not going to be re-stocked!
Thrilling Pleasure Overload Gift Set that's ideal for a romantic gift
Mystery doors reveal sensual pleasure toys and bondage play accessories
Items for you, your lover, and the two of you to share
Experience exhilarating surprises together as you open each door
Perfect introduction to sensory and restraint play
Get ready for 10 incredible days of sexual intrigue and delight with this tantalising gift box. Share the thrill of opening a mystery door each day with your lover to discover a sensual treat, with items for you, your lover and both of you.

"'We're going to have some fun with this,' he whispers."

Perfect for exploring new ways to play together, your 10 days of fun will lead to many more blissful adventures beyond. The sensual pleasure toys offer all kinds of stimulation that enhance your intimacy, while the bondage accessories make a perfect introduction to sensory and restraint play.

All of your toys can be safely stored in the satin bag which you'll also find behind one of the doors.

Slick the vibrating and insertable toys with water-based lubricant to heighten sensation during play.

Part of the Fifty Shades of Grey Pleasure Overload Collection, approved by author E L James.

Requires 2 x LR41 batteries (6 included) and 1 x AAA battery (sold separately).
Essential Info

Allergens: Latex-Free , Phthalate-Free
Features: Set
Product videos
Get ready for 10 incredible days of sexual intrigue and delight with this tantalising gift box. Share the thrill of opening a mystery door each day with your lover to discover a sensual treat, with items for you, your lover and both of you.
Vibrator Advice
Our handy Vibrator guides will help you navigate the wonderful world of vibrators, and choose and use the best Vibrator for you.
Frequently bought together
Popular combos for more sexy fun
Customer reviews
4.0
4.0 star rating
6 Reviews
4.0
4.0 star rating
6 Reviews
Thank you for posting a review!
We really appreciate your opinion and hope to see you again soon.
Thank you for posting a review!
Your review was sent successfully and is now waiting for our staff to publish it.
Search reviews
5.0 star rating

4.0 star rating

3.0 star rating

2.0 star rating

1.0 star rating
Nine shades of grey
Review by Defam on 11 Oct 2019
review stating Nine shades of grey
First impressions: this looks like a really fun item for couples, and good for a gift. The packaging is smart, and it's laid out like an advent calendar with a window per item. The idea of opening a window per day and trying a different toy is a great concept.Practicalities: the immediate issues are: 1) You already know what's in each window, by looking at the front of the box. Perhaps it would be better if the inner packaging gave less away, and the items would be a surprise for the recipient. 2) The perforated windows do not open easily. The card rips, and it becomes awkward to open each window, which vaguely spoils the fun. We ended up just opening the whole thing at once. 3) One of the ten items is just a polyester bag for storing the other items. This would be a downer, if you actually opened them day by day. The set should be called "nine days of fun, and one bag".The good items: evaluating each item individually, favourite item (#1) is probably the nipple clamps. They are the "pincer" type of clamps, and we found they were a bit more gentle than others we've tried, but still effective. They are also quite pretty, with a little decorative weight hanging off. Thumbs up! (#2) The kegal balls. My wife had been thinking about trying kegal balls, and this toy was a good chance. The item is a set of two kegal balls linked together, both weighted on the inside. My wife liked the smooth feel of the silicone, and she found wearing the kegal balls was an easy, fun way of strengthening muscles whilst also feeling a bit "naughty" during the day. (#3) The feather tickler is made with real feathers, attached to a chunky, metal handle. The tickler is not really enough to torture anyone! But it's quite fun to get things going once someone is tied up. The metal handle has a ball/bulb at the end, and you can switch from the feather to the cold metal for different sensations. Using the metal handle against nipples, combined with the clamps, is a real winner. The tickler also just looks smart and high quality.The "average" items: (#4) Bullet vibrator. This is a reasonably okay vibrator. It takes a normal AA battery, and the power of vibration is pretty good. It feels a little bit too plasticky, and my wife found the end was too pointy. It's an okay bullet, but you are not going to be amazed if you already own and enjoy a better bullet. (#5) Silky restraints. These are grey, "silky" polyester strips, for tying up your partner. We already own a proper cuffed restraint set, but this was a bit different and better suited to spontaneous, playful restraint. If you tie them well, they are actually surprisingly effective at restraining. (#6) Eye mask. Again polyester, with a fleecy cushioning for the eyes. Nothing particularly sexy about it - it's just like an eye mask you might wear to sleep. The straps go around your ears on either side, which is a good design. I might actually wear this to sleep on a plane, if it didn't have the Fifty Shades logo on the side!Bad items: the remaining items were quite disappointing, including (#7) The bag. It's just a polyester bag with a drawstring. I'm not sure it should be counted as one of the ten items. (#8) The butt plug. This is a pretty terrible plug. It's very small, so it will only be of interest to someone who has never tried anal play before. It also has a flexible rubber "hoop" at the end instead of a proper base. Presumably this is designed for your partner to manoeuvre with their fingers. If you want to remove your hands and have sex with the plug in, there's no base to make the plug feel secure and stop it travelling up inside you. Whether this is your first plug or your 600th plug, you want one with a proper base. (#9) The "leather" flogger. First of all, this is described as leather on the packaging (even in the small print), but it doesn't look, smell, or feel like leather. It is made from a stretchy leather substitute. Instead of a handle, the flogger has a metal clip. I'm not sure what I'm supposed to clip this to. But the lack of a handle makes it unusable. I recommend buying the Lovehoney leather flogger, which is infinitely better than this. (#10) Vibrating cock ring. This is a small, vibrating ring made from stretchy rubber. It's black silicone, and looks okay. However, the material is too thin and stretchy, meaning it does nothing to restrict blood flow and enhance an erection (like a proper cock ring). This means it's all about the vibration, which was fairly average. If you've never tried a vibrating cock ring, this will give you a few minutes of fun, much like the ones you get from a toilet vending machine.Overall impressions: there are some good things about this set, and if it was cheap enough I might recommend it as a novelty kind of present. Particularly for a couple who hasn't previously tried many of the things in the box.
Pros:
Fun concept. Good kegal balls. Good nipple clamps.
Bottom Line:
Not enough quality items. OK as a novelty to try a few things out.
Cons:
Terrible flogger and butt plug. Few other mediocre items. Leather is not real.
On Fifty Shades of Grey Pleasure Overload 10 Days of Play Gift Set
D
Delboy1991
5.0 star rating
Perfect gift
Review by Delboy1991 on 23 Sep 2019
review stating Perfect gift
Wanted to start off by saying how quick the delivery is. I really cant fault them. It arrived in a super discreet brown box with no labeling or information about what's inside. The box is covered in strong brown tape which covers all corners of the box, making it impossible to peep at what's inside.Once it arrived I was surprised at how small the item box itself was. It's almost as wide and thick as a letter box ( obviously once it's in the postage box it's a bigger , so wont be getting It through the letter box ). I thought with all those items it may have been bigger but I was wrong. Most of the items are small in size, making it a perfect set for beginners or even to take away on holiday or a trip. Fifty shades of grey is by far my favourite film so I had high expectations in these toys, espically considering mr grey is the king of all toys. The plug. This plug is great for everyone. I'm no beginner to bdsm but small plugs can extend my play further. I personally use this plug for long term wear , example over night..or sometimes when we are out in public. For me this is much more comfortable to wear without thinking people 'know'. The long thin external loop is brilliant for comfort as it doesnt dig in your cheeks causing discomfort. Its sleek and smooth and with a little bit of lube you can insert with ease. It's very easy to clean and air drys in minutes. The restraints and blindfold. I've had these restraints in the last and I always keep coming back to them. They are basic, yes.. but you can do so much with them. You can tie your legs or arms wherever you want. You can use them as support, light bondgae or even as a blind fold..they are a great all rounder. They pack away small and are easy to wash..I've machine washed them countless amount of times and they have lasted a reasonable amount of time. I've never tumbled them as to be honestly they come out of the machine lightly damp so never really needed too. The nipple clamps.Wow , well these are something else. Agh do they hurt. I have big nipples anyway so could be the reason why I dont usually feel them being touched or lightly pinched, but I felt this. After 5 mins i literally had to take them off because they was getting that much. At first it's quite arousing but then they begin to throb. If your looking for a punishment this are the things you need. Work perfectly in pairs with the above restraints for that real bdsm feeling.They are easy adjustable by simply moving the small clip up and down to adjust the tightness. The small arms at the end are cushioned for ' comfort' making them bearable for a small amount of time. The cock ring. Its lovely, long lasting and loud. It really hits the spot with its deep buzzy rumble. It's easy to turn on and off with just a press of the button on the side and your away. It's very flexible and would say it would pretty much fit most girths. Its comfortable to wear and the thin ring makes very light weight. The ben wa balls.Again, top quality item, smooth, sleek and sheer naughtiness. They are a lot lighter than I thought they would be. If your new to pelvic floor exercises then these are a great place to start. The balls come complete with a long pull cord and are also made of silicone making it easy to clean. The bullet. This bullet is very much underrated. It's probably one if the most powerful bullets I've owned. ( and that's a few to say the least) Its pretty self explanatory with one easy on/off button at the top. The only downside Is when your using a whole hand grip it sometimes turns the bullet off with the button being at the top of the toy, but overall it's well worth the small downside. The whip.This is very bitter sweet. I love it and I hate it. The soft material hitting your behind is such a wonderful feeling , and then you get the bitter sting. The clip is ideal for clipping on your trousers or even your handbag for some naughty decor. The feather. I wasnt overly in love with this..it looks much better than it feels and I usually love being tickled but this did nothing for me. It's now found a new place in my dressing table just because it's pretty. This pack is generally an all round winner. Its little windows to open each morning make it a perfect winter Christmas countdown. That's if you can wait to open them all. It makes a perfect gift and you really cant go wrong with it. All the toys are made of a high and decent quality, good size to hide away in a draw and has a good selection to of toys and accessories for a good time. The little storage bag is very handy for the clamps, being small they dont get lost.
Pros:
You get a surprise every day.
Bottom Line:
High quality, lovely gift.
Cons:
Wasn't much I didn't like.
On Fifty Shades of Grey Pleasure Overload 10 Days of Play Gift Set
Pleasure overload indeed
Review by Fill B. on 16 Sep 2019
review stating Pleasure overload indeed
This set is absolutely perfect for beginners, or people who want to spice up their sex life without diving right into the admittedly sometimes intimidating spectrum of bdsm toys. It offers a nice collection of toys that I feel are a great introduction to a bit of kink. Now I might be a little biased by the presentation of these toys, because I adore advent calendars in general, but I think that the adventure of finding a new sexy gift each day added so much to the fun! Let's start with the box, which is high quality, sturdy, and feels luxurious with its matte black finish and silver accents. The booklet like flap gives it that extra bit of sleekness, lovely presentation. I felt spoiled already even before opening any of the boxes. I do want to mention that because the toys are all pictured on the sleeve, and the content list is printed on the side, if you're planning on buying this as a gift have it shipped to yourself first and wrap it yourself after taking the sleeve off to keep its contents a surprise, this advice is also printed on the sleeve by the way. The sleeve is great for knowing what you're buying, but it does spoil the surprise a little if you ship it directly to your partner. Opening the boxes turned out to be a little bit challenging because the cardboard is such sturdy, high quality cardboard that the perforated edges weren't always enough to make a clean rip. Which isn't the best, but in the end didn't really matter as it is just packaging after all. Next are the toys and the overall quality of the toys is quite good, they feel sturdy and look attractive, always a nice bonus! What impressed me:The tickler, the flogger, and the restraints, these are all amazing quality, especially the tickler I'm in love with. They are so much fun, not to mention that the flogger is perfect for beginners as it has a lovely little sting to it without immediately being overly painful. What didn't impress me:The nipple clamps, as they are a bit tricky to get on they took us out of the moment a bit, so practice with those!The satin bag, mostly because it wasn't really a toy. It's very convenient to have that included in the mix, and I'm happy it's there, but we were expecting a toy after opening that day's box, and we got a satin bag to put our toys in instead. The remaining gifts are good, they're decent quality, they look quite nice. They do what they're supposed to do, and what you expect of them. I'd have good things to say about all of them if my review hadn't been reaching the length of a short story already. Overall I'm very satisfied with both the contents of this set, and the "10 days of play" adventure that you get from it. Opening these boxes and having fun with the "toy of the day" made for some very, very fun days! I definitely recommend it.
Pros:
It really did make for 10 days of play!
Bottom Line:
Great kit, perfect introduction for people looking to get into some new adventures.
On Fifty Shades of Grey Pleasure Overload 10 Days of Play Gift Set