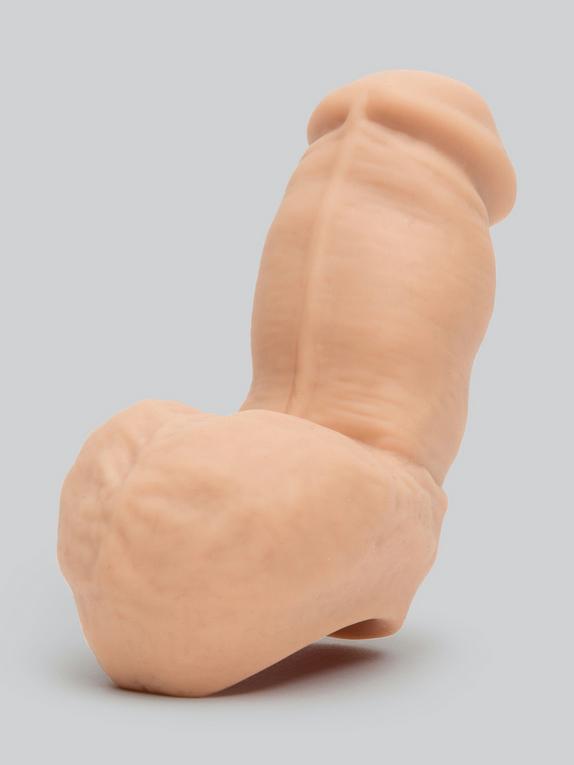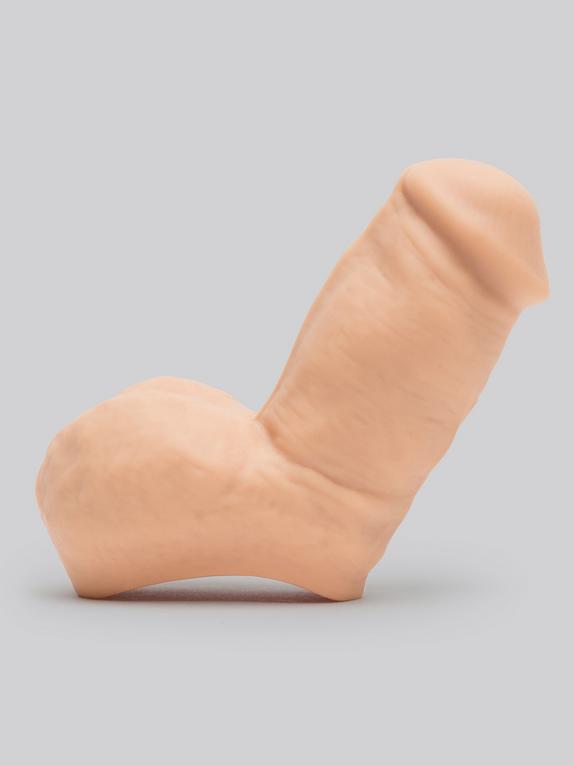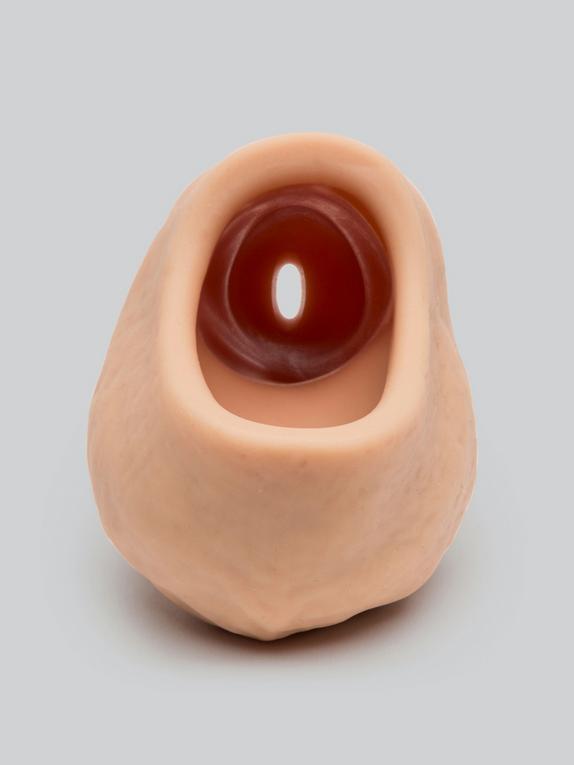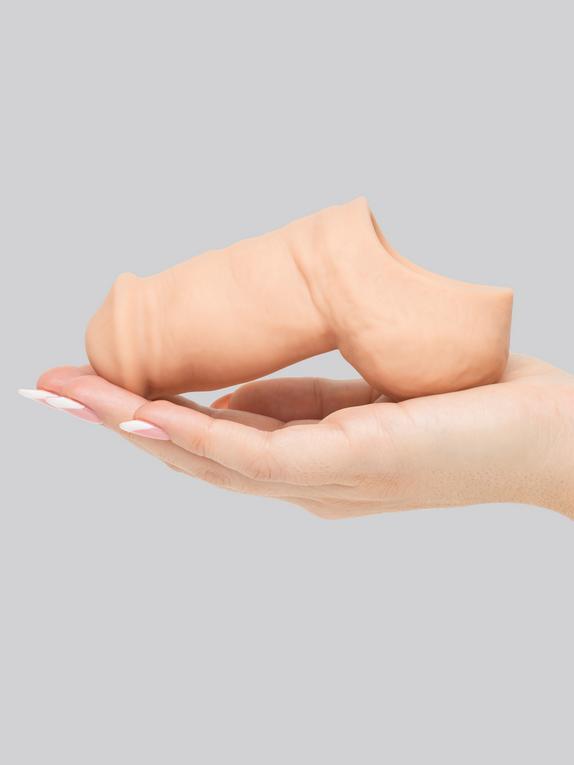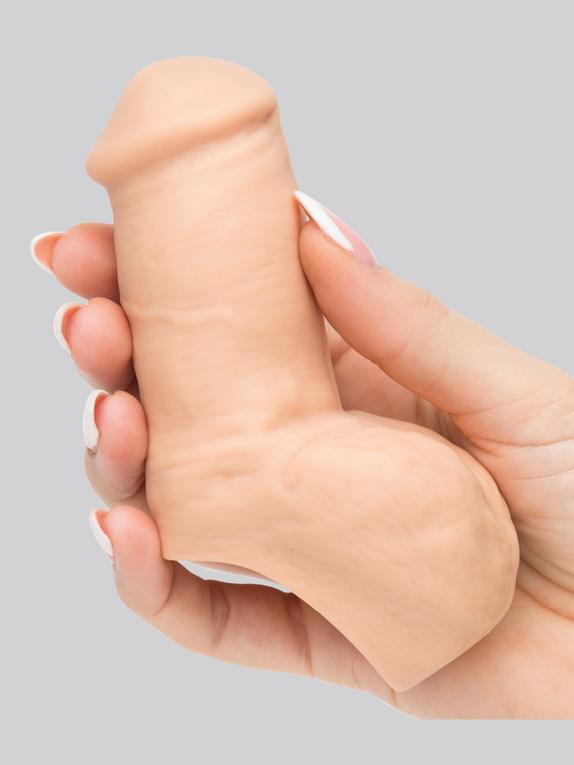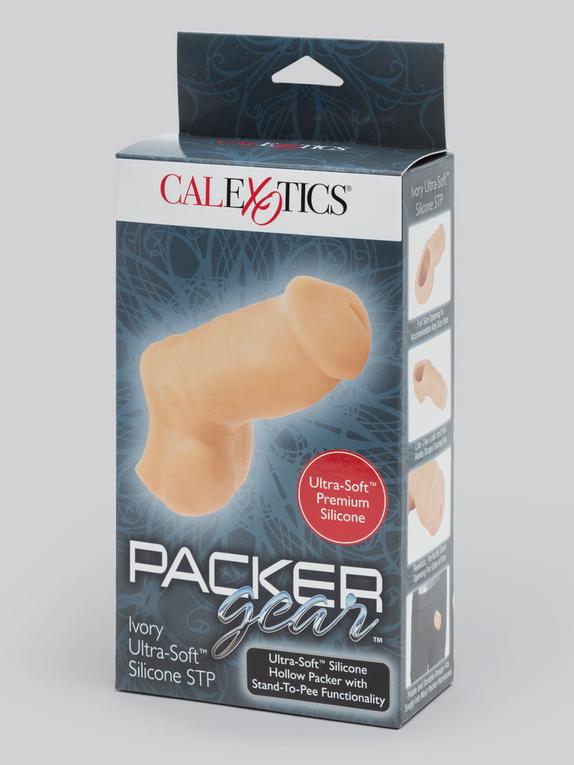 Packer Gear Soft Hollow Silicone STP Packer 4 Inch
Last chance! This product is not going to be re-stocked!
Hollow silicone 4 inch FTM stand-to-pee packer for on-the-go convenience
Internal length of 3.5 inches with a wide opening area to accommodate many sizes
Ultra-soft, squishable silicone with realistic head and balls looks and feels authentic
Fits snugly in 1.5 inch O-ring for compatibility with most brief or boxer-style harnesses
Smooth silicone feels like real skin and is easy to clean
Stand tall and let your stream loose in complete confidence as you escape from needing to squat or sit to pee. A 4 inch hollow silicone STP packer with squishy balls, this clever device slots into boxer or brief harnesses to answer your call of nature.

Boasting a lifelike shape and a 4 inch length, its veiny texture, defined head and squishable balls mean it looks and feels just like the real thing.

With an internal length of 3.5 inches and a 1 inch diameter across the base of the shaft, this pliable silicone packer can be folded into brief or boxer-style harnesses and pushed through when the time comes. Or, wear a second pair of boxers over the harness to easily whip out your wang when needed.

It's also a useful little item to have at festivals or on camping trips.
Essential Info

Allergens: Latex-Free , Phthalate-Free
Features: Hollow , Packing
Waterproof: Submersible

How it Measures Up

Canal diameter: 1 inches
circumference: 4.5 inches
Length: 4 inches

How it Feels

Flexibility: Flexible
Material: Silicone
Strap-on Advice
Read Lovehoney's Strap-on guides to help you choose - and use - the best Strap-on for you.
Frequently bought together
Popular combos for more sexy fun
Customer reviews
4.6
4.6 star rating
7 Reviews
4.6
4.6 star rating
7 Reviews
Thank you for posting a review!
We really appreciate your opinion and hope to see you again soon.
Thank you for posting a review!
Your review was sent successfully and is now waiting for our staff to publish it.
Search reviews
5.0 star rating

4.0 star rating

3.0 star rating

2.0 star rating

1.0 star rating
Amazing silicone, design leaves a tiny bit to be desired
Review by Allthegoodnamesweretaken on 3 Oct 2020
review stating Amazing silicone, design leaves a tiny bit to be desired
Firstly, the silicone quality in this is amazing! Soft to the touch and requires no powdering to stay that way, which is a major plus in my book! For packing, it's not bad. It's flexible enough to pack down and discreet enough to not make it look like you have a boner or a huge bulge. But a little unpleasant as the edges of the cup can rub against you. So proper packing undies is favorable. And even if you would damage the silicone by packing in a specific angle over time, it wouldn't be a huge issue with that low price tag. For peeing it's alright. I haven't had any accidents, but I'm weary of peeing at a urinal after a few drinks, since the cup is a bit small and I wish it extended back a bit more. Also, after you're done peeing, make sure to lean forward a bit and shake it, as a bit of pee collects near the tip. I also wish the shaft was a tad longer. This stp actually exists in a longer version, but as of now Lovehoney doesn't have it (pls get it tho, I'd buy it!) Overall: The best cheap stp you can get at the moment!
Bottom Line:
Best budget STP!
Pros:
The quality of the silicone!
Cons:
The small design of the cup.
On Packer Gear Soft Hollow Silicone STP Packer 4 Inch
share
' Share Review by Allthegoodnamesweretaken on 3 Oct 2020
facebook
facebook Share Review by Allthegoodnamesweretaken on 3 Oct 2020
twitter
twitter Share Review by Allthegoodnamesweretaken on 3 Oct 2020
LinkedIn
linkedin Share Review by Allthegoodnamesweretaken on 3 Oct 2020
Was this review helpful?
0
0
Really great packer
Review by Bakedbean on 22 Jul 2020
review stating Really great packer
This is a really good packer and STP in my opinion. I have had one before, and while that one is better as a packer it is not nearly as good as an STP. As a packer this has very thin walls on the shaft, and as such when folded it tends to collapse on itself. It also tends to shuffle around a lot; instead of the cup opening sitting against you it tends to fall over sideways and have the cup against my leg or something like that. However this is not too much of an issue, and is something that is bound to happen with all packers.As an STP this is very good. As mentioned before it has shallow walls on the shaft, which allows it to hold a lot, and a wide urethra so that it can empty quickly. It takes a very fast stream for it to overflow. Of course it takes some practice at the beginning- I started standing in the shower with nothing on from the waist down, which saved me a lot of cleaning, but it didn't take long to get the hang of, and now I am using it day to day as an STP without many issues.
Bottom Line:
Excellent STP for the price.
Pros:
Really good STP, real looking.
Cons:
Shaft walls are thin so sometimes it collapses when folded.
On Packer Gear Soft Hollow Silicone STP Packer 4 Inch
Packer in a Pinch
Review by TheCoffeeRain on 2 Mar 2020
review stating Packer in a Pinch
I would just like to preface this, saying that it is a review written from the perspective of a genderfluid person, AFAB, but more male leaning. I have had previous experience using a S2P device but never one with a realistic shape such as this. Also, it does state on the box that it can be used with a harness but I don't have one at the moment; so that's where we're at. The box is pretty simple, generalised instructions inside and the toy, of course. I didn't notice it to have a very strong smell, aside from the expected with a material like this, and I gave it a good clean before using it (thanks lovehoney toy cleaning spray!) First impressions, it isn't overly big, which is good, just a few inches long and a long opening to adjust yourself around. I would recommend getting a feel for the placement a few times in the shower maybe? I did not do this because I was very eager. Instead I chugged all the water I could and waited. I noticed the balls are shallow but not as much as I would have expected and I had concerns that it would gather there too much and potentially soak myself… When it was time I stood over the toilet and fitted the toy as best I could, and then waited but… unfortunately I got so excited by the fact that I really looked like I had a penis that my body got a sort of stage fright. Aaaand I had to sit down to pee. As if it was surprised I was standing. Round two, I… don't think I positioned the toy quite as well and just ended up sort of… peeing on myself. Learning from my mistakes I thought, round three had me remove any mats around the toilet and all clothes from the waist down but again I didn't get the positioning perfect and had a leakage and had to sit down again. Actually learning from this, the next time, I took it into the shower and experimented there. It was only then I got a real feel for the positioning and started to understand the not so shallow balls. As when you squeeze the shaft it creates a sort of suction and draws all the gathering pee out. All the same, I don't think this is something I'd want to use in a public bathroom without a toy cleaning wipe to get rid of any excess in the toy. It just seems like it would be a breeding ground for bacteria if you were to then continue wearing it as a packer for the rest of the day without access to proper cleaning facilities. I have to wonder how different the struggle is with a harness though, and I do plan on testing it out with one when I can because it's definitely something that interests me. I would also say, as a packer it's very flexible, the material is super soft so I'd say you'll be able to get the positioning how you like it. However I tend to wear a lot of skinny trousers and I found it quite bulbous no matter where I put it. Overall, I do quite like it, I just don't think I've ever had to put so much effort into learning to use something I got from LoveHoney - but that isn't necessarily a bad thing.
Cons:
Bit of a learning curve.
Bottom Line:
Great product for the price.
Pros:
Soft material, modest enough size.
On Packer Gear Soft Hollow Silicone STP Packer 4 Inch
My Socks Are Soggy
Review by Amy&Amp;Flynn on 9 Feb 2020
review stating My Socks Are Soggy
This came up on our tester list and couldn't click quick enough. Always on the look out for dongs for my partner so got this as a sneaky treat for him. Pulled it out the box to see a very small sleek looking willy with a veiny texture. His first reaction is to squish the balls! Apparently it's a trans guy thing and was very impressed with how firm but soft they felt.In terms of a packer, the shaft is very flimsy. It doesnt hold its shape when in boxers. A bit like packing with a mr fenis! ... those who know know!As an STP it fits nicely and it's nice to have something realistic I would always recommend trying in the shower first. Like may STPs you can experience back flow so always experiment with your flow and angles! There also isnt a lip around the edge to stop wee from awkwardly running out the back so just practice guysFor me on a personal basis I found it quite difficult to create a seal I think maybe because of the length? Hes quite a short fella and wouldn't quite make it if I was wearing loose rather than skinny Jeans. I would also probably prefer the shaft to be more solid (like a balls are) to pack smoother. But for someone starting out and experimenting it would work quite nicely.
Bottom Line:
A lovely little willy just not for me I'm afraid, lads.
Pros:
Soothed dysphoria and has squishy balls.
Cons:
Wasn't firm enough and back-flow.
On Packer Gear Soft Hollow Silicone STP Packer 4 Inch
Everything I wanted
Review by Rrg on 6 Feb 2020
review stating Everything I wanted
This is an excellent STP! No instructions needed, it took me less than a minute to learn how to use it (although I'd recommend practising in the shower or without clothes on to begin with!). For such an inexpensive product, I'm impressed at how realistic it looks and feels-- it's very high quality!!I'd seen bad reviews for the older version of the Packer Gear STP, but this has fixed all the problems of the older model: the silicon is thick enough not to kink or collapse as you're using it, but still soft enough for a normal-looking bulge when packing, and you don't have to 'control' your flow at all; it never overflows provided it's angled downwards.The only issue I had was that it takes some practice to get the balls empty when using it-- you have to tilt it downward and shake to get the whole thing totally empty. This is pretty easy to do, and doesn't look suspect at a urinal, but there's still a knack to it that's not very intuitive.I'd also recommend getting underwear with a low side-slit (below your actual urethral exit). This would be impossible to use over-the-waistband as it needs to be pointed downward, and not bent. I found it easiest to use with Uniqlo briefs as the slit is low enough.Overall I'm thrilled with this! Very easy to use, looks good, feels comfortable. It's so validating finally being able to pee standing up!
Pros:
Everything - looks great, functions well, validating for trans men.
Bottom Line:
Fantastic! Especially for such a low price.
Cons:
Takes a bit of practice.
On Packer Gear Soft Hollow Silicone STP Packer 4 Inch