How to Use a Strap-On
This handy guide to first time pegging answers the question, 'What is pegging?' Check it out if pegging for beginners.
Discover a ton of fun with strap-on play
Strap-on sex toys are a great way to play with the sexual dynamics in your relationships. They can be used by straight people, gay people, bi people, pansexual people, transexual people... any kind of peeps.
In this handy guide, we'll give you the good oil on adding a strap-on to your next sex sesh, including answering the questions, what is pegging, what does pegging mean and how to do first time pegging. This is pegging for beginners, so dive in and enjoy the dip.
What is pegging?
What is pegging? The accepted definition of pegging is when a person without a penis uses a strap-on to penetrate a person with a penis.
But don't get too steamed up by the gendered term - lesbians have been using strap-ons with each other for yonks. Perhaps we can say that strap-on play has finally reached the mainstream for straight couples too, and plenty of Aussie dames are pegging their blokes.
Customers say:
"Ladies, don't be scared of pegging! It's such a power trip and an amazing turn-on to see your man so vulnerable and having no control. Lads, honestly, give pegging a go! You won't regret it." - Lady nymphOOO
Does pegging make you gay?
Here at Lovehoney, we often get asked about first time pegging 'Does pegging make you gay?'. The answer, sweet peeps, is no. Just as a person with a vajingo does not become straight or gay because she is penetrated, a bloke does not change his sexual preference because his stage door enjoyed some bum fun.
So, what does pegging mean? It means two people having fun sex together with a strap-on.
We reckon, as long as everyone is enjoying themselves, who cares? In the end, the body parts that get your motor running have nothing to do with who you're attracted to.
Is pegging more fun than a kaboodle of koalas? Absolutely.
How to choose a Dildo that fits your Harness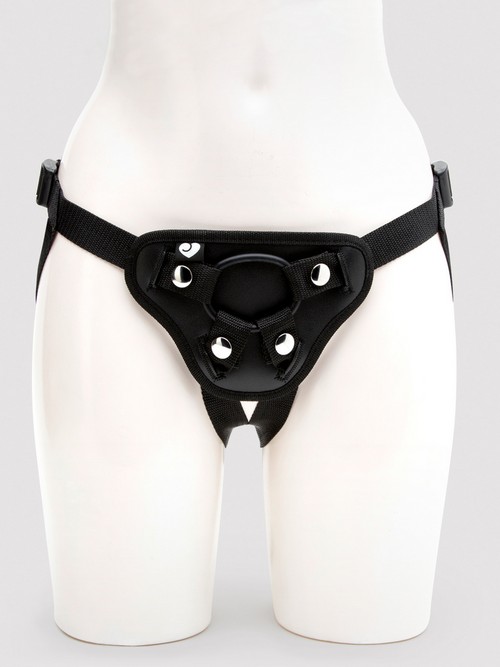 You'll see from our wide range of cool strap-ons that most come with a harness. A belted arrangement goes around your pelvis and holds the dildo in position as you peg away on your kinky companion.
Most strap-on harness kits have a hole or an O-ring that you can slot a dildo into. You might get one dildo with the kit, but once you experience the joys of strap-on sex, we reckon you'll want to add more dildos to your collection.
Customers say:
"Don't forget that you can use cock sleeves and extensions to give extra length and girth to your dildos." - Gyrator53
Measuring for Dildos and Harnesses:
To choose the right dildo, measure the internal diameter of your O-ring on the harness.
To choose an O-ring or harness that will work with your dildo, measure the circumference of your dildo, just above the flared base (where it will sit in the O-ring).
How to put a Dildo in your Harness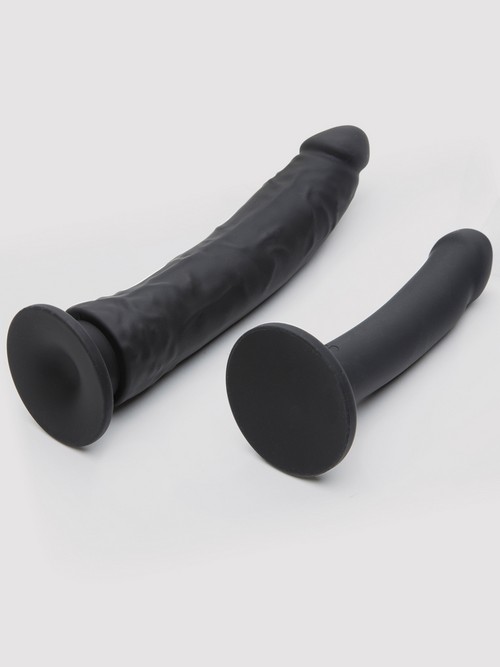 Okay, if first time pegging - put the dildo in the harness before you strap your harness on. That's the easiest way. If your harness happens to come with an interchangeable O-ring, make sure the O-ring is attached to the harness before you get toey.
Customers say:
"The harness itself was very easy to use and adjust the size to fit you snugly, and having a removable O-ring allows you to use this with a large range of toys - a very big bonus." - Matt!
Dildo shapes and sizes:
If your dildo is long and smooth with a flat, flared base like the Lovehoney 7 Inch Curved Silicone Dildo, you can just slip it into the O-ring.
If your dildo is large, has a big kink in it, or cums with life-like dangling teabags similar to the Lifelike Lover Realistic Dildo 6 Inch, you'll need to gently pinch the flared base and work it through the O-ring.
We reckon lube makes everything better, so if pegging for beginners, try using a little water-based lubricant to help ease the dildo through the O-ring.
How to use a Strap-On Dildo correctly
There are as many ways to enjoy a strap-on as there are peeps on the planet. And probably as many strap-on stories. So apart from suggesting you experiment with it and have a blast in your own way, we do have some strap-on tips to make your experience easier and more comfortable.
Customers say:
"Although we do not do pegging in a femdom context, empowerment and domination / role reversal can be great psychological enhancements." - SSLH
1. Use Lube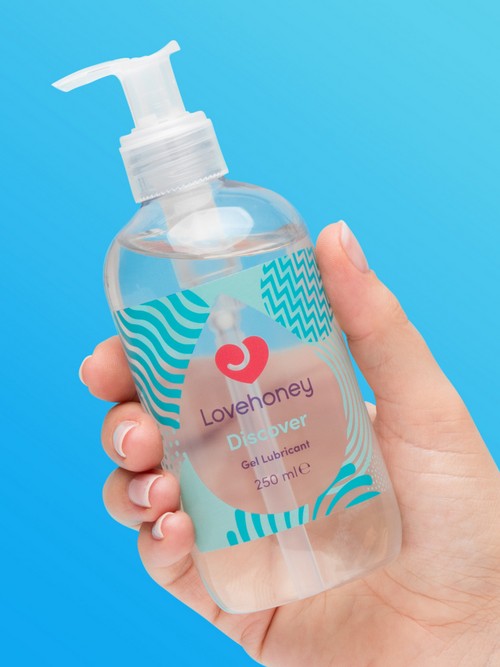 Whatever you're penetrating, whether it's a gorgeous slice of lady cake or a kinky clacker, a good lubricant is a must for top-notch sex.
If you're deep-diving into fifth base, we'd recommend an anal lube because they're thicker and requires less reapplication.
But remember that if your dildo is made of silicone, you shouldn't use silicone lube - go for water-based lube instead.
2. Take it slow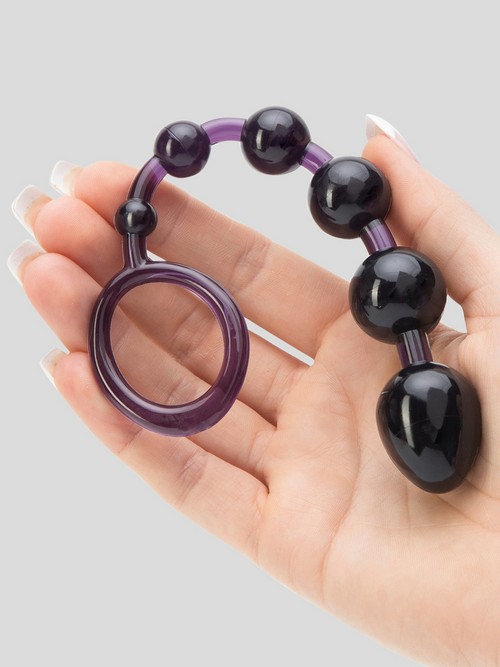 Slow sex is good sex when it comes to pegging for beginners. Spend the time beforehand to 'warm up' and relax into your play.
A stage door needs some tender loving before it's ready to welcome the dildo like a supermodel's vagina, as Tina Fey once said at the Oscars about Leonardo Di Caprio's dates.
Try experimenting with your fingers and smaller toys first. Anal toys can light your fire before play and anal beads are worth a shot. When you're good and ready, let the play begin.
Customers say:
"With a bit of lube they slide in perfectly, and the different sizes mean you can slowly build up as you go along." - Misss J
3. Communicate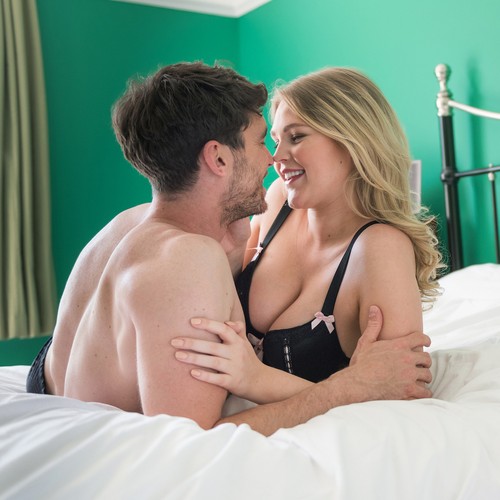 Unlike a real live wang, the dildo doesn't feel anything. So, keep that front of mind - the partner wearing the strap-on won't be able to feel through it. That means the receiver has to chat with their bonk buddy to let them know what feels good and what doesn't.
If you're the penetrator, pay attention to your beau's words AND their reactions and body language. Let them guide the depth and speed of penetration because they are one really feeling it.
Customers say:
"It is the ultimate form of trust for a couple to engage in having sex with a strap-on." - wee_bear
4. Perfect your Strap-On position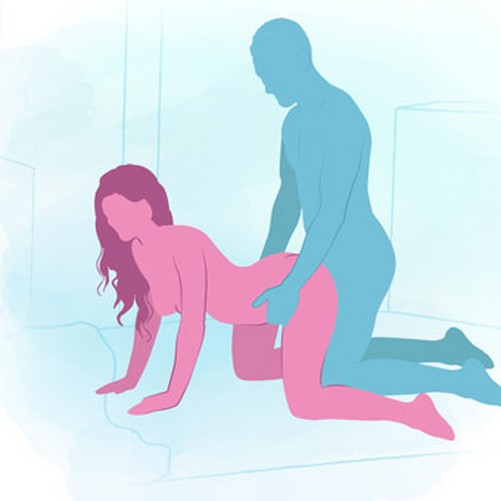 Peeps are unique in their likes and dislikes, so, one couple's fave sex position is another couple's yawn.
So, explore them all and discover a pozzie that is comfy and sexy for both of you. Some of the most popular pegging positions are pegger-on-top, doggy style and spooning.
5. Agree on a safeword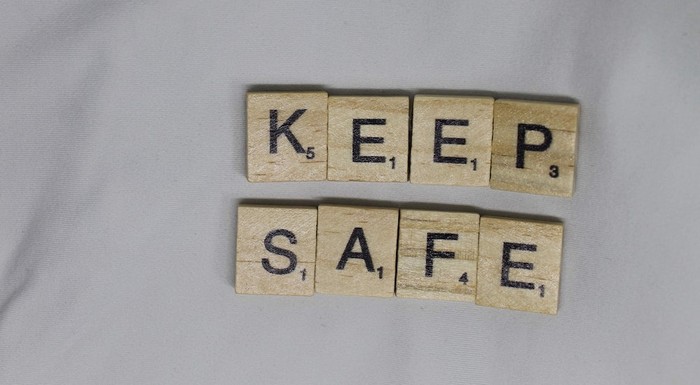 We reckon a safeword is a good idea. A safeword is a word or phrase that signals STOP to your partner. Safewords are vital for safety and peace of mind during sex play.
The traffic light system is well-understood and makes a handy means of signaling three responses: red for STOP, yellow for SLOW DOWN CAUTION and green for GO, GO, GO!
Other Sex Toy guides you may like