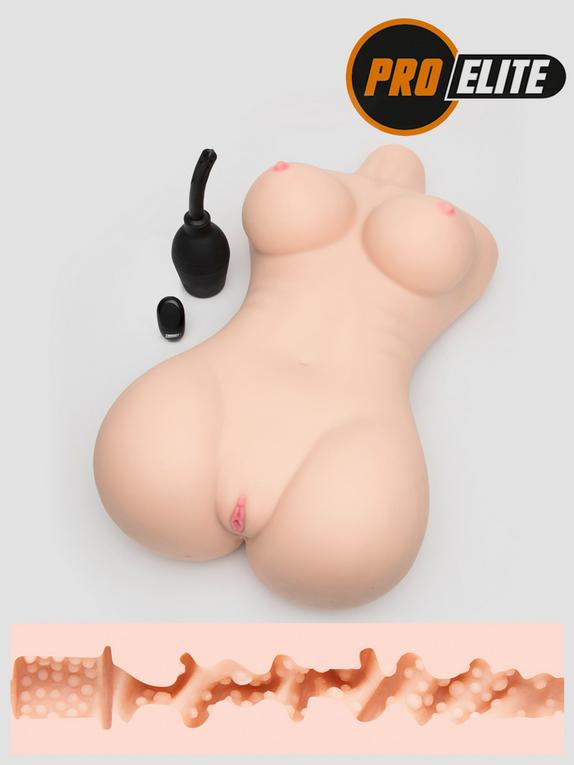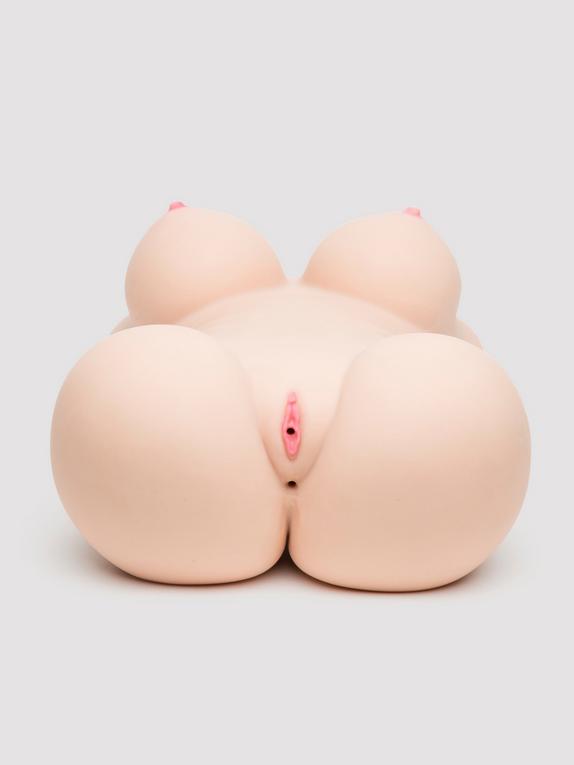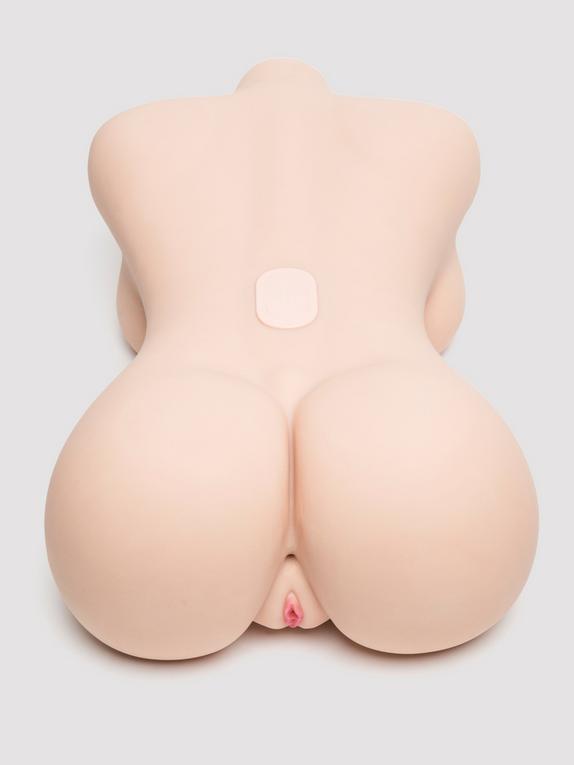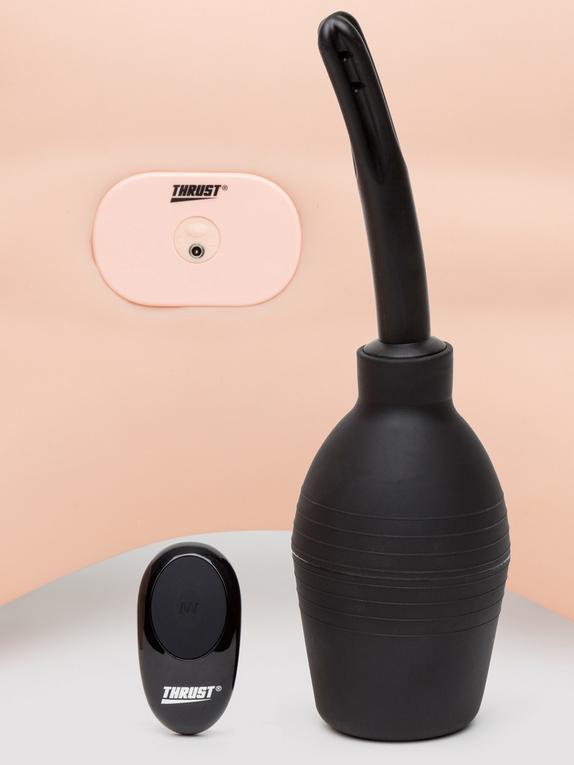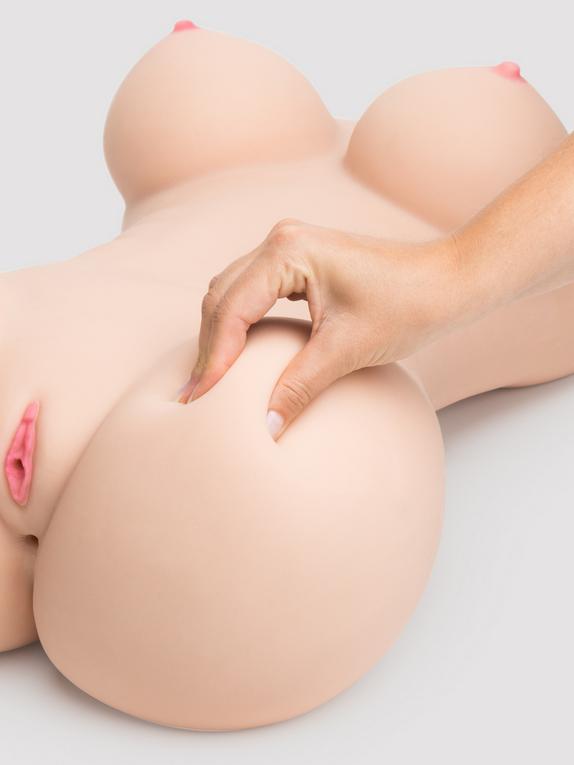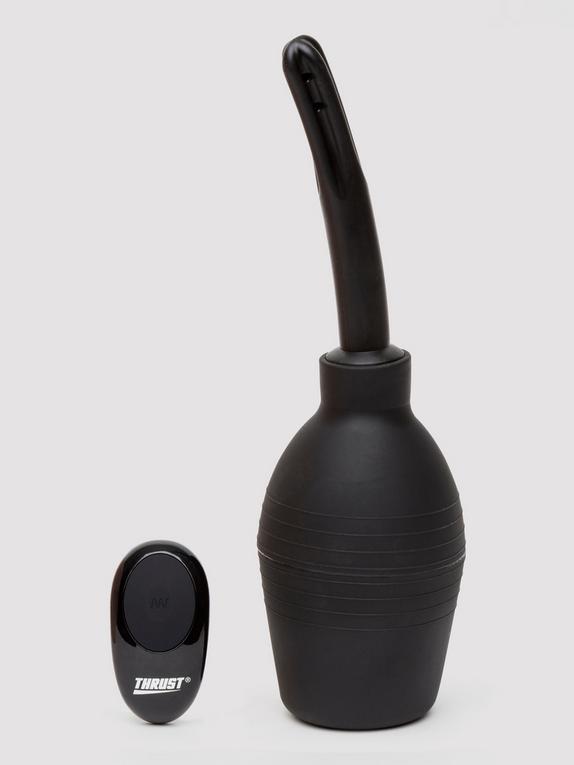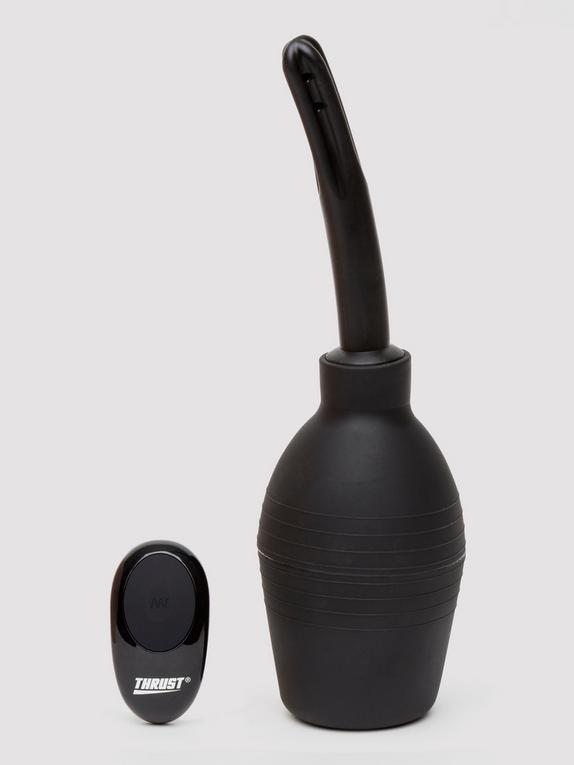 THRUST Pro Elite Lexi Rechargeable Vibrating Masturbator 21kg
Last chance! This product is not going to be re-stocked!
Medium lifelike sex doll with breasts, vagina and anus to squeeze and thrust into
Made from real-feel material weighing 21kg for sturdy, lifelike play scenarios
Includes a removable pair of 10-function bullet vibrators for added sensations
Squeezable breasts and super-soft, supple skin to grab hold of
Tight ass and intricately detailed vagina opening welcome you in for a sensational ride
Your lady Lexi is here and ready to show you a wild time. An entire lifelike torso is yours to adore, with pert boobs, a slim waist and a super-authentic feel. Dive into her pussy or ass and experience enhanced pleasure thanks to deep-set bullet vibes.

Both entrances are tight and realistic, leading to independent canals lined with lifelike textures – the vagina is 6 inches deep and the ass is 5 inches deep.

Her breasts are soft and lifelike, and tipped with erect, pink nipples for your pleasure.

Lexi comes with a powerful 10 function double bullet vibrator, which you can slot into the masturbator to add extra thrills to your play. Plus, it's remote control operated and rechargeable for pleasure whenever you please.

Lexi is splashproof and comes with a douche for easy cleaning after play. Be sure to dust her with renewer powder after use to keep her feeling supple.

Ladies love lubricant, so slather her with loads of water-based lubricant before play.
Essential Info

Allergens: Phthalate-Free
Features: Rechargeable , Remote Controlled
Waterproof: Splashproof

Power and Speed

Battery Info: 1 x CR2032 battery (remote)
Power Type: Rechargeable
Run Time: 55 minutes
Vibration speed: Speeds and patterns

How it Measures Up

Internal Length: 6 inches
Opening: Vagina & Butt

How it Feels
Male Sex Toy Advice
Unlock unlimited pleasure by consulting our Male Sex Toys guides, written to help you choose and use the best Male Sex Toy for you.
Frequently bought together
Popular combos for more sexy fun
Customer reviews
4.5
4.5 star rating
6 Reviews
4.5
4.5 star rating
6 Reviews
Thank you for posting a review!
We really appreciate your opinion and hope to see you again soon.
Thank you for posting a review!
Your review was sent successfully and is now waiting for our staff to publish it.
Search reviews
5.0 star rating

4.0 star rating

3.0 star rating

2.0 star rating

1.0 star rating
Read this Before Buying LEXI
Review by Student on 24 Jun 2021
review stating Read this Before Buying LEXI
Well, here we go. Just got off my first try and since I might be the youngest here (Student), I should give a review from my point of views as well.
Support & Import tax, all great. For Brexit you will have to pay import tax, which lovehoney will reimburse you. I got "Lexi" for 45% off which I upgraded from a fleshlight. It's worth noting I researched days on end about this one, as 300 euros is not something you can throw away like that, but I had some money to spare and I heard lovehoney has the best products.

Ok, now let's go to the actual review. I checked the other reviews multiple times and yes, this freaking thing is heavy. I mean 21KG can actually serve as dumbbell, you could legit weight train with this thing.
When you open Lexi, you will notice it's pretty big compared to other products. It's the closest you will get to a big design without buying a love doll. It's so heavy in use, it's hard to switch positons on first try, and I wasn't sure how to access the remote, which there were no instructions, so I had to do it manually. LEXI is huge, and It feels like the real sex, altrough Ive never had it (yet) (Im just afraid of rejection, ok?). But it's definitly much different than a fleshlight. Much harder as well. Is it better than a fleshlight? Maybe. Fleshlights are easier to use and on the go, but LEXI feels a bit more realistic.

Don't get me wrong tho, If you are considering buying LEXI, LEXI will eat all the lube and we all know lube is not cheap. LEXI is better for couple id say, but I bought it for solo so I could get some experience when it comes to a real thing, and also, you gotta live life. I think Ill be keeping Lexi until good girls come around, right now everything in my city is just girls browsing Instagram and looking for the next attention high.

One thing I did NOT like is I felt like I was fucking a corpse sometime, which is kinda disturbing. We need one of those Blade Runner 2049 Girlfriends nicknamed "Joi" who asks you how your day has been and it asks you your favorite pokemon cards. Seems like Im gonna be waiting for that from Lovehoney for some time.

The worse thing is cleaning, you feel like a serial killer that is disposing a body, but I guess isnce it's my first time you get used to it.

Getting back to it, design is perfect. If you ever had one of those other brands, you get a pretty clear idea that THRUST cares about the product for a more affordable price. I haven't used the messagers buttons yet but they make you cum too fast so only use them when you are ready.

I would recommend this product to anyone single or looking for some threesome fun if your girlfriend is jealous. I would not recommend this product to anyone with weak hands, as this thing will seriously build arm muscle if you work out. Im not joking, this thing is heavy.

So yeah, it feels closer to the real deal, but during my first try I still missed that intimate connection and made me feel kinda lowely, which is kinda sad. Would give it 7/10 for overall experience.
For it's price, a pretty good deal if you got tired of fleshlights. But beware, if you are looking for the extra upgrade. A love doll is the only next option. But beware that those are hard to conceal. Oh yeah, and you better have somewhere to clean it, a sink won't do.

Hopefully this helped at least one person, and do return the kind favor to someone else!
Pros:
The feel is so realistic
Good quality
Adaptability
Feels like the real deal? (without looking at it)
Cons:
No instructions for controller, or remote (how to connect)
Lots of Lube used
It feels weird
Bottom Line:
A good experience for anyone looking for the next big hit, altrough a flashlight might do it for you
On THRUST Pro Elite Lexi Rechargeable Vibrating Masturbator 21kg
A lot of work
Review by Frank G. on 10 Sep 2020
review stating A lot of work
I purchased the Thrust Pro Katya a while ago and found it brilliant.
I could get a great feeling without much effort and caring for it was relatively easy so I decided to try a different product from this company.
I went for the all-expensive Thrust Pro Lexi with an RRP of £500.
It turned out to be a lot of work to make the most of the realistic masturbator sex toy.
Weighing in at 21kg, it takes a lot of effort to set it up and is not as comfy to use as the Katya Thrust product but, hey, real sex can take a lot of effort too so you could say it's more lifelike.
Cleaning, drying and storing the product is much more cumbersome so I regret the purchase.
On THRUST Pro Elite Lexi Rechargeable Vibrating Masturbator 21kg
Almost unbelievable realism
Review by The R. on 19 Aug 2020
review stating Almost unbelievable realism
My reviews are impartial, I am not sponsored by Lovehoney or any other company and this product was purchased. I already own a selection of toys, I am physically disabled so they're a lifeline for me in many ways but, mainly used to assist with the physical side of sex as it's much less embarrassing to discover my limitations using a toy than with a person.
A fair few of my toys are made by Thrustpro, my collection includes the £250 Alecia masturbator which I've recently reviewed after 6 months of ownership. The reason I chose to buy Thrustpro is the quality, they're excellent, they're not too lose or tight and they really do exactly what you expect of them over and over again and they feel realistic enough.
At this point, I suspect most will be thinking what's the need for Lexi when he has the Alecia but, I can guarantee both have a place and I'm not disappointed by either. Alecia is more masterbator like and Lexi should be compared to a torso style sex doll.
Lexi has the size and proportions of a petite woman so fully understand why people use this as an uncomplicated 3 some but, it's excellent used solo as well. I always clean toys before using as this helps with the oily residue and plastic smell, once the battery pack was charged and the canals warmed I tested it out.
Positions wise, they all work well even balancing it on top but this does give your arms a work out. The canals are both unbelievably perfect, highly detailed, not too tight or slack, once warmed and with plenty of lube feel very realistic.
You can really work out your positions with this, missionary, spooning, from behind, the list is endless really. I've only used Lexi with a condom so cleaning was relatively easy as it just needed a wipe over with toy cleaner and I think I'll maintain that.
I'd imagine that without a condom this would be difficult to clean although the included douche should make it easier, at some point I will test it out without a condom but, know from past experience drying toys with fixed vagina's is a hassle Lexi will be no different.
Storage wise, Lexi will fit in a large bedding box and slide under a bed for storage between uses, I wouldn't want to put this in a drawer as I'd be worried about the base failing. I've included the measurements at the bottom of the review to enable you to buy the correct sized storage box/bag.
For the price point of this there are somethings that should be included that aren't, I should point out these are all extremely minor and I'm verging on nitpicking:
* it should have at least a heating wand included but, it would be nice it had an internal heating system.
* The battery pack should be micro USB/USB-C as this makes replacements easier if the supplied lead fails.
* The bullets should be removable.
* This is another Thrustpro toy with electronics installed but has no information how to obtain spare parts like battery packs or charging leads, with something like this I'd prefer to have two battery packs and would've purchased a second one if the option was available.
* The LoveHoney website contains absolute no external dimensions so it's a bit of a lottery guessing the size of this.
* It's very oily, I've been placing it with cardboard underneath to absorb some of the excess oil, from past experience I know this issue is solved after a week or so.
* It would be nice if the spine moved at some point, it would really help with positioning if there was some ability for this to bend slightly. What Lexi has confirmed for me is, I think a full sized doll would be very difficult for me to use, Lexi gives you an insight into doll ownership without the very expensive price tag.
Things I like:
* it's very well made, well thought out and will last years if properly cared for.
* It's very inviting, more so than any other toy I've got.
* The body is perfect in its detailing.
* The weigh works with you and provides much more realism than smaller masturbators. Approximate measurements: Length (neck down) - 68cm Hip width - 38cm Stomach width - 24cm Breast circumference - 89cm Rib circumference - 59cm Hip circumference - 97cm
On THRUST Pro Elite Lexi Rechargeable Vibrating Masturbator 21kg
The breast masturbator in my collection
Review by Optimized on 20 Jul 2020
review stating The breast masturbator in my collection
When I first took delivery of the Thrust Pro Elite Lexi Vibrating Vagina, Ass and Tits Masturbator I could already see from the way that the postman was puffing and panting, as he knocked on my door, that Lexi has the knack of getting a guy's (or gal's) heart racing.
Ok, so admittedly this was because the size and weight of the box he was delivering 'her' in was gargantuan!
Thankfully, unlike him, I got to explore Lexi's other pulse accelerating capabilties!
On opening the box I had the first glimpse of Lexi's ample assets – she has the most amazing breasts.
Large and pert with pink, erect nipples! Needless to say I couldn't wait to get my hands on them and explore how they felt.
However, this masturbator comes exceedingly well packaged and is wrapped in 2 sealed layers of plastic which is kind of reassuring.
Once the packaging was off I was able to explore Lexi's torso with my hands – the real-feel skin is beautifully soft and yielding, yet Lexi has a rigid spine which means the torso is not going to flop about.
Cupping Lexi's breasts felt great – her boobs are soft enough to squeeze with a bit of bounce to them, and those nipples are highly tweakable…and lickable!
This soon got my juices flowing and I was keen to explore Lexi's other charms.
I used some water based lube to slowly explore first the vagina and then the ass.
Both canals felt tight and textured and I couldn't wait to explore them with my penis.
Sliding into Lexi's vagina feels awesome as you get a tight squeeze accentuated by the highly stimulating ribs and dots.
Her ass feels amazing too and, true to the realistic design, feels a little tighter than her front entrance.
The masturbator comes with a detachable, rechargeable power pack that connects to a couple of plug-in cables in her back.
Fortunately, the power pack still retained some charge so I didn't have to wait the whole 165 minutes that the instruction leaflet recommends for charging time. The vibration patterns can be controlled via the power pack in Lexi's back although Lovehoney have had the foresight to include a remote controller which is much more convenient.
I have to say that the inclusion of the vibrator is a stroke of genius as whenever I activate it and scroll through the 3 speed and 7 pattern settings it's guaranteed to bring me to the point of no return in a very short space of time.
Personally, I think Lexi is a great toy to consider if you're fantasising about the idea of a threesome.
I introduced her into a MMF scenario with a regular playmate of mine, and I have to say we found a number of highly stimulating options and configurations to explore including double penetration, tit wanking, cunnilingus, rimming and a number of positions for vaginal and anal penetration.
We both agreed Lexi added a whole extra dimension, and I think a lot of couples would find Lexi an exciting but non-threatening addition to the bedroom. On a practical note, it's worth being aware that Lexi is a large, heavy toy (21kg…so about 21 bags of flour) so storage might be an issue. Also the weight means that she can be difficult to manoeuvre during play.
I found that it was easiest to penetrate Lexi in the missionary position as trying to get her on top, in the cowgirl or reverse cowgirl positions, was a bit challenging due to the effort of supporting her in an upright position.
Clean up is pretty straightforward, thanks again to some clear forethought on the part of Lovehoney. You just need to replace the rechargeable power pack with the plastic 'bung' that she comes shipped with to prevent water getting into the electronics.
Lexi comes with a flexible douche kit which makes cleaning her out a doddle. Also pouring warm water over Lexi's breasts and lathering them up turns out to be a highly erotic and unexpected bonus to the cleaning-up process.
The only slight inconvenience is having to leave Lexi in the bath or shower tray whilst she dries out. This is definitely not a toy you can clean in the bathroom sink! My only minor complaint is that Lexi does have a bit of a whiff of soft plastic about her – inevitable, I guess, considering the amount of plastic that goes into making a toy of this size.
The smell seems to have faded a little bit after a few washes, but it's worth being aware of if you're particularly sensitive to those kinds of odours.
In summary Lexi is perfect for those who want a premium masturbator which offers a whole lot more than an 'orifice in a can' style toy (as pleasurable as those can be).
She is a perfect candidate for threesome experimentation and could probably be kitted out with a strap-on dildo for pegging pleasure.
The size, shape, weight and feel of this masturbator are designed for serious pleasure, and the option to combine this with numerous vibration speeds and patterns means that Lexi guarantees explosive pleasure, and won't let you down.
On THRUST Pro Elite Lexi Rechargeable Vibrating Masturbator 21kg
Luscious Lexi Love
Review by Blonde B. on 13 Jul 2020
review stating Luscious Lexi Love
I want to state this is a review from a female point of view as well as how my husband enjoyed it.
I wanted Lexi in my life as much - if not more - than he did. I doubt I'm alone in being a woman who desires some secret girl on girl play too.
We both have an untouched fantasy for a threesome involving another girl, sounds fantastic right? Well, I'm quite the jealous Jane so this was a perfect option for both of us.
We're not new to the Thrust Pro Elite range, we already own a much loved 7kg Katya pussy and bum. But when I saw the full size Lexi land on the Lovehoney website, my heart melted as I fell head over heels for her.
I'm sure you'll want to know how she arrived to our door, as you can imagine she's a big and full-sized girl. But panic not, I can tell you she didn't turn up in a taxi, this item arrived in the usual inconspicuous packaging - albeit somewhat questionable in weight.
Yes Mr Postman, it's just a bag of potatoes in that plain brown box... *cough* Inside, Lexi is packaged in another brown box and polystyrene inserts.
She's sealed inside a clear cellophane bag and well covered in the silky soft renewing powder, the feel of this is unbelievably life-like and undeniably inviting. The material itself has no real smell to it so that's a huge plus too.
She's heavy, don't be misled, at 21kg's she weighs more than a bag of cement, so bare this in mind especially when lifting her and thinking of storage. On the plus side, there's no way she'll move around on your bed even with the most vigorous of thrusting.
From feeling her back I would also guess that there's a frame deep inside that helps keep her structure.
The attention to detail is astonishing, the perfectly shaped and life-sized breasts with erect nipples, voluptuous vulva and luscious lickable lips are so life-like it's surreal. Honestly it's breathtaking - and that's before you've even plunged inside.
With plenty of water-based lube applied deep into both of her openings, I was the first to explore her.
Teasing my fingers into her felt just like the real thing - trust me, this I know well.
The tight openings followed by varying textures and ridges honestly felt as though I was playing with myself.
She's tight but forgivingly stretchy, firm yet so squishy. Honestly I was getting off from just fingering her.
Seeing my lubed fingers glistening around her clit and lips was undeniably arousing, she was almost as wet and dripping as me.
My husband was second to sample her sexually and has used and abused both holes thoroughly.
He feels the ass is considerably tighter, both on entry and within the canal - sounds authentic to me!
Regardless of this narrower option he's a pussy lover through and through so that's his favoured hole.
He commented in specific on the varying widths and textures within both the canals, changing from looser to tighter, firmer and rougher and then even changing directions at times.
Depths of both pussy and ass are more than ample although my husband can reach the bottom if he's really rough, but he finds this only adds to the realism and the sensations of when his penis would press my cervix and if nothing else it's a massive ego boost!
My husband isn't a huge lover of vibrations so we've yet to try the remote control vibes whiles he's actually inside her, but I have activated them while fingering her and my god... they're potently powerful and rival the rumbles and strength of my own wands. Being rechargeable and remotely controlled only adds further excitement and options for my dominant control.
Cleaning is simple, flush out using the provided water douche, or like us, using a showerhead.
Transporting Lexi into the bath is a little challenging for myself but my husband is quick enough to jump at the opportunity of taking her to have some alone shower time.
After washing and applying sex-toy cleaning spray, Lexi air dries well when left in the open, but I advise using rolled and twisted kitchen towel to dry the canals.
When dry, we apply the recommended conditioning powder which leaves her feeling smooth, soft, silky and ready for our next female fantasy.
This may sound a laborious task, but all good women need a little love and care. I can tell you we've found no greater thrill than both being involved using this toy together.
To watch her large, firm and supple breasts roll and bounce while he's on top of her or to turn her over and hold her ass while he's inside her is to die for.
I'll definitely be donating my most scandalous thongs and bra to her for an even fuller fantasy foreplay.
If you're looking to satisfy that perfect, problem free three-way, or just a guy wanting a new girl in his life then this is as close as you can get to the real thing. She may be expensive, but all classy girls are! And for us she's considerably cheaper than a disastrous threesome resulting in divorce.
On THRUST Pro Elite Lexi Rechargeable Vibrating Masturbator 21kg