Guide to Pegging and Strap-On Sex
As more men become comfortable with their sexuality and start exploring anal play for themselves, it makes sense to invite a partner to help you explore every inch your body, including areas once thought of as 'out of bounds'.
The prostate gland is a special part of a man's body that is directly linked to his penis and testicles, which means that by stimulating this round nub, located around 2 inches in on the front wall of the anus, it will directly affect the rest of his genitals and result in some explosive orgasms.
In recent years, pegging has taken the sexual world by storm. Pegging is when a woman uses a strap-on harness and dildo to anally penetrate a man, and indulge in female-male strap-on sex. Pegging allows all these little sweet spots to be accessed and enjoyed to their full potential, which many men struggle with on their own.
Above: Watch Sammi Cole tell you all you need to know about strap-on harnesses.
But don't forget, women get pleasure from pegging too! Using a strapless strap-on such as the Feeldoe Classic Vibrating Silicone Double Dildo provides her with incredible internal sensations.
There's also the element of submission and domination involved with pegging that many find enjoyable.
How to Use a Strap-On
Firstly, check with your partner that this is something you both want. Turning up with a strap-on, completely out of the blue, may have them heading for the hills faster than you can say 'honey, I'm home'.
Secondly, get kitted up! You will want to decide between you what products you want to use but the bare minimum will be a strap-on and a water-based anal lubricant.
When it comes to strap-ons for pegging play, you've got two choices: the standard jock-style strap-on harness or the strapless strap-on.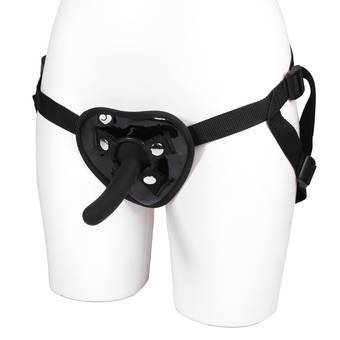 The Lovehoney Beginner's Unisex Strap On Harness Kit with 5 Inch Pegging Dildo is great for pegging as the jock-style straps sit securely on the body, allowing for a greater, more controlled thrust. It also comes with a small dildo that is perfectly shaped for locating and stimulating the P-spot.
Alternatively, you might like to use a double strap-on, such as the Lovehoney Double Delight Vibrating Double Strap On. This clever gadget will stimulate her G-spot and his prostate at the same time, thanks to the opposing ends that are both designed for internal use. However, you might want to save this one for when you're feeling more confident with pegging as it is a tad large!
Choose something you both like and that fits your needs. A strap on harness with an O-ring that lets you change dildos, like the Lovehoney Advanced Unisex Strap On Harness Kit, is a wonderful option as it lets you customise your fun. If you're new to anal play you will want to choose a small strap on dildo, however if you've explored anal play before and would like something a bit bigger, you can easily try a larger attachment without having to buy a whole new kit.
Thirdly, go slowly. Diving in, strap-on first, will only lead to problems so make sure you take your time.
Start with a little anal foreplay, exploring the area with lubricated fingers and maybe a small butt plug. Stroke, tease, massage and tickle the anus, making sure you're both relaxed and warmed up.
Then add lots of anal lubricant to the strap-on and position yourself ready for action! A great lubricant for pegging is the fantastic Maximus Anal Lubricant. It's thick, it's silky and the bottle is fairly standard, so it won't stand-out like a sore thumb on your bedside table. It also has the added bonus of a high glycol content, which means that it will feel natural and last for ages too.
Many people prefer to be bent over doggy style but others prefer to lie on their back with their legs raised, making it easy to access the anus. Feel free to explore and find what is comfortable for you.
Penetration should only begin when you're both happy and ready. Ease in slowly, letting the male control the depth and speed, and be ready to stop at any moment. Once the sphincter is used to being stretched and your partner is comfortable, you can start thrusting and having some real fun!
Just remember to reapply lubricant whenever necessary!
Need more help?
You can Contact Customer Care, who will be able to help you find the perfect strap-on for pegging. You can email, and telephone or live chat to an experienced advisor 24/7.
---
You may also like